Pasir Gudang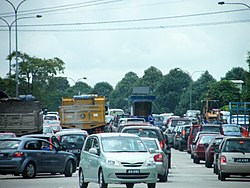 Pasir Gudang
is a port town and manufacturing hub in
Johor
, 
Malaysia
. Generally industrial in nature, Pasir Gudang does hold a colourful kite festival in February and the local track circuit is a favourite spot for gearheads in Johor. The Tanjung Puteri golf course is also one of the largest courses in the state.
Understand
The name Pasir Gudang originated from the existence of a sand mine at Kampung Ulu. Sand or 'pasir' in Malay was stocked in sand pits or 'gudang', to be exported to
Singapore
, hence the name 'Pasir Gudang'.
Other than sand, the areas surrounding Pasir Gudang were mainly used by plantation owners to grow catechu and black pepper, along with pineapples. Upon the introduction of rubber to
Malaysia
, large estates around Plentong were opened by British and Singaporean cultivators. During the 1970s, the state government took over former plantation estates, converting them into industrial and housing areas and cementing Pasir Gudang as a hub for heavy industry. The mass of chemical factories means that the air quality sometimes worsens noticeably, taking on a hint of burning plastic. Johor Port was also established in 1977, in direct competition with the trading port of Singapore.
Get in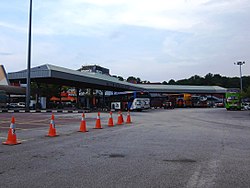 By plane
The town does not have its own airport. The nearest airport is the
Senai International Airport
(
JHB
) in Senai.

By car
From JB, follow the signs north towards Kota Tinggi and make a right turn off to Pasir Gudang where signposted, then you can't go much wrong following the major Lebuhraya Pasir Gudang (Federal Route 17). Alternatively, take the JB East Coast Highway, which will pass by Permas Jaya.

By bus
Bus fees should cost about RM3-5 from Johor Bahru city centre. Ask for 'Bandaraya Johor Bahru' should there be any difficulty in getting back to the main city.
Pasir Gudang: Maju bus 224 travels between Larkin Bus Terminal and Pasir Gudang, passing by Plaza Pelangi, Tebrau City and Johor Jaya.
Masai: Maju buses 39, 200 and 208 run from Larkin to JB city centre to Masai. Transit Link 133 and 133A start from Masai, making a loop to JB then returning to Masai. Causeway Link 9B from JB also stops at Masai Bus Terminal.
By boat
Pasir Gudang houses the . Ferry services depart to/from Batam, Indonesia.

Get around
Public transportation terminals
Bus and taxi terminals in the town are:
in Masai
in Pasir Gudang town center
See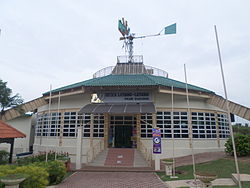 Binary Park

address: Bandar Baru Seri Alam 81750

Park.

Bukit Layang-Layang

address: Kawasan Perindustrian Pasir Gudang

Park

Kite Museum

address: Bukit Layang-Layang

Kites, also known as wau. Displays both traditional and modern kite collections.

address: Kawasan Perindustrian Tanjung Langsat

Crocodile farm.

Senibong Cove

address: Masai, 81750

Waterfront area with yacht docking and restaurant rows.

Seri Alam Park

address: Bandar Baru Seri Alam, 81750 Masai

Park.

Sungai Johor Bridge

address: Lebuhraya Senai-Desaru

Landmark bridge.

Tanjung Langsat Mangrove Recreational Park

address: Kawasan Perindustrian Tanjung Langsat

Mangrove park.
Do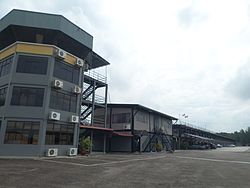 phone: +60127966806

address: Tanjong Puteri Golf Resort

Horse riding school.

phone: +6586615077

address: Telok Kabong

phone: +60 7 2521313

The track alternates bike and car racing in turn. Bikers will require full-face helmets, leather gloves and leather jackets for basic safety. Saturday night sprints are popular, where car enthusiasts race their cars down a straight stretch of 300m in a display of power and speed.

Pasir Gudang Extreme Park

address: Jalan Mawar Biru, Kawasan Perindustrian Pasir Gudang, 81700

Skating park.

phone: +6072517912

address: L1/11, Kompleks Pusat Bandar 81700

Library.

Plentong Go Kart

address: Lot 6015-C Jalan Ciku Utama 2 Taman Kota Masai

Indoor water theme park with multi-storey slides.

phone: +6072711888

address: Jalan Tanjong Puteri 1, Tanjong Puteri Resort 81700

Golf course.
Buy
phone: +60 7 221-8873

address: 19A, 19B-B2, Jl Ah Siang, Tanjung Puteri

This shop-cum-museum is run by a leading Malaysian supplier of cocoa-related products. The museum and shop are found side by side in one big room on the ground level of a modern, 3-storey building. Here, you can purchase a wide range of chocolate products (both chocolate sweets and beverages) under the brand name "CacaoRich". You can also have free samples of the shop's chocolate drink. The cocoa and chocolate museum is straight ahead of you as you enter the door. Admission to the museum is free.

phone: +60137043433

address: Jalan Persiaran Dahlia 2, Taman Bukit Dahlia, 81700

Supermarket.

Kompleks Pusat Bandar Pasir GudangFairly standard shopping mall.

address: Jalan Rinting, Taman Rinting, 81750 Masai

Supermarket.

phone: +6073885164

address: PTD 111515, Jalan Rinting, Masai, 81750

Supermarket.
Eat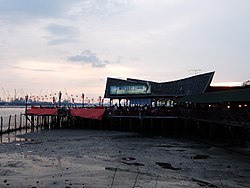 Budget
Restoran Selera Sambal

address: 25 Jln Pengkalan 5, Kampung Pasir Puteh

Ayam penyet.

Tanjung Langsat Food Court

address: Jalan Ipil 1, Kawasan Perindustrian Tanjung Langsat

Food court.
Mid-range
Kedai Makan Rahmat

address: 3 Jln Pantai, Kampung Pasir Puteh

Famous for their deep fried fish, or siakap goreng, which are fried with their scales on, keeping the flesh inside tender. The restaurant is built on top of stilts extending over the shore of the Johor Straits.
Splurge
Coffeetrap Restaurant

phone: +60 7 3861991

address: 7,11 & 15 Jln Permas Jaya

A sidewalk alfresco dining outlet with live music from early as 7:30PM. The best dishes are lamb shank, grilled salmon, chicken chop with gravy. Popular with locals and expatriates from early as 12PM Fri-Mon and 3PM Tue-Thu, with happy hour promotions until 9PM. Fresh fruit juices and vegetarian dishes are also available.

Restaurant SPOA

address: Kg Pasir Duteh Telok Kabong

Todak (Orang Asli) Restaurant

phone: +60 7 386 3696

address: 1 Orang Asli, Telok Jawa, Masai

Set on a breezy wooden boardwalk right on the Straits of Johor, the restaurant is famous for its seafood and crab platters. The tables are moodily lit with red lights, covered with red plastic and matched with red chairs.
Drink
There are next to no drinking holes to be found in Pasir Gudang. Even the seafood restaurants may not necessarily serve beer or any form of alcohol. The Tanjung Puteri golf resort has a couple of lounges open to the public. Permas Jaya also has a bar or two.

Sleep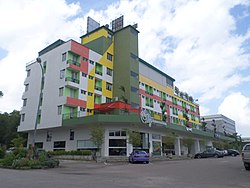 Most people who stay in the hotels here are usually on long-term business trips, otherwise preferring to stay in
Johor Bahru
. There are a few eco-tourism spots such as
Kampung Perigi Acheh
which offer a rustic kampung experience.
Budget
phone: +60 7 3889 889

address: 24-28 Block A, Permas Mall, Jalan Permas Utara

Boutique hotel with 48 rooms spread on 3 levels. Free WiFi coverage throughout the hotel. Facilities include conference room, bistro-cafe and free car park.

Grand Dragon Hotel

address: 27-35 Jalan Permas 10/5, Permas Jaya

All 48 rooms with attached shower, air-con and color TV. Internet access, hair dryer and complimentary newspaper.

OKID Hotel Johor Bahru

address: 41 Jalan Permas 10/7, Permas Jaya

Housed in a 4-storey building, 48 rooms, 4 types of rooms. All rooms have attached bathrooms, air-con and color TV. Free Internet access only for the triple room and the most expensive double room. No breakfast is provided.
Mid-range
phone: +60 7 251 8899

address: Jalan Bandar

Facilities: swimming pool, six function rooms, two restaurants. 185 rooms. All rooms have air-con, attached bathroom, coffee/tea maker, mini-bar, colour TV with ASTRO channels and in-house movies and IDD telephone. Buffet breakfast is included in the rates.

phone: +60 7-360 1000

address: Lot 101375, Jalan Masai Lama, Plentong

252-room hotel 4km southeast of AEON Tebrau City and 300m from the edge of the Pasir Gudang Highway. Normal online reservation rates for standard double/deluxe double 145/150 RM per room per night, 20% lower if you book at least 7 days in advance. There are also weekend special rates.
Go next
Desaru - go further east on the E22 for beach resorts on the South China Sea.
Sepang - for more time on the racing track.