Passo Fundo
Passo Fundo
in the state of
Rio Grande do Sul
, southern
Brazil
is sometimes called
A Terra de Gente Boa
(the Land of Good People),
Capital do Planalto Médio
(Capital of the mid-plateau),
Capital Nacional da Literatura
(National Capital of Literature),
Lugar de ser Feliz
(The Place to be Happy) and
Capital do Norte
(Capital of the North, referring to northern Rio Grande do Sul). It has one of the strongest
gaúcho
cultures of any city in Rio Grande do Sul. (The word
gaúcho
in Portuguese is written with an acute accent to differentiate it from the Spanish "gaucho" and is roughly pronounced like "gow-OO-shu.")
Understand
The city is home to some 200,000 people and lies in the north of
Rio Grande do Sul
, Brazil's southernmost state.
Passo Fundo has a strong concentration of gaúcho culture which manifests itself in its gaúcho and more modern tchê music (bands that play guitar, drums, and accordion), rodeios at the CTGs or Centers of Gaúcho Traditions, agriculture, animal husbandry with a heavy emphasis on cattle, and dance. If you're looking to spot gaúchos in the streets, this is a not a bad place to start as it's fairly common to see older citizens walking around town in the pilcha (typical gaúcho dress consisting of boots, gaucho pants called bombachas, a belt called a guaiaca, shirt, a typically red scarf called a lençol, and flat-brimmed hat). In general, citizens who identify with gaucho culture under 60 years of age generally only wear gaúcho clothing at gaúcho-specific social functions like dances or parties. They will wear regular street clothes outside of those functions.
Get in
By plane
Aeroporto Lauro Kurtz

phone: +55 54 3313-6566

address: BR 285, Km 288, São José subdivision

Has daily flights from cities throughout Brazil such as São Paulo, Campinas, Caçador, Curitiba and Porto Alegre. From there, you can connect to international flights.
Airlines serving Passo Fundo include:
By bus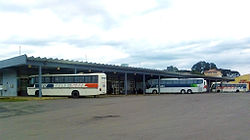 Estação Rodoviária de Passo Fundo (Intercity bus station)

phone: +55 54 3313-1000

address: Rua Angelo Pretto, 158

The station has a snack bar, shops with newspapers, magazines, and gaúcho-themed souvenirs. It also has a baggage storage services (guarda volumes) if you plan on just visiting town while waiting for another bus. Most travelers coming from the metropolitan Porto Alegre region and Serra Gaúcha will take the UNESUL busline to Passo Fundo. If traveling to Passo Fundo from another area, check the bus station website where you can check schedules, verify bus fare, and even purchase tickets (although a CPF, Cadastro de Pessoas Físicas, or Natural Persons Register Number is necessary). Most foreigners simply show up at the time of travel and purchase a ticket. In general, there are vacancies on the buses if you're not traveling during a holiday.
Intercity buslines that operate at the Passo Fundo intercity bus station:
phone: +55 51 3375-9000

phone: +55 49 3561-5500

phone: +55 54 3330-1922

Real
By car
Passo Fundo is well-connected by road. The main roads in and out are the
BR-285
(in east to west direction), the
BR-153
(going north to south), the
RS-324
(heading northwest to southeast) and lastly the RS-135, which leads northeast.
Get around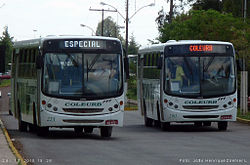 By bus
COLEURBColeurb provides municipal bus transport around Passo Fundo with stops all around the city.
By taxi
Taxi fare is regulated by city law. Flag 1 selected on the taximeter represents the normal fare. Flag 2 occurs from 22:00 - 06:00, on weekends and holidays. However, there is no difference between Flag 1 and Flag 2 in Passo Fundo.
| Price Table | Flag 1 (Bandeira 1) | Flag 2 (Bandeira 2) |
| --- | --- | --- |
| Starting Price | R$3.48 | R$3.48 |
| Per Kilometer | R$3.59 | R$3.59 |
| Per hour stopped | R$10.44 | R$10.44 |
| Airport to City Center | R$40.00 | R$40.00 |
See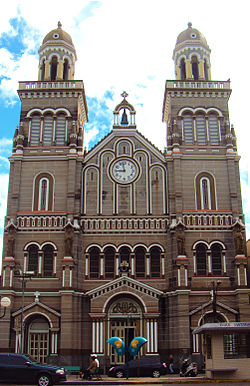 Catedral de Nossa Senhora AparecidaThe cathedral is the seat of the Roman Catholic Archdiocese of Passo Fundo.
Sleep
address: Rua Lava Pés, 3600, Passo Fundo

A 4-star, well-equipped hotel with air-conditioned rooms and facilities including a gym and swimming pool.

phone: +55 54 3316-3000

address: Rua Coronel Chicuta, 371 Centro, Passo Fundo

A great location in the center of the city right by the Shopping Bella Città. Try the green fruit and vegetable juice at the free breakfast buffet.

address: Avenida Brasil Leste, 400

A bit out of town but close to the bus station and not to far from the airport.