Paterna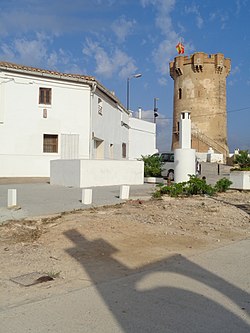 Paterna
is a city in
Valencia (province)
.
Understand
Located just 5 km northwest of
Valencia
, the area has been inhabited since Neolithic times due to its advantageous location near the Turía River. The town itself was first established as a Roman estate with villa, named
Paternus
(from Latin meaning 'of the father'). Later during during the Moorish period the growing settlement was known for agriculture and for ceramics, which continued following the Christian reconquista. The expulsion of the Moriscos in the early 17th century, however, led to depopulation and a major economic downturn, along with the cessation of ceramics production; the city did not recover until the beginning of the 19th century.
Today Paterna is known primarily for being a bedroom community of Valencia, for its cave dwellings, and for its Moors and Christians celebration which culminates with the Cordà.
phone: +34 963 053 124

address: Carrer Metge Ballester, 23
Get in
The city is most easily reached by
Valencia's metro
, which stops at . From Valencia a one-way fare costs €2.10, and a round trip fare costs €4.
Get around
By foot
The core of the city is easily traversed by foot.
By bus
Editania Bus
operates three bus routes in Paterna. For visitors
Línea A
is the most useful; a journey costs €1.50 and is payable directly to the driver.
See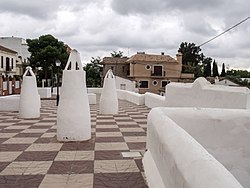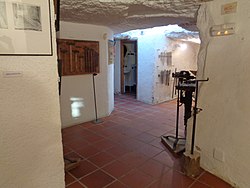 Torre MudèjarThis defensive tower is believed to have been built in the Moorish period sometime between the 11th and 12th centuries, as a square tower. It was subsequently remodeled during the 13th and 14th centuries, when it was converted to a circular tower, and it is this aspect which is unique among the watchtowers in the Valencia Community. The tower can be accessed via a circular external staircase, and the view from the top is worth the climb as on clear days it is possible to see as far north as Sagunto and as far south as Dénia.

Parque de la Torre

address: Carrer Coves de la Torre

It is believed that the custom of living in cave dwellings is Moorish in origin, and was not uncommon in areas of Andalucia. In Paterna this practice has continued until the modern era, with most underground homes clustered around the Torre Mudèjar – from above ground the dwellings can be identified by the chimneys poking through the ground surface.

phone: +34 961 384 830

address: C/ Senda del Batà, s/n

The cultural centre consists of a set of eight interconnected cave dwellings, which house an ethnographic exhibit, textile and blacksmith workshops, temporary exhibits, and finally a reconstruction of a furnished, traditional dwelling.

phone: +34 961 379 657

address: Plaça del Poble, s/n

Has an extensive collection of ceramics from the Middle Ages to the modern period.

address: Plaça del Poble, 6

Built in the 14th century on the site formerly occupied by the town mosque, and remodeled in the 18th century.
Do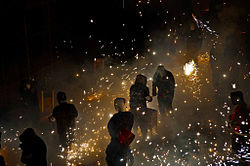 Festivals
FallesAs in neighbouring Valencia, this annual celebration is dedicated to San Josep (San José / St. Joseph), and includes the burning of falla monuments as well as mascletàs (gunpowder demonstrations).

Moros i CristiansThe festivities are part of an annual two-week religious festival dedicated to San Vicente Ferrer, which includes various religious activities and community activities. For visitors the most interesting activities are the nightly Moors and Christians parades, which celebrate the 13th-century Christian reconquista. Most parades begin at around 21:00 or 22:00.

address: Carrer Major

The grand finale of the annual August festivities, this is a fireworks and pyrotechnics extravaganza, with the shooting of about 70,000 rockets in the space of about half an hour. Visitors can watch from outside a caged in area on the main street.
Cinemas
phone: +34 961 379 400

address: Avinguda de Francisco Tomàs I Valiente, s/n

A modern cineplex which shows the latest blockbusters, with both dubbed and original language versions (VOS: versión original subtitulada).
Buy
Mercadillo

address: Plaça del Poble

A weekly street market for food and odds and ends.
Eat
phone: +34 961 340 067

address: C/ Villa de Madrid, s/n

The large establishment serves Valencian cuisine and other Spanish specialties, with a good wine selection.
Sleep
phone: +34 961 366 121

address: Avinguda Leonardo da Vinci, s/n

Minimalist and comfortable, with non-smoking rooms, onsite restaurant, and free Wi-Fi. Free public parking is directly nearby, with an electric car charger.