Paterson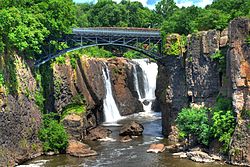 Paterson
is
New Jersey's
third largest city. It is 12 miles away from
Manhattan
. It is home to many distinct ethnic groups. It houses a large Hispanic, Arab, Italian American, and African American Population. South Paterson is home to one of the nation's largest Arab communities.
Understand
Paterson was the nation's first planned industrial city. It was established in 1791. The Paterson falls were a key element in the success of Paterson as the industrial leader of the nation during this time. The 77-foot falls' power was harnessed and provided power for the numerous industries located in Paterson. Paterson was a rich city and enjoyed success throughout the late 1700s, 1800s and early 1900s (up until the 1950s). Paterson was nicknamed the silk city for its dominant role in the production in silk during the mid 1800s.
The city began to see a decline during the 1960s and 1970s which was due to several factors. Many industries during this time began moving to the Midwest, and at the same time, many African Americans were moving into the city from the south. Factories were closing at the same time African Americans moved in looking for employment. Many white residents began leaving the city due to the declining economy. The opening of malls in nearby Paramus and Wayne also took away significant business from the city's downtown shopping district.
With a crippled economy and high unemployment rate, Paterson was becoming a ghetto. During the 1980s, crime increased significantly in the city. Crime rates dropped in the 1990s, but still remain high. There are many current efforts underway to help revive the city. Despite the city's bad reputation, high crime rates, and poverty, there are a lot of places and things to do in this city. The city is very diverse and contains a very high population of Hispanics of all nationalities, African Americans, Italian Americans, and Arabs. There are numerous parks, ethnic places to eat, shop, hang out, and to see.

Get in
Paterson is easily accessible via Route 80 and Route 4 in New Jersey. The Main Line run by NJ Transit has a stop in Paterson.

Get around
Paterson is a small city, it is only 8 square miles. Despite it being very small in land mass, it is a city of more than 150,000 residents. There are numerous bus lines that come frequently enough that you can travel the city without a car. Paterson is a major transit hub for Passaic County, and North Jersey. New Jersey Transit provide bus routes into and out of the city. Route 161, 190, and 171 provide service from Paterson to New York City. Route 72, provides service from Paterson to Newark's Penn Station. Also,route 74 702,703,704,707,712,722, (742 Sat Only), 744, 746, and 748 provide service through out the city. Paterson also has a train station on Market St., in the Downtown Area. One can take a train to Hoboken or Suffern, NY. There are many dollar bus vans that provide express service from Paterson to Clifton, Passaic, Union City, and Times Square in Manhattan. One can ride these buses going down Main St. These buses also ride down Broadway. They provide service to Garden State Plaza, and GWB Bus Terminal in Upper Manhattan.
Having a car can be more convenient, though parking in some parts of the city is difficult.

See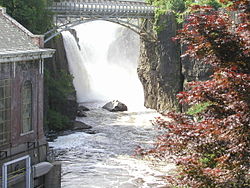 Paterson is home to the tallest waterfall in New Jersey. It is the second largest by volume east of the Mississippi River (behind Niagara Falls). These falls were what helped Paterson grow as the Nation's first planned industrial city. The falls provided power for the city at one time.
Official Site
.
Do
Paterson is a diverse city with a healthy mix of Latinos, African Americans, Italian Americans, South Asians, and Arabs.
There are also numerous night clubs in Paterson catering to the hip hop and Latino communities. Though some of these clubs run illegally. It is best to stay with legitimate clubs in Downtown Paterson.
Like many large cities, Paterson is broken into many sections.
Great Falls District These is the district in which the Great Falls and Paterson Museum is located. This section is just west of Downtown and is near I-80. Though the area has fallen on to hard times as jobs from the mills moved out, The falls is now a State Park, and there are many plans to revive the area.
Downtown Paterson This is the main commercial area of the city. The Paterson Bus Station is located on Broadway. The Paterson Train Station is located on Market St. Through this isn't the shopping mecca that it once was, many people still flock to the Downtown Area to buy clothes, items, and various goods. Paterson City Hall, The Passaic County Court House Annex, and various buildings are architectural landmarks that are relics of Paterson's Golden Age. There is a Little Italy subsection on and near Cianci St. That have many Italian shops, clubs, and food store. Also, a "Little Lima" subsection is on Market St., just west of City Hall. It is home to one of the largest Peruvian sections in the nation. Many Peruvian restaurants that serve cebiche (Peruvian sushi) and chifa (Chinese Peruvian food) are located on Market. The City Center Project is underway, and is planned for commercial space, shopping mall, and first movie theatre in years. Center City will be completed in about 2 years.
EastSide Park Located in the city's 3rd Ward, EastSide Park is known for its mansions and colonial style homes. The park itself is where many Patersonians come to enjoy the nature and large homes that were once home to Paterson's rich and political leaders. This area was once home to many Jewish families. There is still a massive synagogue on E. 33rd St. that is a landmark in the city.
Manor Section Is a quiet tree line area of Paterson, that is located near Eastside Park. North of Broadway and Southwest of McLean Blvd. (Route 20). This is in the city's 3rd Ward.
South Paterson Located in the city's 6th ward, South Paterson is just south of 1-80 and North of the city of Clifton. This is a thriving Arab area that is said to be home to the second largest percentage of Arab population in the country, behind Dearborn, Michigan, which is how the district got its nickname, Little Ramallah. Many restaurants that offer falafel, gyros, pitas, and many other types of Arab cuisine. Shops, and retail stores are located on Main Street. There is also a large Spanish population in that area along Main Street, and Railroad Ave. St. Joseph's Hospital, one of the largest hospitals in the state, is on Main St.
LakeView Located in the cities 6th ward, this is a quiet middle class area that is east of South Paterson and south of the Eastside. Paterson's Farmers Market, one of the largest in New Jersey, is located on and near Railroad Ave. It is an area where residents and visitors alike buy fresh produce and meat from the many shops and markets.
Hillcrest located in the 2nd ward, This is a middle class to lower middle-class area near Totowa, NJ. Union Ave., and Chamberland Ave., are main streets for this area. West Side Park is located in this area.
People's Park Located near 21st Ave (South of Market St. North of 23rd Ave) is a major Spanish and Italian neighborhood. Restaurants, shops and all types of business are located in this section. One can enjoy Columbian, Peruvian, Dominican, or Italian foods by simply walking down or near 21st Ave.
Wrigley Park A mostly African-American section that is known to many Patersonians as simply "Fourth Ward" this is one of the poorest areas in Paterson. Broadway, Madison Ave, 12th Ave, Hamilton Ave, have been known to be not safe at times, crime and drugs are known are frequent through out this section. Crime has dropped in recent years, but it is still one of the most dangerous sections of an already quite dangerous city.
Sandy Hill Located in the cities 5th ward, this is a mostly Dominican section of Paterson. Le Fe Restaurant is one of the most popular through out the city.
North Side A mostly African-American and Latino section, The North Side suffer from the same effects as Wrigly Park. This section has many hills that offer views of Manhattan on a clear sunny day. This area is located on the city's 1st Ward.
Totowa Section Located on and near Union Ave., near the North Side, this a mostly Spanish area with a rising Bengali population. Shops and restaurants are located on Union Ave. This section is in the city's 1st and 2nd ward.
Stoney Road Located near the falls and downtown, this is Paterson's most south-west section. It is home to the Lou Costello Pool which is packed during the summer. Also, Pennington Park and Hayden Heights. Murry Ave, and McBride Ave, are main streets in this section. This area still retains a strong Italian presence. This section is in the city's 2nd Ward.
Riverside One of Paterson's largest section by area, This area is bound by the Passaic River which separates the city from Fair Lawn and Hawthorne. This area can go from being quiet and middle class, to urban and industrial in some parts. Madison Ave is the main street for this area. This area is home to many Spanish and African-Americans. As well as a sizable white community. This area is in the city's 3rd and 4th Ward.
EastSide Is another large area of Paterson. Mostly made up of smaller districts (One will call Wrigly Park, Sandy Hill or parts of Riverside, and Eastside Park "Eastside") Eastside is a section to itself. Located north of South Paterson and Lakeview, east of downtown and west of the Passaic River. This is mostly a working class to middle class section of the city.

Buy
You can get many cheap items in Paterson. Paterson has many discount clothing stores.

Eat
There are many Dominican, Peruvian, Italian, Puerto Rican, Arab, & African restaurants in Paterson.

Sleep
There are not that many hotels in Paterson. It is better to visit Paterson by day, or sleep over in a motel near Paterson.

Stay safe
Though Paterson has a reputation of being a crime-ridden city, it is not all doom and gloom as many suburbanites would suggest. In fact, Paterson's crime rate is comparable to that of mid-sized Midwestern cities, such as Grand Rapids, Michigan. That said, one should exercise ordinary caution when visiting the city. Most of the crime in Paterson is in certain sections: Wrigley Park (4th Ward), Northside, and parts of Riverside, Totowa Section and Sandy Hill. It is best to avoid drug areas such as the 4th Ward or Northside. Most crime in Paterson is said to be drug related. Areas such as Downtown, Eastside Park, the Manor Section, and the Falls District have little to no crime, but it is still wise to keep a watchful eye and call the police if you feel threatened.

Go next
Nearby Paterson are
Wayne
and
Paramus
,
New Jersey
. Paramus features many malls including three mega malls and is home to the Garden State Plaza, the second largest mall in the New York Metropolitan Area. The four major Paramus malls: the Garden State Plaza, the Bergen Mall, the Paramus Park Mall, and the Fashion Center as well as the smaller shopping plazas are all closed on Sundays.