Pattaya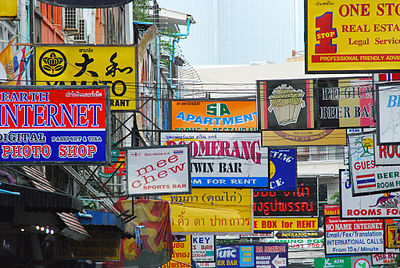 Pattaya
(พัทยา) is a seaside resort on the
Eastern Gulf Coast
of
Thailand
, about 150 km southeast of
Bangkok
. Pattaya is mostly famous for its go-go and beer bars, but local authorities have made some efforts to provide more family-friendly attractions and activities. Although the sex industry is still going strong and sex tourism remains the key money earner for Pattaya, the resort also attracts local families and holidaymakers from around the world. If you are going to be offended by the sight of fat old men hand in hand with young Thai women, then Pattaya is probably not the place for you.
Efforts by local authorities over the past few years have improved the quality of the beaches, but they are still lacklustre by Thailand's standards, and overdevelopment has long since destroyed some of the natural charms the area once had. However, the plethora of hotels and guest houses, and easy access from the capital and airport, make it a popular weekend getaway. Catering for over five million annual visitors, Pattaya is also able to offer an excellent range of eating options and a wide variety of things to do. Its population is a colourful mix of nationalities and ethnicities from near and far. On weekends and holidays, Pattaya Beach is crowded with domestic visitors, many of them day-trippers, from Bangkok and surroundings, since it's a 2-hour drive from the nation's capital. On these occasions, the daytime might not be so comfortable for some foreign tourists, but at night, everything goes as usual.
Pattaya occupies most of the coastline of Bang Lamung District (one of the eleven districts that comprise Chonburi Province). This article only deals with Pattaya proper, which spans the areas to the east of Naklua Beach and Pattaya Beach, plus the Buddha Hill headland (which is immediately south of Pattaya Beach).
Jomtien
is covered in a separate article, and contains Jomtien Beach and the areas east of it, including Dongtan Beach. The beaches of Jomtien are much broader and generally in a better shape, and the atmosphere locally is more sedate and family-oriented than at Pattaya Beach.
Understand
Orientation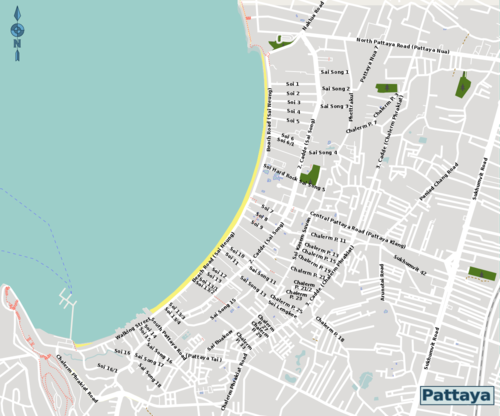 Pattaya's downtown area is easy to get around. Running north-south, a few hundred metres apart, are
Beach Rd
(Thanon Hat Pattaya, sometimes also referred to as First Rd) which borders the main beach (Hat Pattaya),
Pattaya Second Rd
and
Pattaya Third Rd
(with the smaller but busy
Soi Buakhao
in between), and the main
Sukhumvit Road
coastal highway. Beach Rd is one-way (southbound), likewise Second Rd (northbound) this is the main circuit of the songthaews that cruise downtown.
These are connected by the three major east-west aligned roads:
North Pattaya Rd
(Thanon Pattaya Nua),
Central Pattaya Rd
(Thanon Pattaya Klang) and
South Pattaya Rd
(Thanon Pattaya Tai). North Pattaya Rd is a dual carriageway and carries the highest volume of traffic to and from Sukhumvit Rd.
Also connecting Beach Rd and Second Ro are a large number of smaller streets or "sois". The main sois are numbered from 1 to 16, from north to south. Sois 1-6 are between north Pattaya Rd and central Pattaya Rd; sois 7-13 are between Central Pattaya Rd and South Pattaya Rd (including the "Pattayaland" sois, immediately north of south Pattaya Rd); sois 14-16 are south of south Pattaya Rd. Most of these east-west sois are (in theory at least) one-way.
Beach Rd, Second Rd, and north Pattaya Rd (plus Naklua Rd to the north) all meet at the
Dolphin Roundabout
landmark. Heavy traffic and frequent accidents here have resulted in a semi-permanent diversion being set up which, at peak times, prevents vehicles (except motorcycles) from continuing around this roundabout any further than the north Pattaya Rd exit, pending the installation of traffic lights some time in 2006.
Second Rd south of South Pattaya Rd becomes Pratamnak Rd, which shares a junction with both the southern end of Third Rd and the northern end of the main road to Jomtien, Tappraya Rd.
Beach Rd south of south Pattaya Rd is closed to vehicles in the evenings (18:00-02:00) and is called
Walking Street
; it's the main tourist area, both for nightlife and shopping. Other major tourism areas include the section of Second Rd between sois 1-4, and the sois immediately north of south Pattaya Rd.
At the south end of Walking Street is the New Pier, usually called
Bali Hai Pier
(sometimes "Pattaya Pier" or "South Pier"). The Old Pier, close to the junction of Beach Rd and south Pattaya Rd, is still shown on most maps but was dismantled and removed at the beginning of 2006.
Sub-districts
South is central, central is north
Pattaya's sub-district names sometimes cause confusion, usually when the official Pattaya Bay area titles (north Pattaya, central Pattaya, south Pattaya) are misunderstood. These names don't relate to Pattaya as a whole, instead they refer to the sections of Pattaya Beach to which each sub-district is aligned.
Pattaya's coastal side is divided longitudinally into five contiguous sub-districts (or six, if also including Jomtien). Each one is named after the section of beach or headland at its seaboard.
In the middle are the three Pattaya Bay sub-districts, which share the main
baht bus
route (so most places are within 5 minutes/10 baht of most other places, at any hour) and have much else in common, and hence in combination make up the main quasi-downtown zone:
North Pattaya (Pattaya Nua) - not the northernmost part of Pattaya (as Naklua lies further north), but the section of Pattaya adjacent to the northern end of Pattaya Beach and extending inland to both the north and south of North Pattaya Rd. Does not include Naklua.
South Pattaya (Pattaya Tai) - not the southernmost part of Pattaya (as the Buddha Hill headland, and then Jomtien, lie further south), but the section of Pattaya adjacent to the southern end of Pattaya Beach and extending inland to both the north and south of South Pattaya Rd. Includes Pattayaland and Walking Street. Does not include Buddha Hill or Jomtien.
Central Pattaya (Pattaya Klang) - not the dead centre of Pattaya, but the section of Pattaya adjacent to the middle of Pattaya Beach and extending inland to both the north and south of Central Pattaya Rd. Some maps/guides disregard the central Pattaya convention, and instead extend north Pattaya and south Pattaya to meet each other along central Pattaya Rd; sometimes, Beach Rd is described with a similar division, and the respective halves given "North Beach Rd" and "South Beach Rd" monikers.
Flanking the Pattaya Beach sub-districts are:
Naklua - immediately north of north Pattaya, and with quick, frequent, and inexpensive transport to and from the rest of Pattaya; Naklua is popular with visitors whose native language is German. In terms of tourism-related locations, it's the smallest and least significant sub-district, the main attractions being the beaches (which are quieter than Pattaya Beach) and the Sanctuary of Truth.
Buddha Hill - named after the Buddha Hill landmark and sandwiched between south Pattaya (to the north) and Jomtien (to the south); to the east, south Pattaya and Jomtien meet directly.
In practice, exactly where each sub-district ends and the next begins is a very grey area as none of the boundaries lie along major roads, and none of the many readily available tourist maps attempts to define boundaries at this level; nevertheless they do provide a handy rough guide to approximate latitude. Further inland, the sub-district names are used less, and locality/road names take precedence - for example, an address might state "Sukhumvit, Naklua" which is useful in that it makes it clear the location is to the north of the Sukhumvit/North Pattaya Road intersection, however exactly the same place would not normally be described simply as being "in Naklua" as that would give the misleading impression of it being in the main beachside/tourism area further west.
East Pattaya
also known as
Darkside
is to the east of Sukhumvit Rd and the railway line. It is mostly a residential area with few hotels. It has bars, clubs, golf courses and restaurants serving the needs of locals but some Pattaya tourist attractions like the crocodile farm and elephant village are located there, too.
History
Pattaya's name was originally "Thap Phraya", meaning Army of the Phraya - commemorating the surrender of Nai Klom's army to that of Phraya Tak (later King Taksin the Great), without a fight. Thap Phraya became Phatthaya (the name of the north-easterly wind at the beginning of the rainy season), and then Phatthaya (the true phonetic spelling).
American GIs serving in Thailand and Vietnam made Pattaya the most popular R & R destination and eventually a world-famous tourist magnet. From its beginning in 1959 with a small private bungalow where American officers on leave took turns to come and rest, this sleepy village by the sea has grown and changed dramatically into one of the world's tourism hot spots. The opening of the new
Suvarnabhumi Airport
(to the east of Bangkok, alongside the expressway to Pattaya) has made visiting easier than ever.
Pattaya is popular not only as a beach resort and for its entertainment, night life and shopping, but also for the broad selection of pastimes it caters for, from golf and horseback riding to bungee jumping, karting and shooting - not to mention a wide variety of watersports such as
scuba diving
, jet-skiing, sailing, water skiing, windsurfing and kitesurfing, and a whole lot more. Pattaya is also very popular as a conference, convention and seminar venue, and the grapevine hosts rumours of future developments of varying degrees of plausibility, such as a horse racing track, casinos, and a tram system.
The
Tourist Authority of Thailand (TAT)
Information Office is just outside the centre, exactly 1 km south of the junction of Second Rd and South Pattaya Rd. Proceed along Pratamnak Rd, continue straight up the hill, and where the road bears sharp right part way up, turn sharp left into the small side soi. Worth a visit if you're in Pattaya for an extended period and want to browse for fresh ideas for new things to do/see. Open daily, 08:30-16:30, tel. +66 38 428750 / 8990 / 7667 or use the TAT freephone number: dial
1672
or e-mail:
Read
Amuzing Thai CartoonsFor 20 years Pattaya has been the home of Michael Baird, a talented English cartoonist who has published several books containing hundreds of funny observational cartoons of expats, locals and tourists staying in this colourful city. His books can be found in most books shops in town.

The city-produced "Official Map of Pattaya" is available at Pattaya City Hall, and may also be available from the Pattaya Police, the Tourist Police and the Immigration Police.
Get in
By car
Pattaya is 150 km from Bangkok and can be reached in a comfortable 2 hr drive. There are two convenient ways to get there:
Via the Bangkok-Chonburi-Pattaya Motorway (Hwy 7). The motorway is linked with Bangkok's Outer Ring Rd, (Hwy 9) and there is also another entrance at Si Nakharin and Rama IX junction.
Via Bang Na-Trat Hwy 34. From Bang Na, Bang Phli, cross the Bang Pakong River to Chonburi and take Chonburi's bypass to meet Sukhumvit Rd, (Hwy 3, passing Bang Saen Beach, Bang Phra to Pattaya.
By plane
Bangkok Airways
flies to/from
Ko Samui
(
USM
) and Phuket (HKT). Flights from Pattaya to Ko Samui are usually slightly less expensive than BKK to Ko Samui ones. Air Asia offer direct flights to Chiang Mai, Hat Yai and Udon Thani in Thailand and Kuala Lumpur in Malaysia. Kan Airlines have flights from Chiang Mai.
Ground transportation:
The easiest way to transfer between U-Tapao and Pattaya is by direct door-to-door minibus. Three different companies operate on this route and deliver passengers to their hotels, including Bangkok Air's and Air Asia's minibuses. Pre-booking is not required and buses can be found at the front doors of the airport. However, pre-booking surface transport might be essential, as competitively priced door-to-door transfer services may not be available on arrival. Driving time is normally about 30-50 minutes. 150 baht at the front doors or 200-250 baht per person for pre-booked services. If you don't get one to where you specifically want to go, note that it may drop you at the North Bus Station (which is still a far distance from the Beach strip). The Songathaew drivers know this, and will always ask for another 150 baht from the North Bus Station to the Beach/Walking Street (it should be 10 baht, though).
Metered taxis cost 750 baht including motorway tolls, if purchased at hotel.
If speed and convenience don't matter, the ad hoc option is to hop on virtually any bus on Sukhumvit Rd. Going south, if it's a bus that terminates at Sattahip you'll have to swap buses or finish the journey by songthaew; if it's going further east (e.g., Rayong, Chanthaburi or Trat) it'll drop you off at the airport entrance as it goes by. Going north, wait for a bus that's going further than Sattahip and then you won't need to transfer. Alternatively, the white songthaews that travel Sukhumvit Rd between Pattaya and Sattahip charge just 20 baht.
Or to buck the trend big time, go by rail (3rd class, weekdays only) between Pattaya and Sattahip. Get off just before or after the line crosses Hwy 3, and connect with the airport by songthaew or bus. The fare for the 40-50 minute train ride is just 6 baht. Departs Pattaya 10:18, arrives Sattahip 11:00; departs Sattahip 13:30, arrives Pattaya 14:21. But don't forget, no trains on Saturdays or Sundays.

Suvarnabhumi Airport
Suvarnabhumi Airport (BKK) is only 110 km from Pattaya (40 km closer than Don Mueang). Transfers by road are inexpensive and quick (around 80–90 minutes in dry weather, 120 minutes in wet weather) and getting quicker as the upgrades to the connecting highway are completed.
Taxis are a fairly inexpensive way to travel, especially at night. Fares from Suvarnabhumi Airport to Pattaya should be negotiated with the driver in advance. The "standard rate" is 1,500 baht and you should confirm it before leaving the taxi rank. At quiet hours you may be able to negotiate downward. Passengers will be expected to pay the two tolls en route, at 30 baht each.
Unlicensed taxis may try to solicit business from you, and it is important to note that these drivers do not have proper accreditation. Similarly, solicitations to take a metered and apparently licensed taxi from the departure level is an attempt to avoid the 50 baht airport fee (or for the driver to pocket it.)
It is also possible to arrange airport pickup through most hotels, and through any number of local taxi brokers. Fees through less expensive local hotels are generally the same 1,500 baht as the standard metered taxi rate, with larger resorts and international chain hotels often charging much higher rates. Local prearranged cars will run between 1,000-1,500 baht.
Return fares from Pattaya to Suvarnabhumi Airport are 800 baht plus tolls for a returning metered taxi if arranged in advance. They may or may not be available at the last minute. A private car service arranged through a (local) hotel or travel agent will be around 1,200-1,500 baht.

Don Mueang Airport
Don Mueang Airport (DMK) was replaced by Suvarnabhumi as Bangkok's main airport in 2006. It handles Air Asia, Nok Air, One-Two-Go. The easiest way to transfer is by taxi; the cheapest alternatives are to go by bus via Mo Chit (Bangkok's Northern Bus Terminal), or to go by train via Hualamphong (only practical in the Pattaya to Don Mueang direction).

By bus
Pattaya is a mess for bus travellers unless they are going to Bangkok. The simple reason is that there is no single bus station as in most Thai towns. Going to Bangkok, you go to the "Air Conditioned Bus Terminal Pattaya-Bangkok" (that's the real name) on North Road. If you want to go to Chiang Mai, Ubon, Surin, Nan, and other stops, you've got to find the Nakhonchai Air bus terminal (inland side Sukhumvit Road). To Hua Hin it's the Yellow Bus Company or Bell Travel/Roong Reuang. To Udon, it's the 407 Bus Company Station. There are other small bus stations for other destinations. There is no comprehensive guide to stations or destinations. Travel "agencies" are not much help as there is no money in buses for them. Best bet is to ask at your hotel. Motorbike taxi drivers are another good source. They know where all the stations are, even if they don't know the routes they service.

First class bus
From Bangkok
1st class buses from Bangkok to the North Pattaya Rd bus station are air-con, almost always have an on-board toilet, are essentially direct (i.e., no stops), and provide a no fuss, no frills, hassle-free service. Departures from the Eastern (Ekamai) Terminal and Northern (Mo Chit 2) Terminal are frequent (every 20–40 minutes, depending on the time of day; more frequent still on public holiday weekends) and usually take 2-2½ hours. Those from the Southern (Sai Tai Taling Chan สายใต้ตลิ่งชัน) Bus Terminal are less frequent and take a little longer.
Departures:
Ekamai (East) to Pattaya: first 05:40, last 21:00
Pattaya to Ekamai (East): first 04:30, last 23:00
Mo Chit 2 (North) to Pattaya: first 05:40, last 19:00
Pattaya to Mo Chit 2 (North): first 05:20, last 20:00
Sai Tai Mai (South) to Pattaya: 05:30, 08:30, 10:00, 12:00, 14:00, 16:00, 18:30
Pattaya to Sai Tai Mai (South): 06:00, 08:00, 10:00, 12:00, 15:00, 18:00

Fares are around 130 baht but may vary slightly depending on the route taken. For example, at busy times when the Mo Chit service uses the elevated express toll way, a marginally higher fare applies. However, exact prices are always clearly posted at the official ticket counters.
All 1st class direct services to/from Bangkok use the recently redeveloped bus station on North Pattaya Rd. These buses are usually full when they depart, and must be boarded at the terminus. Tickets are sold at the bus station; it's not possible to pre-book these services more than an hour or so in advance. Usually, if the bus that's due to leave next is already full, there will be seats available on the next one. The longest queues are for the very early morning departures from Pattaya. To get a seat on the first bus of the day you need to be in the ticket queue at least 30–40 minutes early. The bonus is that these pre-rush hour services can take as little as 90 minutes to get to Bangkok.
From the North Pattaya Rd bus station, dark-blue songthaews (a cross between a pickup truck, a share-taxi, a local bus) depart when full (every few minutes). The fare to anywhere on Beach Rd ("the beach") should be 25 baht. However, usually they will charge 150-200 baht. If you wait with a group, the driver may go down to 50. The key is to flag the songthaew while it's driving, and try to get on the back without talking to the driver; this would be about 25 baht, if you succeed. Press the buzzer button on the underside of the roof when you want to get off.
Pattaya to the Eastern (Ekamai) Terminal: if requested, this bus will stop at the On Nut Skytrain Station (station map ) on Sukhumvit Rd. Depending on your final destination and the traffic conditions, you may want to transfer to the Skytrain (system map ) there. If so, wait until the bus departs Pattaya and then confirm with the crew that you want to be dropped off at "On Nut". This bus does not stop to pick up passengers at On Nut (or anywhere else) on the outbound leg. Also on request the bus will stop along the Bangna-Trat Expressway opposite the Central Department Store, Bangna.
Pattaya from/to the Southern (Sai Tai Mai) Terminal: if the direct bus is fully booked, take the Eastern (Ekamai) Terminal bus instead, and use the #511 (air-con, every 30 minutes 24/7, 20 baht) bus to connect between Ekamai and Sai Tai Mai.
Pattaya from/to Suvarnabhumi Airport: Bell Travel Tel. +66 38 3700556, +66 2 7474673 to Airport: 06:00, 09:00, 11:00, 13:00, 15:00, 17:00, 19:00 and to Pattaya: 08:00, 10:00, 12:00, 14:00, 15:00, 16:00, 18:00. Their bus travels directly from the terminal building to the northern bus station. This service includes van transfers from/to your hotel in the 240 baht price, although they will not go to hotels on Sukhumvit Rd or at Chaiyapruek Rd or further. You need to go to Bell Travel's website to book your travel from Suvarnabhumi Airport to Pattaya. They don't accept walk-in requests.
Pattaya from/to Suvarnabhumi Airport: Government bus 389 120 baht (as of January 2017): Hourly 07:00-22:00. The bus departs directly from the airport at Level 1 and makes stops along Sukhumvit Rd at Pattaya Nua Rd (north), Pattaya Klang Rd (middle), Pattaya Tai Rd (south) and its bus station at the south end of Thepprasit Rd in Jomtien. However, the 21:00 and 22:00 buses drive to the bus station at Pattaya Nua Rd (north). Departures to the airport from the bus station in Jomtien are hourly 07:00-21:00 without any stops.

Second class bus
2nd class services (air-con, usually no on-board toilet) don't use the expressways, and make frequent (and sometimes lengthy) stops, hence they take considerably longer than their 1st class counterparts (which at worst will only halt momentarily once or twice to let passengers jump off on the final approaches to their destination). As at June 2006 the 2nd class fare is 100 baht, so the difference in price doesn't amount to much.
Many 2nd class buses from Bangkok continue on to Jomtien, so may be worth considering if that's your final destination and you're not in a hurry. For travel from Jomtien to Bangkok they have the advantage that they can be flagged down and boarded as they crawl along Jomtien's seafront road (Jomtien Beach Road - Thanon Hat Jomtien), avoiding the need for a preliminary trip to the bus station.
The terminus for 2nd class services to/from Bangkok and other short-haul destinations is on South Pattaya Road, but in practice these buses pick up and drop off the majority of their passengers en route. Tickets are sold both at the bus station (although advance booking may not be possible) and on the bus itself.
The airport bus service from Suvarnabhumi Airport is direct from the airport and terminates at Jomtien Beach Rd & Soi Chaiyapruek. It costs 112 baht. There are 5 return trips either way per day.

From Chiang Mai
Nakhonchai Air buses depart from the Nakhonchai Air Terminal at Chiang Mai's Arcade bus station (behind Terminal 2) regularly throughout the day. Fare is approximately 785 baht, travel time is about 11 hr, with no stops longer than 5 min. Buses arrive at Pattaya's Nakhonchai Air Terminal on Sukhumvit Rd, about a 60 baht motorbike taxi ride from Beach Rd.

From/to Hua Hin/Cha-am
Roong Rueang Coach in conjunction with Bell Travel Service runs a daily bus from Hua Hin/Cha-am to Pattaya. It leaves Hua Hin Bus Station (between Sois 96 and 98) daily at 11:00, stopping to pick-up passengers in Cha-am at the bus stop at the Government Savings Bank at 11:30. Fare is 389 baht. Drop off in Pattaya at the Pattaya Bus Station on N Pattaya Road. Buses from Pattaya Bus Station on N Pattaya Road to Hua Hin/Cha-am depart daily at 11:00. Fare is 389 baht. Drop-off points are the Cha-am intersection (bus stop at Bangkok Bank) and the Hua Hin Bus Station (between Sois 96 and 98). Reservations may be made on-line at the website.

From Udon Thani and points north
The 407 Bus Company runs buses daily from Nong Khai/Udon to Rayong, stopping on Sukhumvit Road in Pattaya. Their station in Udon is in front of Bus Terminal Number 1 on a main street. Their last bus departs Udon at 20:50 arriving Pattaya about 06:00. It stops at various places such as Khon Kaen en route, and can be boarded at any stop. A VIP seat is 636 baht (Oct 2015).

By minibus/minivan
Bangkok - minibuses run between Pattaya and Bangkok's hotels and Khao San Road, offering the convenience of a door-to-door service for around 400 baht/person. Departure times vary, but 09:00, 12:00, and 17:30 are the most widely advertised. Driving time is about 2 hours, however it can take quite a bit longer overall (especially if you're the first to be collected and the last to be dropped off). One such service runs direct between Pattaya Dynasty Inn (Soi 13) and Bangkok Dynasty Inn (Soi Nana), and can be arranged through the Dynasty Inn reception desks.
Eastern Bus Terminal next to Ekamai BTS station: vans to Pattaya, 140 baht each way. T-Tour tel. +66 80 0906540.
Ban Phe (gateway to Ko Samet) - about 90 minutes, 150-200 baht; departures typically 07:30, 11:30, 15:00.

It's also possible to travel by minibus to Hat Lek (for the southernmost border crossing between Thailand and Cambodia), but not every day of the week. this service may or may not go via Laem Ngop, depending on overall demand. depart 07:30, arrive around 14:00, 700 baht, Tu and F only, but liable to change, so enquire locally for the latest schedule.
Travel agencies (ubiquitous throughout Pattaya) plus many hotels/guesthouses sell minibus tickets, and tourist-oriented services such as these invariably include collection from your hotel/guesthouse/wherever (allow extra time for this - times quoted above are approximate transit times and make no allowance for the vagaries of the collection process).

By taxi
Public taxis serving the airport must have a meter, be air-conditioned, and be less than five years old. The driver should have an Airports of Thailand certificate.
To Bangkok - widely advertised in Pattaya at 800 baht (the lower price is because it'll be a Bangkok cab returning home), and easily arranged through most travel agencies and hotels/guesthouses. The driver pays 300 baht commission to the agency, if you can hail one yourself you might be able to negotiate lower. Minibuses can also be chartered taxi-style from around 1,800 baht.
From Bangkok - prices range from 1,500 baht (the official meter-taxi rate) to 1000 baht; arranged car services will tend toward the higher end, but licensed meter-taxis should be negotiable to the lower end of the range. Allow about 90–120 minutes, depending on where in Bangkok you're coming from; more around rush hour.
From Suvarnabhumi Airport - the official meter-taxi price to Pattaya is 1,050 baht (1,100 baht to Jomtien) plus the 60 baht highway ("motorway" or "expressway") toll (this isn't necessary outside peak times, when travelling down below is just as fast). Allow around 80–90 minutes in favourable conditions.
Scams to watch out for when headed for Bangkok by taxi include being told that the pre-paid price is fully inclusive, but then, on arrival at the first toll booth, being told that the expressway fees are extra.
Many of the more upmarket hotels can arrange (for an additional fee) to have you met at the airport gate by a personal driver with a limousine, thus avoiding the need to negotiate with taxi drivers, or you can book a limousine in advance on-line

By train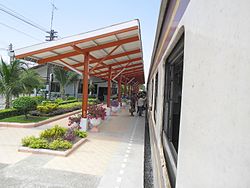 Provided it's a weekday, the most economical way to travel between Pattaya and Bangkok by public transport is by rail. The one-way fare is just 31 baht, and if you've never experienced a 3rd class Thai ordinary Train No. 283/284, this can be an interesting experience.
From Monday to Friday, a single daily 3rd class (non-air-con) train departs Bangkok's Hualamphong Train Station at 06:50 and arrives at the main Pattaya station at 10:18 before continuing on to Sattahip. It then returns via Pattaya at 14:21 and terminates back in Bangkok at 17:40 (on Saturdays and Sundays it turns back to Bangkok at Chachoengsao, so is of no practical use for getting to or from Pattaya on weekends). Regardless of direction, simply turn up and buy a ticket at the station. This train can't be pre-booked.
The fare from/to Bangkok is 31 baht, from/to Sattahip 6 baht.
The surcharge for transporting a bicycle (up to 20 kg) between any two points on this line (i.e., Bangkok-Sattahip) is 80 baht.
Tickets for other journeys can be purchased (up to a maximum of 60 days in advance) at the Pattaya Train Station ticket office between 08:00 and 16:00. The same tickets can also be arranged through Pattaya agencies, who will add on a 200-300 baht mark-up to cover their assistance and the cost of sending a moto-taxi to collect the tickets from the station.
Travelling by train although is the most economical, is far less comfortable than travelling by bus (train is non-air-con, not very clean and no toilet). Also travelling by train takes longer time, as much as 3.5 hours compared to bus 1½-2½ hours.
Pattaya has two train stations, both just east of Sukhumvit Rd:
Getting there: a songthaew waits here for the train to arrive and charges a reasonable 30 baht/person to anywhere in the Pattaya Beach area. In the opposite direction, budget around 40-50 baht for a motorbike taxi from Beach Rd.




By ferry

phone: +66 38 488 999, +66 98 625 9949

A passenger-only ferry service from Pattaya-Hua Hin-Pattaya, started January 2017. The service is operated by Royal Passenger Liner Co, Ltd. It operates three catamarans, each accommodating up to 346 passengers. The ferry leaves Pattaya once daily at 10:00. (May 2017) From Hua Hin it leaves at 12:30. The 116 km journey takes 2 hr. Passengers are discouraged from leaving their seats during the voyage and are not permitted on deck. The reason to take the ferry is to save time, as the excellent 24-passenger bus service between Hua Hin and Pattaya takes 4-5 hr, but only costs 389 baht and offers more leg room.



Get around
By songthaew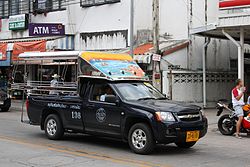 Apart from a handful of privately operated examples, Pattaya has no
tuk-tuk
s and most ad hoc local transport is undertaken by a flotilla of over 700 dark blue coloured
songthaews
- pickup trucks used as buses. The "bus" fare is 10 baht for trips within Pattaya, for locals and foreigners. Having the correct change is by no means essential, but does keep the potential hassle factor to a minimum. In the past, dual pricing applied (5 baht base fare, but generally only applied to locals, with a 10 baht fare for foreigners) and some drivers will short-change you on a 20 baht note if you don't act like you know what you're doing, but most will return 10 baht. Avoid asking destination (or talking to the driver at all) when riding a songthaew, as many drivers will charge you a lot of money (100-200 baht). If you know the direction of where you're going, it's recommended you just wave at the truck to stop, get on the back, and ride the songthaew without talking to the driver. That way you will just pay 10 baht per person no matter how far you go.
Flat fares only apply when operating as a bus. Beware of the driver of an otherwise empty songthaew, especially one that's parked at the roadside, who might presume (or decide on your behalf) that you want to charter him as a taxi, in which case expect a much higher fare of 100 baht or more, depending on your negotiating skills. Taxis in Pattaya do not use meters at all, and unless you can speak Thai, start at 150 baht and up.
The busiest route is the beach circuit: from the junction of Second Rd and South Pattaya Rd, north along Second Rd to the Dolphin Circle roundabout; then south along the full length of Beach Rd; then briefly east along South Pattaya Rd to complete the loop. Frequency is virtually non-stop, and even at the most unlikely hours, average waiting time is literally no more than a minute, often only a few seconds during daytime hours.
Routes sometimes vary. For example with a left turn (from Beach Rd or Second Rd) into Central Pattaya Rd; or no left turn at the Dolphin Circle roundabout (where Second Rd, Beach Rd and North Pattaya Rd meet) and going straight on to Naklua (or even a right turn towards the bus station and Sukhumvit). The only way to know the route for sure is to ask (but don't let the driver mistake your asking as a charter request). Sometimes the driver will just decide to turn down a random soi for no apparent reason, or because he's just been hired as a taxi, but you'll still be expected to pay your 10 baht if you've ridden for more than a soi or two.
It's also easy to catch songthaews along South Pattaya Rd, Central Pattaya Rd, and North Pattaya Rd. In the latter case, there's often a songthaew waiting at the Dolphin Circle roundabout (they depart from here at regular intervals, or when full, and the fare to the bus station is 10 baht) and there's also a free songthaew service to the Tesco-Lotus supermarket on North Pattaya Rd.
For Jomtien, songthaews wait at the beginning of Pratamnak Rd (the continuation of Second Rd, from the South Pattaya Rd crossroads), and charge 10 baht.
For Naklua, take a songthaew up Second Rd to the Dolphin Roundabout (10 baht). If the songthaew turns left or right at the roundabout (i.e., it's not one of the few that continue straight on to Naklua), disembark immediately and cross to the north side of the roundabout, and either walk or take a northbound songthaew (10 baht) from there.
White coloured songthaews ply Sukhumvit Rd, going as far as Si Racha and Sattahip (20 baht). Full-size buses to destinations as far away as
Trat
and even
Chiang Mai
also stop and pick up passengers on Sukhumvit Rd (at the South Pattaya Rd, Central Pattaya Rd, and North Pattaya Rd junctions).
If you're overcharged by a songthaew driver, note the three digit vehicle number (top left corner of the windscreen, also stencilled on both sides and in the back) and report the problem to:
Pattaya City Manager: dial +66 38 429216.
Banglamung District Baht Bus Cooperative: dial +66 38 221271, +66 38 423554.
By local bus
A local bus company, called Beach Bus, runs a circular route: Pattaya Floating Market - Chaiyapruek - Jomtien Beach Rd - Thappraya – Pattaya Second Rd – Dolphin Roundabout – Northern Bus Terminal – City Hall – Pattaya Beach Rd – Walking St - Thappraya - Jomtien Beach Rd - Chaiyapruek - Pattaya Floating Market. Tickets cost 30 baht.
By motorbike taxi
The quickest way to get around is by motorcycle (
motosai
). A moto-taxi will be less expensive than a songthaew charter or taxi, but, annoyingly, still overpriced by Thailand standards (more expensive than a metered air-conditioned taxi in Bangkok), and arguably less safe. Roadside moto-taxi stands are scattered throughout town, and waiting drivers usually clap their hands or sometimes call out to attract the attention of potential passengers; alternatively just flag down the next available one that cruises by, as the drivers are easily identified by their coloured vests. Some will carry two, or more, passengers although this is illegal. Foreigners can expect to pay around 30-40 baht for trips around the inner parts of town (you will likely have to bargain for this price, though, especially if you don't speak any Thai), 60-80 baht for longer distances.
By taxi
Meter-taxis are a common sight in and around Pattaya, however none of them will accept a fare using the meter. The minimum for a foreigner is usually 150 baht - even 1 km hops. All are from Bangkok; their drivers bring passengers from the capital, and then operate locally until a return fare becomes available. There are also some car services and non-metered taxis that operate on an on-call basis; minibuses can also be chartered. These services are suited primarily to longer trips outside the core of the town or to another city, and can be arranged through most travel agencies and many hotels/guesthouses.Expect to pay considerably more than the cost of a songthaew charter, probably in the order of a few hundred baht. If you are going back to Bangkok, there is the cheap possibility of catching a taxi which has just came from there (with some passengers) and has to return. Since the driver isn't going to get a passenger as soon as he leaves Pattaya, he'll be willing to take back a passenger for cheap which should cost you no more than 800-1200 baht.
By car
If considering renting a vehicle, bear in mind that traffic in Pattaya can seem very erratic by Western standards, and that driving on the left can be confusing not only for those who have previously only ever driven on the right, but also for those unfamiliar with the common Thai practice (even the police do this) of motorcycling alongside the kerb on the "oncoming" side of the road, or the wrong way up one-way streets. The latter problem is especially prevalent in the Pattaya Bay area, where the majority of the roads in the main tourism zones are one-way; and the northern section of Second Road requires great care as some treat the right-hand "bus" lane as oncoming, while others do not.
Motorcycles, bicycles and electric bicycles rental
Motorcycle rentals are a very popular way to get around, but not the safest, especially in the case of visitors with limited previous experience of motorcycling and Eastern traffic habits, and even more so in Pattaya given the large number of motorcycle-mounted holidaymakers who seem hell-bent on a Darwin Award. Also note that a motorcyclist carrying a shoulder bag, and anything placed in the front basket of a motorcycle, makes an especially easy target for bag-snatchers. Also beware the "No Parking" signs; fines are typically 400-500 baht.
Motorbikes can be rented without difficulty at countless locations in Pattaya, including many hotels and guesthouses, usually without having to produce a licence; however it's common for foreigners to be asked to deposit their passports as security. To avoid this, simply shop around until you find one of the many places that will accept a photocopy instead. Cash deposits are also often required, with 1,000 baht being common. Motorcycle rentals do not include insurance, and both motorcycling accidents and motorbike thefts are common. Some outlets have a third-party cover which covers you for medical attention. If motorbikes don't carry this insurance they are illegal and should not be entertained. One company offering this cover is Nittayas who operates from Soi 12 Naklua.
There are many places where you can hire bicycles, prices start at 150 baht per day. Besides, it's also possible to rent electric bicycles for 150 baht, which don't require a helmet or a drivers license. Punctures can be repaired for 40 baht or a new inner tube fitted for 150 baht at bicycle repair shop on Soi Buakhao, directly opposite Princess Bar. Another bicycle repair shop can be found if turn left at end of Soi Buakhao onto South Pattaya Road, shop on left just before traffic lights with 3rd road.
Cars and jeeps rental
Cars can easily be rented, and are a good way to explore beyond the city limits, but they are not such a practicable way to get around the busiest central areas as traffic can be congested, and parking spaces can be difficult to find in the evening and on weekends. However, the major supermarkets offer free parking, and low-cost parking is available at the major shopping venues such as Royal Garden Plaza, Central Festival, & Big C on Second Road.
Rentals without insurance start from around 800 baht/day for small cars, and from as little as 600 baht/day for open-top jeeps; cars with insurance start at just under 1,000 baht/day, and come down to around 5,600 baht/week or 18,000 baht/month in low season. High season prices (from early November) are generally a few hundred baht more.
Getting the correct type of insurance cover on any rental car in Thailand is extremely important. Commercial "Car Rental Company" first-class insurance provides the absolute full legal cover as opposed to limited personal or third party-only insurance cover. Request a copy of the policy document and check that it states "For Commercial Use".
Quads rental
phone: +66 98 884-340
Has a small fleet of assorted models. Prices start at 1,500 baht/day for a 4-stroke 150 cc quad with road tyres that can carry two people; rates for larger models (some with off-road tyres) go as high as 3,000 baht/day.
By boat
Regular ferries depart from to nearby
Ko Lan island
, trip costs 30 baht per person and takes about half an hour. Some of the ferries go to Na Baan pier on the Pattaya side of the island; others go to Tawaen Beach pier on the far side of the island.
Besides, it's also possible to charter there a private boat going to
Ko Khrok island
(2 km east of Ko Lan) or
Ko Phai, and other islands in the Ko Phai group
.
See
Many attractions marketed as being in Pattaya are actually located in
Jomtien
,
Sattahip
and
Si Racha
.
Animals and zoos
Beaches
The 3 km long runs alongside the city. The beach is full of life with hotels, restaurants, shopping malls all along the road facing the beach. The street south of Beach Rd, Walking St, comes alive with rock music as the night sets in. People throng the street to experience the night life, which is unique in all respects. There are hundreds of beer bars, go-go bars, discothèques around the area. Muay Thai, or Thai Boxing, in open arenas in some of the beer bars adds to the carnival atmosphere.
Jomtien Beach
, more popular with families, is in the southern part of the urban area, and separated from Pattaya Bay by Buddha hill. Jomtien, a paradise for water sports enthusiasts, is calmer and more serene compared with Pattaya. Jomtien is also popular for its amusement park and tower, to keep children entertained. The 1 km long,
Wong Phrachan Beach
, at the north end of Pattaya Beach is a favourite among swimmers.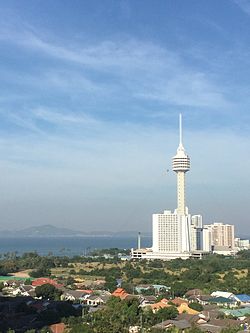 There are acres of sand jam-packed with deck chairs (recliners) and umbrellas (usually with an "in-house" supply of drinks), serviced by an army of laid-back but tenacious hawkers offering anything and everything from food (especially seafood, fruit, ice cream) to massage, manicure/pedicure, tattoos, lottery tickets, newspapers, herbs, flowers, gems, perfumes, sunglasses, CDs, watches, lighters, clothes, toys, souvenirs, handicrafts and so on. Eventually you buy a pair of very dark sunglasses and just pretend to be asleep.
Pattaya Beach is almost 3 km long and bordered by Beach Rd. Due to its central location and proximity to several hundred hotels, and because it's a relatively narrow strip of sand, it's crowded at the best of times (and even more so at high tide). Hefty fines for littering help keep the sand neat and tidy, however the sea is not so clean.
The north end of Pattaya Bay is occupied by , which is accessed from Naklua; and beyond the southern end, around the Buddha Hill headland that separates Pattaya Bay from Jomtien, are several more smaller beaches.
Naklua Bay is immediately north of Pattaya Bay, with Rachvate Cape separating the two. , to the far north, is the main strip, with the smaller and then further south. Beyond them is Wong Amat Beach which occupies the northern end of Pattaya Bay, but is accessed from Naklua. All are generally cleaner and more suitable for quiet relaxation than Pattaya Beach.
Wong Phra Chan BeachThis small tranquil 1 kilometre beach is on the north side of Pattaya Bay. The serene atmosphere here is attractive to those longing for a complete rest and privacy.
Museums
Sacred places
Theme parks
Do
Pattaya's main beaches are popular and busy places for activities. Some of these include banana-boat rides, jet-skiing, water-skiing, para-sailing, windsurfing, and the like; anyone who just wants to enjoy a simple swim or a good splash around with a Frisbee or rented inner tube will always find themselves with plenty of company as well.
Cabaret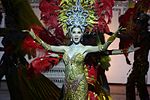 Pattaya is well known for its
katoey cabaret
(aka
ladyboy
or transvestite) shows. Two of the best known (expect busloads of Asian tourists) are:
phone: +66 38 410225(-7)

address: Pattaya 2 Rd

Directly after the show the performers come outside for a few minutes photo session. 40 baht per photo with each performer of your choice or 200 baht for an instant Polaroid photo taken by their own photographer.

phone: +66 38 421700(-5)

address: Pattaya 2 Rd

Tiffany's is a family-friendly ladyboy cabaret show. The 19:30 show is generally deemed to be the best of the night. After the show there the ladyboys would gather outside available for photos sessions with interested audience. However, be aware that taking photos with the ladyboy means you are obligated to give the ladyboy tips as much as 40 baht to 100 baht depending on the rank of the ladyboy (front row ladyboys are more costly to take photos with than the back rows). Some ladyboys offers free photos session though. In May Tiffany's Show hosts the annual Miss Tiffany's Universe Pageant beauty queen competition, for contestants born as men. If you've got testosterone left over, visit the shooting range in the basement! Contact Tiffany's directly for a complimentary pick-up from your hotel.
NB: Some roadside local travel agents offers significantly cheaper ticket prices for the above shows, including for VIP seats. They also provide tickets for other things like sex shows.
Cinemas
Cinemas in Thailand tend to be severely air conditioned - bring a long sleeve shirt, or jacket, or both! Otherwise, the four large mall cinemas in Pattaya are mostly up to Western standards. Some (but by no means all) Thai-language films are subtitled in English (check the billing at the theatre) and some films will have both subtitled and non-subtitled showings. Visitors must stand up during the national anthem.
address: The Avenue

Shows similar movies to the SFX cinema in Central Festival but is about 20 baht cheaper. Regular ticket for 120 baht (80 baht on Wednesdays).

SFX Cinema

address: Central Pattaya Beach

Multiplex with 10 theatres on the 6th floor of the Central Festival shopping complex. Regular ticket for 140 baht (120 baht on Wednesdays), larger seat 20 baht more, fancy sofa seat at the very back, 500 baht. One theatre has first class seats for 600 baht (including popcorn and a soft drink).

SF Cinema City

phone: +66 38 361500

address: inside Central Marina Mall

This cinema has six theatres with ticket prices around 90 baht, slightly more at weekends; this has increasingly been showing Thai-soundtrack-only films (including dubbed versions of foreign films and no-English-subtitle releases of Thai films).
Diving
As with most coastal towns in Thailand, Pattaya is a good place for diving. The diving is done mostly on the near islands, Ko Larn, Ko Sak, Ko Krok. Once in a while the dive centres go out to the far islands, Ko Rin and Koh Wichai.
The diving off Pattaya is also known for its numerous wrecks: the HTMS Kut, HTMS Kram, the Bremen, and the Harddeep.
phone: +66 38 361724

address: 437/17 Moo 9, Soi 6/Beach Rd

DA Scuba is one of the oldest dive centres in Pattaya, which are running daily trips to the near islands, far islands and wrecks.
Entertainment
address: Second Road Soi 1, North Pattaya

This is an "illusion" art museum that features ten galleries – the Camouflage Room, Under the Ocean Room, Wildlife Room, Classical Art Room, Civilization Room, Surrealism Room, Dinosaur Room, Waterfall Room, Scenery Room, and Exhibition of Art Room. Great place for any one who loves to snap selfies!

Bowling Plus

phone: +66 38 429908

address: Second Rd

20 bowling lanes. Also has 6 pool tables plus 2 full-size snooker tables for 120 baht/hour.

O.D. Bowl

address: Pratamnak Rd

Paintball Park

phone: +66 38 300608

address: 248/10 Moo 12, Thep Prasit Rd

Decent field; helpful English speaking manager.

Pattaya Kart Speedway

phone: +66 38 422044

address: 248/2 Moo 12, Thep Prasit Rd

A kart racing circuit where there are separate lanes for professionals and amateurs, and there is a separate "off-road" track.

P.S. Bowling

phone: +66 38 420965

address: P.S. Plaza

phone: +66 38 710294(-8)

address: Second Rd or Beach Rd

At the same location there's also a "Haunted Experience" show, a 4D movie theatre and "Infinity Maze" game. Various combination tickets available to enter all four.

Tiffany's Shooting Range

phone: +66 38 421700(-5)

address: GF, Tiffany's Show Building, 464 Moo 9, Second Rd

The only indoor shooting range in Pattaya with 19 lanes. Minimum age 18.

Video gamesVideo games are a popular pastime in Thailand, hence PlayStation and computer game shops are everywhere in Pattaya. The usual rate is 20 baht/hr, making for pretty cheap entertainment, but expect things to get very crowded and loud in the hours after school lets out. There's a big shop on Soi Chaiyaphum (right off Soi Buakhao across from Soi Diana Inn) that's open 24/7 and has more comfortable chairs.
Festivals
New Year's Day1 Jan has been adopted as New Year's Day. On the first of January, people offer food to monks at the temple or at a particular site designated by government offices of private organizations.

SongkranMid-April. Songkran is the Thai New Year, celebrated primarily by everyone throwing prodigious quantities of water at anything that moves. Pattaya officially celebrates Songkran on later dates (April 18–19) than most of the rest of the country (April 13–15) - but in reality the fun just starts early and keeps on going that much longer. During this period many hotels and guest houses have high occupancy levels, and public transport services (especially buses to/from Bangkok) are very busy, with more frequent than normal departures but also with appreciable delays due to the general mayhem on the roads. Songkran in Pattaya follows the same overall pattern as seen elsewhere in Thailand, but is especially vigorous in areas such as Soi 7 and Soi 8. Expect to get very wet indeed and you're unlikely to be disappointed - regardless of where you go or what else you actually plan to do. Although things calm down considerably after dusk, it's still worth keeping anything that could easily be damaged (especially cameras, mobile telephones, passports etc) in plastic bags.

Pattaya FestivalMid-April. The Pattaya Festival has floral floats, a Miss Pattaya Beauty contest, a traditional aquatic sports competitions, castles, a fireworks display, fire crackers, arts and cultural performances, exhibitions and souvenirs for sale. Don't expect an "authentic" festival, this is basically a festival to promote Pattaya as a popular seaside destination for tourists.
Forest canopy zip lining
For those who want adventure combined with the experience of seeing a rain forest canopy, this adventure tour is ideal. It involves zip lining over the forest canopy and getting a thrill that is in a league of its own. The tour operates twice daily: one starting around 07:00 and the other around noon. Total time including travel is about 5 hours of which about 2–3 hours will be spent in the forest. Can be booked through one of the many tour operator shops or on-line at Cost can vary from 2,100-2,500 baht depending on where you book, your ability to negotiate and the supply-demand situation.
Golf
phone: +66 85 4343377

address: 33/133 Soi L.K. Metro

A popular sports bar & restaurant that runs regular golf competitions on M, Tu, Th, and F. They have contracts with the local courses and offer highly discounted green fees either through the Pattaya Sports Club or they can book your private tour of up to 120 golfers. They are the only bar golf society with a TAT License. Transportation, club rentals, free Wi-Fi and golf lockers are available. Have 4 rooms available to golfers and non-golfers alike, from 600-900 baht depending on room and season.

The Mini Golf Pub

address: Thappraya Rd

18 holes, refreshments available; their cat sometimes acts as a self-propelled obstacle.

Pattaya City Golf18 holes, plus chipping, driving and putting areas for the more serious golfer; refreshments served at the waterfront bar; caddy service available.
Island day-tripping
Ko Khrok2 km east of Ko Laan, is an isolated rocky islet with a single 100 metre stretch of sandy beach to the east, where visitors can see coral reefs.

Ko PhaiKo Phai, and other islands in the Ko Phai group, Ko Klung Badan (or Krung Badan), Ko Luam (or Leom), Ko Man Wichai and Ko Rin (or Lin) - are preferred destinations for scuba divers, and are also popular for general relaxation, fishing, swimming and snorkeling day trips. This area is controlled by the Royal Thai Navy, and overnight stays are not permitted. For a return speedboat charter from one of the mainland beaches or Bali Hai Pier (approx. 23 km/2 hours), expect to pay 2,500-4,000 baht; possibly less from Ko Laan.
Massage
OneRoyale

phone: +66 38 423326

address: Central Rd

Clean, comfortable, and quiet atmosphere. Body massages include foot, Thai, oil, aroma, head/shoulder, and four hands. Also do body scrubs and sun burn treatment. Special treatments for ladies include: intimate repair treatment, vagina firming treatment, post-birth treatment, firming & anti-cellulite treatment. Water, tea or coffee afterwards.

Serenity Massage

phone: +66 87 5386120

One of the few massage shops in this section of Pattaya. It offers a clean, comfortable and quiet atmosphere inside, combined with talk and laughter with the girls outside. Massage services include foot, Thai, oil, powder, salt body scrub, aromatherapy, four hands massage and more. Water, tea or coffee afterwards. The overall experience is fun, unrushed and relaxing.

Spa View

phone: +66 38 411203

One of the largest massage and spa complexes in Pattaya, offering aromatherapy oil massage, herbal steam sauna, skin whitening treatment, body treatment with aloe vera herbal, mineral water treatment, body treatment with milk and honey, milk bath treatment, physical massage, foot massage, and others. Facial treatments include nail care and treatment, hand and foot therapy by soaking with herbal water, foot massage, facial massage, scrub, ozone, fruit skin treatment, lotion and others.
Muay Thai
address: Soi 7 North Rd

A popular muay Thai camp that is open to everyone for fitness, self-defence and fighter training. The gym is fully matted, including a large open training area, a boxing ring, several punch and kick bags as well as fitness equipment. Accommodation is available in camp, the instructors are multilingual, free Wi-Fi for customers, and the option of fighting at muay Thai stadiums.
Performances
Open Eyes Show

phone: +66 38 362077(-79)

address: 2F, Pattaya Bazaar, 266/52-53 North Pattaya Rd

"The Great Experience Behind The Magical", a lot of technological magic and illusion shows. It is a magic performance in various styles such as Aladdin, the Mermaid, Invisible Woman, the Wonderland, etc.

phone: +66 38 488880

address: 78/16-17 Pattaya Sai 2 Rd

It is a magic theatre in the form of a split-level restaurant. There are series of shows such as making an umbrella out of cards.
Watersports
In June 2016, the Regional Environmental Office said, "The sea water along the busy central Pattaya beaches is of poor quality and could endanger human and marine life".
For those who choose to ignore the warning, speedboat-towed parachute rides are available along the main beaches, and in Pattaya Bay from several large floating platforms with speedboats ferrying customers out from the shore. Typically about 500 baht.
Pattaya Lake Land Cable Ski

address: 90/1 Sukhumvit Rd Na Kluea

Lake Land Cable Ski is a manmade, freshwater lake beside Sukhumvit Road, not far from Jomtien Beach. Water skiing and wakeboarding.
Learn
Training in
scuba diving
and trips for a wide range of ability levels and interests, certified by a number of different organisations, including both NAUI and PADI, are available through numerous dive shops.
Language and Thai Cultural School

phone: +66 38 421919

address: 571/1 Naklua Rd

Teaches languages (Thai, English, German - rates depend on group size), Thai cookery (10 hours - 3,900 baht + ingredients), fruit carving (10 hours - 3,900 baht + materials, Ministry of Education certification available after 30 hours), Thai massage (10 hours - 3,900 baht), and yoga/meditation (5 hours - 1,900 baht).

phone: +66 81 6229372

ASA (American Sailing Association) sailing courses, based at Ocean Marina Yacht Club.
Buy
There are numerous malls, supermarkets, bazaar-style markets, and thousands of other shops. Sadly, you'll be seeing a lot of the same stuff over and over again — there's no endless variety in Pattaya. Also, Pattaya is not a good place to go shopping for hi-tech products, such as cameras and computers—expect to see prices around 50% higher than the best prices advertised in the West. Also beware of buying fake branded and designer goods, since these could be confiscated by customs officers at the airport.
Foreign currency can easily be exchanged for Thai baht at the many exchange booths which can be found in all areas popular with tourists — there are even mobile exchanges/ATMs in specially adapted minivans that are set up as and when and where the need arises. Note that the majority of exchange booths will buy foreign currency but will not sell it — if you need to obtain US dollars, for example if you're going to Cambodia, use one of the larger branches of a major bank, such as the Bangkok Bank branch on Second Rd (almost opposite Soi 6).
ATMs are widely available around the city, however, the vast majority of them now charge a steep 180 baht fee for using foreign cards, on top of what your home bank normally charges. The only exception was until 2014, Aeon bank but they now charge 150 baht. Their ATMs are located at the ground floor of Carrefour near KFC, Central Pattaya Rd (around 400m up from the Second Rd crossing), near Homework Furniture Mall entrance (just behind Big C on South Pattaya/Sukhumvit Rd intersection, accessible by 10 baht songthaews parked near Second Rd intersection), and in Tesco Lotus at South Pattaya. Also at Tesco Lotus on North Pattaya Rd on the ground floor.
Books
Book VarietyMany branches, at Big C, South Pattaya Rd, Carrefour, Central Pattaya Rd; Tuk.Com (Com City).

BookazineThere are many branches of Bookazine, including those at Central Festival Centre; Royal Garden Plaza; and The Avenue.

Canterbury Tales Cafe, Guesthouse & Bookshop

phone: +66 86 575466

address: Soi Chaiyapoon

Probably Pattaya's largest second hand bookshop. It's run by an Englishman called Dave. Also has a cafe restaurant and rooms for 500-800 baht. The cafe at the front is a popular meeting place with expats, mostly from UK, US and Australia.

D.K. Book Mart

phone: +66 38 429359

A medium-size bookshop with lots of English titles, including a sizeable cookbook section and a worthwhile selection of second-hand paperbacks at 99 baht.

Jeremy's Bookshop

phone: +66 38 411266

address: 383/111 Soi Chaiyaphum

An immaculate library-style English language paperback exchange, large selection, mostly priced around 100-250 baht. If you buy a book here and then return it in good condition, you'll get a credit of 50% of the original price towards your next purchase.

Pattaya Beach Books

phone: +66 38 362175

address: 1F, P.S. Plaza, 369 Moo 9, and 316/137 Moo 10, Soi Buakhao

Both branches of this book shop have a huge selection of used English language books and magazines. Magazines around 50-60 baht, paperbacks 140-160 baht, hardbacks 180+ baht. If you buy a book here and then return it in good condition, you'll get a credit of 50% of the original price towards your next purchase.

SE-EDThis store has several branches, at Big C, South Pattaya Rd; Carrefour, Central Pattaya Rd; Tesco-Lotus, North Pattaya Rd; Tesco-Lotus, Sukhumvit Rd.

phone: +66 16 368189

address: 138/213 Soi Khao Noi

A well designed paperback exchange, large selection of used and new, mostly priced around 100-240 baht. Fresh coffee and tea. If you buy a book here and then return it in good condition, you'll get a credit of 50% of the original price towards your next purchase.

Swan Book Shop

address: 210/6 Soi Buakhao

A large selection of second-hand foreign language paperbacks, mostly priced 100-180 baht.
Malls
Central FestivalOne of the largest malls in Asia. It is the best shopping mall in the region and now attracts customers from all over, adding to the traffic chaos of Beach Rd. Fashion, electronics, health & beauty, kids activities and food are all here. With the obligatory cinema complex and bowling alley on the top floor, this mega-mall is styled on the big Bangkok destination shopping areas like Siam Paragon. The Food Loft has the best view of the bay and great variety at reasonable prices. The anchor store is Central Department Store itself, offering high-end designer labels from abroad and Thailand. A supermarket and budget food hall is in the basement. Enter from Soi 9, Pattaya Beach Rd or on Second Rd after the new View Talay complex. Easy to find, just look for the traffic jams.

Mike Shopping MallThe ground floor has many small stalls selling clothing, tourist souvenirs and many other inexpensive items; above that there's a department store; on the 5th floor there's a food court; and up on the roof (10th floor) there's a public swimming pool.

P.S. Plaza and Tops supermarketA Tops supermarket and a cooked food outlet occupies most of the ground floor; billiards, books, massage, and a handful of other shops on the first floor; and P.S. Bowling on the second floor.

Royal Garden Plaza

Tukcom

address: South Pattaya Rd

A predominantly IT mall. In the basement is a Tops supermarket, a food court, and various other (mostly clothes) shops as well as a spare parts department that sells a variety of electronics (e.g., transistors) and other parts (e.g., washing machine lint filters), and the ground floor hosts an assortment of regular shops. However the upper floors are almost exclusively mobile phones (1st floor), computer software and MP3/video CDs (4th floor), and computers and handheld electronics (2nd/3rd/5th floors). Prices are significantly higher than in Bangkok though.

phone: +66 38-370910

address: 12 Muang Pattaya North Pattaya road

sells most things you need.
Markets
There are many bazaar-style markets in Pattaya where you can
haggle
'till you drop, including:
Made In Thailand Night Bazaar

address: on Second Rd near Soi 10

Despite the name, it is also open in mornings.

The Market PattayaThis market is a little lonely, but some evenings it has students giving music or dance performances on a small stage.

Soi Buakhao MarketDaytime on Tuesdays and Fridays; plus an evening market further along the same road.
Miscellaneous
phone: +66 861529480

address: 555 Moo 6, North Pattaya Rd

One of several "World's Biggest" jewellery stores, this one also has a theme park.

Jo Fishing Tackle Shop

phone: +66 38 367556

address: 259/42 Moo 5, Soi Pothisan

Small/mid-size shop absolutely packed to the gills(!) in a well-organised fashion with all manner of fishing tackle, owner doesn't speak much English, but is very friendly and helpful.

KC Gallery

address: Walking St

The best and biggest art gallery shop.

Narai Art Gallery

address: Soi 6, Phratamnak Rd

A local crafts shop which doubles as a nice restaurant.

Liam's Gallery

phone: +66 38 251808

address: Soi 4 Pratamnak Rd, Moo 12

Exhibits and sells original art works from Thailand and the rest of Southeast Asia.
Shops
Art galleries are also considered to be rising business in Pattaya, most of the places will offer variety works and services including custom orders and art reproductions. These galleries in Pattaya have reputations in affordable prices and fine quality artist skills.
Convenience stores are everywhere, especially 7-Eleven and FamilyMart shops (all open 24/7), plus countless independents. If you use the family run shops the prices aren't always marked but should be the same, or just a baht or two higher.
Gold shops abound, with concentrations around the market on South Pattaya Rd and around Central Pattaya Rd near Second Rd, plus numerous jewellery shops towards the south end of Beach Rd. Small jewellery shops can also be found as part of supermarkets.
Tailor shops Are everywhere, offering men's clothes, but quality is variable. Ideally, make sure you get two fittings before buying.
Eat
There are many restaurants, food carts, food courts, food markets, motorcycle-sidecar hotdog and meatball vendors, fruit sellers both mobile and stationary, even a roaming coffee peddling tuk-tuk. OK, so the
germ theory of disease
doesn't yet seem to be widely accepted but don't let that stop you from ordering the sushi. Many (although not all) non-Thai-cuisine restaurants also have at least a limited menu of Thai favourites as well.
Chonburi Province has a lot of fresh seafood and dried fruits. As there are a lot of people from the Isaan region living and working in Pattaya, there is an abundance of northeastern favourites such as spicy
papaya salad
(
som tam
) and spicy-sour chopped pork salad (
larb
).
Budget
The noodle stall next to the entrance to the North Pattaya Road bus station does a passable ba mii moo daeng (egg noodles with red pork) for 25 baht.
Several outdoor food stalls along Soi 15 (just off Walking Street). Foreigner friendly and cheap prices (e.g., fried rice, 50 baht; chicken, rice and soup, 30 baht).
The food court in the basement of Tuk.com (see the Buy | Malls section) has stalls with a wide range of cheap Thai dishes.

Big C Extra Food Court

address: Pattaya Klang Rd

It has good food including cheap Isaan treats, such as som tam (papaya salad) and khao neow (sticky rice). The Big C Extra stand, usually near the parking garage entrance, has inexpensive sandwiches.
Kiss Food & Drink serves cheap and cheerful Thai and Western favourites 24/7 at two semi-open-air locations - one on Second Rd opposite Mike Shopping Mall, the other in Naklua Road just past Boncafe - also in Jomtien and Soi Pornprapanimit (Soi Siam Country Club).

S&P Coffee Shops

address: various locations

Inexpensive sandwiches, like tuna, for 45 baht.

Sailor Bar and RestaurantGood restaurant and bar, notable for its 65 baht breakfasts. Service is fast and efficient, but brusque and cold. Free Wi-Fi.

Tesco Lotus Pattaya Nuea Food Court

phone: +66 38 370 910

address: 12 muang Pattaya North Pattaya Rd

A good low-price place to eat.
Mid-range
British PubsThere are several spots for fish and chips or roast beef and Yorkshire pudding: The Sportsman (Soi 13). They have a quiz night every Thursday, 21:00. The Pig and Whistle (Soi 7) and The Queen Victoria Inn (Soi 6).

Cool KitchenGood Western and Thai food including narm tok mu (spicy pork salad) and yum pla dook fu (crispy catfish salad).

phone: +66 871 348 483

address: 202/193 Moo 9 Pattaya Klang Plaza Center

Finnish restaurant, huge portions. On some of the dishes "if you're still hungry, you get the second one free." Their homepage is in Finnish only, but according to it they have rooms for rent (300-800 baht per night or 7000-18,000 baht per month depending on the season). Other services include scooter rental and Finnish sauna and they also arrange sports events such as bowling, golf, mölkky (a Finnish throwing game), and pesäpallo (Finnish baseball).

Nachrichtentreff

phone: +66 38 370173

address: 157/128 Moo 5, Naklua Rd

Serves pretty good Austrian food.

phone: +66 384 28177

address: 214 Moo 10 Walking St

In business since 1965, this is a super restaurant on the water in an unlikely Walking Street location. Seafood is a speciality, but the menu has sections devoted to Western food, Thai food, Italian food, Chinese food, and Japanese food. Extensive wine cellar. Attentive, friendly staff and reasonable prices.

Parsa RestaurantIranian restaurant serving high quality modern and traditional Persian food including kebab and khoresht. Iranian drinks like doogh as well.

SlicesAn American-style pizzeria. Also burgers and subs.

address: Soi 7

Serving Tex-Mex favourites including burritos, enchiladas, tacos, taquitos, quesadillas, and free chips with salsa, as well as American favourites including burgers, steaks, hoagies, Cajun, and seafood.

Trattoria Pizzeria Toscana-Moom Talay Thai Restaurant

phone: +66 38 362 370

address: 98/4 Moo 9 Beach Road

An unusual combination: an Italian restaurant coupled with a Thai restaurant. The place is huge, with the two restaurants occupying different sections, but sharing menus. Large outside seating area. The restaurant bakes its own bread, makes its own pasta, and sells meat that it raises on its own farm. The ambience is great, with historical photos of Tuscany and hand-painted Italian crockery on the walls. The Italian proprietors are very much in evidence and gracious as well. Large selection of grappas, German beer on tap, and a full cocktail menu.
Splurge
Vegetarian
Chinese Vegetarian CafeVery cheap.

Five Star J. Restaurant

phone: +66 38 421105

A small middle-range indoor place that's 100% lacto-vegetarian and has a vegetarian owner/manager who speaks good English; also caters for vegans.

J Vegetarian Restaurant

phone: +66 38 428305

address: 256/10 Moo 5, Soi 20, Naklua Rd

Thammachart Vegetarian Restaurant

phone: +66 38 726911

address: 56/36 Moo 5, Amorn Market, Naklua Rd

Basic café-style budget place, also has a very small vegetarian supplies shop. Not much English spoken, but does have a bilingual menu.

Vegetarian Cafe on Central Rd

Vegetarian Club of Pattaya

phone: +66 38 710805

Meets at 18:00 on the second Tuesday of every month for an "international vegetarian adventure buffet" (199 baht, reservations required - at Café New Orleans, Soi Pattayaland 2 (Soi 13/4).
Drink
Pattaya is
internationally known
for its nightlife—you might want to think twice before heading into the insanity that's called Pattaya. Obviously famous as a sex tourist destination, you don't necessarily have to partake in order to experience Pattaya's nightlife. More and more visitors come over just to see what the fuss is about. There are ample opportunities to dance, drink, and observe humanity even if paid sex is not of interest. Steer clear of the staid hotel bars and head into the warrens of central Pattaya, where nightclubs, transvestite cabarets, coffee shops, karaoke bars, open-air bars and restaurants with live music and entertainment compete for attention. Most of these establishments are located along Pattaya Beach Road, Pattaya 2 Road, and in South Pattaya, which is also the city's major shopping area.
Beer and go-go bars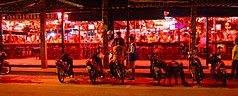 Pattaya is especially famous for its
beer bars
, staffed by "bar girls" who are "for hire" to the tourists and ex-pats who drink there. Popular beer bar pastimes include pool, connect-four and shut-the-box.
Open-air beer bars
can be found all over Pattaya, with the biggest and best known concentrations being along and around Soi 7/Soi 8 and Walking Street, at numerous points on Second Road, Beach Road, Soi Buakhao, and in smaller numbers just about everywhere else, including along the southern end of Naklua Road. Although the staff of a typical beer bar will usually include many working girls, customers who have no wish to pay a "bar fine" and take a lady are welcomed and indeed make up the majority of the clientèle.
Indoor beer bars
can also be found all over Pattaya, the most notorious areas being Soi Yodsak (Soi 6) and parts of Soi Post Office (Soi 13/2). While some of these bars are much more "bar fine" oriented, in most cases customers who simply want to drink are welcome.
Go-go bars
differ from beer bars as they have bikini-clad girls dancing around chrome poles on stages. The main concentrations are along Walking Street and
Soi L.K. Metro (see below)
, with more dotted around the most popular beer bar areas. Sightseeing tourists are welcome in go-go bars, however, cameras are not. Signs prohibiting photography are widespread, and a minority of venues require patrons to deposit their cameras with security staff as they enter.
This rule is enforced
: if caught snapping shots, you'll be lucky if you're only thrown out and not beaten up.
The official closing time in "entertainment zones" is 01:00, although in practice usually somewhere between 01:00 and 03:00, depending on location—however, "closing" is defined as switching off the music and non-essential lighting, and numerous beer bars remain open 24 hours. Bars outside of these zones close around midnight. So, you're passing through Pattaya and you've set aside a few hours to check out the bar scene—but where to go? The most popular (and generally the most densely concentrated) beer bar and go-go bar locations (
listed south to north
) are: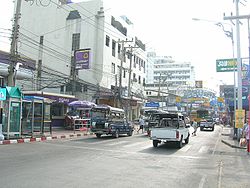 Walking StreetShould have been named "Walking, Shopping, Eating, Drinking, Dancing and Ogling Street" as there's plenty of almost everything here—including around 100 beer bars and at least 30 go-go bars, plus many more in the side-sois that lead east towards Pratamnak Road. Worth a look in the daytime, but best visited in the evening, and has loads of restaurants if you're bridging the gap between the two. Gets really packed in places when the nightclubs empty, so watch your pockets.

PattayalandSoi Pattayaland 2 (Soi 13/4) features on many Pattaya postcards—when lit up at night, the go-go bar signs are a memorable and photogenic sight, although there are only eight go-go bars here (two of which feature guys, not girls), plus a half-dozen bars and the Penthouse Hotel. Worth a look in the evening (it's almost a ghost town the rest of the time), but get there before 01:00 as that's when the lights go out.

Boyz TownFeatures only male dancers and bars that cater for the gay crowd; Soi Pattayaland 1 (Soi 13/3) has even more all-male go-gos (eight), but does have a couple of girl-go-go bars as well. Pattayaland 1 is relatively dead in the daytime, but Pattayaland 3 has a handful of places to eat and drink that keep it ticking over in the afternoon. There is also a small lesbian scene in Pattaya, with local butch girls called "tom" girls and femme girls called "dee".

Soi L.K. MetroConnecting Soi Diana with Soi Buakhao, Soi L.K., as it is called (not to be confused with Soi Leng Kee) is for the largest part a pedestrianised street. Cars are parked willy nilly, but that actually serves as a traffic calming system so it is safe to walk down. There are lots of outdoor bars and cafes spilling out onto the street, giving it a "bit" of a European feel. The Metropole Hotel and the Areca Lodge are here.

Soi 7 and Soi 8There's always something going on here—in the evening and early hours, there are about 120 well-staffed beer bars to choose from, plus a handful of go-go bars; in the morning there are several places that serve breakfast; in the afternoon it's a popular place for those who like to get started early; and at Songkran (Thai New Year) it's unmitigated mayhem. There are several large hotels (light sleepers beware), and Soi 8 also has a few travel agencies, convenience stores, etc.

Soi YodsakImagine a kerb-crawlers paradise—and then pedestrianise it. Arguably Pattaya's most colourful street (as well as the most notorious one), Soi 6 has about 50 bars (mostly "short time" bars, with names such as "Butterfly", "Love Club", "Route 69" and "The Eager Beaver") which all get going at 13:00 and close pretty much on the dot at 01:00. It's not really a pedestrian-only street (but it is one-way), however walking — preferably in broad daylight — is undoubtedly the best and most popular way to experience it. Go in the middle of the afternoon and just wander from one end to the other (if coming from the south, walk from the Second Road end down to the Beach Road end if you want to get there and back by songthaew). It's much, much more "sex-tourist" than "tourism" oriented, but anyone is welcome everywhere provided they're buying a drink or three. The curiously named "Hi Boss! 2002 Pub" is where the ladyboys hang out, there's one go-go, "Mandarin" (dancing from 17:00-01:00), plus a couple of "pub" food possibilities; and neighbouring Soi 6/1 has a handful of "ordinary" outdoor beer bars.

Second Road, Soi 2 & Soi 3 JunctionsA collection of about 35 very popular beer bars, which start to fill up from about 16:00, and several of which remain open long after the lights go out around 01:00-02:00. "Atlantic Bar", at the far end of the five-bar strip to the south of Soi 2, always draws a substantial crowd. The only go-go ("Classroom 2", 19:30-02:00) is a lively one, and while there's not much in the way of food in amid the bars themselves, there are numerous eating options close nearby (including outlets for most of the major fast-food chains directly opposite on the other side of Second Road).
Same-same but different
The following go-go and beer bars are a little different from the usual:
Beach ClubNot the only "table dance" format a-go-go in Pattaya, but it's probably the most popular. Patrons are seated around industrial-strength tables which have mirror tops, upward facing spotlights, and of course the obligatory chrome pole; the girls dance on each table in turn, wearing short skirts. If you can't guess the rest then you should probably steer well clear of any Pattaya establishment that mentions the words "table dancing" alongside its name. UPDATE: "dance tables" have been removed, this place now using a standard go-go dance floor in the centre of the room.

Beach Inn Beer GardenCan usually be found blindfolded. Head through to the back and out into the bars that target visitors from the Middle East, and feel the sound. Some of the speaker systems here are bigger than a budget hotel room, and it's not difficult to position yourself so that you're being deafened by three or four of them (each one playing something different) all at the same time.

Carousel Beer BarA pair of circular revolving outdoor bars. A couple of drinks here and the world really will start to revolve around you.

Casino ClubA go-go with a difference. Not only do the girls dance with their clothes on, but there are no chrome poles! Whatever will they think of next? Update: they also have several shows each night, with girls dancing topless. Despite the name, it's not a casino; maybe it's a disco-a-go-go? The atmosphere is lively, the music is house/techno, the dancing is energetic. It's apparently able to close later than most due to the non-conforming format).

Peppermint PalaceProbably the largest go-go in Pattaya. Several stages with young women in various different states of attire. Always full of energy, and always packed (you may be turned away if it's full). Good value drinks-wise.

Siren Bar ComplexA crush of about 25 open-air beer bars surrounding a boxing ring (exhibition matches at various intervals between 22:00-01:00) The boxers will canvas the punters for tips after each "fight". Get there early in the evening and it looks like there must be a prize on offer for whoever is able to squeeze the greatest number of bar girls into the smallest beer bar.

Tim Bar BeerAn otherwise relatively run-of-the-mill go-go that plays nothing but DVDs, with a very strong bias towards live performances of rock 'n roll classics. Requests welcome. If in doubt, ask for Meatloaf's Paradise By The Dashboard Light. Stage and screen come to life at 18:00 and keep going until at least 02:00 (closing hours not so strictly enforced here as it's not among a bunch of other bars), but get there early as it's a popular place and their army of dancers thins out with prodigious speed.
Bars and pubs
There are many roadside bars dotted around Pattaya. Live music (especially popular rock oldies) can be heard at several open-air venues along Walking Street, and at various bars elsewhere.
Hopf Brew House

phone: +66 38 710653

address: Beach Rd

Very good own craft beer. Food is good but the place gets packed and service slow with seats hard to find. Live music at least some evenings.

Horizon34th floor rooftop bar. Very high-end, for taking someone special. Great views, particularly at sunset and after dark. Happy hour, 2 for 1 drinks, 17:00 to 19:00, perfect timing for sunset viewing.

Lovely Corner BarClean, airy, well-run beer bar in a great location to view the passing scene before plunging into Soi 7. Very accommodating and gracious, relaxed (not pushy) bar girls. Best feature is strong, free Wi-Fi.
Nightclubs
Pattaya has two types of nightclubs—those that are on or near Walking Street, and those that are further away. Those on Walking Street are more popular with Westerners accompanied by bar girls, and with bar girls looking for customers.
Club InsomniaHouse music, cheap drinks, late license, European DJ's.

Lima LimaThis club is known for bringing the world's top 10 DJs to Pattaya and also for its live R 'n B band. The place to go from 22:00 to 00:30 thanks to the Happy Hour. All drinks as cheap as 39 baht between 8pm and 10pm.

LuciferPopular with young Thai people, although this is not a typical Thai discothèque. Only R 'n B, sometimes with special guest DJs. A good place to go at about 02:00-03:00. Extremely crowded after midnight. Free entry, expensive drinks.

Marine DiscoLarge dance floor and plays house music (it's the house music counterpart of Lucifer). Free entry, but drinks are expensive.

Marine 2The same music as Marine Disco. This was the place to go before Insomnia opened.

MIXXR 'n B and house rooms (two rooms in one disco). Drinks are expensive.

Tony's Entertainment ComplexHas an attractive and stylish interior, great live music and service. Free entry, but incredibly expensive drinks - and a 5,000 baht fine if you're caught bringing your own in!

Tony 2Not as well known as Tony's Entertainment Complex, but also very pricey.
The ones further away from Walking Street are generally more typical Thai nightclubs: no special area for dancing, but lots of shows and great atmosphere. Admission is usually around 300 baht and includes one free drink.
Chivas Palace

Hollywood Disco

Star Dice EntertainmentNot Star Dice Beach on Beach Rd. One of the few discos in Pattaya that doesn't dual-price foreigners.
There is also one club which is not the first type, nor the second type:
The Beach ClubOpen air venue, it hosts afternoon parties with the best view of sunsets in town each Friday and each second Saturday - grand fiestas, each of them has a different theme: Brazilian, disco, house, etc.
Coffee shops
Pattaya also has plenty of good coffee shops dotted around town including a few Starbucks such as in Central Festival, Royal Gardens Plaza and TukCom.
address: Soi Buakhao

Great own brewed coffee, popular with expats

Bake n Brew

address: Soi Excite

Good coffee, cakes and breads. Partially air-conditioned
Sleep
Pattaya has an extensive selection of inexpensive mid-range accommodation, and a good variety of more upmarket options. Standard rooms (double bed, air-con, cable TV, refrigerator, hot shower) start from 400 baht/night, and rates are invariably per room, not per person. Soi Buakhao has many relatively cheap guest houses and is popular with long-stay visitors, with other budget places along Soi LK Metro and Soi Honey Inn. Very few of these can be booked online, or appear on hotel booking sites. The cheaper places are often above bars or massage shops, and may therefore be noisy at night. There's generally no need to book in advance.
Like all resort areas in Thailand, hotel pricing is seasonal. High season dates vary from hotel to hotel, but typically prices go up considerably during the Christmas-New Year's period (which coincides neatly with the season of best weather), and are lower between February and October/November. In addition to higher rates during the holiday period, guests staying over Christmas and New Year's Eve will often be required to pay for compulsory "gala dinners" which can substantially increase the cost of the room. In recent years some hotels have started to insist that March is also covered by 'high season' prices — presumably because professional Western visitors are usually free to visit during a long Easter holiday break from work, and are happy to do so despite the worsening weather.
With the exception of large resorts or international chains such as the Hard Rock and Marriott, the lowest rates available from abroad are typically those available from the hotels directly. Except for the least expensive, many will handle reservations via email or a web form. Many will expect a deposit, especially during high season, usually by credit card or bank transfer.
While some hotels do not allow prostitutes to accompany guests to their rooms, the majority of hotels in Pattaya are used to (and even expect) it — though some "upmarket" hotels may charge a "joiner fee" for unregistered visitors as discouragement. In most hotels, security staff will keep hold of visitors' ID cards until they leave, to help protect the client from possible theft or assault, and to deter prostitutes under 20 years of age from entering the hotel. On leaving, staff will ask the girl if she had any complaints about the client.
For visitors who simply want to sleep soundly, a box of high-grade foam earplugs is a wise investment when staying at many Pattaya hotels. Also be aware that many hotels in Pattaya allow smoking in all rooms. This is nearly universal in the budget range. With the exception of those operated under the auspices of large international chains, those hotels that have dedicated non-smoking rooms will typically only have a few of them. If you are intolerant of tobacco smoke, make sure to inquire directly with the hotels about their policies and the availability of non-smoking rooms.
Budget
phone: +66 38 42828, +66 38 429233

All rooms have air-con, cable TV, fridge/mini-bar, hot shower, strongbox, and telephone. There's also a pool (guests-only) and good-value buffet breakfasts/dinners (guests & non-guests welcome) and competitively priced laundry (8 baht for a T-shirt) and motorcycle and electric bicycle rental (150 baht/day for a 125 cc) services. There are 9 "first come-first served" rooms at 650 baht (which are clean and functional, but rather well-worn) and 100 more recently renovated rooms. Popular with German tourists. Apex has no Internet or Wi-Fi. Serves all-you-can-eat buffets. American breakfast from 07:00-13:00 (150 baht) and dinner from 18:00-22:00 (250 baht).

phone: +66 38 420528

address: 420/137 Moo 9, Soi Buakow

Cali-Cafe Pattaya Quality Rooms

phone: +66 84 7834664

address: 15/225-226 Moo 5, Soi Khoa Noi (Wat Boonsampan Rd)

Affordable suite-quality rooms. All suite rooms have 42" LCD TV, safes, refrigerators, kitchens, Wi-Fi, wired (30 Mb fibre) Internet, and laundry. Long- or short-stay. A few minutes motorbike ride from Walking St and Beach Rd. Thai/American-run hotel.

phone: +66 38 720452

address: 383/64 Moo 9, Soi Chaiyaphum

Fan rooms with en suite bath, with or without balcony.

Day & Night Hotel

address: South Pattaya Rd

Day & Night II Hotel further down the same soi has slightly bigger rooms (same rates). Monthly rates from 3,800 baht.

address: (South end of Soi Buakhao near the Soi Buakhao marketplace)316/150 Moo 10 Soi Buakhao

A smallish Danish owned hotel near Soi Buakhao marketplace. Full service restaurant with a pool table and a swimming pool downstairs. Rooms are tidy and clean. Besides the standard rooms there are poolside rooms, suites and the penthouse apartment available. Even there are bar complexes near, there is no noise problems in this hotel.

phone: +66 38 720671, +66 38 720672

address: Moo 10 Pattaya 2nd Rd

All rooms have air-con, cable TV, fridge/minibar, hot shower, and telephone. Very nice, clean rooms, and helpful staff.

Jan's Guest House

phone: +66 83 1160926

address: Soi Honey Inn (Saisong Soi 11)

Small guest house above a massage shop in Soi Honey, directly across from Honey Inn, with smart rooms with air-con, minibar, TV, Wi-Fi (flaky) and some with balcony. Very friendly staff.

phone: +66 38 424590, +66 38 412102

address: 547/34 Moo 10, Soi BJ Walking St

Tranquil, newly refurbished with 62+ tiled rooms, air conditioning and fans. Room facilities include hot water, cooking facilities, fridge with beverages, and satellite TV (55 channels) and Wi-Fi. Substantial discount for long-term guests.

phone: +66 38 720607

address: Soi Honey Inn (Saisong Soi 11)

About a dozen rooms above a bar/restaurant in Soi Honey, with air-con, minibar, TV/DVD player, Wi-Fi and some with balcony. The restaurant serves Thai and European food.

Malee House

address: 312/51//52 Moo 9 Soi Leng Kee 1 Pattaya Sai 3 Rd

Air-con double room.

Mangoes Guest HouseQuiet laid back gardens with a choice of bungalow or room accommodation. All rooms have TV, air conditioning, fan, hot shower and tea making facilities. Long- or short-term.

Marin Place

phone: +66 38 429960

address: 111/253 Moo 10 Soi Buakhao

Small hotel at the south end of Soi Buakhao, close to the Tu/F market. Rooms have air-con, minibar, TV and Wi-Fi. There is a small swimming pool. Some rooms have older, noisy air-conditioning units, but others have new LG units. Ask to see first.

phone: +66 38 720584

address: Soi 3

All rooms have air-con, fan television, DVD player, refrigerator, kettle, strongbox. Minutes from Walking St with quiet location and cafe/bar.

phone: +66 38 424732

address: 312/86 Moo 9 Soi Lengkee1

Many decent rooms, Wi-Fi, elevator and ground floor swimming pool. Small lockers provided next to reception, but no strong boxes in rooms.

phone: +66 38 425418

address: Soi Yodsak (Soi 6)

Although the rooms themselves are clean and the staff is reasonably friendly, its location, right in the heart of Soi 6, is downright noisy and the shouting in the street does not subside till early morning. Free Wi-Fi.

address: 500/21-22, Pattaya-Naklua Rd

At the tranquil end of Pattaya, yet only a minute away from all the fun and entertainment at the resort's centre.

Sawasdee SeaviewA mid-range budget hotel next to Pattaya Beach. Cheap, clean and convenient. CCTV security camera on every floor with 24-hour security guard on duty. Cheaper rooms in the old building are a little bit dingy, superior and deluxe rooms in the new wing are spacious and pleasant, but significantly more expensive.

phone: +66 38421556

address: 172 Pattaya Rd., No. 2

address: Soi Buakhao

Great budget hotel. CCTV security camera on each floor with live security guard 24 hour on duty. Hotel facilities include lift, swimming pool, and all rooms include American breakfast buffet.

phone: +66 80 0916669

address: Soi Sarita

Large air-con fully furnished studios with side sea view. Suitable for independent travellers wanting large budget-priced accommodation in a quiet area.

Wonderful Bar

phone: +66 38 425640

Has very basic rooms with air-con, TV, hot shower. Clean and tidy but old and well-worn, and not so quiet in the evenings—but nevertheless often fully booked. Pay upfront for a few days in advance to get the lower rates.

Sea Star Guest House & House Breeze Guest house.

phone: +66 38-720055

address: Phattaya soi 10 alley

clean fan double rooms with own bathroom. has week/month rate
Mid-range
phone: +66 38 410123

address: 198/23 Moo 9 Soi Diana Inn

Convenient location on Soi Diana Inn across from Soi LK Metro. Large ground-level pool. The Areca Lodge will reliably book non-smoking rooms.

phone: +66 38 374747

address: 148/232, South Pattaya Soi 2

Offers a convenient & comfortable hotel rooms and features contemporary furnishings. Each room comes with a private bathroom, balcony, LCD TV and more. Facilities include a swimming pool with Jacuzzi, pool bar, a meeting room, laundry service, 24-hour reception, and security. The Gazebo Café serves a delicious array of local favourites or light snacks including salads, soups, and sandwiches. Use a complex pricing formula with first night very expensive, declining steeply on successive nights.

phone: +66 38 489499

address: 177/3 Moo 9 Nongprue, Pattaya Klang Soi 12

All rooms come with Thai-style furnishings and modern amenities such as private balconies, free Wi-Fi, in-room strongboxes, and a choice of king- or queen-sized beds. There's a free shuttle service from the hotel to Tops Supermarket. Use a complex pricing formula with first night very expensive, declining steeply on successive nights.

phone: +66 38 415941

Two locations in Pattaya. This one and Dynasty Resort (Buddha Hill, Tel. +66 38 250721). Free minibus transfers between the Pattaya locations and Dynasty Inn Bangkok (Sukhumvit, Soi Nana) for guests. Dynasty Inn is in the central shopping area, close to the main night life areas; Dynasty Resort is further south, a short songthaew ride from the main tourist areas. Regular rate is 1,480 baht for a standard room at the Soi 13 Inn, although some discounts may apply. The Dynasty properties will reliably book non-smoking rooms.

phone: +66 83 61667

address: 213/2 Soi 7, Pattaya Beach Rd

In the heart of the best-known cluster of beer bars in Pattaya.

phone: +66 38 426401

address: 520/1 Soi 8, Pattaya Beach Rd

In the heart of the best known cluster of beer bars in Pattaya, a stones throw from its sister hotel. Room rate includes a super buffet breakfast. Great swimming pool. Wi-Fi costs 150 baht for 24 hr.

address: 217/10 Pattaya Beach Rd Soi 9

Room amenities: air conditioning, bathtub, shower, IDD telephone, mini-bar, satellite/cable TV. Hotel facilities: bar/lounge, barber/beauty salon, coffee shop, Wi-Fi only in lobby for a fee, outdoor swimming pool open till 23:00.

address: 240/5 Moo 5 Soi Ping Pa

A friendly, clean, safe, good value. All rooms have air-con, cable TV, fridge/mini-bar, hot shower, security box, telephone, swimming pool. The hotel has 80 rooms and suites, some rooms have private balconies, set in lush gardens.

phone: +66 38 735050, +66 38 253500

address: 100 Moo 9, Tambon Pong, Amphur Banglamung Chonburi

Rooms come in varied sizes but share the same features: air-conditioning, cable TV, mini-bar, refrigerator, hair dryer, and safe.

J&P Court

phone: +66 38 414808

address: 312/87 Soi Lengkee

Has a swimming pool and is reasonably priced at less than 1,000 baht per night. Standard and deluxe rooms available.

Lek Hotel

phone: +66 38 425550

address: 284/5 Soi 13, Pattaya Rd

Pool (guests only) and serves buffet breakfasts/dinners (guests & non-guests welcome). Standard rooms in the semi-hi-rise new building cost 1,200 baht and rooms in the old building are 750 baht. All rooms allow smoking. Restaurant serves Thai and international favourites and is open to non-guests. The buffet breakfast (07:00-13:00, 150 baht/adult, 80 baht/child) is especially popular, and the buffet dinner (17:00-22:30, 250 baht/adult, 150 baht/child) also draws a crowd.

New Nikom Court

phone: +66 38 488600

address: 312/90 Moo 9, Soi Lengkee, Pattaya 3 Rd

Big, clean rooms from 850 baht.

Pailin House

phone: +66 38 488538

address: 312/91 Moo 9, Soi Lengkee, Pattaya 3 Rd

Relatively clean but old rooms from 600 baht.

Pattaya Centre HotelThis high-rise hotel is popular and conveniently located for the central shopping areas. Rooms are spacious and have very nice views. Has been hit or miss for non-smoking rooms in the past; prices have escalated significantly with the recent refurbishment.

phone: +66 95 441430

address: Soi Pattayaland 2 (Soi 13/4)

Marketed as an "adult fantasy" hotel featuring "theme rooms" and right in very centre of the main go-go district and directly attached to a go-go bar, it's an older property that's somewhat the worse for wear.

phone: +66 38 250859

address: 377 Kao Pra Tum Nak Road, Bang-Lamung, South Pattaya

At Pratamnak Hill, all rooms are provided separate kitchenettes or kitchens, seating area, flat screen TV with satellite channels. Free Wi-Fi is offered to all rooms and free private parking is available.

The Residence GardenThis is a popular out-of-the-way location, a short walk from the intersection of South Pattaya Rd and Pattaya Second Rd, and is a good choice for those looking for somewhere quieter. It has relatively new facilities, with 1 and 2 bedroom suites from 1,600 baht directly; discounted lower rates are sometimes available through other sources.

phone: +66 38 251461

address: 318/79 Grand Condotel (on Dongtan Beach), Thappraya Rd, Nongprue Banglamung

All rooms are equipped with free wireless ADSL Internet, DVD player, mini-bar and TV with 40 channels which includes BBC, CNN, RAI, Deutsche Welle, BVN and many other international channels. Facilities and services: restaurant, bar, smoking area, coffee shop, Jacuzzi, outdoor pool, car park, spa, Wi-Fi in public areas, airport transfer, room service, and laundry service/dry cleaning.

Sandy Spring HotelIn the central shopping area, close to the main night life areas. Also has a sister hotel Summer Spring on Soi 1.

address: 367 Moo 10 Soi 13, Pattaya 2 Rd

24 hour CCTV security camera and a security guard on duty. Internet cafe, Thai and international cuisine, and room service.

address: 501/27 Soi 10, Pattaya 2nd Rd

Sawasdee Sabai (Sawasdee Court) is a colonial Thai-style hotel. 24 hour CCTV security camera and a security guard on duty. Internet cafe, Thai and international cuisine, and room service.

address: 502/1 Moo 10 Soi 11, Pattaya 2nd Rd

24 hour CCTV security camera and a security guard on duty. Internet cafe, Thai and international cuisine, and room service.

phone: +66 38 427120-9

One of the cosiest centrally-located hotels close to the beach and shopping arcades.

address: 217/1 Moo 10, Beach Rd Soi 8

In the centre of Soi 8. All rooms have air-con, shower or bath tub with hot/cool water, cable TV, fridge with mini-bar.
Splurge
Stay safe
Traffic
For most people, the most hazardous aspect of visiting Pattaya is the traffic. The top three accident black spots are:
Dolphin Roundabout (intersection of Beach Rd, Second Rd, North Pattaya Rd and Naklua Rd)
junction of Beach Rd and Central Pattaya Rd
junction of Beach Rd / Walking St and South Pattaya Rd
Most accidents in Pattaya involve motorbikes, and are especially common late at night and in the early hours of the morning, when drunk driving is a significant problem. Be careful on the roads, even if you're just crossing one on foot (and be equally careful both on and off pedestrian crossings, as Thai drivers generally ignore them, and many foreigners seem to approach them with the hope of scoring double points); be careful on the pavements too - obstacles apparently purpose-engineered to trip up as many people as possible are commonplace, and motorcyclists use footpaths as short cuts with impunity. When riding in the back of an otherwise empty songthaew, it's probably safest to sit directly behind the cab.
In the event of an accident, the injured are usually bundled into the back of the next available songthaew or pickup truck or even onto the back of a motorbike (now you know why Pattaya has so many songthaews, why Thailand is the world's biggest pickup truck market, and why so many Thais ride motorbikes).
A completely different genre of traffic-related accident was highlighted by a fatality in January 2006 when a surfacing diver was hit by a speedboat propeller near
Ko Laan
. Unfortunately, the popularity of Pattaya's beaches combined with a relatively relaxed attitude to safety concerns in general means that swimmers and divers (and even sunbathers on the beach!) being struck by speedboats and jet skis is not such a rare occurrence. Stick to swimming in the 4 or 5 areas cordoned off with red and white booms and you should be safe as boats and jet skis are unable to enter.
Scams
Some of the scams to be wary of:
Jet-skiing rentals are available along all the popular beaches, with rates starting around 600 baht for 30 minutes. A common scam involves some operators attempting to collect surcharges for supposed damage - call the Tourist Police (1155) if necessary.
Be careful when paying for relatively small purchases with 1,000 baht notes, particularly in bars and nightlife venues. A common scam is that a waiter will give you back insufficient change, insisting that you paid with a 500 baht note. It's your word against the waiter's, so it is nearly impossible to prove that you in fact paid with a 1,000 baht note. You can try to get the manager involved, but he/she generally plays along. To avoid this, you can explicitly let the waiter state that you are paying with a 1,000 baht note beforehand, but it's probably wiser to avoid paying with 1,000 baht notes at all.
Police
Main police station

phone: 191, +66 38 420802 (-5)

address: Beach Rd

Bang Lamung Police Station

phone: +66 38 221331

phone: 1155

address: Pratamnak Rd

Alternatively, their mobile minivan office which sets up every evening at the junction of Walking St, South Pattaya Rd, and Beach Rd is much easier to reach.
The Pattaya Tourist Police advise that in theory foreigners should carry their passports with them at all times, however they also suggest that in practice a good photocopy (personal details page, visa and entry stamp pages, and TM card) is acceptable.
Crime
Like most of Thailand, Pattaya is generally safe for tourists and violent crime such as mugging or robbery is unusual, with the exception of jewellery and bag snatching (usually with the thieves on motorcycles, and often with the victims on motorcycles too) which is endemic.
Beware of lady boys approaching you with questions ("Where you from?") and later she and/or her friend try to kiss you just in order to snatch your jewellery. In fact leave all your gold and valuables at the room safe or even at home.
Watch out when doing water sports at the beach areas. There is a common tourist trap where tourists going for jet ski-ing are being forced to pay for equipment damages (which are not caused by the tourists) amounting up to 100K baht. Even after negotiations and intervention from the related embassies and agencies, a payment of around 10,000 baht is still required for the damages. Thus, you must exercise extreme caution when doing equipment loans or doing sports on vehicles provided by the shops.
Swindles and pick pocketing are more commonly encountered by tourists. It is inadvisable to tell
anyone
that it is your first visit to Thailand, since you will then be marked down as an 'easy touch'.
The nightlife/entertainment areas have a lot of activity and are generally very safe, however
pickpockets
are a problem, especially on Walking Street when it's crowded, despite the official Tourist Police patrolling the area at night. For this reason, a visitor should not carry a passport and/or credit card with them, especially at night. These should be left in the safe at your hotel along with the bulk of your cash, or if they must be carried then they should be securely concealed. If you have been pick pocketed and then you actually spot the likely pickpocket departing, do not follow. You could be mistaken, and you almost certainly
will
be accused of being mistaken. Just put it down to experience, and leave the immediate area.
Never ever 'pick a fight' in any circumstance, no matter how much you have had to drink. Never try to intervene, even verbally, in an argument between two or more Thai people.
No matter how much you are being pestered, just smile and walk on. In cash payments, disputes over the value of notes and the amount of change can be avoided by carrying smaller notes and trying to give near enough the exact amount.
The beach side of Beach Road used to be worth avoiding late at night, however the entire length of both the promenade and beach are now floodlit, and although it's still a popular haunt for "freelance" prostitutes, it's now much busier from dusk through until dawn and by no means a "no-go" area.
Visitors should not visit entertainment venues that do not display a long-standing fixed sign outside, or which appear to be very poorly lit inside. Also, one or two of the hundreds of seemingly bright and established venues may actually be operating as a 'clip joint', offering free admission and then refusing to allow visitors to leave until they have settled a fake bill for non-existent drinks. Again, it is wisest to simply pay up, leave and put it down to experience.
As always, travellers should take extra care in all poorly lit or more remote areas, and very late at night. This is especially the case if one has had too much to drink.
Most reputable hotels will require the presentation of ID cards by guests. Throughout Pattaya guests will not be admitted to hotel rooms if they are under the age of 20. This is a useful way for tourists to guarantee that their new-found friend is actually the age he/she says she is, and thus avoid possible police attention.
Drugs
: as in all of Thailand, the penalties for possession and/or distribution of drugs are harsh.
Gambling
: is illegal in Thailand, and the local press reports Pattaya Police as having a "zero tolerance" policy for gambling offences.
Drinking
The legal minimum age for customers in drinking establishments and discos is 20. In Pattaya this is rarely enforced for foreigners, but is frequently enforced for Thais, including those accompanying foreigners. Pattaya police conduct raids to check for underage employees (especially in "indoor" and go-go bars) and patrons (especially in discos) from time to time, and less frequently to enforce closing times. Foreign tourists are not the targets of these raids and are usually asked to produce ID (photocopy of photo/ID page of passport will normally suffice) and then allowed to leave, but are sometimes tested for drugs via an on-the-spot urine sample.
Health
Pattaya has several hospitals and dentists of a high standard. It's a good place to get medical treatment at reasonable cost. Thailand gets a lot of health tourists. Bangkok Hospital (Pattaya) even has a
Snoring Clinic
for anyone trying to cure a snoring problem, including potentially dangerous sleep apnea for which they offer CPAP therapy.
DMED HearingThis is possibly the best audiologist in Pattaya. They sell several well known International brands of hearing aids including bluetooth models.

address: opposite Tesco Lotus on North Pattaya road

This is possibly the largest and best stocked pharmacy in Pattaya
Connect
Internet
Internet access is widely available in Pattaya, and speed and reliability of the connection is generally good; however, as is the case throughout Thailand, quality varies. The majority of Internet shops tend to open late and close late, but many are open 24/7; prices range from 120 baht/hr down to 20 baht/hr. One baht/min is typical for predominantly tourist-oriented shops, many of which also offer lower rates for pre-paid blocks of time. It's not difficult to find well-equipped, quiet, air-conditioned Internet cafés that charge 30 baht/hr if you shop around a little; likewise shops that can accommodate users who want to hook up their own laptops can easily be found. Printing (black/white) is usually 10 baht/page (30 baht/page for colour).
Many Internet cafés and photo-processing shops have facilities for off-loading digital photos from memory cards and burning them to a CD, for which the going rate is 100 baht per CD. As always, carefully verify the integrity of the images on the CD before re-formatting the memory card, and consider having two copies burned to CD — one CD to send home by mail, the other CD to take home in your luggage as a backup.
Many hotels and bars have the free(but password protected) wi-fi available. Ask for it from the hotel reception or the bar staff. They usually share the password for the customers.
Telephone
The area code for Pattaya is
038
. You only need to dial the 0 if you're calling from within Thailand. Overseas calls can be made from many agencies and Internet shops, as well as guest houses and hotels — most advertise a rate of 10 baht/min (or 20 baht/min to mobile phones). Using local SIM card may be a cheaper and more convenient alternative.
Pattaya Telecommunications Centre
(183/44 Soi Post Office (
opposite the Post Office, about 6 shops east
, M-Sa 10:00-18:00). Outside, in the 24/7 payphones booth, there's an International Operator Direct Connection (IODC/Home Country Direct) service phone which provides one button press connections (suitable for making reverse charge / collect calls) to operators in Australia, Canada, Denmark, France, Germany, Hong Kong, Indonesia, Italy, Japan, Netherlands, New Zealand, Philippines (Philcom and PLDT), Singapore, Sweden, Taiwan, United Kingdom and United States (AT&T, MCI and Sprint).
Post
Pattaya has several post offices, the most central of which can be found (believe it or not) halfway along Soi Post Office (Soi 13/2). As well as the usual postal services, it handles Western Union transactions and hosts a large number of post/security boxes. On weekdays (except public holidays) it's open 08:30-16:30, and on Saturday, Sunday and public holidays it's open 09:00-12:00; . One-stop-shops that handle DHL, EMS, FedEx, TNT and UPS are relatively common. Try:
Pattaya Postal Service

phone: +66 38 720-418

address: 524/26 Moo 10, Soi Buakhao

PAWS Post Service

phone: +66 38 720-957

address: Pattaya New Plaza, 329/10 Moo 9
Money Transfer and ATM withdrawals
If you need money sent to you urgently then there are many Western Union agents located throughout Pattaya. If you regularly visit Thailand or for extended periods then it might be worth opening a local bank account to avoid the high ATM charges for International bank cards typically 180 baht, as well as fluctuating exchange rates. Stand alone ATM's in the tourist areas generally give a maximum withdrawal limit of 10,000 baht. ATM's at banks typically give up to 20,000 baht, the TMB bank gives up to 30,000 baht. Its advisable to use ATM's in or outside actual bank branches during opening hours as they tend to be safer and if you experience any problems, then you can report that directly to the bank without delay.
Cope
Airlines
Various online and print resources give Pattaya addresses for Kuwait Airways, Orient Thai/Orient Express/One-Two-Go and Thai Russian Air Service — however all these offices have been closed. The following airlines still have offices in place:
phone: +66 38 412-382

address: 75/8 Moo 9, Second Rd

phone: +66 38 420-995(-97)

address: Dusit Resort Hotel, 240/2 Beach Rd
Consulates
phone: +66 38 231630

address: 384/22 Moo 12, Jomthien Garden House #52, Sub-soi 11, Jomtien Beach Rd

France (Honorary)

phone: +55 38 710800(-2)

address: La Fontaine, 280/3 Beach Rd

Hungary

phone: +66 38 373056

address: 42/15 Sabaijai Village, Sukhumvit Rd

phone: +66 38 231630

address: 384/22 Moo 12, Jomtien Garden House #52, Sub-soi 11, Jomtien Beach Rd

phone: +66 38 267113

address: Unit 3, 489/3 Moo 12, Soi 5, Jomtien Beach Rd
Immigration
phone: +66 38 252-750

address: Jomtien Beach Road

casual but smart attire is OK, however entry in swimwear or without a shirt is not permitted.
Entry permit extensions
are processed on a same day (if applied for before noon — collect after 15:00) or next working day (if applied for after noon). On Saturdays, previous applications can be collected, and new applications can be submitted (for collection next working day). For most nationalities, 30 day entry permit stamps and 60 day visas will usually be extended for an additional 30 days (further extensions beyond 90 days are sometimes possible). In all cases, the 30 day extension fee is 1,900 baht, and two passport photos must be supplied. Photocopies (5 baht) and photos (100 baht for two) are available from a shop inside the immigration office compound (these prices are about four times as much as can easily be found elsewhere). Note that entry permit extensions are discretionary, and must be applied for in person. Shorter extensions are likely to be issued to nationalities who do not qualify for "visa free" entry; longer extensions are issued in certain circumstances.
Laundry
Small laundry services abound, charging by the piece. Prices start at 5 baht/underwear, 8 baht/shirt, 10 baht/trousers,15 baht/jeans; if you have a lot, a few will charge larger loads by weight. All hotels and guesthouses worth their salt also cater for this, although prices tend to be higher—starting about double the above at inexpensive places, running up to international chains and similar large splurge properties where it can run well above 100 baht/piece.
In smaller and more informally managed accommodation, the maid who cleans your room will probably welcome the opportunity to boost her meager salary and do your laundry by hand, typically for a few baht more than an outside laundry service. Usually it's a next day service, but might take a little longer if it rains.
phone: +66 81 300 6803

address: Soi Yume 13

Pick-up and delivery service in the Pattaya-area.
Post office
Thailand Post

address: Soi 13/2

The most central of Thailand Post Offices in Pattaya.
Publications
Pattaya has several foreign language newspapers; most come out weekly. The English newspapers include
Pattaya Times
,
Pattaya Today
,
Pattaya Mail
and
Pattaya People Weekly
. Additionally, there are French, Norwegian, German, Russian and Japanese publications. There are also several tourist magazines and nightlife, most of them coming out monthly.
Go next
Nearby destinations suitable for day trips include: