Pavia
Pavia
is a city in
Lombardy
, home to one of the oldest universities in Europe (founded in 1361) and many interesting churches. Pavia is also called the city of the hundred towers, the city of kings, (it was the capital of the Longobards), the city of wisdom, the city of the red bricks and it is surrounded by
Oltrepo' Pavese
, the so called "Tuscany of the northern Italy" with marvellous hills and wine yards scattered here and then across its landscape.
phone: +39 0382079943

address: Via del Comune,18
Get in
Pavia is less than 30min from
Milan
with a direct train.
See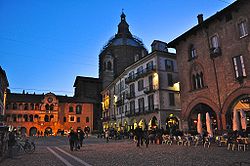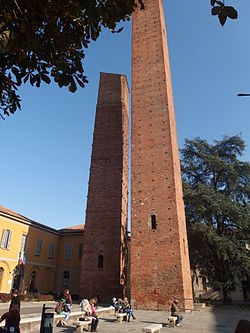 Castello VisconteoBuilt in 1360-1365 the castle hosts now the Musei Civici (City Museums) of Pavia. There is a popular park around it.

Le 3 Torri dell'Universita

address: Piazza Leonardo da Vinci

3 tall medieval towers in the middle of a nice piazza at the university. At the same square there is also located Cripta di Sant'Eusebio the remains of a VII-th century curch.

Duomo di PaviaA Renaissance cathedral with one of the biggest domes in Italy.

Basilica di San Michele MaggioreAn outstanding example of Lombard-Romanesque style.

San Pietro in Ciel d'OroA beautifully decorated basilica which is the burial place of St. Augustine and of the famous philosopher Boethius.

Chiesa di Santa Maria del CarmineA Gothic church with a characteristic brickwork.

Chiesa di Santa Maria di CanepanovaA church in Romanesque style.

Chiesa di San TeodoroA Romanesque basilica with bird's-eye-view frescoes of Pavia.
Drink
Janko

address: Strada Nuova 19b-- Duomo Square 48

Drink a very good coffee at "Janko" and taste one of his "delicatessen", enjoying a relaxing "slow shopping".
Sleep

If you are looking for some places to sleep and eat, it is recommendable the MiniHotel in viale Golgi 42, the many Hotels like Aurora Hotel and Excelsior Hotel (20 min from Pavia Train Station) and many other solutions you may easily find browsing the web.

Go next
Certosa di Pavia
is a tiny village N of Pavia, but there is a great attraction there, the abbey and the museum of: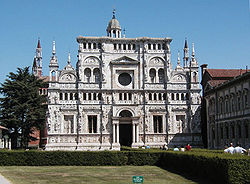 address: Piazzale Monumento, Certosa di Pavia

A fine example of a Renaissance charterhouse. The museum can be visited by a free guided tour.