Pawtucket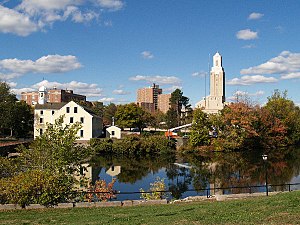 Pawtucket
is a
Rhode Island
city founded in 1671. It was home to the father of the American Industrial Revolution, Samuel Slater. The construction of his historic textile mill, called Slater Mill, marked the beginning of said revolution in 1793. Since then Pawtucket has shifted out of textiles (with only a few specialty manufacturers remaining) and has grown to hold 300 diversified industries with the most prominent being jewelry, silverware, and metalworking.
Pawtucket has more than 71,000 residents (as of the 2010 census). It is a diverse city home to many cultures resulting in a spectrum of sights, sounds, and flavors. Its neighborhoods have all improved greatly over the last decade as the city's developmental policies focus on improving the quality of residential areas and expanding employment. With an emerging interest and concentration on the arts, Pawtucket has introduced performing arts and visual arts into the community.
Get in
By plane
T.F. Green Airport (PVD

) is about a 20-minute drive from Pawtucket. PVD is a national airport with connecting international flights.

Logan International Airport (BOS

) is an hour away in Boston, Massachusetts and is an international airport.
By bus
RIPTA bus Route 99, from Kennedy Plaza in Providence, converts into Route 76 which goes to Central Avenue and Newport Avenue. It also converts to Route 71 to Broad Street.
By car
Route 95 runs right through Pawtucket. Exit 29 (from 95N) will bring you to Central Avenue, from which you can easily get downtown.
By train
The Providence/Stoughton Rail line runs through Pawtucket. The closest passenger train stop is the one in downtown Providence, about a 10 minute drive from Pawtucket.
Get around
RIPTA lines run everyday all throughout the city.
The easiest way to get around Downtown Pawtucket is by bus, since traffic tends to make driving very frustrating. Schedules can be found online at the RIPTA website.
If driving is your preferred means of transportation, traffic or not, beware of the one ways around the RIPTA Station and the Pawtucket Public Library.
Express Cab . 98 Larch St, +1 401 286-5515
See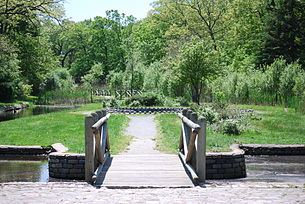 Downtown Pawtucket has received federal recognition for its contributions to community planning, industry and architecture. The Historic District has been added to the National Register of Historic Places by the National Park Service.
Pawtucket Red Sox at McCoy Stadium

phone: +1 401-724-7300

address: 1 Ben Mondor Way

Built in 1942 the Thomas P. McCoy Stadium is the home of the Triple-A Pawtucket Red Sox, a minor league affiliate of the Boston Red Sox. McCoy Stadium was host to the longest game in baseball history, which lasted 33 innings played for 8 hours over the course of two days in 1981. After major renovations in 1999, the ballpark is beautiful with it's hand-painted murals of past Pawsox turned baseball greats and left field berm. Photo posters with biographies of players, information about the stadium, and the longest game, hung about the concourses and around the clubhouses make for a good reason as to why McCoy Stadium is one of the most visited minor league ballparks in the country. At McCoy, fans enjoy promotional giveaways, such as "bat night" and "bobble-head night" and after choice games, especially on July 2nd, 3rd and 4th, get the opportunity to watch a fireworks display, which, packing the streets outside, draws citizens from all over Pawtucket.
The Pawtucket Redsox host concerts in conjunction with the Pawtucket Arts Festival, in which past acts included The Dropkick Murphys, The Counting Crows and Bob Dylan. The show at McCoy kicks off the festival in July.
As the Triple-A affiliate of Boston, fans can watch Red Sox players rehabbing injuries with the Pawsox and view possible Red Sox athletes of the future.
Slater Memorial Park

phone: +1 401-728-0500 ext 257

address: Entrances at Rt.15 Armistice Blvd. or Rt. 1A Newport Ave

In the heart of the park is a small lake with ducks and swans, the Daggett House, the oldest house in Pawtucket, Daggett Farm, the Loof Carousel which opens in April and closes in, the oldest of its kind, and the Rhode Island Watercolor Society headquarters and Gallery. Ten tennis courts, baseball diamonds, basketball courts and open fields allow for sport recreation all year round. Picnic areas are available for rent and throughout the year, the City of Pawtucket holds Slater Park as a host for seasonal fun for the public.
Fall events are Pumpkins in the Park, a display of hundreds of carved and lighted jack-o-lanterns, and The Haunted Tunnel, which occur from late September until Halloween. Winter Wonderland occurs in December, and includes the opening of the carousel for that special event, decorated Christmas trees, and concerts. The Pawtucket Arts Festival holds concerts and other events in the park during the summer, the most popular being the free concert performed by The Boston Pops and a finale of fireworks, which acts as the closing to the festival
phone: +1 401-724-2200

address: 175 Main St

On the Blackstone River, a museum complex dedicated to the preservation and interpretation of the American industrial heritage at the birthplace of the American Industrial Revolution. This serves as a Blackstone Valley National Corridor Visitor Center as well. Slater Mill was the first water powered cotton mill in North America and was built in 1793. The Mill holds a number of events regularly, including workshops and ghost tours.

St. Cecelia's Church

phone: +1 401 722-1101

address: 1253 Newport Avenue

At the corner of Newport and Central, it's one of the biggest churches in Rhode Island. Named after the patron saint of music.

Dagget Athletic Fields

address: Dagget Ave

A wonderful athletic complex with a variety of field types and plenty of room. The best slopes in Pawtucket for sledding/snowboarding. There are woods in back, perfect for nice secluded walks. The trail leads right into Slater Park, where it turns into a bike path, so bring some rollerblades or something.

Lee's Pond

address: Broadway, near Leedham Hardware

A nice area and a skate park. The main reason to go there (only reason) is because it's the perfect place to go ice skating when it's below freezing. Loads of fun and chances are you'll make a friend or two.

Hasbro Company

address: Newport Ave

The Hasbro company is one of the leading toy companies in the world.

Blackstone RiverThe Blackstone runs through Pawtucket and into Worcester, Ma. Its power runs Slater Mill and, therefore, helped to began the nation's transformation from farm to factory.
Do
The Community Players of Rhode Island

phone: +1 401-726-6860

address: Jenks Junior High School 350 Division Street.

The Community Players are the oldest established community theater troupe in Rhode Island. The players perform 4 shows (usually two plays and two musicals) that run during the year.

The Sandra Feinstein Gamm Theatre

phone: +1 401 723-4266

address: 172 Exchange St

Moved from their previous 75-seat Providence location in 2003, the Gamm Theatre opened in the renovated Pawtucket Armory, a building listed on the National Register of Historic Places, and is among the leading pioneers for the increasing arts in Pawtucket. The Gamm productions in the Armory offer an intimate viewing experience with only 135 seats.

phone: +1 401-729-1005

address: 1005 Main St

A midsize music venue in the Hope Artiste Village. The venue hosts bands of all different genres including rock, punk, jazz, hip hop, hardcore and ska. It hosts mostly local musicians, but does host acts too small for Lupos. One of the advantages from the Providence clubs is the free parking, across and down the street are two well-lit free parking lots. On most Sundays there is Open Blues Jam with no cover. Tickets are available now at www.etix.com, F.Y.E. Stores, Round Again Records, In Your Ear and Lupo's box office.

Rhode Island Watercolor Society

phone: +1 401-726-1876

address: Slater Memorial Park Armistice Blvd

Established in 1896 the Rhode Island Watercolor Society (RIWS), allows for the public to view, purchase and exhibit local watermedia art. The RIWS hosts 15 shows per year along with the National Watermedia Competition.

Samuel Slater Canal Boat

phone: +1 401-724-2200

address: 175 Main St

Established in 2000, the canal boat offers a tour of the 2½-mile river that stretches to the historic Slater Mill. Either booked for 12 for a river tour or rented for 4 as an overnight bed and breakfast, the Canal Boat is the only tour of the Blackstone of its kind.

Slater Park Bike TrailThis trail will take you on a nice walk or bike ride from the edge of the park to the dagget athletic fields.

United Skates of AmericaA great family activity is to go to the skating rink. It has cheap rates, skate rentals, games, prizes, great food and the facility is capable of holding parties of all sorts.

Patriot CinemaPrices for snacks are steep as with most theaters, but the surprisingly low admissions rates off-set this quite nicely.

Pawtucket Veterans Memorial Park

phone: +1 401-728-0500 ext 225

address: Intersection of Exchange St and Roosevelt Ave

This park overlooks the Blackstone River and contains a monument dedicated to all Pawtucket Veterans, and an amphitheater area with seating for 225 and a covered stage.

Dennis M Lynch Arena Ice Skating Rink

phone: +1 401-728-7420

address: 25 Andrew Ferland Way (formerly Beatty St.)

Call for rates and times. This rink was founded in 2000 and is home to the city's youth hockey organization. They offer ice skating, figure skating lessons, and open ice time to public skating.

Preservation Society of Pawtucket

phone: +1 401-725-9581

From award winning Greek revivals and victorians to bungalows and triple deckers, discover historic Pawtucket as you've never seen it before. Guided and self guided historical and architectural tours available.

Rhode Island Rock Climbing Gym

phone: +1 401-727-1704

address: 210 Weeden St

Includes instructed rock climbing fun for the whole family.

Pawtucket Arts Festival

phone: +1 401-724-5200

address: 175 Main St

The Festival runs on an annual bases in early September. The festival highlights events of visual, performance, and participatory arts. It is held at Slater Park and downtown Pawtucket.

address: Tim Healey Way

The Dragon Boat Race is a great event to brings the little ones. The races run all day with an award ceremony at the end of the day. It is also a part of the Pawtucket Arts Festival. The event happens once a year in August.
Buy
Stop and Shop Plaza

address: Cottage St

The plaza contains a Sally's, Stop and Shop (containing a Citizen's Bank), Wendy's and Dunkin Donuts. It is on Cottage St, across from the fire station. Stop and Shop is a chain of grocery stores in New England. they have the usual market items like fish, meat, Fruits and vegetables. They also have a floral shop, bathroom and household supplies, and a Citizen's Bank counter and an ATM. it also has two redbox kiosks, one inside near the registers and one right inside the door. there is also a gas station. At the gas station you can get money off with your Stop and Shop card.

Farm Fresh Rhode Island Farmers' Markets

phone: +1 401-312-4250

address: 1005 Main St #1220

The Farmers' Markets are a ethnically diverse collection of local agriculturists and artisan selling a variety of home grown and self-made produce, cheeses, fudge, and other delicious foodstuffs. Surrounding the market are a handful of restaurants to include traditional American cuisine, Cape Verdean cuisine, and more.
Eat
Modern Diner

phone: +1 401-726-8390

address: 364 East Ave

Stainless steel diner that was the first diner to be listed on the National Register of Historic Places.

Newport Avenue Pizzeria

phone: +1 401-722-2226

address: 1100 Newport Ave

Sandwiches, pasta and pizza. Locally owned and run, with attentive and friendly service and the best steak fries in Pawtucket. They deliver!

Master Pizza

phone: +1 401 721-9922

Pizza, calzones. Some of the workers seem to leave something to be desired in terms of service, but the owner is extremely friendly and will make you feel like part of the family.

Liberty Lunch

phone: +1 401 725-8396

address: 732 Central Ave

A real down-to-earth diner. Serves very standard all-American meals. Burgers, fries, lots of grease. Good stuff. Famous for their wieners. Great people, great food. Open for breakfast and lunch only. On Fridays they do fish and chips and they are open until 7PM.

House of Pizza

phone: +1 401-725-9436

address: 206 Division St

House of Pizza is better known as Division Street House of Pizza and has been in business since 1973. Pizza, calzones, grinders, and various sides. On average, small pizzas are $6.85 and large pizzas are $11.45. Small ginders are ranging between $4.70-$5.70 and larges are from $6.45-$7.30 Calzones are either $7.25 or $8.25 and side orders are from $6-$6.80. They also have fish and chips on Fridays which is a tradition in Pawtucket and in all of Rhode Island. They don't deliver but you can call ahead and pick up.

Broadway Pizza

address: Broadway

Friendlys

address: Newport Ave

Garden Grille Cafe

address: East Ave

Vegetarian.

Roast House

phone: +1 401 475-1040

address: 176 Columbus Ave

The Roast House is on the corner of Columbus Ave. and George Bennett Hwy. And just around the corner from McCoy Stadium. Burgers can range from $6.59 - $8.99 and soft drinks are $1.99.

Bella Pasta Ristorante

phone: +1 401-722-6297

address: 514 Benefit St

From the outside Bella may look like a dive, but with its newly renovated dining room and authentic Italian cuisine it quickly puts that claim to rest. They have a history of being a BYOB establishment and recommend bringing your favorite wine for dinner. They serve both Italian and American-Italian cuisine.

China Inn Restaurant

phone: +1 401-723-3960

address: 285 Main St

A cornerstone in Pawtucket Szechwan, Cantonese, and Chinese cuisine, China Inn combines great food and service in their casual, family restaurant. The building is decorated much like a traditional Chinese Shrine and is equipped with a full service cocktail bar. They also offer take-out.

Lumana Café & Gourmet

phone: +1 401-305-5888

address: 877 Central Ave

Described as a "cozy eatery" Lumana cooks up a variety of sandwiches, soups, appetizers, and gourmet foods. They are best known for their Reuben stuffed with Boar's Head meats. They also provide free Wi-Fi for guests.

The Blackstone

phone: +1 401-726-2181

address: 1005 Main St

As described by a local NBC 10 News team, Turnto10, "A live music venue, restaurant, bar and function space in the Hope Artiste Village mill complex in Pawtucket, just over the Providence line, featuring live music Tuesday-Sunday: jazz, rock, indie pop, punk, reggae, acoustic, hip-hop, electronica, world music and more, with no cover Tuesday-Thursday. Free wine tastings every first Tuesday of the month. Limited menu available until midnight. All-ages during the day, 21+ after 9PM.

The Call Sports Pub and Restaurant

phone: +1 401-722-1700

address: 41 Mendon Ave

Spumoni's the Italian food Restaurant

phone: +1 401 726-4449

address: 1537 Newport Ave

The location of the Spumoni's restaurant is blessing because it has easy access to the 95 highway and to the Route 1. This restaurant served European cuisine prepared in the time honored old country tradition since 1978. Spumoni's restaurant is recognized by its family style hospitality, it treats its customers as guests or as family. It serves dishes prepared with the finest and freshest ingredient at reasonable prices.

Heritage Tap

phone: +1 401 725-8245

address: 264 Grand Ave

The Heritage Tap is in a residential area and is accessible off of Newport Ave. Pub and restaurant.
Drink
Coffee MilkHailed as the Rhode Island state drink, this delicious beverage is very hard to find in other parts of the country, even in other parts of New England. It's a Rhode Island specialty. If you've not from Rhode Island, you've got to try it! Recommended brand is Autocrat, which you can find at most supermarkets in Rhode Island (comes as a syrup). Make sure you add a little bit more syrup than the directions say to. Also, lots of Rhode Island restaurants and diners serve it as well. The McDonalds in the area also serve coffee shakes, which are also impossible to find in most other states.

address: Salter Memorial Park

An annual eggnog drinking contest, the first Saturday night after Christmas, sponsored by Sound and Fury Productions. Each year, the money raised at Nogfest is donated to the Tomorrow Fund, an organization that helps young children with cancer.

Celtic Pub

address: Broadway

Galway Bay

address: South Bend St

Murray's Pub

address: Main St

phone: +1 401 726-8978

address: 1000 Mineral Spring Ave

They've been in the same location for over 40 years. Other dishes are tasty as well and the cost is very reasonable. Expect a very long wait on weekends.

phone: +1 401 305-0597

address: 100 Carver Street

Don't leave Pawtucket without a Bucket! At least, so goes the saying of this local brewery, a play on the derogatory nickname for the city. Bucket is fairly small, having only a handful of beers available at a time. Their focus is on less hoppy beers like stouts and pales.
Sleep
phone: +1 401-723-6700

address: 2 George St

Minutes from downtown Pawtucket, Slater Mill and McCoy Stadium.
Go next
Bristol, a 40-minute drive from Pawtucket is home to the historic 4th of July parade and beautiful scenery, especially Colt State Park, a must see.
Newport, 50 minutes to the south of Pawtucket,is home to famous beaches, streets and Mansions. Open seasonally the Newport Mansions are an affordable family friendly attraction.
Providence, 10 minutes away from downtown Pawtucket, Providence is the Rhode Island epicenter for politics, shopping and beauty. Cultural draw is Thayer Street.