Peabody
Peabody
is a city in the suburban area of the
North Shore
in
Massachusetts
.
In the April 2009 edition of Forbes Magazine, Peabody was ranked the 14th most livable city in the United States.
Understand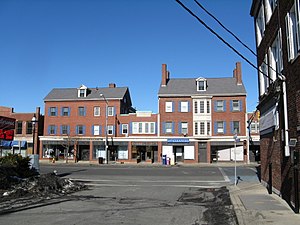 History
First known as the Northfields, "the Farms", and Brooksby, the area was settled about 1626 within
Salem
, which had itself been founded in 1626 and incorporated in 1629. In 1752, the area was set off from Salem and incorporated as part of
Danvers
. It was usually referred to as "the South Parish", associated with the church located in the center (now Peabody Square). In 1855, the community broke away from Danvers to become the town of South Danvers, incorporated that May 18. The name was changed on April 30, 1868 to Peabody after George Peabody, a noted philanthropist. It would be incorporated as a city in 1916.
Beginning as a farming community, the town's streams attracted mills which operated by water power. In particular, Peabody was a major center of New England's leather industry and tanneries remained a linchpin of the city's economy into the second half of the 20th century. The tanneries have since closed, but the city remains known locally as the Leather City or Tanner City and its high school sports teams are nicknamed the Tanners.
The loss of the tanneries was a blow to Peabody's economy, but the city has made up for the erosion of its industrial base, at least in part, through other forms of economic development. Early in the 20th Century, it joined the automobile revolution, hosting the pioneer brass era company Corwin Manufacturing Company. The Northshore Mall, originally The Northshore Shopping Center, is one of the region's largest malls. It opened in 1958 and is now the city's largest taxpayer. Centennial Park, an industrial park in the center of the city, has attracted several medical and technology companies.
Meanwhile, West Peabody, which was mostly farmland as recently as the 1950s, has been developed into a middle-to-upper class residential area.
Peabody is the location of the Salem Country Club, a private country club with a professional golf course. In the past, the club has hosted The U.S. Senior Open in 2001 and the U.S. Women's Open in 1954 and 1984.
Get in
By car
Interstate 95 to Route 128
By air
See
Brooksby Farma historic farm managed by the City of Peabody, is a 275-acre (1.11 km2) working farm and conservation area that has been one of the city's most popular destinations for decades.
Buy
Eat
Sleep