Peach Springs
Peach Springs
is an unincorporated village of 600 people which serves as base of operation for the native Hualapai Nation of
Northern Arizona
.
Understand
Peach Springs' map location matches that of the cartoon village
Radiator Springs
in the 2006 Pixar film "Cars". The tiny village is served by the famed US
Route 66
, which originally followed the railway across the Arizona desert.
When Interstate 40 bypassed US-66 between
Kingman
and
Seligman
, it took a shorter but divergent route far to the south. US-66 is separated from I-40 by twenty miles or more through much of the section through Peach Springs, Hackberry, Valentine and Truxton. The only major cross street joining I-40 to US-66 in this area is Hackberry Road, which has no I-40 offramp.
The steady stream of traffic westward through Peach Springs to California died overnight with most affected villages in the area becoming ghost towns. Peach Springs barely held on, primarily to serve the Hualapai Nation and as a point of depart for travel to the Grand Canyon. When US-66 entirely disappeared from standard road maps in 1985, the section from Kingman to Seligman was numbered as Arizona State Highway 66.
Get in
By car
Route 66
The only way in is by motorcar; leave I-40 at Kingman (in the west) or Seligman (in the east) to return to
highway 66
. The old road is fourteen miles longer than I-40 from Kingman to Seligman but is one of the largest continuous, intact portions of historic Route 66 in Arizona.
By train
The Atchison, Topeka, and Santa Fe Railways once served both Hackberry and Peach Springs. The train no longer stops at any intermediate point between Kingman and
Williams Junction
. One must disembark at Kingman to travel the last 42 miles by car on Route 66.
Get around
The 82-mile Arizona Route 66 between
Kingman
and
Seligman
is for the most part little more than
ghost town
. There are few services; at one point, there was only one fuel station open on this entire stretch of road.
See
phone: +1 928 422-3223

address: Mile Marker 115, Route 66

The largest dry cavern in the United States. The Regular Tour is a 45-minute, 3/4 mile (1 km) walking tour. A 25 minute Short Tour is available. The Explorers Tour is an off-trail caving tour of groups of 2-6 persons. The caverns are a constant 56ºF (13ºC) even during the heat of summer so a sweater or jacket is recommended.
Do
Whitewater Rafting in Grand Canyon: 1-day trip meets at 7:30AM at Hualapai River Runners Lodge, returns at approximately 6PM. includes helicopter flight out of canyon, box lunch, 35 miles of river and 7 wet rapids in the first 10 miles.
Buy
Gas & Grub

phone: +1 928 769-1880

address: 16277 Highway 66, Valentine AZ

Convenience store with fuel, near Truxton. This and the nearby Truxton Station (16111 Hwy 66, +1 928-769-2436) may be the only opportunities to refuel until Kingman, Peach Springs or Seligman.

address: Route 66

Native-owned market with deli, butcher shop and bakery.
Eat
There are restaurants in the Hualapai Lodge (Diamond Creek Restaurant, +1 928 769-2800) and inside Grand Canyon Caverns (Cavern Grotto, +1 928 422-3223).
Frontier Roadhouse

phone: +1 928-769-1132

address: 16101 Route 66
Sleep
phone: +1 928 422-3223

address: 16500 E Highway 66, Route 66 mile 115

At entrance to Grand Canyon Caverns. 48-unit Cavern's Inn motel, caravan park and campground with showers, toilets, laundry, RV hookups. Restaurant, fuel, c-store. Outdoor pool, disc/frisbee golf course, hiking/biking/nature trails on 800 acres.
phone: +1 928 769-2230

address: 900 Highway 66

Native-owned 60-room non-smoking hotel, wi-fi, coffee makers, pool, spa, fitness centre, souvenir shop, meeting facilities for 40 people. Diamond Creek Restaurant open for breakfast, lunch and dinner, native cuisine, Hualapai River Runners river trips, under common ownership with Grand Canyon West.
Nearby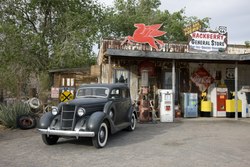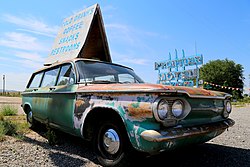 Continuing westward from Peach Springs, Route 66 passed through three more villages (all now ghost towns or former ghost towns) before I-40 rejoined US-66 at
Kingman
.
Hackberry
A former ghost town; this village once had a few fuel stations and stores. The town died in the 1970s with the construction of I-40 and the roadside businesses closed. From 1992-1998, Hackberry was the home of late Route 66 travelling artist Bob Waldmire, at one time the town's only resident. Waldmire was based at what is now the

phone: +1 928-769-2605

address: 11255 Route 66

, now a popular tourist stop with a collection of old and classic motorcars. He travelled the route in an old VW hippie van creating and selling elaborate hand-drawn maps. (In the "Cars" film, the "Fillmore" character is unofficially based on Waldmire; the original van is now in the Route 66 Hall of Fame in Pontiac (Illinois).)
Valentine
Home of a former native residential school, the Schoolhouse at Truxton Canyon, now listed on the national register of historic places.
Truxton
A "new
ghost town
", Truxton (west of Peach Springs on Route 66, established 1951, bypassed 1979 by I-40) had several fuel stations (Bell, Texaco, Chevron), a café and an assortment of motels which are still standing but long abandoned. The former Cowgill's Trading Post (2006) became a Gas & Grub, but there is no lodging. The last inns were the Orlando Motel (16213 Highway 66) and the
Frontier Motel & Café
(16118 E Highway 66). Established 1951, the once-distinctive Frontier had declined for years, closing upon the owner's death in 2012. It's likely the best-preserved of the vacant local buildings, as a short-lived restoration effort had a souvenir shop open in 2014 (which closed in 2015). The motel's 1950s tiles, furnishings and décor were a throwback to a simpler era when a TV in every room earned boasting rights.
Go next