Peel (Isle of Man)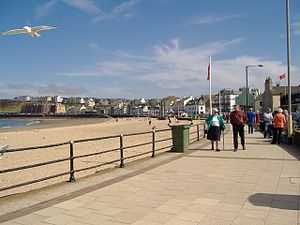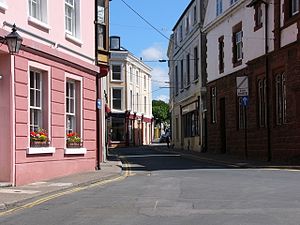 Peel
(in
Manx
:
Purt ny h-Inshey
–
Port of the Island
) is a town on the
Isle of Man
.
Get in
By train
Peel is the only town not served by the Manx Heritage Railway.
By bus
The Isle of Man government provide timetables for the bus service Bus Vannin.
From
Douglas
, buses #4 and #6 goes from the Lord St bus stops to Derby St outside Peel's Town Hall.
4: Douglas → Foxdale → Hope → St John's → Peel → Niarbyl
6: Douglas → St John's → Peel
6A: Douglas → Strang → St John's → Peel → Ramsey
6C: Douglas → St John's → Peel → Cronk-y-Voddy → Ramsey
From
Ramsey
, bus #5.
5: Douglas → Strang → St John's → Peel → Ramsey
5A: Douglas → St John's - Peel → Ramsey
5C: Douglas → Strang → St John's → Peel → Cronk-y-Voddy → Ramsey
By car
From Douglas, take the A1.
Get around
Peel is a small town so there is no need to take a bus to visit other parts.

See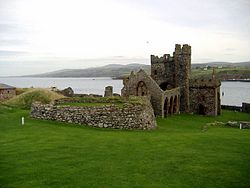 Landmarks
Peel CastlePerhaps the main attraction in Peel, in terms of tourism. It's worth the epic walk through town, down one side of the waterfront, past the kipper factory (and its associated fragrance) and around out to St. Patrick's Isle, where the castle lies, to take in this former fort of Magnus Barefoot – an 11th century Viking King of Mann. The castle's curtain wall encircles the ruins of many buildings which are a testimony to the site's religious and secular importance in Manx history, most prominently including a tower once used by monks to hide from invading Viking hordes as well as Old Peel Cathedral. Also located on the Peel Quayside is the House of Manannan, a museum of the island's story from Celtic times through the Viking period to 19th-century Peel.

Peel CathedralA fine Gothic Revival church built in 1879-84.
Museums
House of Manannan

address: Mill Road, IM5 1TA

Telling the story of Manx nationhood, it takes the visitor through the Celtic, Viking and Maritime traditions that have shaped the Isle of Man. It was declared British Museum of the Year and has won an award by the Society for the Interpretation of Britain's Heritage.

Manx Transport Heritage Museum

phone: +44 1624 842448

address: Brickworks Office, Mill Road, IM5 1TB

The highlight of this tiny museum is Peel P50, once the world's smallest road legal car, which was manufactured in Peel in 1960s.

Leece Museum

address: The Old Courthouse, East Quay, IM5 1AR

Small but highly informative local museum, the ground floor is undergoing renovation so entrance is by the back.
Do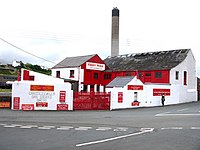 While most of the Isle of Man's beaches offer incredible views they are often pebble beaches. Peel has one of the few fine sand beaches and during the occasional hot weather sitting on a sandy beach with great views of a medieval castle are something not to be missed.
phone: +44 1624 843622

address: Moore's Traditional Curers, Moore's Kipper Yard, IM5 1TA

A family kipper business that's been open for over a hundred years. Tours are available from May to September and go through the entire process of making kippers.
Buy
Manx kippers are supposed to be the best in the world, and even if you're not personally fond of smoked herring, don't you know someone who deserves a special smoky, fishy delivery back home? Moore's Kipper Yard will be happy to help you post a kipper-gram to a lucky friend.
Eat
Harbour Lights Cafe

phone: +44 1624 843543

address: The Promenade, IM5 1AH

Has Manx kippers for lunch or dinner.

phone: +44 1624 844761

address: 1 Castle Court/Shore Rd, IM5 1AQ

A well-known delicious ice cream shop. Has another location in Douglas.
Drink
The White House Hotel

phone: +44 1624 842252

address: 2 Tynwald Rd, IM5 1JZ

phone: +44 1624 842216

address: 14 Lake Ln, IM5 1AR
Sleep
phone: +44 1624 842341

address: Derby Rd

phone: +44 1624 842337

address: Shore Road
Go next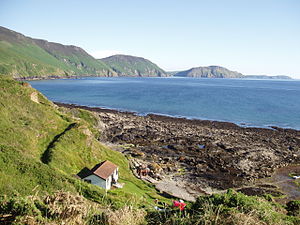 Heading south from Peel will lead you to Niarbyl, a tiny village with a pebble beach nearby. This location provides stunning views over the Irish Sea towards Ireland, coastal walks and the opportunity for peace and quiet (when a coach-load of tourists aren't around). The little white cottage on the beach was used as the principal location in the film Waking Ned. While there are a few buses per day from Peel, the best way to reach Niarbyl is by car.
To the east of Peel lies St. John's, another small village and home to Tynwald Hill - the island's 1000-year-old open-air parliament. Thousands head here every Tynwald Day (July 5th) to witness the proclamation of new laws read in Manx and English.
Buses to Ramsey and Douglas leave from the stop on Derby road, near the Cathedral and the Town Hall.