Peenemünde
Peenemünde
is on the island
Usedom
in the state
Mecklenburg-Western Pomerania
in
Germany
.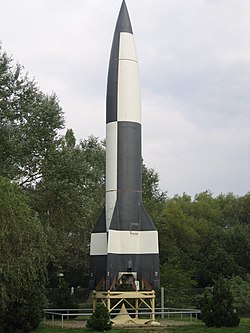 Understand
Peenemünde is the birthplace of the infamous V-1 flying bomb and V-2 rocket. The V by the way stands for Vergeltungswaffe (retaliation weapon) the propaganda-term the Nazis used for their technological last ditch efforts at turning the tide in the waning moments of the lost war. They were developed, tested and launched from here during WW2 and the site was heavily bombed by Allied forces. Not much is left of the factories, but the power plant, some rockets and a bunker remain for visitors. After the war Peenemünde was used as an East German military base; consequently there is also a lot of East German military equipment on show.

Get in
The
Usedomer Bäderbahn
has a connection to
Zinnowitz
, and then onto the main German rail network.
Peenemünde railway station
It is about 50 km by car from
Greifswald
.
There are also smaller ferries from
Rügen
in the summer.
There are hourly regional trains from
Zinnowitz
.
See
Peenemünde Historical Technical Museum

address: Im Kraftwerk, Peenemünde

A museum of rocket technology between 1936-1945. It is housed in an impressive building of the power station at the former Army Testing Site.

address: Museumstr. 12

Interactive science museum
Make a round trip by bus to the former launch sites of the V1, going over the airport with its shelters. It is not legally possible to get to the former launch pad of the V2-rockets, the test stand VII. The visit of the ruin of the oxygen plant may be illegal.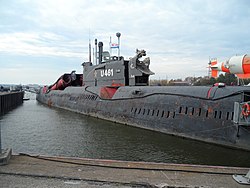 There are also two former Soviet military vessels open for visitors in the harbour: the submarine U 461 and the ship 1241 A.
Do
The Monument LandscapeMonument Landscape is a hiking (or cycling) trail of 22 km starting at the Peenemünde Historical Technical Museum with 17 stopping points equipped with information boards. These include sites of historical-technical interest (like oxygen plant, air field, prison workers camp, etc.). The map of the trail (in German) can be downloaded from the Museum's web site.
Buy
Books of the history of Peenemünde and rocket science, e.g. at the gift shop of the historical-technical information center Peenemuende. There are also model rockets available.

Eat
There is a restaurant in the power plant, and in the harbour you will find many smaller kiosks selling hot dogs, ice creams and other refreshments.
address: Hafenpromenade 7

Italian

phone: +49 38371 21815

address: Strandstr. 1 a, Karlshagen

Die Flunder

address: Zum Hafen 7

Fish and grill restaurant
Sleep
phone: +49 38371 26439

address: Peeneplatz 3

phone: +49 38371 28582

address: Feldstraße 1A
Go next