Peggy's Cove
Peggy's Cove
is a hamlet and popular tourist spot in
Nova Scotia
. It is both bleak and picturesque with its historic and still-used lighthouse standing watch over the village and the granite rocks and cliffs.
Understand
Peggy's Cove is a tiny fishing village (population 35) which attracts somewhere between half a million and a million tourists a year, all trying to snap a photo of its famous lighthouse. Some claim that a fisherman named this tiny spot for his wife, who was fond of this location; another possibility is that the village is named for its location on St. Margaret's Bay.

Get in
There is no public transport there: you can rent a car, take a bus tour or hire a taxi. Nonetheless, Peggy's Cove is very much on the beaten path due to its proximity to
Halifax
(about 45 minutes by road), its famed scenic ocean view and its ready accessibility by bus tours.
Peggy's Cove is 45 km southwest of Halifax. Highway 333 is the only road in and out of town (take exit 5 from Hwy 103). Most bus tours leave Halifax at 9AM, 10AM or 1PM and return in the late afternoon. If travelling independently, arriving at sunrise and leaving by 9AM is one way to avoid the crowds; another is to visit in "shoulder season" (late spring, early fall) when the crowds are smaller.
Tours from Halifax
phone: +1 902-425-9999

address: Halifax

Tour bus with morning pickups at a few large Halifax hotels.

phone: +1 902-420-1015

address: 1751 Lower Water St, Halifax

Daily round-trip departures in high season (July-August).

phone: +1 902-876-4444

Six-person minivan, $55/hour. The guided tour of Peggy's Cove from Halifax is about five hours.
Get around
On foot
The village, while pretty, is tiny. There is a large parking lot near the edge of the village, at the Visitor Information Center; you can walk down to the village from there. The walk from the Visitor Information Center to the lighthouse is only five minutes; however, the road does not have a sidewalk and most drivers in town are also tourists, so mind the traffic.
Most of the town is private property; do not park in someone's driveway.

See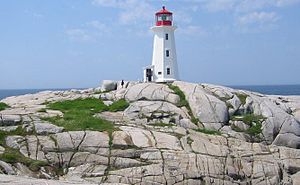 Take in the views -- the lighthouse, the ocean, the fishing village. The sunsets are gorgeous and peaceful on clear summer evenings, but the best times to see Peggys Cove are the stormy days, when the waves crash against the cliffs sending salt spray high into the air.
There are two Swissair Flight 111 Memorials; one is at the Whalesback, about 1 km north of the village. The other is in Bayswater, near Bayswater Beach Provincial Park. These commemorate the victims of the flight which crashed into the ocean just off the coast of Peggy's Cove on Wednesday, 2 September 1998 with all passengers and crew lost.

Peggy's Cove Lighthouse

address: 185 Peggys Point Rd

The town's website says that the Peggy's Cove lighthouse "is the most photographed lighthouse in Canada and an icon of our marine heritage." Unless you time your visit very well, your photographs will probably include other sightseers taking their own photographs of the lighthouse.
Do
phone: +1 902-541-9177

address: 178 Peggys Point Rd.

Sightseeing and marine wildlife observation tours, deep sea fishing, private charters, lobster dinner cruises, photographers-only expeditions, puffin and seal tours.

Bayswater Beach Provincial Park

address: 4015 Hwy 329, Bayswater

Large white-sand beach (supervised July/August), picnic area with view of the open ocean, barbecue grills, change rooms and toilets.

St. Margaret's Bay Water Tours

phone: +1 902-492-0022

+1 902-221-7752 (mobile). Charter boat operator based midway between Halifax and Peggy's Cove.
Buy
Options are limited; there are plenty of souvenirs and works of art for sale to tourists, but relatively little else. There is one convenience store.

Eat
phone: +1 902-823-2561

address: 178 Peggy's Point Road

Lots of fish on the menu here. The chowder is good. Also has a two-floor gift shop.

Dee Dee's Ice Cream

address: 110 Peggys Point Rd

Generous servings of excellent home-made North-American-style ice cream.
Drink
phone: +1 902-823-1843

address: 6958 Prospect Road (Highway 333), West Dover

Waterfront seafood restaurant with local craft beers and mixed drinks.
Sleep
Connect
Bring your cellphone. Depending on the number of tourists in town, you may have to wait for a signal.
There used to be a small post office with a special cancellation strike inside the lighthouse, but it was closed in 2009.

Stay safe
Signs are clear to point out "Injury and death have rewarded careless sight-seers here."
The coastline in Peggy's Cove is steep and rocky; the sea can be rough at times. There is a clearly-marked but sometimes deadly risk of falling into the ocean (or being knocked off slippery, wet rock by large waves) and either swept away from shore or slammed into the rocks by rough water.
Keep well back from the rock face as it's a long way down to the water. Stay off the "black rocks", wet with ocean spray. People have been killed here.

Go next
Continue down the
South Shore
to
Chester
and historic
Lunenburg
.