Pelabuhan Ratu
Pelabuhan Ratu
is a town in the
Bogor Raya
region, at the south coast of
Western Java
, Indonesia. It is known for its fishing port, beaches, and surfing spot.
Understand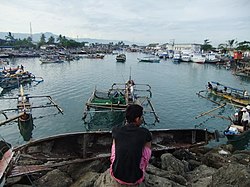 Pelabuhan Ratu is the capital of the regency of Sukabumi. The city of Sukabumi itself is an independent city (
kota
) about 50 km to the east in the mountains.
Some people believe that the legendary female spirit
Nyai Roro Kidul
, the 'Queen of the Indian Ocean', has a special place in Pelabuhan Ratu.
Nyai Roro Kidul
is part of the Sundanese mythology. Pelabuhan Ratu celebrates an annual holiday in her honor on April 6. The Samudra Beach Hotel keeps room 308 furnished with green colours, specially reserved for
Nyai Loro Kidul
. The name of the town, Pelabuhan Ratu, means 'Port of the Queen'.
Get in
By car
From Jakarta, you can take the highway to
Bogor
, and then follow the trunk road towars
Sukabumi
until the village of Cibadak. There you can turn right to go to Palabuhan Ratu. There is often serious traffic congestion on the road until Cibadak. The journey from Jakarta to Pelabuhan Ratu takes at least three hours, but often much more (5-6 hours is common).
By bus
In Pelabuhan Ratu, buses arrive at the . From
Jakarta
, the easiest way to reach Pelabuhan ratu is to take bus to
Bogor
first. From Bogor's Baranangsiang bus terminal you can take a direct bus to Pelabuhan Ratu. Air conditioned buses depart from Bogor in the morning and afternoon (4 hours - Rp25,000). Economy-class non-air conditioned buses depart Bogor until 21:00 (4 hours - Rp20,000).
An alternative (from Jakarta, but also from
Bandung
) is to take a bus to
Sukabumi
first. From Sukabumi there will be buses to Pelabuhan Ratu (2 hours - Rp10,000-15,000). Bus company MGI has air-conditioned buses on this route.
For the way back, at Pelabuhan Ratu bus terminal you may be offered to go by shared taxi or
angkot
(public minivan) to Cibadak village instead. If the price is reasonable (such as Rp20,000 per person), this is a good idea, as Cibadak is on the main road from Bogor to Sukabumi, so many buses directly to Jakarta and Bandung pass here. Keep in mind that the
angkot
to Cibadak will not be comfortable, with cramped seats.
By plane
The airport of Pelabuhan Ratu is not operational. The nearest airports are in Jakarta and Bandung.
Get around

Public transportation in Pelabuhan Ratu is limited. During daylight, you can get around by angkot (public minivan). There are several routes throughout the town and surrounding area, and the price for a trip is Rp2,000-3,000 depending on the distance. You may carry a surfing board on an angkot, but you will have to pay for the space occupied by your surfing equipment. You can also charter an angkot for about Rp.10,000-Rp.20,000, depending on the distance.
A better way for visitors to explore the area is by rental motorbike or car. Please ask your hotel for further information, and make sure you have the correct driving license and insurance.
There's no taxi service in this town, but you can hire an ojek (motorcylce taxi) for about Rp5,000 (short trips) to Rp20,000 (distance of about 10 km). You will need to bargain with the driver for a good deal. Ojeks can be found at most street corners and in busy parts of town (such as near the bus terminal and near the port).

See
The main sights in Pelabuhan Ratu are the beaches and the fishing port, wharf, and fish market.
Do
Fishing Marlin Fish (jangilus fish in local name)

address: you can rent a fishing boat at the harbour
Many nearby activities can be found in the village of
Cimaja
(about 8 km to the west) and the surrounding area, including Karang Hawu Beach (also known as Sunset Beach), and volcanic hot springs.
Buy
Pelabuhan Ratu fish market
Eat
RM Ratu Minang

phone: +62 266 434 260

address: Jl. Jenderal Sudirman

Padang style restaurant.
Sleep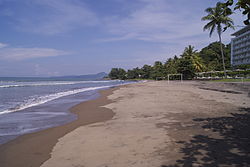 phone: +62 266 431 200

address: Jl. Raya Cisolok Km. 7

The largest hotel of the town. Four-star hotel with swimming pool. The hotel is well known for keeping room 308 dedicated to the Queen of the South Sea.

phone: +62 266 432 273

address: Jl. Pantai Citepus

Beach hotel with playground, spa, and seafood restaurant.

phone: +62 266 431 031

address: Jl. Karang Pamulang No. 31

Hotel with swimming pool, restaurant, and private beach.
Go next