Pelee Island
Pelee Island
(
pee-lee
) is a 42-km² (16-sq mi) island in Lake Erie and the southernmost populated point in Canada (with 235 residents in 2016). Nearby Middle Island is the southernmost point of land in Canada. It sits at the confluence of two bird migration routes – the Atlantic Flyway and the Mississippi flyway. The island is a significant stopover site for many species of birds and insects (like monarch butterflies). Birding is a popular pastime and draw for tourism as well as the annual pheasant hunt on the island.
Understand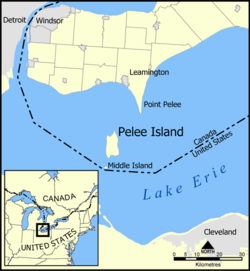 The island has long been used for vineyards and wine making. The wine industry was started here in 1860 and died out in the early 20th century, but was restarted in the 1980s by the Pelee Island Winery. The island is an agriculture-based community which grows about 2,000 hectares (5,000 acres) of soybeans, about 400 hectares of wheat, 200 hectares of grapes, and a few hectares of specialty corn.
Pelee Island is a popular tourist destination, with thousands of visitors each year.
History
Evidence of occupation by indigenous peoples can be dated back 10,000 years through archaeological evidence of projectiles and ceremonial objects. European settlement of the island began in 1788 when the land was leased to Thomas McKee by the Ojibwa and Odawa tribes. William McCormick bought the island in 1823 and the McCormick family settled permanently in 1834. In addition to subsistence agriculture, the island's lumber, stone quarries, and fishing supported inhabitants. Wine-making on Pelee Island began in the 1860s.
Pelee Island features an original 1833 lighthouse that was once used to guide sailors through the rocky Pelee Passage. Lake Erie is full of shipwrecks; Pelee Passage alone contains the remains of at least 15 shipwrecks. One wreck that is particularly close to the island, JJ Carroll, is just 100 feet (30 m) off the eastern shore of Fish Point.
Pelee was the site of a battle during the Patriot War. The Battle of Pelee Island took place along what is now the Michigan-Ontario border in 1838 involving small groups of men on each side of the border seeking to "liberate" Upper Canada from the British. On February 26, 1838, 300 men captured the island, and on March 3 they were repulsed and either fled the island or were captured.
Climate
Due to its southerly location and the moderating effect of Lake Erie, it has a slightly milder climate than inland areas. Its climate is one of the mildest in Canada.
Winters are cold with a January average of −5.0 °C (23.0 °F) and the average annual snowfall is 76 cm (29.9 in), which falls mainly from November to April. Summers are warm and humid with a July high of 27.5 °C (81.5 °F) and a low of 18.9 °C (66.0 °F). Temperatures rarely go over 32 °C (89.6 °F), averaging 4 days per year. Pelee Island and Point Pelee receive the fewest days with precipitation in Ontario, averaging 75 days with measurable precipitation, and drought-like conditions occur every 4–5 years. The average annual precipitation is 891 mm (35 in) which is evenly distributed throughout the year with January and February being the driest months
Get in
By boat
There are two ferries from Canada and one from the US. You should make reservations as they can be fully booked for weeks.
The leisurely cruise to Pelee Island can range from 1½ to just over 2 hours depending on departure routes. The ferry service splits the season between Leamington and Kingsville on the Ontario mainland. Leaving from Leamington from early spring until August, the ferry then finishes the season (mid-December) in nearby Kingsville. The ferry from Pelee Island to Sandusky, Ohio runs only from late spring until early fall, while Jiimaan runs from the Canadian ports of Leamington and/or Kingsville from early spring until early December.
During the winter season (starting December 11 until the start of the ferry the next year) Pelee Island Transportation Company operates an air service to the Pelee Island Airport from Windsor.
The Pelee Islander, +1-800-661-2220. Daily trips to Sandusky, Ohio, and mainland Ontario. Service to Sandusky is limited to once daily during the summer months, and is further restricted during the spring and fall. Advance vehicle reservations.
By plane
Pelee Island Airport
(ICAO: CYPT) receives private aircraft and regular flying schedules. The Pelee Island Transportation Company offers regularly scheduled flights during the winter months and can be contacted at +1-800-661-2220 or +1 519-724-2115 for more information. The Griffing Flying Service offers daily year round service from Sandusky, Ohio to Pelee Island and other Lake Erie Islands. For reservations, call +1 419-626-5161.
Fees and permits
If you are fishing in Ontario or Canadian waters, make sure you have the appropriate fishing licence. Same for the annual pheasant hunt.

Get around
Bicycling is the best way to see the 13.5-km (9-mile) island. They are available for rent near the West Dock.

See
The Pelee Island Bird Observatory works to conserve and study birds on the island, and offers visitors the opportunity to take part in tracking, tagging and photographing the wide variety of species present.
Pelee Island is one of Ontario's most botanically significant sites, and features several Nature Conservancy of Canada areas, and two Provincial Nature Reserves, Lighthouse Point Nature Reserve and Fish Point Nature Reserve. Glaciation left a variety of habitats for wildlife, such as wetlands, sand dunes, alvars (areas of limestone with a shallow overburden), and deep soils suitable to the trees of the Eastern Deciduous Forest zone. Pelee Island is home to numerous species at risk including flora and fauna as insects, snails, mammals, birds, reptiles, and amphibians.
phone: +1 519-724-2291

address: 1073 Shore Rd W

Exhibits about the island's (and neighbours') human history and natural heritage.
Do
The Annual Springsong WeekendA celebration of birds and books, traditionally held on the second weekend in May, and hosted by famed Canadian author Margaret Atwood.

The Island Unplugged Music FestivalIt includes the southernmost Chili Cook Off. A family-friendly music and arts festival that features entertainment by local, regional, national and internationally known musicians. Camping available.

The Pelee Island Half MarathonCanada's southernmost and most exclusive half-marathon attracts runners from the United States and Canada. Only about 350 runners are allowed to register for the race which is held the first weekend in June.

Canada Day (July 1) is celebrated on the island with a fireworks display and a parade along the West Shore Road.

Fall Flight & Harvest WeekendThe summer wraps up with the Heritage Weekend, hosted by the Pelee Island Heritage Centre. Nature events and the Harvest Dinner.
Buy
A farmer's market is held every Saturday in the Quarry throughout the summer.

Eat
Conorlee's Bakery & Delicatessen

phone: +1 519-724-2321

address: 5 North Shore Road

Coffee, freshly baked pastries, breakfast dishes, sandwiches, soups, salads, deli meats and cheeses, sunflower bread, fudge, pastries, savoury pastries, and vegetarian options, pizza.

phone: +1 519-724-2195

address: 11 West Shore Road

Island-themed decor. Specialties include fresh local pickerel and perch.

address: 1115 West Shore Rd

Sandwiches, salads, pizzas and shareable plates during the day. At night, farm-to-table dishes cocktails, and Canadian craft beers. Ingredients sourced from island & regional farms & markets.
Drink
Pelee Island Winery PavilionThe Winery itself is in Kingsville (Ontario), but they have a Pavilion on the island. Gift shop, food, wine.

Scudder Beach Bar & Grill

phone: +1 519-724-2902

address: 325 North Shore Rd

Westview Tavern

phone: +1 519-724-2500

address: 1075 West Shore Rd.

Salads, sandwiches, perch, burgers, apps.
Sleep
phone: +1 519-724-2195

address: 11 West Shore Road

Choose a shared room, a guest room with private bath, a cottage rental, a beach house or a campsite. Can accommodate up to 47 guests.

phone: +1 519-724-2321

address: 5 North Shore Road

One suite with bathroom. Sleeps up to four.