Pelister National Park
Pelister National Park
is in
Western North Macedonia
near
Bitola
.
Understand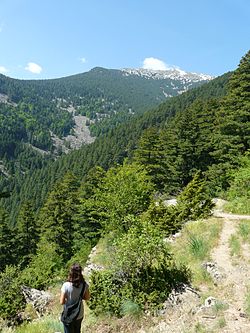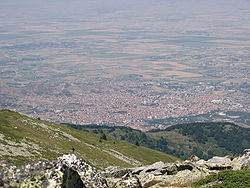 Park straddles North Macedonia's southern border with Greece, running along the magnificent Baba Mountain. Its highest peak - Pelister (2601 m) is the third-highest in North Macedonia after Korab and Titov Vrv. It is 15 km from North Macedonia's second city, Bitola, and makes for an invigorating natural escape from urban life.
Information center
phone: +38947237010

It has permanent exhibitions rooms and souvenir shop.
History
Pelister National Park was established in 1948 and is the first national park in the country. It is also the second largest national park in North Macedonia after
Mavrovo National Park
.
Landscape
Pelister is rugged and mountainous.
Flora and fauna
Pelister National Park is filled with exquisite flora and fauna. Among flora elements, the presence is especially significant of the five-needle pine molica (Pinus peuce)- a unique species of tertiary age being present on only a few mountains in the Balkan Peninsula. The beauty of the landscape is enhanced by the diversified wildlife: bears, roe deer, wolves, chamois, deer, wild boars, rabbits, several species of eagles, partridges, redbilled jackdaws, and the endemic Macedonian Pelagonia trout.
Climate
The climate is diverse all over the park.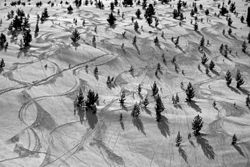 Get in
Pelister is 14 km from
Bitola
, 75 km from
Ohrid
's Airport or 170 km from
Skopje
's Airport.
The best way to reach Pelister would be from Bitola, across the villages of
Trnovo
and
Magarevo
. No public transport is available, so taxis and private cars are the only options to get there. A taxi from Bitola to the park's information center costs about 400 denars. Alternatively, a taxi from Bitola to the entrance of the National Park, near Magarevo, costs 200 denars if called in advance if you don't mind the extra walk.
Fees and permits
Entrance fee: 50 denars per car.

Get around
Taxis cost pretty cheap, around 100 denars for a ride, but it will require most likely ordering a taxi by phone from Bitola.
There is a road going from Dihovo to Nizepole village and further into mountains which offers quite spectacular views. Accessible either by car, bicycle or on foot. There is a few forks of it leading to Brajcino village (22 km), Little and Big Lakes.

See
The views of Pelagonia valley, Lake Prespa, mountains Nidzhe, Galichica, Jakupica, and Bitola.
The two mountain lakes called Pelister's Eyes. The Big lake is 2,218 m above the sea level while the Small lake is 2,180 m high. They are the sources of many rivers. It's possible to swim in the small one during summer time. It's about 5 hr walk from Dihovo to small lake one way.
Dihovo village
There is a walk to Small and Big rocks which are local landmarks.
Churches of Sv Nedela and Sv Nicolas.
Do
Pelister is known for great skiing.

Ski center "Kopanki"

phone: +389 47 222 384

offers 680 m ski track with lifts.
Lots of nice hiking trails with good views, e.g. Children, Historical and Stone Trails.

Rocky trailwhich starts at Molika hotel

. Refer to online map for all available hiking routes.
A few mountain bike tracks.
Buy
Honey farmOffer local honey and honey products. It's also possible to arrange a tour.
Eat
Restaurant "Oskar"

phone: +389 47 293 517

address: village Nizepole

Restaurant Ilada

address: Dihovo

Quite OK place to eat some local food and drink Skopsko beer.

Restaurant Glamour

phone: +389 47 231 640

address: Dihovo

La Casa Grande Dihovo

phone: +389 78 244 676

address: Dihovo
Sleep
You can be sleep over in many hotels, or in 3 mountain houses.
phone: +389 47 229 406

address: Begova Cesma, National park Pelister

It's possible to arrange half and full board. Besides, they also have a restaurant with mediocre food which can cause stomach-ache, so it might be a good idea to eat in town before coming to national park. Also bad smell of a tap water and quite average rooms. If possible opt for hotel's front rooms which comes with balcony for the same price. However, despite all these drawbacks this hotel isn't the only one available up in the mountains (inside national park) so not much of a choice really.

phone: +389 47 256 500

address: Dovledzik b.b. Bitola

Rooms come with TV, separate bathrooms, WiFi.
Dihovo village
It's about 5 km away from Bitola which is 5-10 minute drive by asphalt road. Taxi fare from Bitola to Dihovo is 120-140 denars.
phone: +389 47 293040

address: relaxing village Dihovo in the foothills of Mt Pelister

Guest house. Offers a variety of home-cooked Macedonian specialties. Organize hiking trips and offer ski instruction for beginners. Rooms are poorly soundproofed though.

phone: +389 76 697 909

Renewed in old Macedonian style from wood and stone with unique interior. There are 3 quite big rooms and one apartment. All rooms have 1 double bed and one single bed. Also there is shared fully equipped kitchen. Nice owners. Which also offer to prepare Macedonian dishes for guests. Poor soundproofing though.
Trnovo village
Near Dihovo village, about 5 km away from Bitola
phone: +389 47 293 409

address: s. Trnovo

Good quality hotel. Relaxed atmosphere.

phone: +389 47 293 131

address: s. Trnovo

Upscale family run hotel with excellent reviews. Good value for the money. Spacious rooms. Although it might take a while for them to prepare food and food is not always perfect.
Mountain houses
"Kopanki"

phone: +389 47 222 384

"Golemo I malo ezero"

phone: +389 75 458 782
Go next
Brajčino — picturesque village located in the mountains of Western North Macedonia, just off the eastern shore of Lake Prespa.
Bitola — one of the most European-flavoured cities in the country, Bitola is known for its colourful neo-classical architecture and the Ancient Macedon ruins of Heraclea Lyncestis nearby.