Pelling
Pelling
is a small town in
West Sikkim
.
Understand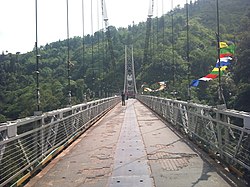 Pelling is famous for its magnificent views of the snow-capped mountains of
Kanchenjunga
. Situated at an altitude of 1,900 m (6,250 ft), the location offers good views of the surrounding mountain ranges including the
Koktang, Frey, Rathong, Kabru North and Kabru South, Kabru Dom, Talung Kanchenjunga, Pandim, Jopuno, Tinchikhang, Narsing
and others.
Culture
The local Limboo (indigenous) people are regarded by outsiders as being physically strong, openhearted and independent people. Limboo has several sub castes or
clans
including Khamdhak, Muringla, Tamling, Lingden and Pegha.
About 95% of the people live by subsistence farming activities. The area is sparsely populated and the people live in houses scattered across the terrain of the Himalayas. Agriculture is the paramount occupation of the villagers. The main crops cultivated are cardamom, maize, millet, paddy, wheat and buckwheat.
The small castle like local houses are the typical traditional architecture of the Limboo people and have a large courtyard, unique balconies and beautiful galleries.
Music and dances
Folk songs and dances of the Limbo tribe are rich and energetic. The traditional Limbo dance and song with the 'Chabb-rung' (drum) is performed during festivals and other important occasions. The Limbo men wear
Po-hok-ma
and ''Sumba''. This is slightly similar to the
Daura Suruwal
(Nepali dress). The women wear an ankle length dress
Sim
and
Hambari
, which is usually bright in colour and made from a finely woven fabric with traditional patterns.
Arts and crafts
The region produces local handicrafts items made from wood, wool and bamboo.
Tourism
Village tourism in Sikkim is a booming industry and the local community strives to manage it in an manner that is environmentally, culturally and socially responsible. The local community is at the centre of the planning, implementation and monitoring processes. This local involvement assists in the conservation of the areas natural and cultural resources.
Local educated but unemployed youth have organised themselves into the Darap Eco-Tourism Committee. The Darap Eco-Tourism Committee is a local community based organisation leading the village community in matters related to tourism development. The committee aims to ensure the development of sustainable tourism in the village. It has its own tourism office at Darap. Formed in 2005 the objectives are to build awareness about natural and cultural resources and to mobilise the villagers in tourism and conservation activities.
Tourist Information Centre

address: Helipad Rd

phone: +91 973 3235441

Mr. Sushil Tamang
Get in
Pelling is about 133 km away from
Siliguri
and 125km from
Gangtok
and well connected by bus and jeep services.
By jeep
The quickest way to get to Pelling is to take a 30 min share jeep from
Geyzing
which acts as the main transport hub for the area. However, if you are sick of being crushed amongst 10 other locals then the walk along the road is particularly pleasant and it should only take around 4-6 hr.
There are regular jeep service from
Gangtok
at 7AM and 12:30PM. Look for them at the West Sikkim taxi jeep stand near the Gangtok police headquarters.
Jeeps are also available at the jeep stand at 1PM going to Kechapalari lake and
Rimbi
, these travel via Pelling on that route.
Jeeps are available from
Siliguri
in the afternoon,one jeep hired up to pelling will cost ₹3000-₹4000.
Shared jeeps operate from the crossing at Upper Pelling to
Gyalshing
between 6AM and 4PM, to
Gangtok
via
Ravangla
at 7 and 12AM (₹150) and to
Siliguri
at 7AM (₹150).
By bus
SNT Bus are also available from
Siliguri
(SNT) at Hill Cart Road at 12:30PM.
Get around
Motorbike
Walk

Guides are available in Pelling for nature walks and monastic treks. Some of the younger men and boys of the district have benefited from a training program provided by the Government of Sikkim. Ask in the tourism office as they may only be booked through there.

Bicycle
See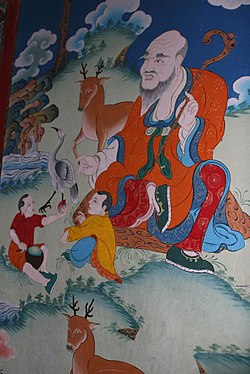 Changey Waterfall

Khangchendzonga waterfallsThe Khanchendzongna waterfall lies 28 km away from Darap en route to Yuksam and 5 km before reaching Yuksam. It is one of the most beautiful waterfalls in Sikkim and is normally active throughout the year.

Khecheopari LakeThis is considered one of the sacred lakes of Sikkim. The lake remains hidden in the rich forest cover. It is believed that birds do not permit even a single leaf to float on the lake surface. Ensure maintaining the sanctity of the place by being silent, and by not trying to feed the fish.

Pemayangtse MonasteryPemayangtse literally means perfect sublime lotus. This is one of the oldest and most important monasteries of Sikkim. Founded in 1705, this monastery belongs to the Nyingma-pa sect. The 3-storied building of the monastery houses a good collection of wall paintings and sculptures. On the 3rd floor of the monastery, there is a 7-tiered painted wooden model of the abode of Guru Rimpoche, complete with rainbows, angels and the whole panoply of Buddha and bodhisattva. In January–February every year, a religious dance called 'Cham' is performed in Pemayangtse.

Rabdanse RuinsWhen descending from Pemayangtse Monastery you can take a left turn and take a walk for 10 min to reach to the gateway of Rabdanse Ruins. The ruins lie hidden from the main road. The walk towards Rabdantse is through a forest area with some rare species of orchids and a few lakes. These lakes are also home to local carp fish. There are good views from the top of the ruins looking across the deep valley and to the Khang-chen-Dzonga ranges.

Rimbi Water Falls & Karchen Power HouseSituated 5 km down from Darap en route to Khecheopalri. Adjacent to the falls is the Karchen hydro electricity powerhouse. It is the oldest in west Sikkim being constructed in early 70s during the reign of the last Sikkimese King.

Sanga Choeling MonasterySituated on a ridge above Pelling and overlooking the famous Pemayangtse Monastery. Built in 1697 AD, it is considered to be one of the oldest monasteries in the State. In order to reach this Monastery one has to be prepared to spend at least 40 min walking up the steep hilly slope and through the forest.

Sewaro Rock GardenA bit further along from Karchen hydro electricity powerhouse is Sewaro rock Garden. This is a tourist picnic spot developed by the department of tourism. It is surrounded by dense greenery and flowers and equipped recreational amenities including fountains, resting sheds, flat stone foot paths, large gardens, cafeteria, swimming pool, ponds, handsomely maintained rocks (stones). In the 2nd week of January every year the celebration of Maghe mela is held along this river belt.

Traditional Cultural ProgramVillage people are by nature music lovers. Traditional dances has been well preserved in this valley for many generations. The most popular may be the Chabrung dance and Dhaan Naach.
Do
Monastery trek: Pelling is the starting point of the Monastery trek Pelling to Kechapalari Llake (6 hrs), Kechapalari Lake to Yuksum (3 to 4 hrs) and Yuksum to Tashiding (6 hrs) The trek follows small local paths as well as the very quiet main road. It is a rewarding 3 day trek. A hand made map is available at Tourist Information Centre. The paths are poorly marked, but the best strategy is to simply ask a local to point you in the right direction. You will never be lost as the countryside is dotted with small villages throughout it.
Darap Village Amongst the few unexplored areas this village historically known as Therap, meaning flat land, is home to a few of the Limboo people. Tucked away in the interiors of Himalayan belt, this cold, high altitude village has only recently been known to the outside world. Situated at an altitude well over 1,600 m (5,250 ft) above mean sea level, the valley is exposed to temperature variations of -5℃ to 28℃. This makes Darap a storehouse of various rare and endangered species of flora and fauna. The Limboo culture is also well preserved in this valley. Darap village is rich in natural resources, bio-diversity and particularly very rich in cultures and customs of local tribes called 'Limboo'.
Darap is easily accessible as it is well connected with roadways from different corners of Sikkim. The nearest railhead is about 145 km (4.5 hr drive). The nearest airport is about 115 km away and the journey is approximately 5 hr by road.
Trekking and village walks including observation of rural lifestyle with participation in organic farming activities for those who may be interested.
Traditional house visits
Cultural shows and ancient Limboo story telling sessions
Handicraft making
Visit the cave at Khanchendzongna National Park
Bird watching
Volunteer to assist with community programs
Fishing at Rimbi An ideal place for fishing is located 2 km away from Darap. Enjoy the day fishing. 'Assala' local fish has a very unique taste and is only found in this region.
Hot Stone bath
Jungle walk-bird watching Darap is situated at the door step of Khanchendzongna Biosphere Reserve (KBR) which is very rich in flora and fauna.
Local Language Learning: Learn local languages -Limboo, Lepcha (Tribe of Sikkim), Bhutia and Nepali languages or even arrangement can be made to interact with the local school students (share your experiences) with them.
Limboo Heritage House: Built in 1810 by Limboo Village Chieftain (Mondal). Traditional architecture
Milking a cow: For those who have grown up in urban areas and wanted to know about rural life.
Rani dunga Religious and nature trek (Darap to Neydham via Rani Dhunga)
Singhalilla nature, culture and adventure trek in the Khangchendzonga Biosphere Reserve.
Trekking into West Sikkim (Darap to Dzongri and the Goecha La)
Yuma Meditation Centre. Find out about Yuma (goddess).
Buy
You will find small shops selling gift items, maps, postcards, water bottle, from Upper pelling to Lower Pelling. Since Pelling is a tourist destination please be careful you may pay double the usual price.
There is only one bank and one ATM in Pelling, the
State Bank of India
and it does not exchange foreign currency or travellers cheques. It may also run out of cash, so bringing a sufficient amount from Gangtok or Siliguri may be a good idea. Facilities are available in Siliguri, Darjeeling or Gangtok. It best to carry ₹100 notes which can be used anywhere in Pelling.
Lama Tenzing Wangdak's Place

address: Upper Pelling.

Hand made Tibetan Thangkas and other touristic souvenirs are available here.
Eat
Melting Point

phone: +91 95 938 8088, +91 95 9328 9888

address: Middle Pelling

Multi cuisine restaurant and bar.

Big Chill

phone: +91 97331 45578, +91 97330 77494

address: Upper Pelling

Multi cuisine restaurant and bar.

Cloves Resto

phone: +91 96471 85559

address: Gyalshing Rd

A variety of fresh Nepali and Indian dishes.
Drink
Places where you can eat and drink include The Treat, Pork, Deorali, Ladak Restaurant, Have More and many other small small joints where you can get momo and thukpa. You can also try tongba, a fermented millet wine served in a bamboo container with bamboo straw. The standard price of tingba is ₹50.
The Big ChilledHappy hour 5PM-7PM
Sleep
Home-stay
accommodations for tourists are being organized by the
Darap Eco-Tourism Committee
at the houses of committee members. Sikkimise village culture and hospitality is distinctively friendly and open and guests are made to feel as though they are part of family and made welcome to join the village activities with their children, partners or group of friends. So far, the society has identified 30 houses for Home-stays, out of which six are the operators. Maintenance of other houses is under way.
Pelling is a small place with almost 80 to 90 hotels. Pelling's high season is during the months of September and October. Standard room rates vary between ₹500-₹800. Rates are more at Upper Pelling and progressively decrease as you approach Lower Pelling. Room rates may be halved during low-season. Most hotels are situated on the 2 km stretch of road between Upper, Middle and Lower Pelling. Hotels at Lower Pelling cater mainly for Indian visitors, hotels at Upper Pelling usually have nice views.
Budget
Hotel Kabur

phone: +91 3595 258 504

address: Upper Pelling

Staff is helpful in arranging jeeps, storing luggage etc., hot water only in the morning, fast but unreliable Wifi.

Hotel Garuda

phone: +91 359 258319

Attached restaurant is quite good; however, the cleanliness of the kitchen may be questionable. No Wifi.

phone: +91 9733157704

address: Upper Pelling

Hotel has store for excess gears of guests who go out for trekking for a few days. Staff is helpful in arranging jeeps, storing luggage etc. Restaurant, Wifi.
Medium
Hill Retreat

phone: +91 9647786984

address: Middle Pelling

7 rooms with a cozy bar, a little bit away from the other buildings. Amar Daju is a good a cook. Booking accepted by email.

Phamrong

phone: +91 3595 258 218

address: Upper Pelling

Ifseen Villa, Naku Pelling, Phone +91 99325 14333, e-mail: ifseenvilla@gmail.com. Family run enterprise known for superior hospitality,food, ambience, cleanliness.
Splurge
phone: +91 3595 250 756

address: Mount Pandim

Set in eight acres of forest and landscaped gardens. It evokes the charm of its first owners, the royal family of Sikkim, with a glorious view of the Singalila range. Pemayangtse monastery is next to the resort.

Norbu Ghang Resort

phone: +91 3595 258 272
Connect
Phone
Internet
Paylink

phone: +91 97 33076462

address: Pelling West Sikkim

Fast internet. Owner operated business.
Go next
To Siliguri

S.N.T Bus: Only one bus is available to reach Siliguri Via Jorethang departing 7AM (₹120). Advance bus ticketing is available at SNT, Lower Pelling at their counter in Hotel Pelling, tel 03595 250 707.
Jeeps to Siliguri are available only at 7AM from Father Travels.

To Gangtok

Jeeps are available at Father Travels at 7AM (Mr. Kancha Daju's Vehicle) and also at 12 noon.