Pemberton (British Columbia)
Pemberton
, and the wider Pemberton Valley, is a pretty area in the north of the
Sea to Sky
region of
British Columbia
,
Canada
. The valley floor is mostly agricultural, while the surrounding mountains provide climbing, mountain biking and some spectacular hiking opportunities.
Understand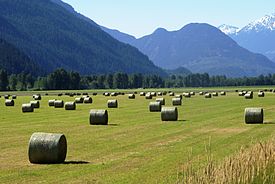 The Pemberton area is part of the traditional territory of the Lil'wat First Nation. European presence started with the Fraser Gold Rush in the 1858 with permanent non-native settlement beginning in the 1870s, but settlement was slow until the valley was connected to Vancouver by rail in 1915. In the days of the Fraser Gold Rush Trail, steamboat and other water traffic voyaged from New Westminster via Harrison Lake near the east end of the Fraser Valley to Port Douglas at the north end of Harrison Lake, then up a rough wagon road along the Lillooet River to the south end of Lillooet Lake, then by boat again to Port Pemberton at the Head of Lillooet Lake (near today's Mount Currie), then overland along the Birkenhead and Gates Rivers to Anderson Lake, where more boats to Seton Portage and Seton Lake landed at the head of another wagon road near
Lillooet
. One of the early attractions of the valley was the richness of the soil and farming continues to be important to the area. The Pemberton Valley is an important centre for seed potatoes and, more recently, organic farming, with a big Slow Food / Tere Madre movement. Pemberton is a bedroom community of Whistler.
Tourism has become more important to Pemberton, including outdoor recreation, eco & agro-tourism. The nearby mountains and lakes provide a wealth of opportunities activities at all levels, for the most intrepid to generally being outdoors and taking in the scenery. For the outdoor enthusiast there is in the summer: biking, backpacking, boating, hiking, horse riding, golfing, & mountaineering. In the winter, there is skiing, sledding, snowmobiling, snowshoeing, snowboarding, ice climbing, hockey, skating & curling on the smaller lakes. For flight enthusiasts Pemberton is a centre of hang gliding, paragliding, gliding, skydiving, and heli-tours with the town's own airport for private planes, small jets & helicopters. The Valley hosted the Canadian Paragliding Nationals in 2012.
Visitor information
Get in
By car
The main way in and out of the Pemberton area is
Highway 99
. Pemberton is considered the end of the Sea to Sky Highway, even though Highway 99 continues north to
Lillooet
. The portion of Highway 99 between Pemberton and Lillooet is usually referred to as the Duffy Lake Road. Pemberton is 158 km north of
Vancouver
and 33 km north of
Whistler
Village. About 22 km & 20 minutes from Whistler northern town limits to the edge of Pemberton.
4x4 roads
:
By bus
By rail
There is no direct rail service - the Rocky Mountaineer just passes through.
By plane
Pemberton Regional Airport
By bike
You can cycle to Pemberton via Highway 99.
1st & 2nd only bikes in summer go on front bumper rack on WAVE Transit buses and placed in the underneath carriage on Greyhound. Greyhound is attempting to collect cargo fees even though
Whistler
- Pemberton is a commuter route.
Get around

The village of Pemberton is small so it's easy to get around it by foot. However, travel to other parts of the Pemberton Valley or to the Provincial Parks is easiest by car or bike.
The Pemberton Valley Transit System operates a bus that connects Pemberton village with Mount Currie and Xit'olacw. The bus runs every 1½ to 3 hours from 6AM to 7:45PM and sticks close to Highway 99 so it's not very useful for visitors. Fares are $2.50 for adults and $2 for seniors and students.

See
Birkenhead Lake Provincial Park

address: Blackwater Creek Rd

Well maintained dirt road. The park is focused on a very pretty lake ringed by mountains. There is a beach for swimming and canoe rentals are available. There are also a couple of day long intermediate hikes to the south end of the lake that parallel the north and south shores. The tip of south end of park is on a 100-year lease and has a subdivision with private entry.

Joffre Lakes Provincial Park

address: Highway 99

A gem of a park that is easily accessed. The highlight is the hike that winds its way past three turquoise alpine lakes to below the Matier Glacier. Lower Joffre Lake, the first lake, is a short 5-10 walk from the parking lot and is well worth the stop. The hike to the middle and upper lakes is moderately difficult with some rocky sections and an elevation gain of over 350 m. The hike one-way is 5.5 km but well worth it if you have the time.

address: Highway 99

Small park with its focus on the 60-m Nairn Falls. Accessible year round but camping is summer only.

Pemberton & District Museum & Archives Society

phone: +1 (604) 894-5504

address: 7455 Prospect St

The compact site in the heart of Pemberton village displays five historic buildings from local history, stuffed with artifacts of how the settlers lived. In the yard are old farming machines. An interesting place to pass a couple of hours. The society which runs the museum also preserves about 25 m of archives.

phone: +1-604-894-6115

address: 82 Ir 10 Rd

Exhibits of cedar baskets, wood carvings, mask, buckskin clothing. Cultural programs of stories, drum making, guided nature walks. These add up to Nt̓ákmen (Our Way), the traditional values that inform all aspects of a person's life, from how they live on the land to using the Líl̓wat Ucwalmícwts (traditional language). The setting — the administrative and educational centre of a nation moving to self-determination — is itself educational.
Do
Hot Springs
are plentiful and beautiful in the area. Caution: There is a phenomenon called
supernatant liquid
. A layer of lighter, fresh, cooler water can float on top of the denser, mineral-rich, hot-springs water. Dipping your toe into the top of the pool may deceive you. The water underneath may be hot enough to scald, and cause 2nd or 3rd degree burns. Check out the temperature below the surface first before jumping into the pool, by dipping in with a bottle on a stick or lanyard, or with a long-handled cooking-pot. Don't use your bare hands or feet.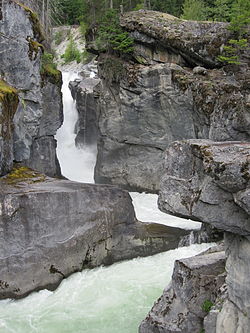 Climbing
: surrounded by the Coastal Mountains, Pemberton has some of BC's finest hiking and back country camping opportunities. It also offers many opportunities for
rock climbing
and mountaineering. While not as popular as
Squamish
, there are several climbing areas located within a short drive of the village. Detailed listings can be found in any of the area's climbing guide books.
Other
:
Biking
: Almost 200 km of free trails for cross-country skiing, biking, walking, or riding a horse in the whole Valley System.
Buy
Be Natural, herbal apothecary and foods

phone: +1 604-894-8884

address: 108, 7433 Frontier St

A health food store offering vitamin supplements, herbal blends, homeopathics, essential oils, personal care, bulk herbs and foods, healthy snacks, and specialty and organic groceries. Private health consults available by a trained Clinical Herbalist with knowledge in herbs, vitamins, nutrition, Bach Flowers, Reiki, and Reconnective Healing.

phone: +1 604-384-3842

address: 109 7330 Arbutus Street

Hamburger & hotdog buns baked daily on site, carries Pemberton Meadows Natural Beef, local Two Rivers Meat, Pemberton Potatoes, BC Ocean Wise Tuna & Salmon, Pemberton Distillery Real Vanilla & Elixrs/Mixers, BC cheeses: i.e. Little Qualicum Cheeseworks.

phone: +1 604-894-0222

address: 1954 Venture Pl

Local maker of spirits and some non-alcoholic mixers. They're most noted for their Schramm Organic Potato Vodka, made out of local "Pemby" spuds, gin, absinthe, whiskey and fruit liqueurs, which is available on-site and served at some local establishments in Whistler and Pemberton. Tastings and tours available; call ahead. During summer, also at Pemberton Farmers Market, the Barn in downtown, W 3:30–6:30PM.
Eat
Sleep
Go next