Pembroke (Ontario)
Pembroke
is a city of 14,000 (2016) in
Ontario
's
Ottawa Valley
on the
Quebec
border. The city is 40 km (25 miles) east of
Algonquin Provincial Park
on the
Trans-Canada Highway
from
North Bay
to
Ottawa
.
Understand
History
The first European settler to the area now known as Pembroke was Daniel Fraser in 1823, who squatted on land that was discovered to have been granted to a man named Abel Ward. Ward later sold the land (where Moncion's Metro Supermarket is located) to Fraser, and nearby Fraser Street is named after the family. Peter White, a veteran of the Royal Navy arrived in 1828, squatting beside Fraser on the land where Dairy Queen is now located. Other settlers followed, attracted by the growing lumbering operations of the area.
Pembroke is indirectly named after Sidney Herbert, First Admiralty Secretary from 1841 to 1845 and son of George Herbert, 11th Earl of Pembroke.
Pembroke was named seat for Renfrew County in 1861. This set the stage for construction shortly thereafter on the Renfrew County Courthouse, which was finished in 1867, and the arrival of many civil servants, much wealth and much construction. In the 20-year period following 1861, Pembroke became the city it is today in terms of layout and buildings, although many homes and other structures have been lost to time.
Other historic buildings that survive in Pembroke include a historic synagogue, two original hospitals, the Dunlop mansion (Grey Gables Manor Bed & Breakfast), the 'Munroe Block' downtown, and two houses belonging to the White family. A fire in 1918 downtown destroyed many buildings, including the Pembroke Opera House.

Get in
By bus
By car
Pembroke is on the
Trans-Canada Highway
(Ontario 17), 160km (100 mi) west of
Ottawa
and 215 km (135 mi) east of
North Bay
.
Pembroke is about 400 km (255 mi) northeast of
Toronto
; there are various possible routes, but going through
Peterborough
(Hwys 7 or 115) and Bancroft (Hwy 28 to Hwy 41) is shorter than staying on 7 or 401 right to Highway 41 (
Napanee
).
By boat
Pembroke is on the Ottawa River. The river is not continuously navigable from Ottawa westward due to rapids at multiple points.
phone: +1 613-735-6821 ext 1505

address: Waterfront Park, 11 Albert St.

Boat launch, docking, power, fuel, oil, river charts, pump-out, public washrooms, boater showers and laundry facility.
By plane
Pembroke AirportIt has no scheduled flights
Get around
Pembroke is small enough that almost everything is within comfortable walking or cycling distance.
Autobus Thom TransitTwo in-town bus routes (one east, one west) run M-F 7:30AM-5:30PM on behalf of the city, no evening or weekend service.

Danny's Taxi
Taxis are common and cheaper than big cities for moving around within the city and to nearby towns. Calling a taxi service - by using a phone book or asking a store owner to do so - will save time over trying to hail one.
See
Champlain Trail Museum and Pioneer Village

phone: +1 613-735-0517

address: 1032 Pembroke St. E.

Seasonal (late May-September) historic museum. Displays and artefacts from the area's past, school house, log pioneer home and other period buildings.

Heritage MuralsTwenty-five murals in the city depict numerous aspects of local culture and history.

phone: +1 613-732-3687

address: 283 Pembroke St. W.

Housed in the original diesel room of the Pembroke Electric Light Co, a collection of original light fixtures and artefacts dates to the October 8, 1884 illumination of the very first street lights in Canada on Pembroke Street.

Renfrew County Courthouse

address: 297 Pembroke Street East

Visitors on weekdays can view original 1867 jail cells in the basement, and the original courtroom, complete with a huge replica of the original brass light fixture. County meetings were held here for many years. Three hangings occurred at the indoor gallows inside the Courthouse, two in the 1870s and one in 1952.
Do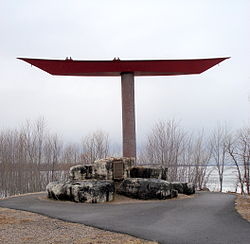 Kiwanis Waterfront TrailA 1½-km trail which follows the waterfront from the city's marina to Riverside Park. Includes outdoor theatre, historic "pointer boat" monument, outdoor chapel and lookout points.

address: Dickson St. off Mackay St.

Ten-acre horticultural garden with walking and cycling trails.
Some of the world's best whitewater rafting and kayaking is available east of Pembroke, near the village of Beachburg, by several different companies. A variety of packages are available - inquire within the city.
Buy
address: Lake and Victoria Sts.

phone: +1 613-735-0060

address: 1100 Pembroke St. E.

Indoor mall with 50 stores, cinema, food court.

Pembroke West End Mall

phone: +1 613-735-0638

address: 1200 Pembroke St W

A shadow of its former self, but has a dozen stores including a grocer, dollar store and a restaurant.
Eat
phone: +1 613-735-1958

address: 133 Pembroke St. E.

Colborne's Fish & Chips

phone: +1 613-735-5280

address: 282 Christie Street

For a little taste of authentic Pembroke cuisine try the deep-fried Mars bars from Colbourne's chip truck, located on Christie street.

phone: +1 613-631-0443

address: 20 Pembroke St. W

Fair trade coffee.

JJ's Restaurant & Tap

phone: +1 613-732-8978

address: 601 Pembroke Street E.

Burgers, pizza, bar and grill

phone: +1 613-735-4800

address: 26 Pembroke St W.

French.

phone: +1 613-735-6611, +1 613-717-0166

address: 88b Pembroke St. W.

Asian.

Ullrich's on Main

phone: +1 613-735-6025

address: 214 Pembroke St. W.

German deli, lunch bistro, eat in or take out.

phone: +1 613-732-1213

address: 193 Victoria St.

Tea room, fine dining ($50/person dinner), groups by reservation.
Drink
phone: +1 613-631-0863

address: 27 Pembroke St. W.
There are two bars popular with locals near City Hall on Pembroke St.
Shot's Sports Tap' n' Grill

phone: +1 613-732-7521

address: 185 Pembroke St. E.

Serves free hotdogs on Friday nights.

phone: +1 613-735-8890

address: 163 Pembroke St. West

Known for its karaoke.
Sleep
Usually, no reservations are necessary, except possibly during major hockey tournaments (weekends in November and early December). There are also several B&Bs on the outskirts of town.
Hotels and motels
Best Western Pembroke Inn & Conference Centre

phone: +1 613-735-0131

address: 1 International Drive

Wi-fi, indoor pool, fitness centre. Westwinds Restaurant (+1 613-735-7195, $7-24)

phone: +1 613-735-6868

address: 900 Pembroke Street East
Camping and outfitters
phone: +1 613-735-1795

address: Barron Canyon Road

Outside of Pembroke, 20 minutes from Algonquin Park. Outfitter's lodge $30/night, linens/sleeping bags not included. Breakfast $12, camping $6/night, camp equipment rental. Pickup and dropoff at the Pembroke Greyhound station.

phone: +1 613-735-6821 ext 1504

address: 961 Pembroke St. W.

Seasonal tent or trailer camping, Victoria Day - Thanksgiving. 50 serviced and 6 non-serviced campsites, washrooms and showers, playground, beach and tourist information centre.
Connect
address: 237 Victoria St.

Offers free wireless internet and reservable computer terminals. Wireless is still available outside the building during closed hours.

Cafe Olé

address: 20 Pembroke St. W

Offers locked wireless internet to customers.
Go next