Pench National Park
Pench National Park
is in the
Plains
of
India
. About 90% of the park is in the
Seoni
and
Chhindwara
districts of
Madhya Pradesh
while the remaining 10% is in northwestern
Maharastra
.
Understand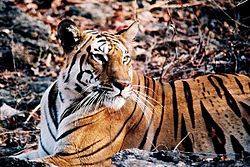 Pench National Park is spread over 758 km². The park is in Madhya Pradesh district. The park has various species of animals, among which the deers, wild gaurs, monkeys are easy to spot. The tigers and the lions are difficult to watch as they do not come on the safari trail often.
This forest inspired Ruyard Kipling to write the famous novel
The Jungle Book
.
History
Landscape
Flora and fauna
Climate
Fee and permits
You get one guide who will help you see the forest. You don't have to hire a safari jeep to get in. You can take your car inside if you pay for a guide. This guide will take you to places where you can spot the wild animals.

Buy

Outside the park, you will see people selling wildlife postcards. You can also spot some people selling musk. They start with a heavy rate, but eventually come down. Authenticity may be dubious, and to convince you, they'll perform some tricks. Don't fall for that.

Eat
Outside the national park, you will find a lot of dhabas where you can sit for a snack or for lunch. The food you will eat at these locations will be delicious and you will never believe the low rates.
Always try going for the simplest food as possible. They do not have a long menu, but whatever they make is worth eating.

Sleep
Lodging
Camping
Pench Jungle Camp is the ideal place to stay here, this camp is a very nice jungle accommodation. The tents are really nice and worth experiencing.
Backcountry
Go next
After Visit Of Pench go to Bandhavgarh- Wild life lovers are welcome to the land of tigers. Today Bandhavgarh, in Madhya Pradesh, India, has the highest density of tigers in the world making it just the best tourism destination. Bandhavgarh National Park is one place where you certain of seeing a tiger in its natural habitat. It is in this valley where white tiger was found.