Penticton
Penticton
(The 'Peach City') is a beautiful spot in the south
Okanagan
nestled between two lakes: The 155-km-long Okanagan Lake to the north, and the smaller Skaha Lake to the south. Tourism in Penticton is largely seasonal. In the summer tourists double Penticton's population to 60,000. In the winter things used to be very quiet, but now that World Cup Freestyle Skiing stops at local Apex Mountain every winter, the winter scene is picking up.
Understand
This area has been inhabited for thousands of years by the Salish group of
First Nations
people. They called their settlement in this area
Snpinkten
which translates as 'a place to stay forever' and gives Penticton its name. The first non-native settler Thomas Ellis preempted land in Penticton in 1869 and started a very successful cattle ranch. With the arrival of engineering marvel
Kettle Valley Railway
the boom in Penticton had begun. Penticton became a municipality in 1908, and a city in 1948.
Penticton's climate is well suited for agriculture, and thousands of fruit trees were planted all along the west and east bench areas overlooking Okanagan Lake. From cherries in early July to apples and pears in early September, Penticton has always been a large producer and exporter of non-citrus tree fruit. Many local oldtimers decry the trend of ripping out perfectly healthy and productive
orchards
for the more lucrative vineyards which supply grapes for the regions more than thirty
boutique wineries
. Today Penticton's two largest industries are tourism and the growing wine industry, which threatens to eclipse the fruit production industry.
Penticton's climate and geography is a northern, four-seasons version of what some call
Mediterranean
. Large clay banks, benches, and scrubland skirt the mid-level mountains that frame the valley on the east and west sides. Summers are hot with an average temperature of 27°C, and peaks of 35-40°C are not unheard of. The large size of Okanagan Lake tempers the climate in winter which sees an average high of 0.9°C in January. It can and does snow occasionally, but generally only during December and January will it accumulate in modest quantities. You can check the snow level with a quick glance to the mountains, which will have a white apron about half to three-quarters of the way up. Penticton gets about 2000 hours of sun per year, which is a higher average than
Rio de Janeiro
.
Get in
By car
Most travellers will arrive in Penticton by automobile. Highway 97 is the major north-south route through the city. Travel times are about 4 hours from
Vancouver
, 8 hours from
Calgary
and 5 hours from
Seattle
or
Spokane
. Penticton is a 40-minute drive south from
Kelowna
. The US/Canada border crossing to the south on Highway 97 is open 24 hours a day; other border crossings in this region are closed overnight.
By bus
BC Transit operates
Route 60
which runs once in each direction between Osoyoos and Kelowna, stopping in Penticton, on weekdays.
By plane
Penticton Regional AirportIs a small airport with domestic flights from Vancouver. It is at the south end of town off Hwy 97. U.S. and some international flights will land in Kelowna, 60 km to the north. Most international flights will land in Vancouver where an alternate mode of transportation will be needed to reach Penticton. There are no scheduled commercial flights between Kelowna and Penticton; however, you may charter a flight with Carson Air or Southern Skies.
Air Canada Express provides air service to Vancouver.

phone: +1 250 492-0074

address: Penticton Airport

provides aircraft charters for transportation and sightseeing
Get around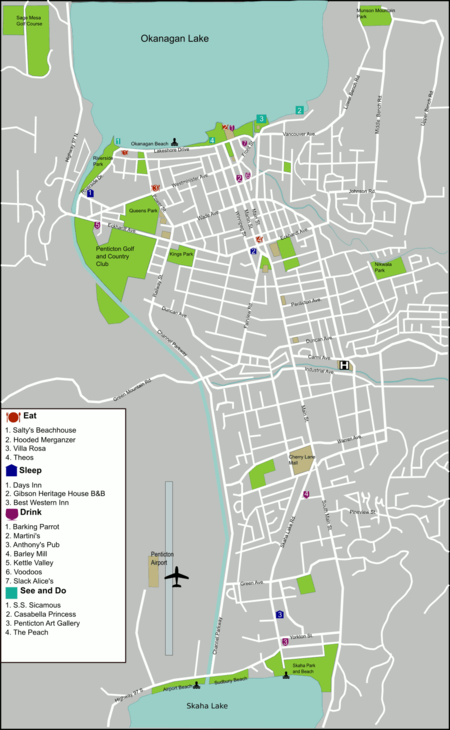 By car
This is your best bet if you wish to visit the area's many wineries, which are generally out of town a ways. Car rentals:
phone: +1 250 490-3339

address: 249 Westminster Ave.

Budget Car and Truck Rentals, two locations: 188 Westminster Ave West, Penticton Airport, +1 250 493-0212.
By bus
BC Transit
operates a local bus service in Penticton with five regular routes and a night route. Service ends at 7PM for regular routes and 10PM for the night route. There is no service on Sundays except for the
Lake-to-lake
shuttle. Fares are $1.75 which includes a 90-minute transfer. Ask the operator, as they generally will not offer one.
By taxi
Penticton has two cab companies, Courtesy Taxi () and
Klassic Taxi
(), who run computerized dispatch. Both companies provide luxury cars and six passenger vans. They also recently introduced the wheelchair vans.
On foot and bike
Penticton's compact size lends itself to biking or even just walking around. It will take about 15 minutes to bike from lake to lake, and just over an hour for the same journey on foot. There are walking and biking trails on both sides of the River Channel, and a painted bike lane on a major north-south corridor of the city.
Bike rentals:
See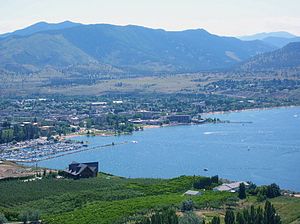 address: 220 Manor Park Ave

This beautiful 1927 house was once a nurses' residence but now serves as the home of the Penticton Arts Council. Open to the public year round. Worth a visit to see the grounds, with vintage stone walls and a relaxing gazebo.

Munson Mountain Park

address: Munson Mountain Rd

The home to the large 'Penticton' sign (a la 'Hollywood') that greets travelers coming in to town from the north. The sign was created with thousands of small white stones. The original stones have since been replaced with letters made of concrete. The park itself affords visitors with stunning 360 degree panoramas of the South Okanagan valley. Views to the south are accessed by an easy paved trail to the lookout. The panoramic views require walking up the hill, but there are plenty of benches to rest at and take in the view.

address: 199 Marina Way

Contains a modest permanent collection of work by local and area artists as well as bone carvings by traditional Inuit artists. Also features moving exhibits and other special events.

address: 785 Main St

Features over 8000 artifacts, photographs, and documents that tell the story of Penticton's pioneers days, as well as local First Nations pieces. Located in the same building as the Penticton Regional Library. There is a gift shop on site.
The Penticton Roundabout (junction of Front Street, Ellis Street, Marina Way, and Vancouver Hill) features changing art installations. A work nicknamed Frank (actually called The Baggage Handler) was moved because of vandalism and controversy with local puritans due to the anatomical correctness of the piece. Today you can see Frank at his permanent home at Red Rooster Winery, and the roundabout has a less contentious piece.

address: 1099 Lakeshore Dr West

This paddlewheeler was the last commercial ship to operate on Okanagan Lake. Built in 1914 and retired in 1936, the large ship now spends its days drydocked on the edge of Okanagan Lake. The ship is open daily for tours in the summer, and includes a large HO scale model railway on the main deck, depicting the local Kettle Valley Railway. The smaller S.S. Naramata rests just behind the Sicamous.

The Peach

address: foot of Winnipeg St on Okanagan Lake

A concession stand shaped and painted as a giant peach. While it isn't that interesting in and of itself, it has an interesting history and is one of the most photographed spots in town. Film buffs may recognize it from the movie My American Cousin which was filmed in the Penticton Area. This is the second Peach, as the first was pushed into the lake during the 1990 Peachfest riot (The riot was an isolated incident, Penticton is really quite safe.)
Do
Outdoors
Perhaps the best thing to do in Penticton is to join the locals at the beach, and enjoy the blisteringly hot summer sun. follows pretty much the entirety of Lakeshore Drive on Okanagan Lake, and is generally the more family oriented beach. to the south on Skaha Lake is where Penticton's younger crowd go to see and be seen. and are also on Skaha Lake, west of Skaha Beach on the south side of Highway 97 (Caution: Sudbury is used as a kitesurf launch during the off-season.). is a good bet when the crowds at the other beaches are getting you down. Just north of town, follow Naramata Road north, turn left at Three Mile Road, and follow down to the lake. If you walk along the beach to the north you will find an unofficial nudist area.
Golfers
will find themselves at home, with four golf courses in the city limits, and several more just beyond:
Rock climbers
will want to check out the renowned
Skaha Climbing Bluffs
in Skaha Bluffs Provincial Park.
Skaha.org
has more information on climbing in the Penticton area.
address: at the end of Smythe Dr

The park is adjacent to Skaha Lake on the southern edge of the city. Access is controlled and a daily access fee is charged to hike into the bluffs, further information, including maps, is available on the park's website. "Skaha" as it is known among climbers, has over four hundred established routes with a near equal split of traditional (gear) and sport (fixed bolt) lines that range between 5.6 and 5.13b.
Cyclists
and
hikers
will want to visit the stunning
Kettle Valley Trail
which follows the old railway grade from Penticton through Naramata's bench wineries, and farther along, a system of tunnels and trestles leading all the way to Castlegar and beyond, some several hundreds of kilometers. Part of the
Trans-Canada Trail
which bills itself as the longest recreational trail in the world. You can also travel the railway grade on the opposite side of the lake 10km to Summerland which is gatewayed by the dramatic Trout Creek
Railway Trestle
, the highest in British Columbia.
Another traditional pastime in Penticton is floating down the
River Channel
, which is a small shallow river that flows south from Okanagan Lake to Skaha Lake. This leisurely trip takes from 2 to 3.5 hours depending on water levels in the channel. Be sure to bring sunscreen or you will burn up! If you have your own flotation device and can work out the logistics of getting a ride and keeping your valuables dry, you can do the full channel for free.
phone: +1 250 492-2115

address: 215 Riverside Dr

If you don't have your own flotation device or can't arrange transport, Coyote Cruises is a convenient way to go. They provide tube rentals (good to the halfway point of the channel only) and operate a shuttle bus service to transport you back to the parking area on the north side of town.
Festivals
Penticton is also a city of events and festivals. Indeed, in the summer there is rarely a time when there isn't some sort of festival going on. Dates and venues can change from year to year, check the websites for current information. A brief survey of the major festivals includes: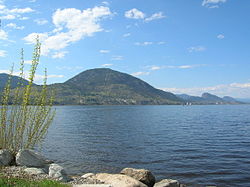 Boating, sailing and watersports
With two lakes ten minutes apart, Penticton is a great place to bring your boat if you have one. While you cannot boat from lake to lake, they both have launches and marinas for fuel and supplies.
Penticton Marina

phone: +1 250 770-2000, +1 250 770-2286 (gas dock)

address: 293 Marina Way

Services Okanagan Lake.

Penticton Yamaha and Marina

phone: +1 250 492-8300

address: 124 South Beach

Services Skaha Lake.

Castaways

phone: +1 250 90-2033

Beside the Lakeside Resort. Rents seadoos.

Penticton Yacht & Tennis Club

phone: +1 250 492-2853

address: Marina Way

Organizes sailboat races, has a twenty-foot sailboat available for rental, and provides moorage for boaters.

address: 293 Marina Way

Offers leisurely one-hour morning, afternoon, and evening cruises around Okanagan Lake on a 48 passenger paddle wheeler. The boat is fully licensed and snacks are available. Charters for special events available. Special wine cruises. Reservations recommended. $15 adult, $8 under 12, free under 3.

Pier Water SportsThey have 11 years of experience on the water and feature boat and seadoo rentals, wakeboard and waterski lessons, parasailing, banana boat rides and a 42-foot party barge you can rent daily. Take it for a tour down the lake during the day or have a party on it in the evening. It has an onboard barbeque and bathroom.

Wakeboard School - Wake Up Water SportsPenticton's only dedicated wakeboard and wakesurf school. All instructors are NCCP Certified and receive formal training through the Provincial and National Wakeboard Associations.
Winter
In winter, your best bet is to spend some time up at the local ski hill
Apex Alpine
. Apex is about a 45-minute drive from town west on Green Mountain Road. You can also come cheer on the
Penticton Vees
BCHL hockey team at the
South Okanagen Events Centre
, go for a skate or play some pick-up at the indoor
McLaren Park Arena
, or if the weather is cooperative, play a round of golf right through the year. If you go further North,
Big White
and other ski resorts are reachable in a day, and there is
Mount Baldy
to the South.
Buy
There is no shortage of stands along the beaches to sell tourists swimwear, sunglasses and other assorted knick-knacks.
Main Street
features a wide variety of shops and galleries.
Cherry Lane Mall
has pretty much everything tourists and locals need for their day to day; national upscale retailer The Bay is here. Penticton also has a few big-block stores such as Walmart, London Drugs, Staples, etc. These can all be found by driving along Main Street. If you reach the other lake, you've gone too far!
For the literary crowd, Penticton features the 5000 square foot
Book Shop
(242 Main Street, +1 250 492-6661). This massive store stocks new, used and out of print/rare books on any conceivable topic, including a large section on local interest.
For traditional local gifts/souvenirs you can visit:
Pennyfarthing

address: 310 Main St

Terwilligar's and We R Unique Two for one! 675 Main St.

Dragon's Den

address: 12 Front St
For a more meaningful, intoxicating, or just plain tastier souvenir visit one of the area's many
wineries
, and one of the many
fruit stands
dotted along the highway and backroads that sell local products.
address: 25 Front St

Fair Trade handicrafts and food from around the world. Located in the most unique and beautiful heritage building in Penticton.
Seasonal markets also operate, selling predominantly food but also local wares and wine.
address: 100 Block of Main Street

Farm fresh veggies & fruits, eggs, honey, baking, preserves, handmade crafts and local liquor and wine – all grown or produced in the South Okanagan.
Wineries and viticulture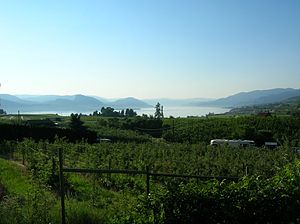 The Penticton area has many wineries, and indeed more seem to spring up everyday. The
terroir
of the
Naramata Bench
is considered the premier wine growing region of British Columbia for its climate and geography (though growers in the
Golden Mile
region of
Oliver
to the south may disagree). The popularity of this relatively new industry has driven the price of local products well over the price of a comparable French or Italian bottle. Most wineries offer free
tastings
and
tours
, and will almost certainly sell their products directly. To be sure of the best quality look for bottles that sport the
VQA
designation, which ensures authenticity of origin, and a minimum standard of quality during grape growth, harvest, and production.
phone: +1 250-494-5208

address: 20623 McDougald Road, Summerland

Bonitas Winery offers a Mediterranean style winery with award winning wines and sun-drenched patios on Okanagan Lake. Additionally, unique heli-wine tours offer views from above.

phone: +1 250 493-1364

address: 979 Lochore Rd

Also has a winery in Amherstburg, Ontario. This winery has won over 60 awards since the first harvest in 1989. Bistro and bed-and-breakfast onsite.

phone: +1 250 493-6274

address: 1350 Naramata Road

It was the original owners of this winery that lobbied the British Columbia government to allow boutique wineries to sell their products to the public, spurring this huge growth industry. Bistro and gift shop on site. Bistro open for lunch and dinner Wednesday to Sunday.

address: 1325 Randolph Rd

Winner of numerous awards in Vancouver, California, and Ontario, this winery's products were also selected to be served at a gala dinner for Queen Elizabeth II.

phone: +1 250 493-VINO

address: 1548 Naramata Road

Beginning in 2003, this light-hearted winery was started by a pair of "MBA type, business consultants" following their passion despite common sense. They have received favorable reviews so far. They specialize in premium small batch production. Call before visiting to ensure that they are open.

address: 1060 Poplar Grove Road

This whimsical winery produces cheese to match their wines, and lives by the credo "find the best in the world and learn from them". Started in a garage, they now have 10 acres of grapes and their wines can be found in British Columbia's most exclusive restaurants.

address: 891 Naramata Road

Since arriving in Penticton from Basel in 1990, Red Rooster's two founders have created a huge success, winning the gold for three of their seven varieties at the All Canadian Championships. This winery is the permanent home of the aforementioned Frank, as well as other permanent and transient art exhibits.

address: 475 Upper Bench Road

This winery, that is just as famous for their onsite bed and breakfast, produces top-notch fruit infused dessert wines.
Eat
There are over one-hundred places to eat in Penticton, servicing pretty much any taste or budget. In the summer you will do well to ensure reservations, or else you may have to wait until well after 10PM to get your dinner when restaurants start to slow down. Many places cut back hours or close entirely in the winter.
phone: +1 250 492-2222

address: 368 Vancouver Ave

Breakfast and lunch place with eggwiches, eggs benny, eggs & sausages, paninis, yogurt and granola. There is a small kids menu and a selection of baked goods like scones, cookies and muffins. Also sells condiments of a healthy organic natural variety and cookbooks. Ingredients are fresh and locally sourced where possible.

address: 67 Front St

Licensed cafe with breakfast, lunch and dinner menu options and live entertainment some nights. Multicultural menu. Vegetarian dishes.

Ginza

address: 74 Front St

Fine Japanese cuisine. Closed on Sundays.

address: 302 Eckhardt Ave

Fine dining, German and continental cuisine.

address: 21 Lakeshore Dr W

A unique restaurant/lounge which is built on piles above Okanagan Lake. Menu includes chicken, steak, fish and seafood. Great selection of fancy spirits and local wine. Semi-formal. Be sure to make a reservation in summer.

Il Vecchio

address: 317 Robinson

For a delicious, quick, and inexpensive lunch where delightful ladies will lovingly prepare you a fresh sandwich with your choice of bread and toppings. Best sandwiches in town. Take-out only.

address: 1090 Main St

Greek and Italian. Famous for fast lunches.

Lost Moose Lodge

address: 2301 Beaverdell Rd

Perched high atop Carmi Mountain, this steak and BBQ house will impress with views of the valley by day, and the lights of Penticton at night.

Mon Thong

address: 2985 Skaha Lake Road

Authentic Thai cuisine. Good prices, great food. Try an authentic Phad Thai.

Navratan

address: 413 Main Street

Authentic Indian cuisine. Popular with locals since it opened a short while ago.

Pasta Factory

address: 236 Martin Street

Good Italian food for when you can't afford Villa Rosa.

Porta Vallarta Grill

address: 1000 block Lakeshore Drive

Good Mexican food, with friendly service (en Espanol if you prefer) and free salsa dancing lessons. (For better Mexican food you have to cross the border to Oroville, Washington, which has a high percentage of Mexican immigrants.)

address: 1000 Lakeshore

A favourite for tourists and locals. Salty's has two floors: Downstairs is the main dining area where you can watch the cooks work in the open kitchen, or watch the world pass by on one of the best patios in the Okanagan, Upstairs is the Black Pearl lounge and oyster bar, featuring signature martinis and a variety of fresh raw oysters. Worth seeing is the collection of 'pirate' paintings hanging on the walls. The owner likes to crank reggae music. Menu includes salads, outstanding appetizers, pasta, pizza, chicken, steak, fresh fish, and for the indulgent, crab & lobster. Make sure you have reservations, as the lineup can queue well down the block at peak times in the summer. Most times a short wait will reward you with a seat. Menu available online.

address: 687 Main St

Opened in 1977, this is one of Penticton's oldest restaurants. Theo's features Greek cuisine in a beautiful interior courtyard setting with great food and great wine. Menu available online.

Villa Rosa

address: 795 Westminster Ave W

Open 7 days a week. Some of the best authentic Italian cuisine this side of Napoli. Also, a very respectable wine cellar to complement your meal, including the Best BC/Italian wine and local products. Has a beautiful patio sheltered from the street with grape vines.

address: Apple Plaza 1848 Main St #146

Traditional European bakery. Vast selection of breads and pastries and fresh, made from scratch soups, salads, paninis and sandwiches for lunch as well as Dutch lunch specialties like Kroket and bitterballen.
Penticton also has all-day breakfast chains:
The Pantry
,
Denny's
, and
Rickys
; large chain restaurants
Boston Pizza
,
Earls
, and
Joeys Only
; and every fast-food place you could ever want
McDonald's
x2,
Burger King
,
Wendys
,
A&W x2
,
Subway
x3,
Taco Time
,
Quiznos Subs
, Canada's favourite:
Tim Hortons
x3!
Drink
Legal drinking age in
British Columbia
is 19. The government store (Penticton Plaza, 1301 Main Street) sells beer, wine and spirits until 9PM. Cold beer and wine stores (6 in town) are open until 11PM, with modest selection of spirits. Nightclubs serve until 2AM, but won't kick you out until 3AM.
Elite Restaurant

address: 340 Mainstreet

The Elite serves up hearty breakfasts, delicious milkshakes, and great homecut fries and gravy! Also home to the Elite After 6, great food, live entertainment and an awesome retro vibe.
Pubs and lounges
Barking Parrot bar and lounge in the Penticton Lakeside Resort (21 Lakeshore). Featuring one of the largest lakeside patios in the Okanagan and stunning views up Okanagan Lake, this is the only watering hole right on the lake in Penticton. Good selection of wine/beer/spirits, and also has a decent pub menu. Try a Bellini, a frozen drink to chase away the oppressive heat. Quite busy in the summer from 2:00 in the afternoon till midnight, when people start heading for the nightclubs. Plays top 40 music with the occasional live show.
Decoy's, 300 block Martin. Not much on decor or atmosphere, but has the cheapest and biggest (20oz) pints in town. Great for refreshing yourself on the way to the beach. Cheap food too. $3.50 pints (cash only).

Voodoos

phone: +1 250 770-8867

address: 67 E. Nanaimo

About the only place in Penticton that caters to a more alternative crowd. Food and drink specials, live music, and a weekly open-mic jam night. $4.50 pints/highballs.

Martini's

phone: +1 250 490-0304

address: 260 Martin

Upscale with good selection of martinis (go figure!), and imported beer. $5.25-6.50 pint/highballs, $7 martinis. Live music starting at 9PM every Friday and Saturday night.

Black Pearl Oyster Bar & Martini Lounge

phone: +1 250 493-5001

address: 1000 Lakeshore

Martinis, beer, wine, port, oysters and appetizers of course, and the world famous boat drink. Some of the best views in Penticton. $5 pints/bottles, $6 wine, $7 martinis.

Kettle Valley Station Pub

phone: +1 250 493-3388

address: 1070 Eckhardt

Good food and good drink in this friendly railway themed pub. $5 pints/highballs.

address: 2460 Skaha Lake Road

Try a sampler: Three types of beer brewed on premises, as well as a fourth seasonal brew. English style decor, pub menu. $5 pints/highballs.
Copper Mug, Penticton Plaza, 1301 Main Street. Local haunt of Penticton's working class. Incredibly cheap food and drink specials change daily. $4 pints/bottles/highballs.

Anthony's Pub and Lounge

address: 3502 Skaha Lake Road

This two-storey pub features a very nice rooftop patio. $5 pints/highballs.
Nightclubs
There are only three in town and they are all pretty much the same. Loud top-40 music and the occasional live show. Covers are reasonable: $2-$7, more if there is a special event. Smoking is prohibited in all bars, but the three nightclubs have separate smoking rooms. The clubs start to get busy between 11PM and midnight in the summer. You may want to show up early to avoid the queue. If one is empty, try another, as all three are within walking distance of each other, and business generally depends on the nightly drink special. This doesn't apply as much in the summer when all three are generally packed. At 2:30AM hundreds of drunken revellers pour out into the streets, causing a large police presence to keep the peace. Do not taunt the police unless you want to spend a night in the drunk tank! (Hint: you don't).
Blue Mule, 218 Martin. The Blue Mule used to be a country bar, but they changed the format to get more business several years ago. You may still hear a few country songs throughout the night however. The Mule seems to be the most popular these days. Wednesday nights feature $2 highballs, the locals buy triples in a mini-jug to avoid long bar lineups. Three bars plus table service. This is one of the best clubs in town. It is famous for its smiles and music of all styles. The service is great and the bar is clean. Anyone from 19-99 will feel very welcome there. Usually a $2 cover charge at the door. The best security team in town mixed with the hottest and fastest servers and bartenders all to the beat of the D.J. makes for the perfect place to go and have a night to remember.

Element

address: 500 block Main Street

One of the oldest in town, the Element changed its name from Tiffany's years ago. Sometimes has special events such as live shows, ladies night, and foam parties. Fridays feature 75-cent highballs but the low prices can attract riff-raff. Two bars plus table service. Lots of chrome and leather.

Night Moves

address: 333 Main Street

This nightclub seems to be more popular with the 19-23 crowd. Two bars plus table service. Night moves has the largest dance floor of the three. If you want to play pool you must endure the smoking room.
Visit Dream Cafe on nights when musicians are playing
Sleep
As with restaurants, the amount of accommodations available in Penticton is disproportionate compared to the size of the city. Still, Penticton is very popular in the summer and the area hotels can and will be fully booked, especially on long weekends and Ironman weekend. Prices listed here are high season, as this is when most visitors come. Low and shoulder season rates may be drastically lower depending on the facility. The listings here are but a mere smattering of what's available.
Budget
address: 198 Skaha Place

Directly across the road from Skaha lake and the beach. Showers, laundry, power.

address: 240 Riverside Drive

Full hook-ups, laundry, recreation hall, showers.

Penticton Hostel

address: 464 Ellis St

Located steps from downtown, and minutes from Okanagan Beach. Laundry, internet, and kitchens. Guests receive discounts at many local attractions. $21-24 dorm, $17-20 HI members.

Shade Tree Resort RV and Family Campground

address: 3901 Skaha Lake Rd

Across from Skaha lake, arcade, full and partial hook ups. $25 per person per night.

address: 3815 Skaha Lake Road

Washrooms, showers, laundry. $28-33.
Mid-range
Arta Bed & Breakfast And Vineyard

address: 1120 Sutherland Road

Theme rooms, great views of Okanagan Lake. Internet access and library.

phone: +1 250 493-0311

address: 3180 Skaha Lake Road

Located in the south end of town near Skaha Lake. Restaurant and pool on premises. Pets allowed. Internet.

address: 497 Vancouver Ave

Close to downtown. Features art and sculpture gallery on site.

address: 152 Riverside Drive

Near Okanagan Lake and Penticton Trade & Convention Center. Breakfast buffet. Exercise room.

address: 112 Eckhardt Ave

Penticton's first designated Heritage House, built in 1906. Right downtown close to everything. Internet access.

address: 1402 Skaha Lake Rd

One of a handful of motels located across the street from Skaha Lake and the public beach park. Lakeside Villa offers easy access to one of the finer swimming/beach areas in the Okanagan. The motel is very clean and quite geared towards families. Rates range from $69-139 in the summer months.

address: 1050 Eckhardt Avenue

Outdoor pool and jacuzzi. Exercise facilities. High speed internet. Steps away from 18 hole golf course. Kettle Valley Station Pub on site. Regular rooms and one bedroom suites available (with gas fireplace). One of Penticton's nicer hotels with a relatively short hike to Okanagan Lake but a short drive to the shops and restaurants of downtown.

Tiki Shores Beach Resort Motel

address: 914 Lakeshore Drive West

Right across from Penticton's Okanagan Beach in the popular 'Sunset Strip" tourist area, this motel offers some of the most popular accommodations in Penticton; from studio, 2 bedroom and 3 bedroom suites to penthouse suites. Very clean and well-maintained. Many suites have private patios with gas BBQs. Families, groups and sports teams are welcomed. Heated outdoor pool, guest BBQ/picnic area, ample guest parking, restaurant on site. High speed Internet, cable TV with movies, coffee makers, kitchenettes or kitchens.

Vanilla Tree House

address: 1185 Spiller Road

Exercise room, internet access, hot tub. Vegetarian breakfast available. $140-200.
Splurge
address: 21 Lakeshore Dr

Two restaurants, pub, and casino on site. Exercise room, indoor pool and conference facilities. Steps from downtown and the beach.
Stay safe
There is not much to worry about in Penticton. The streets are generally safe after dark and the huge number of tourists on the streets ensures you are never alone. The biggest safety issue may be the occasional bar brawl that occurs when the clubs close. Make sure you do not get involved or you will end up spending the night in jail.
If you are hiking or biking in the surrounding hills be aware the area is home to rattlesnakes and bears. The snakes, easily detected by their distinctive rattle, do not attack humans unless you enter their space and/or startle them — such as abruptly walking into one along a trail. If you hear the rattle, understand it as a warning and keep your distance; the snake's bite can be fatal. Similarly, black bears inhabit the region surrounding Penticton and are happy to avoid humans unless surprised, cornered, and/or their cubs are threatened. Bear attacks are extremely rare but if you spot a bear in the area, it is best to steer clear. Cougars are being spotted by the locals more.

Go next
Go alpine skiing/boarding in the winter or mountain biking in the summer at Apex Alpine Mountain Resort. 33km (21 mi) west of Penticton. A small mountain with some of the best advanced terrain in the interior. From the Channel Parkway turn west on Green Mountain Road and follow 22 km before turning right at the Apex Guest Ranch. Snow tires are recommended in the winter. Lifts run weekends in the summer for mountain biking (beginner to advanced) and hiking/sightseeing.
Go rock climbing at the Skaha lake bluffs.
Ride the Kettle Valley Steam Train or relax in the lush Ornamental Gardens in nearby Summerland. Fifteen minutes north of Penticton.
If you haven't had enough sun and heat, head 45 minutes south to Osoyoos where the average temperature is even hotter, and wander through Canada's only true desert.
Okanagan Beach (Sunset Strip) offers para-gliding, canoe, boat and bike rentals.