Percé
Located at its east end,
Percé
is the bustling tourist epicenter of the
Gaspé Peninsula
. Though it's a proud member of the
Most Beautiful Villages in Quebec
(Association des plus beaux villages du Québec)
, Percé may be off-putting at first: the crowds, tacky souvenir shops, endless roadside motels and
gîtes
, and miscellaneous tourist schlock is a jarring contrast to the majestic scenery along Route 132 that visitors have likely spent the past few hours or days drinking in. But there's a good reason for the brouhaha:
Percé Rock
(Rocher Percé)
, the arch-shaped offshore rock formation from which the town takes its name, is an awesome natural wonder that has become an iconic emblem of the Gaspé Peninsula, attracting thousands of visitors annually. It and the nearby
Bonaventure Island
(Île Bonaventure)
, a massive breeding colony for a variety of aquatic birds, make up Percé's (and the Gaspé Peninsula's) marquee attraction,
Bonaventure Island and Percé Rock National Park
(Parc national de l'Île-Bonaventure-et-du-Rocher-Percé)
.
Understand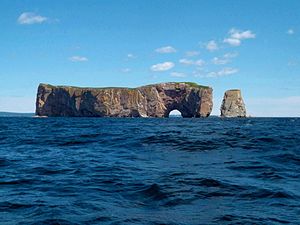 In 1971, the boundaries of Percé were expanded to their present size when the surrounding villages of
Barachois
,
Bridgeville
,
Cap-d'Espoir
, and
Saint-Pierre-de-la-Malbaie
were amalgamated into the town. Locals still occasionally use the old names, but all attractions and other points of interest in these former localities are covered in this article.
Percé is very much a seasonal destination. The tourist season runs roughly from the middle of June until the end of September, during which time the streets, shops, restaurants, and lodgings are often annoyingly busy. Most businesses and attractions are also open during the shoulder seasons of mid-May through mid-June and late September through mid-October, with reduced hours in some cases. However, off-season Percé can seem almost like a ghost town. If you find yourself in town during the winter, the website
Holiday Destination Percé
(see the "Visitor information" section below) has a full rundown of activities and services that remain open all year; these trend heavily toward winter sports such as snowmobiling, snowshoeing, and dogsledding.
Percé boasts a population of about 3,300 clustered in a chain of villages splayed along the shoreline.
History
For eons, the Percé area was a fishing ground for the local Mi'kmaq people, and it was known to Europeans beginning in the 17th century (explorer Samuel de Champlain sighted and named Percé Rock in 1603, and the area served as a stopover for ships headed to
Quebec City
). But it was not until the early 1800s that permanent settlement of the town kicked off. At first, Percé was a quiet fishing village like many of its neighbours on the Gaspé Peninsula, but after Percé Rock came onto travellers' radar screens in the early 20th Century, tourism began to gradually take over as the town's economic mainstay. As well, during World War II, the Royal Canadian Navy operated an important wireless intercept station at Percé which was responsible for detecting Nazi U-boats prowling in the waters off Canada's east coast.
Visitor information
Holiday Destination Percé
is the website of the
Percé Tourist Information Centre
(Bureau d'accueil touristique de Percé)
. It's a comprehensive resource for visitors to Percé, featuring the usual listings of attractions, hotels, restaurants, shops and bars — but also, notably, an events calendar, printable historic and architectural walking tours, a low tide schedule (useful for getting to Percé Rock without a boat), and up-to-date information on road construction and closures in the local area.
Percé's brick-and-mortar is right in the centre of town, at 142, rue de l'Église. It's open on a seasonal basis: daily from 8AM to 8PM in July and August, with shorter hours during the shoulder months of June and September.
Get in
By car
This is how the vast majority of visitors get to Percé. The town is on
Provincial Route 132
, the main trunk road on the south shore of the St. Lawrence.
To get to Percé from Quebec City, take
Autoroute 20
east to the end of the road in
Trois-Pistoles
, then continue eastward on Route 132. The distance is about 750 km (465 miles), so plan for about eight hours in the car, excluding stops. You can shave a few kilometres off that distance by turning off at
L'Anse-Pleureuse
and taking the inland shortcut through
Murdochville
via
Provincial Route 198
, but that comes at the expense of some of the majestic scenery you'll see along the shoreline route.
If you're coming from the
Maritimes
, Percé is about 245 km (153 miles) from the
New Brunswick
border at
Campbellton
, via Route 132 East. The trip takes 2½ to 3 hours.
By plane
The nearest airports with scheduled passenger service are
Michel Pouliot Gaspé Airport
(Aéroport Michel-Pouliot de Gaspé)
(
YGP
) in Gaspé and Bonaventure Airport (Aéroport de Bonaventure) (YVB) in Bonaventure, with service to Îles de la Madeleine, Quebec City, and Montreal. Those who are arriving from further afield should first fly into Pierre Elliott Trudeau International Airport (Aéroport international Pierre-Elliott-Trudeau) (YUL) in Montreal or perhaps Jean Lesage International Airport (Aéroport international Jean-Lesage) (YQB) in Quebec City; you can catch a connecting flight to YGP from either of these airports via Air Canada Express.
Gaspé and Bonaventure airports have car rental facilities onsite or nearby (Discount, Enterprise, and National in the former; Thrifty in the latter) where you can continue your journey into Percé.

By bus

The Orléans Express bus network serves the entire province of Quebec, including the Gaspé Peninsula. There is one daily bus that departs from Rimouski at 2:55PM and arrives in Percé at 10:19PM. The fare is $84.05 per passenger, including taxes and two checked bags, with a $5 upcharge for each additional checked bag up to a maximum of four total. The bus drops you off right in the town centre, across from the tourist information office.

By train

The is south of the town centre, at 44, route de l'Anse-à-Beaufils. Until 2013, VIA Rail ran service in the Gaspé Peninsula east of Matapédia. It has been suspended indefinitely. There is no timetable for the resumption of railway service to Percé.

Get around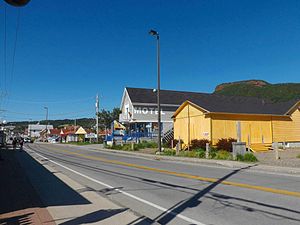 To get from place to place within Percé's city centre, walking is a fine option; if you're going further afield, a car is pretty much an absolute necessity. Taxi service is available, though it's pricey.
By bus
RéGÎM
, the Gaspé Peninsula's rural public transit network, has two routes that serve Percé.
Route 31 makes two daily departures Monday through Friday from Chandler north to central Percé at 11:59AM and 3:59PM, arriving at 12:53PM and 4:53PM respectively and making plenty of intermediate stops along the way. Return trips depart Percé at 1PM and 5PM, arriving back at Chandler at 1:56PM and 5:56PM respectively.
Morning runs on Route 32 leave Paspébiac at 6:20AM, arriving in Percé at 8:08AM. Return trips (24-hour advance reservation required, call +1-877-521-0841) leave Percé at 9AM and arrive back in Paspébiac at 10:50AM, where those headed further west can transfer to a Poute 40 bus headed toward Carleton-sur-Mer. Afternoon departures from Paspébiac on Route 32 do not serve Percé, terminating instead at Grande-Rivière.
As well, Route 22 runs between L'Anse-à-Beaufils and Gaspé, serving Coin-du-Banc, Barachois, and other outlying precincts of Percé, though not the town centre. Gaspé-bound buses leave L'Anse-à-Beaufils Monday through Friday at 6:40AM, passing through Coin-du-Banc and Barachois at 6:52AM and 7AM respectively before arriving in Gaspé at 7:47AM. Southbound trips leave Gaspé at 5:50PM and stop at 6:41PM in Barachois, 6:50PM in Coin-du-Banc, and 7:02PM in L'Anse-à-Beaufils.
Fare is payable in cash ($4) or with tickets ($3 apiece, available in books of ten from participating retailers or directly from the bus drivers). If you're planning on making heavy use of RéGÎM during your stay in the Gaspé Peninsula, it might be useful to buy a prepaid Access Card (available online for $5), which are good for a whole month and entitle you to the same discounted $3 fare as tickets.
In a pinch, you could also buy a ticket for a few dollars on the
Orléans Express
bus to one of Percé's outer precincts (there are stops in Barachois, Bridgeville, L'Anse-à-Beaufils, and Cap-d'Espoir); drivers sometimes even agree to pull over on the side of the road directly at your destination, but it may be awhile before another bus comes by to take you back to Percé.
See
Bonaventure Island and Percé Rock National Park lie entirely within the city of Percé, and you have them to thank for all the gift shops, cutesy
gîtes
, and crowds of tourists here. The trickle of wealthy folks who started coming to see Percé Rock around the turn of the century became a steady stream after World War II, and in 1971, Bonaventure Island was purchased by the Quebec government and turned into a national park. Percé Rock was added on three years later. Today, upwards of 60,000 people visit the park each year.
Aside from the two titular components that are described in more detail below, Bonaventure Island and Percé Rock National Park also includes the
Charles Robin Sector
(secteur Charles-Robin)
, composed of a handful of meticulously restored 19th-century warehouses next to the dock that were built by Charles Robin, an entrepreneur from
Jersey
and founding father of Percé whose vast fishing company was a major player in the Gulf of Saint Lawrence cod fishery. Today, these buildings house the park's Discovery Centre,
Le Chafaud Museum
(see below), and
La Saline
, a meeting hall where special events are held by park staff.
Bonaventure Island and Percé Rock National Park is
not
a Canadian national park — despite its name, it's run by the Quebec
provincial
park service. Therefore, your Parks Canada Discovery Pass is no good here, but if you have an
Annual Parks Quebec Network Card
, your admission is free. (If you don't have one, and you're planning on visiting other parts of Quebec, it may be a wise investment: Parks Quebec's network includes dozens of parks, wildlife reserves and other attractions located in all parts of the province.)
For those without an annual pass, admission is $7.50 for adults and $3.25 for children between the ages of 6 and 17. Those 5 and under get in free. Discounted rates for families are available as well ($10.75 for one adult and children; $15 for two adults and children). Parking is $10 for cars and RVs and $6 for motorcycles, and is
not
covered by the Parks Quebec Network Card. In 2017, the park was open daily 9AM-4PM from from May 22 through October 9, and until 5PM during the peak tourist season of June 5 through September 16.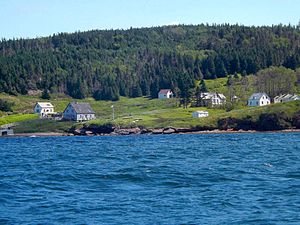 Bonaventure IslandA bird lover's paradise, Bonaventure Island is about 4 km² (1,000 acres) off the coast of Percé that's most famous as a nesting ground for about a dozen species of migratory sea birds. Here you'll find cormorants, puffins, murres, and most famously of all, the world's largest and most easily accessible colony of northern gannets, at 100,000 birds strong. After a short boat ride, you'll disembark at L'Anse à Butler on the west side of the island, and you'll see in front of you a cluster of old clapboard houses: before it was a protected natural haven, Bonaventure Island was the site of a small but thriving community of fishermen, and the ancestral family homes they left behind have been fully restored using authentic vernacular construction methods and architectural features. Then you can feel free to amble around at your leisure: the island boasts a variety of landscapes and scenery including lovely fields, secluded picnic spots, and scenic vistas looking back onto the shore or out over the open ocean, and you'll be serenaded at all times by the plaintive songs of the birds. These are the sights, sounds, and smells (for better and for worse — the wildflowers' scent is lovely; the bird droppings, not so much) of the Gaspé Peninsula of yesteryear. Before you leave Bonaventure Island, don't forget to stop at the restaurant at the side of the dock for some of their famous fish soup.

Percé RockThis giant stone monolith is a natural wonder that, for travellers, has become almost synonymous with the Gaspé Peninsula itself. From a distance, they say Percé Rock looks like a ship under sail, but come a little closer and you'll see a 20-metre (66-foot) natural arch puncturing the rock through its base — hence its name, which translates to "pierced rock". A few metres (feet) outward from the main portion you'll see The Obelisk (L'Obélisque), a lone sea stack that used to be the base of a second arch, which collapsed after a small earthquake in 1845. Most people visit Percé Rock by boat, but at low tide it's possible to walk there from the shore (you can find a tide schedule at the tourist information centre). If you're headed to Percé Rock on foot, keep your eye on the time and watch out for falling rocks, as erosion is a constant fact of life here — but do take the opportunity to check out the 150 species of fossilized sea creatures embedded in the sheer limestone crags, relics from the Devonian Period some 400 million years ago.
Town centre and around
For outdoor lovers, the national park isn't all Percé has to offer. In the mountains behind the town centre there's a trio of attractions that are accessible to hikers on a network of trails behind the town (q.v.):
The GrottoIts name isn't exactly accurate, but it's lovely all the same: this is not a grotto but a lovely little waterfall nestled in the niche between Mont Sainte-Anne and Mont Blanc, where a mountain stream tumbles over a wall of red rock into a shallow pool. All this takes place inside a semicircular natural amphitheatre where — in keeping with the history of these mountains as a Catholic pilgrimage site (see below) — statues of the Virgin Mary and other religious baubles abound.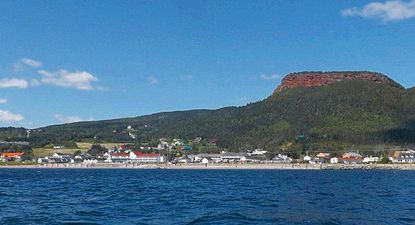 Mont Sainte-AnneKnown in the 17th century as "Roland's Table" (La Table à Roland) due to its flat top, Mont Sainte-Anne's breathtaking majesty has made it a religious site for centuries of Gaspesians: from the Mi'kmaq who took their tribe's newborn babies here to present them to the sun god, to 19th- and early 20th-century Québécois devotees of St. Anne who would make pilgrimages there every July 26. Today, hikers can follow in their footsteps and enjoy great views over the town and out to L'Anse-à-Beaufils, Percé Rock, and Bonaventure Island.
Mont BlancIt's a longer hike to Mont Blanc than either The Grotto or Mont Sainte-Anne, but it's worthwhile: the Sentier de la Crevasse trail takes you alongside a deep crevice in the side of the mountain which, at a height of some 300 m (1,000 feet) straight down, makes for a dizzying experience. Mont Blanc itself is a bit taller than Mont Sainte-Anne; its summit is accessible via a steep dirt track that begins at the end of sentier de la Crevasse and affords beautiful views over the Gaspesian coast north of Percé and out to the open ocean.
Cap-Blanc LighthouseThis picture-perfect lighthouse stands 7 m (24 feet) in height, and was built in 1915 to replace an earlier structure from 1874. Though it's no longer operational, the light from this octagonal, stubby, red-and-white beacon once shone for 24 km (15 miles), warning ships away from the rocky shoals off White Head (Cap Blanc) south of Percé. The land where Cap-Blanc Lighthouse stands is today part of the Camping du Phare à Percé campground; while the grounds are nominally closed to visitors, campground staff tends to be tolerant of folks who stop by for brief snapshots.
phone: +1 418-782-5100

address: 145, route 132

The stunning scenery of the Percé area has inspired a boatload of landscape artists over the year, and their works are displayed at this museum situated on the ground floor of an old 19th-century waterfront warehouse once owned by the Charles Robin fishing company. Le Chafaud's permanent collection includes mostly paintings, but also some engravings, photographs, and pen-and-ink drawings. Travelling exhibitions are frequently hosted as well.
L'Anse-à-Beaufils
L'Anse-à-Beaufils is a little village 10 km (6 miles) south of Percé's town centre, named for a French nobleman who was rumoured to be the half-brother of King Louis XIV. It became part of Percé in 1971. Today, you'll find a pair of historic attractions clustered around the harbour at the mouth of the L'Anse-à-Beaufils River.
Historic L'Anse-à-Beaufils General Store

phone: +1 418-782-2225

address: 28, rue à Bonfils

Built in 1928 and once the central hub of L'Anse-à-Beaufils, the old Robin, Jones and Whitman General Store is now operated as a sort of living history museum, where old-fashioned dry goods, farm equipment, and other merchandise fill the shelves. On the guided tours they run, performers in period costume will step out from behind cash registers and grocery scales that look straight off a time machine and rattle off folksy anecdotes of local lore. Elsewhere in the museum, old photographs and artifacts relay the history of the village. Website in French only.

phone: +1 418-782-2277

address: 55, rue à Bonfils

Once a fish processing plant, this sturdy clapboard structure at the heart of L'Anse-à-Beaufils' "cultural and tourist harbour" (havre culturel touristique) wears many hats: the Old Factory serves as a gourmet bistro with a pleasant terrace overlooking the water, a performance space hosting live music, plays, and comedy shows, a recording studio, and an art gallery where the work of about three dozen artists from the Gaspé Peninsula and all over Quebec is displayed. The gallery's collection is an eclectic one, encompassing both amateur and professional works in media that run the gamut from paintings and sculpture to jewelry and ceramic art. Arts and crafts courses for adults and youngsters are also held.
Val-d'Espoir
phone: +1 418-782-2777

address: 397, chemin de St-Isidoire

The Percé Rock Organic Gardens is an extension of the work of Msgr. François Xavier Ross, the one-time Bishop of Gaspé who founded the Val-d'Espoir School of Agriculture (École d'agriculture de Val-d'Espoir) on this site in 1926 to spur the development of area farms. Today, this cooperatively-run institution is the home of a series of themed gardens where the accent is on sustainable agriculture and locally grown foods. You can also buy a modest range of other locally-produced artisanal products at the Gardens, including a line of all-natural cosmetics.
Do
On the water
Percé takes full advantage of its scenic seaside location, with a host of aquatic activities awaiting visitors during the busy summer months.
The St. Lawrence estuary and its vicinity teems with whales during the warm months, and in Percé there are a pair of whale-watching outfits that afford you the chance of seeing a variety of species including fin, minke, humpback, and even the endangered blue whale, as well as white-sided dolphins and harbour seals. Both tours depart from the
(Quai de tourisme)
in the town centre. The season runs from May through October, with whales most numerous in July and August.
phone: +1 418-782-2974

address: 162, route 132

Take your pick: two-and-a-half hour whale-watching cruises are offered in the comfort of the climate-controlled Capitaine Duval II, or you can charter a Zodiac for a more wet-and-wild, up-close-and-personal experience (waterproof gear is provided for your convenience). Knowledgeable bilingual staff.

phone: +1 418-782-2161

address: 9, rue du Quai

This family-run business operates 3-hour whale-watching cruises in a large, comfortable ship: if you're prone to seasickness, this is the option for you. Website in French only.
Boat tours
The boat tours to the national park are operated by the same two outfits that handle the whale-watching cruises. These cruises usually buzz by Percé Rock on their way to and/or from Bonaventure Island; keep in mind that if you disembark on the island you're required to pay the park entry fee which is not included in the prices quoted below. Tours generally last between one and two hours and run from mid-May through the end of October. Departures for both of these companies are from the
Tourist Wharf
.
phone: +1 418-782-2974

address: 162, route 132

Les Bateliers de Percé offers bilingual narrated cruises (though the crew's mastery of English is shaky) of Bonaventure Island and Percé Rock National Park. The routine sees boats pass Percé Rock before docking on Bonaventure Island at L'Anse à Butler, then circumnavigating the island before returning to the wharf at Percé. Those who want to disembark and explore the island for awhile should make arrangements at the time of departure as to which trip they'll return on.

phone: +1 418-782-2161

address: 9, rue du Quai

Croisières Julien Cloutier will stop on Bonaventure Island if you specifically request it, but the default option simply circumnavigates the island before returning to shore (via Percé Rock). Moonlight cruises are occasionally scheduled; call for details. A reliable company that's been in business over 20 years. Website in French only.
Guided sea kayak tours are also offered:
phone: +1 418-782-5403

address: 1669, route 132

At Avolo Plein Air, Jeffrey Samuel-Bond and his crack team lead guests on a series of sea kayak tours in and around Percé that are suitable for everyone from experienced outdoor adventurers to newbies who've never laid their hands on a paddle before. If you want to do the usual Percé Rock/Bonaventure Island route, you can, but Avolo's specialty is half-, full- and multi-day excursions along the coast of Pointe-Saint-Pierre, an off-the-beaten path district of northern Percé that's renowned for its wild and wonderful scenery. You'll pass under the wings of scores of squawking seabirds, say hello to seals and (if you're lucky) a whale or two, and marvel at the awesome sight of Indian Head Rock (le Tête d'Indien) as your guide educates you on the wide-ranging biodiversity of the region. If you don't quite trust your sea legs, Avolo also offers comprehensive lessons through the Quebec Federation of Canoeing and Kayaking (Fédération québécoise du canot et du kayak): one-day basic, two-day intermediate and four-day advanced courses are offered for $125, $225 and $500 respectively.
Fishing
The waters in and around Percé teem with fish and marine life of diverse descriptions. If you're casting from one of the various docks and marinas around town, you'll probably have the best luck catching mackerel in July and August. As well, trout and salmon are abundant in the interior rivers, but unlike the former scenario, provincial permits are required (they're easily available in a number of places around town) and subject to seasonal restrictions.
On the Sea with the Coastal Fishermen

phone: +1 418-782-6007

Captain Michael Moreau ties up his fishing boat, the Omirlou, across the river from The Old Factory at L'Anse-à-Beaufils harbour. He'll take you on a two-and-a-half-hour excursion on the water where you'll angle for mackerel and cod and try your luck with the lobster traps, while learning the ins and outs of the Gaspesian fishing industry. English is spoken.
Diving
phone: +1 418-782-5403

address: 199, route 132

The Percé Yacht Club is the Gaspé Peninsula's foremost epicentre of scuba diving. Founded as a not-for-profit organization with a mission of educating visitors about the diverse and fragile aquatic ecosystem of Bonaventure Island and Percé Rock National Park, the club offers dives at a dozen sites along the north and east shore of Bonaventure Island. Half- and full-day excursions unveil a great variety of spectacular submarine sights such as majestic rock formations, huge undersea caves, and a burnt-out fishing boat that wrecked in 1984 — not to mention sea life like sponges, lobsters, sea anemones, and harbour seals. If you don't have your PADI certification, $300 will buy you a full-day certification course with a test dive — that price includes equipment, transportation to and from the dive site, the National Park entry fee, and your provincial certification card — but if you want to fast-track it, there's also a half-day "Introduction to Deep-Sea Diving" course for $150 that suffices for a dive alongside a certified instructor. Your second dive is $75 if you choose the latter option. Website in French only.
The beach
When you want to take a break from adventuring and spend a day lazing on the beach, you have two options, and , north and south of the town centre respectively. Cap-d'Espoir is the smaller of the two, but it gets quite crowded in the summer; it's the site of the annual
Festi-Plage
music festival and also offers picnic benches and changing rooms. Meanwhile, at the long, sandy strand of Coin-du-Banc it's oftentimes just you, the crashing waves, and the breathtaking seaside landscape.
Hiking
From the windswept fields and weather-beaten forests of
Bonaventure Island
to the craggy mountains inland, the Percé area features a variety of landscapes for hikers.
Perfect for beginners, Bonaventure Island has 15 km (9 miles) of hiking trails of an easy-to-intermediate level of difficulty that boast scenic views out to the magnificent Percé Rock, into the island's giant nesting colony of northern gannets, and over the open sea (keep an eye out for whales!) The Chemin du Roy trail is the backbone of the network: it circles most of the way around the island, hugging the coast from the tour boat dock at L'Anse à Butler to L'Anse Chatouilleuse, a distance of 4.7 km (2.9 miles) in all. Meanwhile, Sentier des Mousses, Sentier des Colonies, and Sentier Paget are a bit more difficult: they cross through the forested, somewhat hillier interior of the island, linking to Chemin du Roy at both ends. Whichever route you choose, it's essential to return to the dock at L'Anse à Butler before the last tour boat departure, or else you'll be spending the night!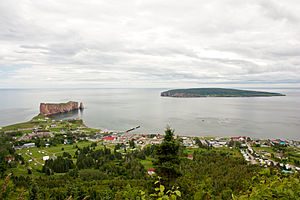 Despite an upward climb of more than 300 m (1,000 feet), it's also relatively easy going on the Mont-Sainte-Anne and Mont Blanc Trails (Sentiers du Mont Sainte-Anne et du Mont Blanc) (linked map in French only): the trails are either paved or well-manicured dirt tracks that boast rest stops, washrooms, and picnic benches at frequent intervals. Sprawling through the mountains just inland from the town centre, this is a network of 13 km (8 miles) of interconnected routes that begins at the rear of the parking lot behind the (Église St-Michel) at 57, rue de l'Église. A secondary entrance just off Route 132 north of the town centre is perfect for those coming or going from Mont Blanc. Aside from their namesake attractions described above, the trails themselves also boast panoramic views that take in a huge chunk of the eastern Gaspesian coast as well as the national park. On a clear day, you can even see Miscou Island, New Brunswick.
Tucked away in the mountains behind the town centre (slightly further afield than Mont Sainte-Anne and Mont Blanc), the Route des Failles extends from the small hamlet of Cannes-de-Roches through to the south end of the town centre. The Route des Failles is a paved road that can be traversed on foot, by bike, or in a car — but be extremely careful if you're using a vehicle, as this is an exceptionally curvy road that includes about a half-dozen hairpin turns in only 5.7 km (3.5 miles) of distance. But for hikers who can handle the changes in elevation, the Route des Failles' reward is worth the effort: at the summit is an extravaganza of breathtaking panoramic mountainscapes and seascapes (you can't see Percé Rock from here, though).
Further still from the centre of town, particularly avid hikers can enjoy a more extensive network of trails (linked map in French only) that extend through Percé's outskirts. The two components are:
the Mountain Trail (Sentier des montagnes), which is the shorter but more difficult of the two: it runs for 14 km (8.7 miles) from the , where it links with the Route des Failles and the Mont Sainte-Anne/Mont Blanc trail network, to the fishing harbour at L'Anse-à-Beaufils, with several steep ascents and descents along the way. Those who liked the magnificent alpine vistas of the Route des Failles will find more of the same here: the scenic lookouts and photo opportunities come fast and furious as you make your way from peak to peak, with breathtaking views over the craggy mountains and pristine coast. For the grand finale, the trail descends the Côte de la Fourche and follows a babbling brook southward toward the coast, where it ends at...
the River Trail (Sentier des rivières), 27 km (16.7 miles) of easy-to-intermediate hiking that leads north to Coin-du-Banc. First, you straddle the peaceful valley of the L'Anse-à-Beaufils River (crossing over it repeatedly on five lovely rope bridges) as you make your way north to Val-d'Espoir. Then, you cross over some comparatively easy-to-traverse hills, follow a pair of bucolic mountain streams, and pass by a beautiful waterfall on the charmingly and aptly named Emerald River (Rivière aux émeraudes) before ending up at a parking area a few hundred metres (about a third of a mile) from Route 132.
If you're visiting Percé in autumn and plan to hike, please note that hunting season runs from late September through mid-November. During those times, it is essential to wear bright-coloured clothing and take other sensible precautions. This doesn't apply on Bonaventure Island, where hunting is prohibited per the regulations of the national park.
Birdwatching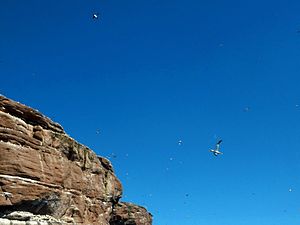 Aside from the obvious answer (Bonaventure Island), there are a number of other places around Percé where an abundance of bird life can be found, such as
Cap-d'Espoir
,
Pointe-Saint-Pierre
, and the
Malbaie Lagoon
(Barachois de Malbaie)
in Coin-du-Banc. In addition to the famous northern gannets, Percé is home to a number of different types of migratory birds including puffins, red-necked grebes, and various species of scoters, guillemots, mockingbirds, and warblers.
With a mission of promoting the awareness and conservation of bird life in the region, the
Gaspé Birdwatchers' Club
(Club des ornithologues de la Gaspésie)
(website in French only) is an exhaustive source of information and organizer of activities for birders in Percé and all over the area. The club frequently hosts birdwatching excursions at sites throughout the Gaspé Peninsula, and their website contains a comprehensive list of migratory species that frequent the area and their usual times of arrival, as well as information for winter birdwatchers. Membership is open to all.
In the winter
Though the Gaspé Peninsula has been recognized in the pages of
National Geographic
magazine as one of the top winter destinations in North America, Percé in particular is very much a seasonal town that largely shuts down after the end of October. If you're in town during the cold-weather months, the website
Holiday Destination Percé
has a
comprehensive list
of the handful of attractions, lodgings and services that do remain open in the offseason.
Aux Jardins de l'Anse (website in French only) is a charming gîte (bed and breakfast) that operates dog-sledding excursions between January and March. Call +1 418-782-2294 for details.
As well, the Mont Sainte-Anne and Mont Blanc hiking trails (see above) are open to snowshoers in the winter.
Buy
There's something about Percé that inflames the creative spirit — actually, it's not hard to figure out why; the magnificent landscapes and the allure of the sea are full of infectious enchantment. At any rate, the work of local artists and artisans figures heavily into the stock of Percé's many souvenir stores. Handmade jewelry is another frequent find, often made with semiprecious stones found on local beaches, such as agate, jasper, onyx, and (if you're lucky) gaspeite, a rare greenish mineral unique to the Gaspé Peninsula.
Town centre and around
Agate et Caillou

phone: +1 418-782-2098

address: 67, route 132

Jewellery and decorative baubles designed and produced in-house using a variety of gems and stones of local origin: agate, jasper, onyx, labradorite, gaspeite, petrified wood, and more. Or even if you're just wondering what the weird-looking stone is that you found on the beach, the folks at Agate et Caillou will identify it for you.

Au Bon Secours

phone: +1 418-782-2011

address: 150, route 132

The oldest continually operating souvenir shop in Percé, open since 1930 in a former drugstore a stone's throw from the harbour, sells a mixed bag of merchandise including clothes, touristy souvenirs, and decorative tchotchkes including carved stone figurines of seabirds by local artist Suzanne Tétreault-Massé.

Boutique de la Mer

phone: +1 418-782-2011

address: 5, rue de l'Église

This extravagantly decorated little shop just off the main drag in downtown Percé sells fashionable ladies' clothes, a bevy of brightly coloured lawn and garden decorations, and other gifts and souvenirs of all kinds.

Boutique Nature

phone: +1 418-782-2240

address: La Neigère, rue du Quai

Run by Sépaq as the official gift shop of Bonaventure Island and Percé Rock National Park, Boutique Nature is in a converted waterfront warehouse that dates to the 19th century. On sale is a treasure trove of literature and visitor information on all aspects of the national park, as well as works by local artists and artisans and souvenirs of varying descriptions.

phone: +1 581-353-1003

address: 424, route 132

Displays the seaside landscapes and other maritime-themed paintings of Donald Cahill, a native Percéen who moonlights as the captain of a whale-watching boat. Other artists working in a variety of media are also represented. Prints are sold. Website in French only. Open during off-season.

La Marée Basse

phone: +1 418-782-2823

address: 153, route 132

The handcrafted work of local artisans is the order of the day at this gift shop in the heart of Percé's town centre: everything from paintings and decorative baubles to stylish, one-of-a-kind clothes and jewellery fashioned from local agate.

La Marinière

phone: +1 418-782-5480

address: 162, route 132

True to its name, the stuff that's on offer at La Marinière tends to have a maritime theme: the clothes boast more than their fair share of loud horizontal stripes and anchor motifs, and Marie-Josée Tommi's carved gannet figurines are a hot seller as well. Handbags, artisan jewellery, and homey souvenirs complete the picture.

Mylène Henry Studio and Gallery

phone: +1 514-793-3443

address: 224, route 132

A native Gaspésienne, Mylène Henry's local landscape scenes are realized in a brightly coloured, cartoonlike, somewhat surreal aesthetic that is shared with her work as an illustrator of children's books — the other half of her artistic career. In addition to her original paintings, Mylène's gallery at the south end of Percé town centre sells copies of those books, as well as postcards, greeting cards, and calendars adorned with her work. Website in French only.

phone: +1 418-782-5700

address: 6, rue de l'Église

Though Martin Boucher Arsenault now runs about a half-dozen Wazo boutiques all over the Gaspé Peninsula and elsewhere in Quebec, the Percé location, located in the heart of downtown, is the original. Art jewellery is the name of the game here: the artist draws on his mixed Amerindian/Acadian heritage as well as forms found in the natural world to create earrings, pendants, bracelets, and other pieces in bold, unique designs that are respectful of the diversity of source materials he uses (gold and silver, semiprecious stones native to the area, even coral and starfish found on local beaches). You can choose from a range of preexisting designs in stock — the "Peace & Love" medallion, commissioned by Cirque du Soleil founder Guy Laliberté, is undoubtedly the best-known of these — or Martin will work with you to custom-design a piece of your very own. Website in French only.
L'Anse-à-Beaufils
phone: +1 418-645-5315

address: 676, route 132

This is where renowned artisan Pascal Riopel offers unique, high-quality cabinets and other rustic furniture, handmade onsite using only traditional designs and methods — hence the name of his store, which in English translates to something like "the workshop of yesteryear". You can also pick up charming folk art, handmade pottery, and vintage tchotchkes in an appropriately rustic setting about midway between L'Anse-à-Beaufils and Percé town centre. Website in French only.

Le Sablier Collection Studio and Boutique

phone: +1 418-782-2964

address: 14, rue à Bonfils

At his workshop and boutique in L'Anse-à-Beaufils, Serge Bourget sells unique gifts that make a distinctive statement: handmade sand-casted and stone-casted items such as picture frames, carvings, and decorative baubles produced with materials he finds on local beaches.
Barachois
phone: +1 418-360-3774

address: 1247, route 132

A graphic designer by trade, Margot Mérette's passion for painting and sculpture ignited during her college days at UQAM and has now come to full fruition in her second career. At her studio in Barachois, she'll show you some selections from her collection of acrylic paintings — dreamlike fantasy scenes that shine in vibrant, radiant colours and celebrate the harmonious cooperation of man and nature — and you'll take a walk through an outdoor sculpture garden, a "lost paradise" (in the words of her website) of carved driftwood and whimsical works in ceramic. Website in French only.
Eat
Eating in Percé is all about separating the wheat from the chaff. Sure, by and large the restaurants here serve the kind of overpriced, lackluster fare typical of tourist towns. But a little bit of searching — especially outside the town centre — will turn up some really nice dining experiences. When in doubt, ask a local.
Also, if you're a fan of seafood, you're in luck: that's all anyone seems to eat here, and it's an experience not to be missed. The cod, salmon, scallops, lobster, and other
fruits de mer
served up in Percé's restaurants are almost unanimously locally sourced, fresh and delicious.
Town centre and around
phone: +1 418-782-2349

address: 85, route 132

Owned by the same folks that run the motel next door, the Auberge les Trois Soeurs, La Maison Mathilde is a cozy little place that's far enough from the centre of town to afford diners a bit of quietude, yet not so far as to be inconvenient. Deliciously prepared and exquisitely presented seafood dishes are the name of the game here, with scallops a particular specialty; if you're not a fan of seafood, there's also a range of meat entrées and pasta dishes that, unfortunately, tend not to be quite as good. Local beer is available on tap. Points off for the service, which is hit-or-miss, and the prices, which are a bit high for the somewhat skimpy portion sizes.

phone: +1 418-782-5331

address: 155, place du Quai

La Maison du Pêcheur is easily the most upscale fine-dining restaurant in Percé, but you'd never know it from the unassuming exterior: like most of the buildings next to the wharf, this place used to be a fish warehouse; then it spent a period as a youth hostel (check out the 1960s-era FLQ graffiti that remains on the ceiling rafters!) Locally sourced seafood is the crux of the menu here — salmon, halibut, scallops, lobsters, and other delights come in multi-course prix fixe meals or can be ordered à la carte, and are crafted into some of the most unique, creative selections you'll find anywhere in the Gaspé (cod tongue with sea urchin sauce, for example). Matching the topnotch food is one of the best waterfront views in town, looking out onto Percé Rock and Bonaventure Island. The attentive yet unobtrusive service befits the level of luxury, and the extensive wine list emphasizes European vintages.

Les Sacs à Vin

phone: +1 418-782-1414

address: 50, route 132

There's nothing pretentious to be found at this combination bar, bistro and campground (!) at the north end of Percé town centre — just some of the hugest portions of home-cooked seafood goodies the Gaspé Peninsula has to offer, served up with friendly, folksy verve by a staff headed by a French expat named François. Most visitors to Les Sacs à Vin seem to gravitate toward the lobster, which is some of the cheapest and most delicious around, but there's also a bevy of other local specialties on offer: scallops, smoked salmon (served over fettuccine), maple syrup pie for dessert, and a small slate of Québécois wines. Open year-round.

Biard

phone: +1 418-782-2873

address: 99 132 Rte W

Fresh seafood and fish. Lobster dinner $30-38, crab, shrimps, etc. Non-seafood items. View of the Percé Rock.
Bonaventure Island
Restaurant des Margaulx

address: Mauger House, Bonaventure Island

If you've set out for a day of hiking on Bonaventure Island and forgot to pack a lunch, des Margaulx is your answer. Located just at the foot of the dock at L'Anse à Butler, this beautifully restored building served as a fish storehouse back in the days when a small, hardy community of fishermen lived on the island, and the restaurant stays true to its heritage with a hearty yet healthy menu of local seafood specialties, served cafeteria-style. You can get lobster, crab and shrimp sandwiches here as well as heartier entrées, but the specialty of the house that's not to be missed is authentic, old-style Gaspesian fish chowder flavoured with a delectable hint of saffron.
L'Anse-à-Beaufils
Resto de l'Anse

phone: +1 418-782-5054

address: 892, route 132

More popular with locals than the tourist crowd, the bread and butter at this roadside snack bar in L'Anse-à-Beaufils is deep-fried goodies like breaded cod filets, fish and chips, and scallops, as well as poutine, Montreal smoked meat sandwiches, and other Quebec specialties. However, Resto de l'Anse is probably most famous around these parts for their seafood pizza, which they deliver to any location from downtown Percé to Sainte-Thérèse starting at 11AM every morning. Service is friendly and folksy, seating is either indoors or outside on picnic tables, and prices are hard to beat.

Café-Bistro de la Vieille Usine

phone: +1 418-782-2277

address: 55, rue à Bonfils

Far from the madding crowds of central Percé is found this old fish factory that now wears many hats: art gallery, concert hall, community gathering place, and pleasant terraced bistro serving up some of the finest food the area has to offer. La Vieille Usine is all about Gaspesian cuisine made with Gaspesian ingredients: the menu makes great use of produce and meat from area farms as well as other local artisanal goods (including microbrews on tap from L'Anse-à-Beaufils' own Pit Caribou) to whip up mouth-watering local specialties such as salt cod patties and lobster club sandwiches. Appetizers and other light fare look down-to-earth at first glance but are deceptively sophisticated — there's a cheeseburger on the menu, all right, but it's made with ground lamb from a farm on Chaleur Bay and topped with warm chèvre. The main courses, for their part, begin with creative concoctions incorporating local seafood, but don't end there — there's also a full range of gourmet pizzas, pasta dishes, and salads. The pleasant, airy ambience makes the ever-present crowds bearable, and you can frequently catch live music or other performances.
Barachois
phone: +1 418-645-2745

address: 1004, route 132

This hidden gem is in off-the-beaten-path Barachois, a good distance away from downtown Percé, but it's well worth the trip. Breakfast is the main attraction at Le Café des Couleurs: you can get hot cereal, yoghurt, and standard eggs-and-bacon fare, but the specialty is a range of Belgian waffles that come topped with everything from standard favourites like maple syrup and fruit compote to oddballs like smoked salmon, scallops, and ceviche. Upscale coffee concoctions are abundant. At lunchtime, there's a range of light fare including daily soup and salad specials. The ambience is quiet and pleasant, with walls adorned with the work of local artists.
Drink
Percé doesn't have a bar scene to speak of. If you're looking to kick back with a tall cold one after a long day of sightseeing and you don't want to do so at a restaurant or your hotel's lounge, you're limited to a pair of options located in the town centre.
Luckily for craft beer fans, though, one of those options is the official outlet for
Pit Caribou
(website in French only), a microbrewery headquartered in L'Anse-à-Beaufils that turns out about two or three dozen beers sold throughout Quebec and beyond — including the award-winning "Étoile du Brasseur" American brown ale.
Bar Café Terrasse

phone: +1 418-782-5342

address: 155, route 132

phone: +1 418-782-1443

address: 182, route 132

Website in French only.
Sleep
Accommodation is definitely something that Percé is not lacking. There's a huge variety of hotels, motels, campgrounds, and vacation homes to choose from, but for a true Gaspesian experience, it's best to stay at one of the town's charming
gîtes
(see below).
Hotels and motels
Percé's hotels are clustered mostly on the northern and southern outskirts of the town centre, and with the exception of the
Riôtel
and a few others, they tend toward the small and the quaint. Most properties offer rooms with a view of
Percé Rock, but it pays to request one in advance as, understandably, those tend to sell out the fastest. On the other hand, for budget travellers it's handy to know that rooms
without
ocean views often come at a discount.
Gîtes
The concept of the
gîte du passant
, or simply
gîte
, roughly equates to what is known in the Anglosphere as a
bed & breakfast
. However, the
gîte
seems to be proportionally a more common form of accommodation in Quebec, and nowhere is that truer than in Percé, where they outnumber standard-style hotels by a wide margin. If you're looking for a truly distinctive lodging experience — charmingly decorated rooms with antique furniture and a peaceful ambience, hearty meals each morning, and attentive hosts that take pride in helping their guests make the most of their stay — a
gîte
may be the option for you. However, if you're a solo traveller or just looking for a place to lay your head for the night, you may feel out of place:
gîtes
tend to be geared toward romantic couples' getaways or occasionally families with children, and guests may be subject to a minimum length of stay. It pays to call ahead.
Youth hostels
phone: +1 418-782-2227

address: 125, route 132

Open all year, with lower prices in effect during the offseason. A charming youth hostel centrally located in a historic farmhouse dating back to 1872, with seven private rooms in the main house as well as four shared dormitories (men's, women's and two mixed) in the barn out back. Three of the private rooms have their own bathroom while the other four split two between them; all are decorated in period style. Those staying in the dormitory can bring their own sleeping bag or rent bedding for $5/nt. Guests have access to a communal living room, sunroom, terrace and kitchen. Internet access is available.
Campgrounds
phone: +1 418-645-3804

address: 2009, route 132

Open mid-May through late Sep. Located in the district of Saint-Georges-de-Malbaie, an easy (and lovely) 25-minute drive from Percé town centre, Camping du Cap Rouge is an 85-unit campsite that has it all: a common room and kitchen area with a stove, refrigerator and dishes, a combination bathroom/shower/coin laundry facility, a convenience store out front that sells beer and wine, basketball and volleyball courts, lawn bowling, trout fishing in the stream on the east side of the property, and a full slate of organized activities too. As for the campsites, there are spaces for tents and trailers either oceanside or inland in the woods, and the majority of sites are hooked up to electricity, water and sewer. Even if you don't have your own tent or trailer, du Cap Rouge has you covered: you can rent them (see website for rates)!

phone: +1 418-782-5443

address: 335, route 132

Open mid-May through late Oct. This campsite takes full advantage of its prime location a short distance from Percé town centre, boasting a magnificent unobstructed view of Percé Rock from its 125 campsites along the shoreline near White Head. A variety of experiences are to be had at Côte Surprise: about two-thirds of its sites are serviced with modern amenities like electricity and water (along with publicly accessible hookups), but there are also 45 "wilderness camping" sites in a wooded milieu for those who are looking for a more backwoods-style experience — sadly, a relative term at this fairly crowded venue. There are sites for trailers as well, and laundry facilities are available. Cash only.

phone: +1 418-645-2333

address: 1669, route 132

Open Jun-Sep. This little campground is located north of the town centre, behind the majestic Indian Head Rock (Tête d'Indien) — hence its name — and offers a full slate of activities that takes advantage of its off-the-beaten-path location in the wide open spaces: a volleyball court, a horseshoe pit, a private beach, snorkeling, kayaking, and plenty of opportunities for wildlife spotting. As for the campsites themselves, they accommodate both trailers and tents (41 sites between them). "Primitive" tent sites are available for those in search of a more rustic experience, with fire rings, ecosan toilets, and access to common showering and laundry facilities; all the others boast fire rings, electrical and water hookups, and in some cases, private fireplaces and sewer and cable TV hookups. A choice of mountain or ocean views are available, the latter looking onto lovely Plate Island (Île Plate). Tête d'Indien's friendly staff are always on hand to help with any questions you may have about the campground itself or things to do in the area.
Connect

Percé, along with the rest of the Gaspé Peninsula, is served by area codes 418 and 581. Ten-digit dialing is mandatory for local calls, so to reach a number within Percé or the immediate vicinity, it's still necessary to dial the area code first. To call long-distance within Canada or to the United States, dial 1, then the area code, then the number. For international calls, dial 011, then the country code, then the city code (if applicable), then the number.
The is located in the town centre at 147, route 132, in a large, modernist-style office building that also contains the courthouse and city hall. There are also post offices in Barachois, Cap-d'Espoir, Saint-Georges-de-Malbaie, and Val-d'Espoir.

Cope
Le Pharillon
is a free weekly newspaper covering local news, culture, sports, and events in Percé and the neighbouring cities and towns of Gaspé,
Chandler
, and
Grande-Vallée
.
Go next