Pereslavl Zalessky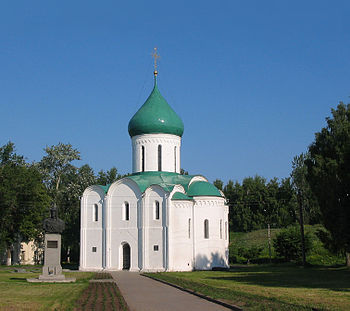 Pereslavl Zalessky
(
Russian
: Переславль Залесский, pe-re-SLAHVL za-LESS-ki) is a city in
Yaroslavl Oblast
and a part of the
Golden Ring
route.
Understand
The city was founded in 1152 by Prince Yuri Dolgoruky 5 years later than Moscow. In medieval times its fort was besieged and the city was ransacked by Mongols and later on by Polish-Lithuanian armies. Next to the city is Plescheyevo lake, the cradle of Russian Fleet, where young tsar Peter I did his marine military excersises. Besides, the site is a birthplace of Alexander Nevsky.

Get in
Pereslavl Zalessky is located on M8 and R74 highways. Moscow bus station at
Schyolkovskaya
metro station serves buses to the city and the travel will take 2-3 hours. There are also buses to
Yaroslavl
and
Sergiev Posad
. The town is not served by train though. If you're going to the town from the north, you can consider changing to the bus in Yaroslavl or
Rostov Veliky
(from train) or in
Petrovsk
from elektrichka.
Get around

The city is rather small with basic historic attractions in the center and easily explorable by foot. Usually it needs two days to get acquainted with the city.
See
Museums
Pereslavl History and Art Preserve

phone: +7 48535 3-81-00

The preserve operates from May to September from 10:00 to 18:00 except Mondays. There is an original small boat botik of tsar Peter who was to become Peter the Great located inside the museum in the area. You can also order excursions around the city.
Pereslavl Kremlin surrounded by the rampart hill.
Museum of Narrow-gauge Railways Kukushka, a wide open-air area showing steam-engines, cariages, hand cars, trucks, automobiles and a tank . Museum is situated about 25km to the west of the town, if you don't have a car, you'll most probably have to hitchhike there, as the only transport to get there is 2 buses to Kupanskoe in the morning. Detailed route with pictures is on the russian version of the site with pictures . Working hours: 10.00–18.00, except Mo, Tu. E-mail: info@kukushka.ru.
Museum of irons (Музей утюга), an exhibition of old irons.
Museum of kettles (Музей чайника) , a private collection of copper, porcelain and nickel silver kettles. On the route to Kukushka museum, but only 3km from town, so it's possible to walk. Across the street from the museum of kettles - museum of history of money (Музей истории денег).
Plescheyevo lake National Park with a dendrological garden.
Monasteries
Goritsky Monstery
Nikitsky Monastery (on the northern shore of the lake in some distance of the city)
Saint Trinity Danilovsky Monastery
Sretensky Novodevichy Monastery
Fedorovsky Monastery
Do
Kite-surfing in summer.

Buy
Embroidery, fabrics of the local factory.
Sleep
Rest bases on the lakeshore.

phone: +7 48535 3-17-88, +7 48535 3-26-87, +7 48535 3-15-59

address: 27 Rostovskaya st

The biggest hotel with a travel agency, a bar, a cafe. Organization of horse-riding.
Cope
Pereslavl agency of travels and excursions

phone: +7 48535 31353

address: 27 Rostovskaya st

Excursions around the city.

phone: +7 48535 3-07-76

address: office 4, 1 Kuznetsova st

Acceptance of foreign tourists and excursions in the city and Yaroslavl Oblast.
Go next
Depending on the direction of your journey you could move clockwise/counterclockwise along the Golden Ring cities like
Rostov Veliky
,
Yuryev-Polsky
,
Yaroslavl
or get back to Moscow. All routes are served by bus.