Perth/City
Perth City
is the central business district in
Perth
, but there are plenty of other things to see than just tall buildings and busy men in suits.
Understand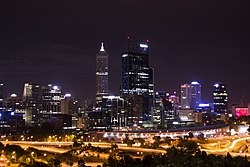 The centre of Perth metropolitan area is the
City
or CBD, Central Business District, located on the Swan River around 10 km inland. It's the main business and shopping centre, and together with adjacent
Northbridge
, forms the entertainment centre as well.
The City extends about 1 km North-South and 2 km East-West. The pedestrianised Forrest Place, and Murray Street and Hay Street malls are interconnected through arcades, and have a range of shops and services.
At Forrest Place you will find the General Post Office (GPO, open Monday-Friday 9-5 and Saturday 9-12), the Tourist Information Centre, Perth Train Station and the Forrest Chase shopping centre including Myer Department store.
The main East-West streets are Wellington Street (northern boundary), Murray and Hay Streets (which become pedestrianised shopping malls in the centre), St Georges Terrace/Adelaide Terrace and Riverside Drive (which runs along the Swan River and forms the southern boundary of the CBD). The main northbound street is Barrack Street which runs along the eastern end of the central shopping district, and the main southbound street is William Street to the west.
Get in
By train, bus and car
The City has the main transport hubs for the metropolitan area, and the airport buses run downtown along Adelaide Terrace to Elizabeth Quay. See
Perth#Get around
for more information.
By ferry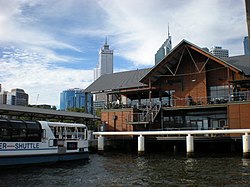 A ferry makes the short hop across the Swan River, running between Barrack St Jetty on the City bank and Mends St Jetty in South Perth. This is the most direct route across the river to South Perth, the Old Mill or the Zoo - however the Zoo is a bit of an uphill hike from Mends St jetty, you may prefer the bus. Ferries run every 15 mins weekdays and 30 mins on weekends. You will need a
2 section
ticket for $2.20 to go one way across.
Get around
Transperth info-centres provide timetables and journey advice for all its services at the central train station, Wellington Street bus station, the Esplanade Busport (south of St. Georges Terrace, near the bell tower), and Plaza Arcade in the city centre (the Plaza Arcade can be found between the Hay and Murray St malls - if walking from St. Georges Terrace, walk up London Court and across the Hay St mall; the Plaza Arcade is located directly opposite the exit to London Court).
By bus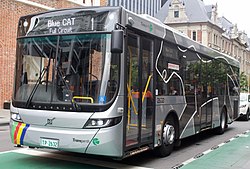 Transperth buses are free
within the city centre Free Transit Zone. The zone is bounded to the north by Newcastle Street, to the west by Thomson Street, to the east by the loop beyond Plain Street, and to the south by the river. In addition there are four CAT bus routes that are free throughout, every 5 to 15 mins from around 6 am to 7 pm. You don't need a permit or Smartrider for any of these, just get on. The bus stops have route maps and show arrival time of the next bus. See www.transperth.wa.gov.au for timetable and a detailed route map.
The four lines are:
Red CAT runs an east-west loop and stops at Royal Perth Hospital, WACA cricket ground, Perth Mint, Wellington Square, the Murray St Mall/Perth Underground train station, His Majesty's Theatre, Parliament House, King St and Wellington St bus station & central train station.
Yellow CAT runs east-west from Thomson Street, past City West metro train station, along the length of Wellington Street past central bus & train station to WACA, then Claisebrook metro station.
Blue CAT runs north from Elizabeth Quay up Barack Street past Murray Street mall and the art gallery and museum, then curls through northern streets before returning south past the central bus & train stations.
Green CAT (Mon-Fri only) runs from Elizabeth Quay west past King's Park and the Botanic Gardens, then heads north to City West and Leederville metro stations.
By train
You're unlikely to use the train for journeys just within the city centre, the bus is generally more convenient. Train journeys within the Free Transit Zone (eg the loop from central station via Perth Underground to the Esplanade) are free only if you have a Smartrider or other valid ticket; otherwise you will need a
2 section
ticket for $0.60 to go one way.
Train is a good way to reach other districts such as Fremantle, see those districts "Get in / around".
See
Kings Park & Botanic GardensRanged along the ridge of Mount Moira, this large and lush park is the perfect place to escape the city and enjoy a panorama of the Swan River and surrounds. Multiple paths wind through gardens showcasing flora from different regions of WA including a boab tree brought down on the back of a truck from the Kimberly. The striking War Memorial and Flame of Remembrance are also here. It's a hot uphill 2 km walk from downtown, but its northern boundary at Kings Park Rd is within the Free Transit Zone. Handiest bus is the Green CAT, Mon-Fri only, to Stop 16. Red CAT (7 days) also runs nearby, use Stop 19 on Ord Street.

Perth Cultural CentreAdjacent to the Perth Train Station on the Northbridge side, this is the hub of cultural activity in Perth. Including the Art gallery, Museum, State Library and the Perth Institute of Contemporary Arts (PICA) (See listings below). A 2 min walk from the Perth Train Station. Blue CAT Stops 7 and 15 both service the Cultural Centre, as well as Yellow 24 and Red 31.

phone: +61 8 9212 3700

address: Perth Cultural Centre

The museum has an interesting collection of social and natural history from WA and beyond. The main building has an extensive display of marine creatures, minerals, butterflies and birds, as well as the shrivelled taxidermed bodies of mammals familiar to generations of Perth residents plus the revitalised Katta Djinoong Aboriginal history display. The Old Gaol building at the rear houses colonial artefacts, displays of life from the different periods and a couple of meteorites. Make sure to look into the creepy eye of the rare Megamouth shark whose preserved body floats in a subterranean tank next to the Old Gaol.

Art Gallery of Western Australia

phone: +61 8 9492 6600

address: Perth Cultural Centre

Rotating exhibitions of contemporary Australian, International and Indigenous art and design drawn from the state collection. Exhibitions can be a bit heavy on Indigenous art (though there are some fantastic Indigenous works represented) but you could easily fill a few hours here surveying 150 years of Australian Art.

Perth Institute of Contemporary Arts

phone: +61 8 9228 6300

address: Perth Cultural Centre, James St

Rotating exhibitions of local and international artists work that focuses toward the more experimental end of contemporary art.

Barracks Arch

address: Cnr of Malcolm and Elder Sts

Equally loved and loathed by residents this arch is all that remains of the 1866 Tudor style accommodations for soldiers of the Enrolled Pensioner Guard. The two wings were demolished in 1966 to make way for the Mitchel Freeway but public protests held back the wrecking ball from dispatching this part of Perth's history.

Kangaroos in the City

address: Cnr Barrack St and St Georges Tce

If you don't get the chance to see some real ones, do like everyone else and take a photo with these friendly Roos. The larger than life size bronze kangaroo sculptures were installed in 1997, and have become a magnet for international visitors, who are subsequently disappointed with the diminutive size of their real life counterparts.

Heirisson IslandFive to six wild kangaroos roam around this island in the Swan River. They are usually hiding in the bushes, but can come out so have your cameras ready. You can even get close and pet them! Take Red Cat bus to Queen's Gardens and walk to the Causeway bridge. Cross the bridge, then turn right for the kangaroos.

address: 310 Hay Street

The nation's oldest operating mint and one of the oldest mints in the world. Even today it still produces coins and gold bullion from its original premises. You can buy and sell gold, jewellery and souvenirs, see the mint in operation and watch molten gold being poured to create gold bars. (Walk from City Centre along Hay Street east or catch the red CAT)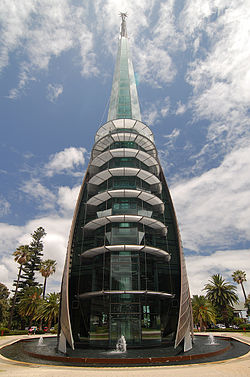 The Swan BellsA bell tower is at the foot of Barrack Street, in front of the ferry wharf. The bells are from the church of St Martin-in-the-Field in London, and were a gift from the London to the people of Perth. The bell tower has a modern design, and is somewhat controversially regarded by locals. Inside the tower you get a view over the river and city or you can look around the outside of the tower, and hear the bells at noon.

phone: +61 8 9362 7777

address: Great Eastern Highway Burswood WA 6100

An all-in-one entertainment precinct. The casino offers all games, the theatre provides a venue for some of the best touring productions, while the Dome is a 20,000 capacity arena that regularly hosts tennis tournaments and international concerts. Also included within the complex are a number of bars and pubs, including Paddy Hannan's (named after the first person to strike gold in West Australia) and the infamous nightclub The Eve. Take the Thornlie line (platform 4) from the central station, McIver or Claisebrook (platform 2).

Claisebrook CoveA major urban redevelopment area on the Swan River, on the fringe of the city centre. Spend an hour or so wandering about the brightly coloured, modern and strikingly unusual architecture before you wind down with a meal and a hot or cold bevy. Views of the city centre from the footbridge that runs above the cove are particularly stunning at night. (Take the yellow CAT to the Haig Park Circle stop during daylight hours or take the Midland, Armadale or Thornlie line to Claisebrook transfer station which is located within the Free Transit Zone).
Festivals and events
Perth International Arts Festival

phone: +61 8 6488 2000

A month long annual festival held around February is Perth's biggest arts event, offering local and international acts of every artful stripe. Most performances are ticketed but a number of free exhibits or street performances may be worth catching.

phone: +61 8 9227 6288

A month-long annual festival held from late January to late February, Fringe World is Perth's fringe festival. The 2013 festival was the largest yet, with over 300 diverse shows from Australia and overseas performing across 69 venues in Perth. Many performances are free, and those that are ticketed are affordably priced.
Many local festivals occur in the suburbs of Perth and in Perth itself throughout the year - best to check current information from the Perth Tourist Information centre
Do
The city riverfront is a popular spot for walking, running and cycling. But for most physical activities you'll want to head to other parts of the metropolis: to the coast for beach & water sports, to Rottnest Island for more of the same, and to the hills for hiking.

Buy
There are three major supermarkets located in the city:
WoolworthsOpen 7 days and until 9PM on Weeknights.

Woolworths

Coles
These supermarkets accept all forms of payment including Visa, MasterCard and American Express.
King Street
has some of the more expensive shops in Perth, including Louis Vuitton and Gucci.
But
at the
Northern end of King Street from Murray Street to around the corner of Wellington Street
you will find a mix of fantastic locally owned boutique stores with more afforable designer Australian clothing and interesting designer imported clothing and a great coffee shop. Some of the best shops to visit are
Love in Tokyo, Billy and Rose, Cult Status, Zekka, Mame and Dilettante.
Hay Street and Murray Street malls
are the main shopping precinct of Perth. They have a number of chain music, clothing and department stores. The two are connected by a number of arcades, including Carillon arcade, Plaza arcade and Picadilly arcade. These have a number of off-beat Asian fashion stores, unique jewelry shops, and even a shop which specialises in gourmet teas. Basement level of Carillon arcade has a large food court. You can go and have a free Didgeridoo Lesson at Creative Native in Forrest Chase.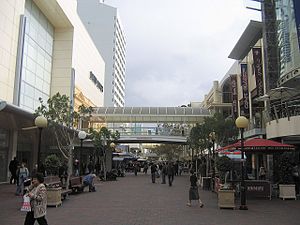 People seeking alternative clothing with a dance/street bent might want to check out Narcissist clothing (located along Barrack St - just listen out for the drum & bass oozing from the stairs that lead down to this basement level shop) and Red Rover clothing (Murray St east), the former of which also sells 12" vinyls, CDs, DVDs and a small selection of DJ equipment.
Elizabeth's secondhand bookstores - along Hay St (west) near King St. There is also one located along the cappuccino strip in Fremantle which is open 'til late on weekdays, are one source of old books - Fremantle has a number of other stores as well.
Harbour Town
located on Wellington Street in West Perth (Yellow Cat to Harbourtown or Train, Fremantle line to City West. Within Free Transit Zone)is good for a budget shopping spree, and contains primarily outlet stores.
Eat
Budget
Ajisan Ramen

address: Forrest Chase Square

A hodgepodge of Asian or Asian-style noodle soups on a big point and eat numbered menu board. The store doesn't have much style but there are seats inside. Might be worth a shot if Hans is full and you can't wait for some noodles.

Carillon Arcade Foodhall

address: Carillon Arcade

Sitting well at the bottom of the budget scale is this underground food hall with various shops around a central seating area dishing up food from around the globe. There is some pretty decent healthy and fresh food here if you look and ignore the fast food outlets.

address: Various outlets

You can't walk too far without passing one of these stores that are a good place for a cheap lunch. Ready made salad Baguettes, wraps and bagels are usually quite fresh since they have a high turnover. Some stores have seating in store or alfresco. The one in Carillon Arcade is nice.

phone: +618 9221 1313

address: Shop 24/24A 200 Murray St

On the budget end but Hans has some great Asian food at a good price. Many rice, noodle and meat dishes, plus a few vegetarian options. The Thai Tom Yum Noodle Soup is particularly memorable.

Myong Ga Korean

address: 536 Hay St

Small but friendly Korean place serving fairly authentic Korean. The noodles are more interesting than the BBQ.

The New Shima Japanese

phone: +618 93211668

address: 409 Murray St

Very authentic Japanese. Set lunch of sushi, sashimi, teppanyaki or tempura with rice, miso soup and tea. Can be very busy during lunch but worth the wait.

Taka

phone: +618 9221 4771

address: 150 Barrack St

Extremely cheap Japanese food.
Mid-range
phone: +61 8 9481 1148

address: 49 King St

A stylish and relaxing cafe is on the pricey side but serves great food with prompt service. The upstairs mezzanine is a nice place to sit with a coffee on a warm day.

King Street Cafe

phone: +61 8 9321 4476

address: 44 King St, CBD

In an old warehouse. Does a good breakfast and coffee.

Nine Fine Foods

phone: +61 8 9227 9999

address: 227 Bulwer St, Northbridge

Japanese fusion restaurant with a reputation for delicious and exquisitely presented fare.

Chee Tayeb

phone: +61 8 9481 7788

address: 353 Murray St

Fun Lebanese place, for quick street eats or a great full meal. Licensed.
Splurge
Amusé

phone: +61 8 9325 4900 (Reservations)

address: 64 Bronte St E

Winner restaurant of the year (2010) and best fine dining restaurant at the National Savour Australia Restaurant & Catering Awards For Excellence.

Cafe at the Hyatt

address: Hyatt Regency

A fairly upmarket buffet in a very nice location. One of the more expensive restaurants in Perth.

phone: +61 8 9220 8333

address: St Martins Tower, Level 33/44

Has amazing views of the entire city including Kings Park. The food is good but the view is most definitely the defining feature.

CBD Restaurant & Bar

phone: +61 8 9263 1859

address: 815 Hay St

Yú Restaurant

phone: +61 8 9362 7551 (Reservations)

address: Burswood International Resort Casino (Burswood, Casino side)

Fine dining.
Drink
Coffee
Perth is home to a thriving, European-style cafe culture, influenced by the large number of Italian migrants. There are a number of stylish cafes, including:
address: On William St, Northbridge

A staple for university students, gays and coffee-house intellectuals. It has off beat interior design, an assortment of quirky lamps, retro lounges and board games. Hosts a Jazz band every Thursday. Also serves great alcoholic beverages, light meals and snacks.

address: Murray Mews in the CBD

Some argue that Perth's best coffee can be found here. A remarkably serene and quiet back alley in the middle of the bustling city, it makes a nice escape. In addition, plenty of home made food is on the menu.

Cafe on Oxford 130

address: Oxford St, Leederville

Includes board games for hire, and a funky plastic outdoor setting.

Infusion Coffee

address: Plaza Arcade, CBD

If you're in the city and want something a little stronger than what Gloria Jeans has to offer, then Infusion Coffee has a pretty good selection.
Bars
phone: +61 8 9321 4094

address: 347 Murray St, CBD

Has an impressive selection of imported and local beers on tap, with specialised glassware to match.

Sassellas Tavern

phone: +61 8 9322 4001

address: Third floor Carillon Arcade, CBD

Has a balcony that overlooks Forest Chase, and if you're hungry they have a good selection of food that's ready in 10 minutes. The steak sandwich is good value for around $13.

phone: +61 8 9338 5000

address: 300 Murray St, CBD

This quintessentially Aussie pub/restaurant (which is adorned by Australian flags as well as sporting and Aussie beer related memorabilia) serves a good selection of draft beers which are complimented nicely by some (albeit overpriced) authentic Aussie grub.

phone: +61 8 9481 3222

address: 356 Murray St, CBD

The motto of this very impressive pub/bar is "The Spirit of Rock" and, as such, the music policy leans towards contemporary rock and pop music (when the resident DJ isn't spinning, punters can select from a wide range of tunes from a state of the art video jukebox). The towering liquor cabinets are almost two stories high and as one might imagine, the draft beer, cocktail and "shooter" list is equally as monumental (Carnegie's has the longest cocktails list in Perth according to local press) and it is all complimented by a friendly and outgoing team of bar-staff. Tuesday night is quiz and $6 pints night whilst Wednesday nights feature half-price cocktails from 6PM.
Clubs
Amplifier Bar/Capitol NightclubHead here late on a Saturday night for some indie dance hits and an eclectic crowd.

Ambar

address: 104 Murray St

This unpretentious bar/club, which serves some very tasty cocktails to compliment its uber-cool music policy, was the highest ranking Australian club in a DJ Magazine poll in 2005. Many local punters say that this accolade could be attributed to the crowd's friendly and "up for it" attitude.

Nowhere

address: Cnr Murray Street, Irwin St

An alternative/gothic nightclub. Little to no entry standards, show up however you please, baring plenty of skin. Fun atmosphere, friendly and interesting people. Club plays a variety of music, mostly centered on metal, gothic rock, industrial/electronic rock and punk. Drinks are very expensive, with the standard price of a cocktail being $17.
Sleep
Budget
phone: +61 8 9321 4080

address: 561 Wellington St, cnr of Queen St

Nice staff. Computers and internet by reception.

phone: +61 8 9325 6555

address: 517 Hay St

address: 300 Wellington Street

233 bed hostel in a 1940s art deco building
Mid-range
Splurge
phone: +61 8 9225 1234

address: 99 Adelaide Ter

5 star hotel with extensive conference facilities and large rooms.

phone: +61 8 9224 7777

address: 207 Adelaide Ter

Good quality 5+ star hotel.
Connect
Internet
Internet cafes can be found mainly in parts of the CBD, and Northbridge
Internet news sites directly linked to local newspapers are: -
The local daily
The West Australian
a locally owned tabloid newspaper, with the
Australian
more as a national paper, it is linked with the local Sunday newspaper the
Sunday Times
.
The site '
Watoday
' is not linked to a newspaper.
Go next
The top day-trips within Perth are to
Fremantle
and to Rottnest Island.
See main Perth page for out-of-town options, ranging from day-trips to weekend getaways to great Australian expeditions.