Perth/Rottnest Island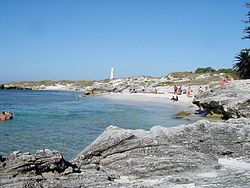 Rottnest Island
is an island about 20km off the coast of
Perth
in
Western Australia
.
Understand
Almost all activities on
Rottnest Island
are under the administration of the
Western Australian
Government. It is invariably known as
Rotto
to the locals.
History
The island was used as an internment camp for Aboriginals during the nineteenth century and later used as an internment camp for Italian and German civilians in World War I. Many aboriginal elements of the Islands history were ignored in the early mid twentieth century. It has been a recent development where aboriginal remains and places of suffering are now being acknowledged.
During WWII several large artillery guns were built on the island's tallest hill. These are no longer functional, but you can take a tour to the guns and through the bunkers surrounding them. Other installations were also created during the war. There were posts around the island, the surviving structures and evidence of the military activity post war was near or at the barracks on the south east end of the island.
Landscape
The island is sparsely covered with scrub and occasional stands of woodland.
The eastern end of the island is dominated by several large salt lakes.
The bays and beaches are part of the attraction of Rottnest, and feature excellent reefs and caves for swimming, snorkeling and diving.
Flora and fauna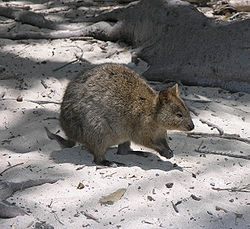 Quokkas are small marsupials which gave the island its name - early settlers mistook them for giant rats and called the island 'Rats Nest.'
There are also many birds on the island.
Climate
The climate in Rottnest Island is essentially the same as that in
Perth
, it may be a little cooler due to its more southern location, and because it is an island.
School leavers
Rottnest Island plays host to school leavers for a week towards the end of November. You probably won't get accommodation over this period anyway, but it is a time to avoid if you don't wish to share the island with a post-school party crowd.
Get in
By ferry
You can access Rottnest Island by a ferry, 30 min from
Fremantle
, or a longer trip from Barrack Street Jetty in
Perth
.
Rottnest ExpressMakes the crossing 5-6 times daily.

phone: 1300 786 552 (Local rate)
By ferry from Hillary's Boat Harbour, to the northwest of Perth downtown.
Fees and permits
Landing fees are included in the price of the ferry.

Get around
Rottnest is a car free island.
Bicycle
Hire a bike from the ferry terminal in Thomson Bay and cycle around the island - this is a very comfortable and individual way. Bike hire is around $30 per day. You can hire on the island, or directly from the ferry company.
Distances and times from the
Settlement
at Thomson Bay
The Basin - 5 minutes
Geordie Bay - 10 minutes
Wadjemup Lighthouse - 20 minutes
West end/Cape Vlamingh - 50 minutes to an hour depending on prevailing winds
A full loop of the island is around 25 km, so it is an ideal cycling distance.
Bus
Cars are not permitted, but there is a regular bus shuttle available for traveling around the island. A day ticket allows you to stop everywhere you want. If you have enough time, make a complete trip around the island first in the morning, and then decide where you really want to stay for a few hours.
The bus service is known as the Bayseeker Service and bus stops are well signed and usually runs between 8:30AM and 3:30PM - always check when you arrive for any variations to the service.
See
Historic buildings including old churches and houses, and a cemetery.
Wartime remnants, such as old barracks and cannons.
Superb coastal views along the numerous bays and beaches.
Wildlife, that is, the thousands of quokkas which populate the island (especially at night).
The pink salt lakes located on the island.

Lighthouse
Do
Swim at any one of the islands beaches. The further you go from Settlement, the less people there will be to share your beach with.
Go for a cycle around the island (but take water with you).
Snorkel, as Rottnest is the best location in the Perth metropolitan area for this
There is an annual
swim
out to the island.
Eat
Places to eat or buy food:
phone: +61 8 9292 5171

A casual seafood cafe specialising in fresh local seafood. You can enjoy fish and chips or try a seafood platter. On the waters edge, with sweeping views across the bay and back to the mainland.
phone: +61 8 9292 5286

Alfresco seating overlooking Thomson Bay, serving fine coffees and a diverse food menu.
phone: +61 8 9292 1561

Sports bar with TAB, Fox Sports and big Screen TV's throughout the bar. Great pub style food and a great place to kick back and relax.
Geordie's

phone: +61 411 064161

address: Geordie Bay Square

Offering 5 Senses coffee, fresh made juices, smoothies, cakes and salads as well as an extensive dine in and takeaway menu. They will also have local and Rottnest themed artworks on display and for sale.
Quokka Joe's

phone: +61 8 9292 5777

address: Thomson Bay settlement mall.

Specialising in healthy gourmet snacks and nutritious meals. Gluten free, vegetarian, sugar free and other dietary requirements can be catered for.
Rottnest Bakery

phone: +61 8 9292 5023

Cream buns, vanilla slices, jam donuts, pies, sausage rolls and fresh bread. All baked daily on the premises. Cold drinks, coffee and gelati are also available.
Simmo's Icecream

phone: +61 407 366 447

Over 100 flavours are made using the freshest local Western Australian produce followed by a few secret ingredients and Simmo's imagination to create a truly delicious dilemma! Located in Thomson Bay Mall.
The LaneNiche takeaway coffee house tucked against the Lane in Thomson Bay Mall.
Drink

The only pub on the island, called the Quokka Arms. It is in the middle of where the main jetty is. Apart from that the convenience stores dotted along the island do sell a range of alcohol from wines to spirits.

Sleep
Lodging
Camping
Stay safe
Rottnest Island is very safe. However, it has become notorious for its 'schoolies week' events in November which can get out of hand. (There is a massive police presence on the island during this time, as opposed to the usual 3 officers). Travelling during schoolies week is inadvisable as the peace of the island is briefly shattered.
There are dugites, a venomous snake on the island, these are only found out in the scrubland and are easily avoidable if you watch where you are treading.