Perth (Scotland)
Perth
is a city in
Perth and Kinross
,
Scotland
, which lies on the banks of River Tay to the north eastern fringe of Central Scotland.
Perth is the administrative centre of Perthshire, and is popularly referred to as
The Fair City
, although its city status was revoked in the 1970s following local authority reforms. On 14th March 2012 it was decided to restore city status to Perth to mark the Diamond Jubilee of Queen Elizabeth II after many years of campaigning.
The history of Perth goes back over 800 years when it was founded as
Saint John's Town
- the name is still used for the Perth's professional football (soccer) team St. Johnstone - and the adjoining town of Scone was a former capital city of Scotland. Today it is perhaps best known for giving its name to the Western Australian city of
Perth
, although it also has a namesake sister city
Perth (Ontario)
on a River Tay which were both named for their Scottish counterparts.
Understand
Perth "St John's Toon" used to be Scotland's capital from the 12th century on with the important Scone Palace nearby. Now, it is a pretty quiet place, and population of the town is 47,000, many of whom work in financial and customer services.

Get in
By car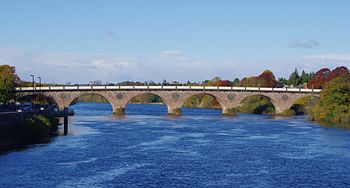 Perth can be accessed from
Edinburgh
via the M90 from the south,
Glasgow
and
Stirling
via the M80/M9/A9 from the southwest,
Inverness
via the A9 from the north,
Dundee
and
Aberdeen
via the A90 from the east and the A85 from the West. Broxden Roundabout, on the outskirts of Perth, is unique as it lists all seven of Scotland's cities on its exit signs, as well as
Crianlarich
, a small village that must be passed through en route to major tourist centres such as
Oban
,
Glencoe
,
Fort William
,
Mull
and
Iona
(visitors to Scotland might be forgiven for thinking that Crianlarich is in fact a city, given the number of road signs that mention it).
Perth
Park and Ride
and Scone Park and Ride are convenient ways to get in and out of the town centre without taking your car.
By plane
Perth has its own airfield to the north of the town near Scone, but this is used mainly for private aviation and training. The nearest, and most convenient commercial airport for Perth by far is
Dundee Airport
, which is around 20–25 minutes drive from the town. Being largely a regional airport however, the choice of departures is quite limited compared to Edinburgh or Glasgow. However it has useful links from Birmingham and London City, although flights are rather expensive in comparison.
Edinburgh Airport (see the main Edinburgh article for full details). It is located 50 miles (80 km) from Perth, and is easily reachable via the M90 motorway. Megabus (see below) operate direct buses from the airport to Perth.
Glasgow Airport is around 70 miles (120 km) from Perth, and has more transatlantic and long haul flights than Edinburgh, although harder to get to from Perth due to the unpredictable nature of cross-Glasgow road journeys since it is on the "wrong" side of Glasgow - a problem made worse by the ongoing road improvements on the A80. Regular buses run to Buchanan Bus Station in Glasgow city centre where regular services to Perth are available on Citylink and Megabus coaches.
By train
Perth station is operated by
Scotrail
, and the station is staffed throughout its opening hours. It is on the Highland Main Line from Glasgow/Edinburgh to Inverness.
The local service pattern is as follows (all these services are run by ScotRail)
From Glasgow - approximately on hourly intervals from Queen Street (High Level) station, all trains to Dundee, Inverness and Aberdeen call at Perth.
From Edinburgh- approximately hourly from Waverley/Haymarket stations, all trains to Inverness call at Perth
From Inverness/Aberdeen/Dundee - hourly,
Perth has two direct rail services from London per day, otherwise a change in either Glasgow or Edinburgh is required if you are travelling from south of the border.
East Coast; the once daily Highland Chieftain service from London King's Cross to Inverness calls at Perth via York, Newcastle and Edinburgh. Approximate journey time 6 hours. Fares start at around £12 for a one way "Advance", rising to approximately £115 for an off-peak return.
Caledonian Sleeper; the overnight Highland sleeper train service from London Euston to Inverness calls at Perth, leaving at 8PM the preceding evening. Note that this arrives in Perth at around 6AM (before any other public transport is running); it may therefore be more convenient to use the Lowland sleeper train to either Glasgow/Edinburgh, and change to one of the local services (above). Prices £130 return; one way "Bargain Berths" are available online only from £19, depending on how early you book.
The station has seven platforms, five of which are "through" platforms.
There are two entrances, both of which allow car parking. The ticket office, newsagent and café are between platforms 2 and 3. The original main concourse was between the current platforms 4 and 7 and the station was covered by a large overall roof, which still exists in a reduced form. At one time there were nine platforms as it once boasted more services in the past to serve the smaller branch lines running throughout Perthshire.
By bus
Perth bus station is on Leonard Street, a couple of hundred metres further along from the railway station.
Citylink and Megabus operate buses to and from Aberdeen, Dundee, Edinburgh, Glasgow, Inverness and Stirling. There are buses to Oban from May until October.
Megabus operate services to and from Birmingham, London, Manchester, Newcastle upon Tyne, Preston, Scotch Corner, Sheffield and Wakefield. Note that the Megabus does not call in Perth Bus Station - it calls at the Broxden service area on the A9, which is served by a frequent "Park and Ride" bus which operates from numerous points around the town centre.
National Express also operate many coach services to towns and cities in England.
Get around
By bus
Stagecoach operate the majority of the bus services in Perth. Day tickets can be bought on the bus which gives unlimited trips in Perth.

By car
There are many vehicle hire companies operating in Perth. If you want to get off the beaten track then traveling by car is the best way to go.

By taxi
Taxis are plentiful around the town. There is a taxi rank outside the Caledonian Cinema and also on South Street beside the Tesco Metro. Local taxi firms include Ace Taxis +44 1738 633033, Station Taxis +44 1738 623400, Taylor's Taxis +44 1738 621789 and Thistle Taxis +44 1738 632424.

See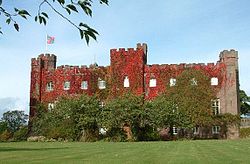 phone: +44 1738 552300

address: Scone

Scone is the historic crowning place of no less than 42 Scottish kings, including Robert the Bruce and Bonnie Prince Charlie. Where you can now see the Palace, built early 19th century, stood once the Abbot's Palace. You can see a replica of the Stone of Destiny, upon which the kings were crowned. The original stone was thought to have been stolen by Edward I and brought to London, but some believe the original was hidden by its guardians and that the English king was given a locally quarried substitute. A few years ago this stone was finally returned to Scotland and now resides in Edinburgh Castle. Visitors more interested in medieval history might not want to buy the rather expensive ticket for the Palace, but you can walk around the park on a cheaper ticket. The Palace offers an extensive collection of 17th and 18th century Ivories in the State Dining Rooms, 18th century French furniture, a big collection of Porcelain, Queen Victoria's boudoir and information of the Scottish kings.

St. John's Kirkis the centre of the town and the oldest building in Perth, dating back to 1159.

phone: +44 1738 632053

address: North Methven Street, PH1 5PP

Not as old but none the less impressive. Scottish Episcopal (Anglican) Church.

phone: +44 1738 638152

address: Balhousie Castle, Hay Street

Military history of the 42nd/73rd Highland Regiments. Paintings, medals, uniforms and weapons on display. The castle dates from 1422, but the museum re-opened after re-devopment in 2013.

phone: +44 1738 632488

address: 78 George Street

Collection of Pictish Stones, art and information about natural history, human history and archeology.

address: Marshall Place

The works of J.D. Fergusson, the Scottish colourist artist and Perthshire local.

phone: +44 1738 639998

address: the Rhynd, near Perth, PH2 8QQ

Built on the site of an older structure in around 1560, it is one of the best examples of it's kind still remaining.

Game Conservancy Scottish Fair

phone: +44 1828 650639

address: Scone Palace

Set impressively in the grounds of Scone Palace, the Game Conservancy Scottish Fair is regarded as one of the main countryside events of the year in Scotland, demonstrating the importance of game and other wildlife and their contribution to the Scottish countryside. The Fair entertains all family members with a variety of displays (including Falconry and Terrier racing) in the Main Ring, Clay Pigeon Shooting, Gundog and Fishing Competitions on the banks of the River Tay. Educational exhibitions relating to countryside research projects undertaken by the Game Conservancy in Scotland together with children's activities (go-karts, climbing wall and superjumper) add to an enjoyable day out.

address: King Edward Street

At Perth Farmers' Market on the first Saturday of each month there is an abundance of fresh ingredients and quality products. From slabs of fresh red meat and slippery oysters to green, leafy veg to home made cakes, pies and wines - you will find everything you need to create delicious meals. If you're not sure what you're after, need to be inspired or want to know more about what you are eating, have a chat with our stallholders who can advise on ideas, cooking methods and traceability. From favourite comfort foods for the family to new and exciting recipe trends for dinner parties and friends, with Perth Farmers' Market, you really can make a meal of it.

address: 15-19 North Port, PH1 5LU

The oldest surviving secular building in Perth, parts of the structure date back from 1475. The building was used by Sir Walter Scott as the home of Catherine Glover in The Fair Maid of Perth. In 2010, the house was converted by the Royal Scottish Geographical Society into a visitor and educational centre interconnecting with their headquarters next door.
Do
Kinnoull HillIf you are fit enough, you can cycle up to Kinnoull Hill to have a superb view over the landscape. Cross River Tay over the Perth Bridge to the east side of the river. Go straight across the intersection and follow the road for about 3 km and then turn right at the sign to Kinnoull Hill. You probably want to leave the bike at the car park unless you're up for some 2 km off-road biking, but the walk to the summit is worth it! You can also drive up with the car to Kinnoull Hill and walk from the car park 2 km up to the summit to get an impressive view over Perth and its surrounding.

address: 116 Dundee Road, PH2 7BB

This attractive garden in Perth was developed by John and Dorothy Renton with the help of seed collections from plant hunters such as Forrest, Ludlow and Sherriff. Gardeners and botanists from all over the world come to see the outstanding plants - rhododendrons, alpines, herbaceous and peat-garden plants. The gardens are also home to white peacocks.

phone: +44 1738 445568

address: Old Gallows Road, PH1 1QE

Children's indoor soft play area, indoor karting, golf driving range, ceramics centre, and ten pin bowling.

address: Near Perth

Moncreiffe Hill is a major landmark just a few kilometres from the city of Perth. From the south a mixed woodland occupies a steep scarp slope showing the spring and autumn colours of broadleaves, larch and pine to the thousands of drivers heading north on the M90.

address: 6 Murray Street, PH1 5PJ

If the weather is poor and you fancy seeing a film, then why not pop along to the movies. The art deco style building opened in 1933 and has since gone through various refurbishments, the most recent in 1999 when it was converted into a seven-screen cinema.

phone: +44 1738 624188

address: Glover Street, PH2 0TH

Curling and skating centre.

address: Glasgow Road, PH2 0HZ

Watch football ie soccer. St Johnstone FC play in the Scottish Premiership, the top tier of Scottish football. Their home ground, capacity 10,000, is McDiarmid Park on Crieff Rd PH1 2SJ, two miles northwest of the centre. Take any bus along Crieff Rd A85.

Perth RacecourseNational Hunt horse racing course.

Rewind is a music festival at Scone Palace in mid-July. The next is expected to be Sun 19 - Tu 21 July 2020 but tbc.
Perth Highland Games are held in mid-August at Scone Palace. The 2019 event was washed out by bad weather, cross fingers for the next on Sun 9 Aug 2020.
Work

There is potential for picking up seasonal work in the many restaurants, hotels and tourists attractions, particularly during the summer. There is also the nearby Cairngorms for skiing in the winter. In the rural areas surrounding Perth it is possible to earn money picking fruit or vegetables.
Unemployment is generally lower than the Scottish average, however many jobs are in retail or hospitality and so do not pay great wages. The biggest employers are Scottish and Southern Energy, Perth and Kinross Council and Aviva Insurance.

Buy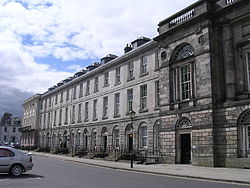 The Farmers Market is held first Saturday of every month except Jan, with an extra market third Sat in Dec. It's in King Edward St and High St 09:00-14:00.

address: East Inchmichael, Errol, PH2 7SP

Cairn O'Mohr award winning Scottish fruit wines are made from berries, flowers and leaves. All the Cairn O'Mohr wines have distinctive rolling flavours, juicy and aromatic.

phone: +44 1738 637366

address: 17-19 St Johns Street, PH1 5SP

The Edinburgh Woollen Mill is a Scottish clothing retailer targeting men and women over the age of 40. They sell a good range of Scottish clothing and souvenirs such as Pringle knitwear and tartan travel rugs.
Eat
address: 77 - 79 Kinnoull Street

Willie Deans describes his cooking as vibrant modern Scottish. The focus is firmly on flavour and seasonability, most of his ingredients are sourced locally and quality is not compromised. All aspects of the dish are freshly made on site. The atmosphere is friendly and relaxed with a discreet professional service.

address: 63 Tay Street

63 Tay Street is in the heart of historic Perth. This highly rated restaurant uses produce sourced locally and from fine suppliers a little further afield. An extensive wine list is a feature of the restaurant.

address: Murrayshall House Hotel, Scone

Murrayshall House Hotel, where modern day sophistication embraces history amidst the sumptuous grounds of the splendid Murrayshall Estate. Murrayshall provides a sanctuary for guests to enjoy their golf, business or simply pleasure in unspoiled elegance, removed from distraction or interruption.

phone: +44 1738 449792

address: 33 Kinnoull Street, PH1 5EN

Traditional Scottish dishes and European flavours. Head Chef Stuart Wilson has devised a menu with servings of belly fillers, and sweets. Children allowed until 8PM

Manzil Tandoori

address: 13 York Place, PH2 8EP

Indian restaurant, voted the best in Perth.

The South Bistro

address: 47 South Street, PH2 8PD

Fantastic small restaurant.

address: 4 St John's Place, PH1 5SZ

A good value French restaurant in the town centre. There is a two-course pre-theatre menu (£11.50) available on some nights.

La Serie A

address: 24-26 Kinnoull Street, PH1 5EX

Fantastic food at very reasonable prices. The takeaway sits next to the restaurant. The pizzas and pastas are named after Italian football teams.

Jade Garden

address: 14 Scott Street, PH1 5EJ

Popular Chinese restaurant.

address: 3 Mill Street, PH1 5HZ

Food at Paco's Restaurant is freshly prepared daily and cooked to order from pasta to pizzas, burgers to steaks.

Krung Thai

address: 161-165 South Street, PH2 8NY

address: 28 High Street, PH1 5TQ

Breizh is a traditional French restaurant, which has become one of Perth's most popular places for eating out in its first year since they opened in May 2006. Coffee and croissants for your morning break, pizzas with a wide variety of toppings baked in a wood-burning oven or Galettes filled with fresh spinach, spring onions, mascarpone and goat cheese. Many ingredients are imported from France to give the authentic flavour to the dishes which can be enjoyed with imported French cider. Special menu for children under 12.

address: 24-26 Atholl Street

Authentic Mexican restaurant specialising in Mexican, Cajun and Bordertown cuisines.

address: 173 High Street, PH2 8NY

Owned and run by Praveen Kumar and his wife Swarna Kumar, both born and brought up in a small rural community in south India. Tabla uses fresh, farm grown spices by their family in India. Tabla is well presented restaurant with stone walls and open kitchen. 2-course lunch £6.95. Indian tapas £15.95 per 2. 2-course dinner £9.95. Take away & home delivery service.
Drink
phone: +44 1738 248338

address: 38 St John Street, PH1 5SH

Plays host to the best pub quiz in town, Pubquizzing, on Wednesday nights from 8PM. Has a nightclub upstairs open on some nights.

Kirkside Bar

address: 9 St John's Place, PH1 5SZ

Quaint wee local pub in the town centre.

That Bar

address: 145 South Street, PH2 8NY

Used to be the place to go. Has karaoke and sticky floors.

Ormonds Bar

address: 273 High Street, PH1 5QN

Named after the great Willie Ormond, St Johnstone FC's greatest ever manager.

Greyfriars

address: 15 South Street, PH2 8PG

Nice wee pub with cask conditioned ales.

The Foundry

address: 3 Murray Street, PH1 5PJ

Built on the site of the old Perth Foundry, this pub has a varied mix of clientele, from the young to the not so young. Right next to the Caledonian Cinema so pop in here for a pint before your film.

The Twa Tams

address: 79-81 Scott Street, PH2 8JR

Perth's premier music venue.

The Sandeman

address: Kinnoull Street, PH1 5EZ

This is the former Sandeman Library, converted into a modern pub.

Loft Nightclub

address: 145-149 South Street, PH2 8NY

Situated above That Bar. A lot nicer than the pub.

Old Ship Inn

address: 31 High Street Street, PH1 5TJ

The smallest pub in Perth. Located on a side street just off the High Street.
Sleep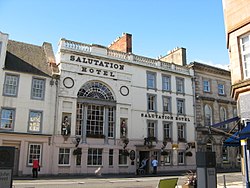 Stay safe

The local police is Police Scotland. Although in the UK '999' and '112' are the numbers to call the emergency services, non-emergency police calls should be made on 101.

It is relatively safe to walk out of Perth at night back up to the guest houses on Dunkeld Road or Pitcullen Crescent but like most cities it has areas of no go. If you aren't familiar with the areas then it would be best to avoid walking through them late at night.

Cope
Tourist Information Centre, 45 High Street, PH1 5TJ. +44 1738 450600. You can get a free map of Perth and with all the sights in Perthshire. It is fairly close to the end of the High Street, near the river.
Go next