Peruíbe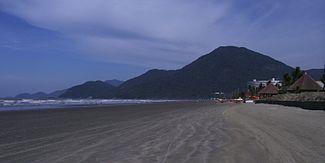 Peruíbe
is a city in the
South Coast
region of
São Paulo state
.
Understand
Peruíbe in the Tupi language means river of the shark. Originally as the region of
Mongaguá
, Peruibe belonged to the Itanhaém territory that stretched from
São Vicente
to
Cananeia
, both Portuguese villages founded during the colonial times. Back in the 16th century, the region of Peruibe (and the one of Itanhaém) would have had a bad reputation since most Tupiniquim Indians living there were put into slavery by the Portuguese, working in sugarcane plantations around Saint Vincent. The Abarebebe as the Indigenous peoples called Father Leonardo Nunes, or "the priest that flies" – since he was seen frequently walking on foot all around the long beach between Itanhaem and Peruibe, was the one who fought against this practice that hurt so many Indian families. He even converted an Indian Chaser who was then killed by the Indians, dying as a martyr. It was there, on the rock of Abarebebe that the Jesuits (also Father Joseph of Anchieta) built the first church of that part of the coast, named Church of Saint John Baptist that served also as a school and refuge against the Indian attacks. The sacred objects were taken to Itanhaem when its first church was finished a little later.
Nowadays Peruibe is a modern city with many high-class boroughs and restaurants. The public interest in the city is rising since there is a nature reserve named Parque da Juréia (Jureia Natural Park), featuring pristine beaches (Prainha, Guarau, Parnapoa or Parnapuã, Juquiazinho, Baleia, Praia Preta, Desertinha, Carambore and Barra do Una), which is also a "local caiçara" (native) community of fishermen, sheltering also a immense diversity of flora and fauna. The city is surrounded by the Sea Mountain Range (Serra do Mar) the south end of which, near Barra do Una, is called Jureia Mountain Range.
Get in
From São Paulo
By air - Arriving the airports in São Paulo (Congonhas / CGH) or (Guarulhos / GRU

), packtours can arrange convenient TAXI service to the Jabaquara Bus Terminal, that will have bus options to the whole south and southeast of Brazil, including Peruíbe.

By bus - Take a taxi or the subway to Jabaquara Bus Station. There you can take a bus directly to Peruíbe. Estimated travel time: 2 hours. Buses leave every 30 minutes 24 hours a day. More information: 011 50113421.
By car - From São Paulo, take either rodovia Padre Anchieta ("Anchieta", SP-160) or rodovia dos Imigrantes ("Imigrantes", SP-160). Both roads have a "planalto" (plateau) section and a "serra" (mountain) section that goes down the Serra do Mar to the sea level. Anchieta being older, its mountain section is winding and narrow, while Imigrantes' is wider and mostly straight due to extensive use of tunnels and bridges. Both roads are linked through a high and a low interlink. Trucks and busses are prohibited in the mountain section of Imigrantes, and are forced to take the interlink and use Anchieta. Both roads feature a toll of about R$ 25,00 that you pay only in one direction (when leaving São Paulo). Also note that traffic is frequently deviated from one road to the other for traffic regulation purposes or road works, so you should follow the dynamic signs.
Get around
By taxi
A good way to move around to not-so-close places. They are not very expensive and drivers are mostly friendly, although small cheats are not uncommon. To avoid it, after getting into a taxi, check if the taximeter has been started . If not, ask the taxi driver to do so.
By bus
Buses are a cheap and nice way to get around by day, The city is only 5 miles long and buses will drive you anywhere through the main avenue "Av. Padre Anchieta".
By car rental
It is the best option if you think of going to the Juréia Ecological Park since there are no buses that will take you further than
Guaraú
, a small village part of Peruíbe. The center of the city is small and in the Summer it is best to go walking because of the traffic caused by the number of tourists; the city is very safe.
See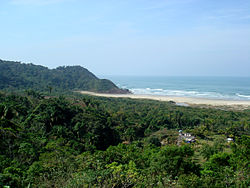 Abarebebê Ruins

address: access via Avenida Padre Anchieta

The ruins of what has been identified as the first church to be built anywhere in Brazil, constructed of clay and stone by the Jesuits in the 16th century.

Archeological Museum

Black mudThe unique mineral-rich mud found here has been used for centuries for its supposed medicinal properties.

phone: +55 13 3458-1717

address: Avenida Darcy Fonseca, 181 - Jardim dos Prados

Juréia-Itatins Ecological Station

phone: +55 13 3453-1568

address: Av. Governador Mario Covas Jr., 205

A small aquarium, a nice stop if you have kids in tow.

Rio Preto Bridge

TV Tower LookoutA radio tower on a hill offers a panoramic view of the area.
Waterfalls
Cachoeira das Antas

Cachoeira do Perequê

Cachoeira do Paraíso
Do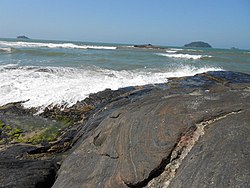 Beaches
The most frequented and most easily accessible beaches are:
GuaraúPerhaps the most beautiful beach in the area. Bounded on the south by the river of the same name.

Praia do CentroA very wide flat beach. The rock outcropping on the south end separate it from the smaller Costão Beach.
There are many other beaches in the area, many of which can only be reached by trails which start near the highway, such as
Praia do Índio
and
Prainha
. A number of beaches south of Guaraú are striking in their beauty but fall within the bounds of
Itinguçu State Park
can only be visited with the accompaniment of a licensed environmental monitor. For more information, call the Peruíbe Association of Environmental Monitors (AMAP) at (13) 9701 3428 (Portuguese only).
Buy
Praça Ambrósio BaldinBetter known to locals as Praça Redonda, this plaza has over 80 stalls selling jewelry, handicrafts, clothes, and many types of food.

phone: +55 13 3453-1359

address: Avenida Padre Anchieta

Around 25 arts and crafts stall plus a food court under a permanent roof structure.
Eat
Armazém

phone: +55 13 3455-2530

address: Rua dos Expedicionários, 640

Buffet-style mineira cuisine.

O Gordo

phone: +55 13 3456-3233

address: Avenida Padre Anchieta, 6673

A La Carte style.
Drink
Hangar Chopperia

phone: +55 13 9724-2814

address: Avenida Padre Anchieta, 1673 – Stella Maris

Canopy Bar

phone: +55 13 3458 4505

address: Av. Padre Anchieta, 4691 - Três Marias
Sleep
Camping do Costão

phone: +55 13 3455 5531

address: Rua Dez, nº1 - Costão

phone: +55 13 3455-4084

address: Av. Beira Mar, 515

phone: +55 13 3453-4740

address: Av. Barão de Mauá, 330