Pescara
Pescara
is a city in
Abruzzo
. It is the most populous city of the region, as well as being an active cultural center (metal and mechanics, conciaria, refining of sulfur, petrochemical), agricultural market and port fishing boat. Located on the sea, it is a popular seaside resort and has one of the most important and major touristic ports of Adriatic Sea. Birthplace of Gabriele D'Annunzio, this modern city is rich in culture, art and traditions.
Understand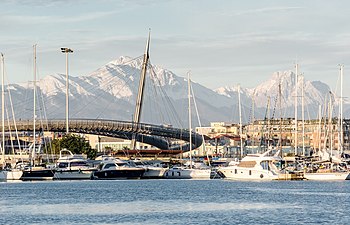 Formerly called Aternum, Pescara had been used as a maritime emporium to carry out commercial activities with other centres located on the Adriatic or overseas coasts. Destroyed by the Lombards and disputed by the Normans and the Aragonese, it later became an important coastal fortress.
During the Second World War, Pescara suffered violent bombardments which partially destroyed the historic center; this resulted in a predominantly modern-looking city. However, Pescara Vecchia preserves monuments of great interest and artistic and architectural value, such as the Cathedral of Saint Cetteo, strongly desired by D'Annunzio, and the Borbonic Bath, which was the ancient prison of Kingdom of the Two Sicilies.
Taxis are few, it is an easy city to walk around. There are pedestrian areas which are limited to traffic and good sidewalks. Just get in with a good pair of shoes and enjoy. You can get allround with a bike very well.
Get in
By plane
Abruzzo AirportYou can also fly Ryanair from London direct to Pescara Airport.Ryanair also flies from Oslo (Torp) every Saturday and Tuesday. It flies also from Frankfurt (Hahn) in Germany and Brussels South (Charleroi)
By train
The train from
Rome
takes about four hours but it is a spectacular route through the mountains, through towns such as
Avezzano
and
Sulmona
.
By car
You can drive to Pescara from Rome Ciampino Airport in about 1.5 hours. The drive is relatively free of traffic through the mountains, the view is excellent and there are lots of tunnels and bridges to cross.
By bus
From Pescara Centre to Pescara Airport: coach n. 38 departing every 15 minutes from Pescara Railway Station.
Tickets allow you unlimited travel for 90 minutes: 1,00 eur
From Pescara Airport terminal to Pescara Centre: coach n. 38 departing every 15 minutes from the terminal. The first bus transfer from the airport at 06.00, the last bus transfer from the airport at 22.30.
Tickets sold at the automatic machine in the terminal arrivals area.
By boat
There are
ferries
in the summer connecting Pescara with
Split
and several islands in central
Dalmatia
including
Hvar
. Car ferries are run by
Jadrolinija
and faster hydrofoils by
SNAV
. Ferries leave from the ferry terminal. There are daily regular services to Rome which takes around 2 hours to arrive.
See
Small charming characteristic towns, open markets and local festivals in the nearby area are ideal for day trips to explore. And in the evenings, the beach cafes and the old town of Pescara Porto transform themselves into vibrant night spots.
The mountain range also known as "La Bella Dormentata" (The Sleeping Beauty) is 40 mins away and its extensive park system includes natural beauty akin to national parks in the western United States. Within Abruzzo's parks lie some of Italy's most beautiful ancient hill towns rivaling those of Tuscany and Umbria.

Do
enjoy the wonderful beaches. The entire shoreline il dotted with "stabilimenti balneari" and ombrelloni, each with his own name and color scheme. You can dine, enjoy a pizza or caffe' in all of them. Red flags means no swimming...white flags you can enjoy the wonderful Adriatic sea. Free beaches are limited but quite easy to find. Along the coast from Pescara Centre and the stadium you can find about 6 free beaches. Some of them are only 500 meters distant from each other. In Montesilvano (north of Pescara) and Francavilla (south) you can still find free beaches. Mondays are market days in the area of the stadium. There is a classic open air market where everything can be had just walk through and enjoy

Buy
The rectangle that it forms with Corso Vittorio Emanuele II and Via Nicola Fabrizi encloses the main shopping district, where several of the best fashion shops are located.

Eat
Mid range
Alcyone Ristorante pizzeria

phone: +39 085 34297

address: Viale della Riviera, 24

Dei Poveri e Dei Re

phone: +39 085 64522

address: Viale Gabriele D'Annunzio, 254

Seafood restaurant

Filippo Cucina di Mare

phone: +39 085 2193571

address: Viale Amerigo Vespucci, 136

phone: +39 085 4511500

address: Viale V. Pepe, 177

Pizzeria Caracciolo

phone: +39 085 385220

address: Via Cesare Battisti, 121

Ristorante Da Attilio

phone: +39 085 4514920

address: Lungomare Papa Giovanni XXIII, 75

phone: +39 085 66390

address: Lungomare Papa Giovanni XXIII

phone: +39 085 4210295

address: Via R. Paolucci, 79

Ristorante Grotta del Marinaio

phone: +39 085 690454

address: Via Bardet, 6

Trattoria Betta

phone: +39 085 451 8728

address: Via Cristoforo Colombo, 62

phone: +39 085 4214038

address: Lungomare Giacomo Matteotti, 102
Drink

Pescara has the distinction of being a non stop party beach city. In summer days the core of the city is the coast. You can easily find clubs and discos just walking along the coast crowded with people. In winter days all nightlife moves from the coast to Corso Manthonè, the course of the old Pescara and now become the center of the nightlife of the city.
With the exception of Corso Manthonè there are also discos in the hinterland. La Fabbrica (The Factory), one of the most fashionable place in Pescara, is situated next to the university (southeast of the stadium). In the same street there is also Cantina Accademia a dance & dinner club. Megà, placed in the characteristic building "Palazzo Quadrifoglio", is situated on the north bank of the river Pescara. Opposite to Megà, on south bank of the river, you can find Wake Up! another famous disco.
In late night you can find locals which remain open until the morning to take some food (pizza, croissants, flat unleavened bread) in stadium area.

Sleep
phone: +39 3385847910

address: via Ortona, 9

Recently refurbished boutique bed and breakfast located in the heart of Pescara's city's commercial and tourist centre, the rooms offer modern facilities & comforts combined with a homely feel and a personal touch.

phone: +39 085 292141

address: Piazza I Maggio, 46

phone: +39 085 378247

address: Via Quarto dei Mille, 28

phone: +39 085 389145

address: Via Michelangelo Forti, 14

phone: +39 333 4447770

address: Via Venezia, 28

B&B Pescara Centro

phone: +39 393 0479937

address: Via Lombardia

phone: +39 085 374196

address: Lungomare Giacomo Matteotti, 13/1

phone: +39 085 373125

address: Viale della Riviera, 36

phone: +39 085 421 4625

address: Piazza del Sacro Cuore, 55

Abruzzo Villa RentalOn the Adriatic Coast with wonderful views, fresh air and close proximity to vast stretches of glorious beaches. Villa has been designed to accommodate either a couple or a large group.

phone: +39 3392757650

address: via Vallemonte 12

Agriturismo 7 km from the sea and Pescara centre and 5 km from the airport.

phone: +39 340 2881451

address: via Firenze 225

3 beautiful B&B and suites in the centre of the city. The contact information is for the office, which is open 9:00 – 19:00 every day.

phone: +39 085 4980031

address: ada Comunale San Silvestro 340

This hotel is on top of the hill of San Silvestro in Pescara, in a beautiful park.
Go next