Peshawar
Peshawar
(Pashto: پېښور‎; Urdu: پشاور) is a relatively prosperous frontier city in
Pakistan
near the Pakistan-Afghan border, which gives it a distinct
Afghan
flavour. Peshawar is the capital and largest city of
Khyber Pakhtunkhwa
(formerly known as FATA).
Peshawar sits in a large valley near the eastern end of the
Khyber Pass
, known as "City on the Frontier", its strategic location on the crossroads of
Central Asia
and
South Asia
has made it one of the most culturally vibrant and lively cities in the greater region. Peshawar is irrigated by various canals of the Kabul River and by its right tributary, the Bara River.
Peshawar is the major educational, political and business centre of Khyber Pakhtunkhwa. Peshawar's recorded history goes back as far as at least 539 BC, making it the oldest living city in South Asia.
Get in
By plane
Bacha Khan International AirportIt is served by all Pakistan carriers including national flag carrier Pakistan International Airlines (PIA). There are domestic flights to Peshawar Airport from Chitral, Islamabad, Karachi and Lahore.
By road
Peshawar is almost 2 hr drive from Islamabad (). It is connected with Islamabad via Motorway
M-1
and via national highway
N-5
.
By bus
Buses
and
minibuses
run to many parts of the country to here.
By train
You can reach Peshawar by train with
Pakistan Railway
from
Karachi
(36 hr) and
Quetta
(25 hr), both are via
Lahore
and
Rawalpindi
.
There are no passenger trains from Landi Kotal in the
Khyber Pass
.
Get around

Taxi & auto-rickshaws give Peshawar two of its most well-known traits: polluted air and clogged streets, and are the most popular way to get around the city.
Walking is another option.

See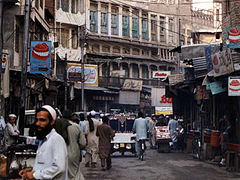 The Old City Centre with the Qissa Khwani Bazaar, Bazar-e-Kalan, Clock Tower Square, Chowk Yadgar, Tehsil Gorgathri, Mohabbat Khan Mosque, Sunehri Masjid (Sadar), Peshawar Museum, Khyber Bazar. Parks includes Khalid bin waleed park, Shahi bagh and Wazir bagh. The traditional halal food of Peshawar can be bought from Namak Mandi, Khyber Bazar. The famous "Kulfa" can be accessed from Qissa Khwani Bazar from April-September every year, when there is hot weather in the city.
Bala Hisar Fort is one of the most historic places of Peshawar. The word Bala Hisar is from Persian meaning "elevated or high fort". Renowned historian, Dr A.H. Dani in his book "Peshawar-Historic City of Frontier" writes that when Hiuen Tsang, a Chinese traveller, visited Peshawar in 630 AD, he spoke of a "royal residence".
Islamia College, University of Peshawar: is the first educational institution in the province built during the British rule in India.
University of Peshawar, founded in 1950.
Sethi Houses
Ghor Khutree
Ghanta Ghar (Clock Tower) The clock in this tower is one among the pair (second one in England) presented by the Queen Elizebeth II of the UK.
Mahabat Khan Mosque; Mahabat Khan, the governor of Peshawar, built it in 1630 AD during the reign of Mughal Emperor Shah Jahan (the ruler of the Mughal Empire in India from 1628 until 1658.
Peshawar Museum
Sir Sahibzada Abdul Qayum Museum, University of Peshawar
Hayatabad is a posh neighbourhood of Peshawar. It includes parks like Tatara Park and Bagh-e-Naran which also has a zoo. A swimming pool.
Villages Regi, Lakaray, Mulazi, Nasir Bagh, Palosi, Naway Kalay, Achini, Tehkal, Shahi Bala, Mathra, Pir Bala, Hazar Khawani, Rehman Baba Mazar,
Sphola stupa: this is a 2nd century Buddhist Kushan empire remains.
Khyber road, zarai village. As it is in Khyber Pakhtunkhwa, it requires permission of Khyber agency and FATA secretariat. You can get there by taking a taxi from Peshawar.
Do
In the summertime hiking tours to the mountains are offered. Ask at Green Tours in front of the Greens Hotel, Peshawar Cantt, and Pearl Tours of the Pearl Continental Hotels. This can also be done by hiring a car, jeep or pickup from local 'rent-a-car' servicing private agencies at a very cheap rates.
Khyber Train Safari

Shah Qabool Gems Street

address: Namak mandi

Gems and minerals.
Garrison Park
Saddar Bazaar
Shopping
Deans shopping mall
Qayyum Stadium
Hayatabad
Swan swimming and Snooker (pool)
Tatara Park and Bagh-e-Naran Park & zoo
PDA building: Arabic Chicken Shwarma, Shopping
Zarghuna Mosque
University Town
Iqra Chowk:- Restaurants (Bithani Plaza etc)
City towers and nearby: Chief Burger, ice cream shops, shopping plazas, Dunkin' Donuts.
Board Bazaar
Afghan Sadaqat juice shop
Afghan mantu (Afghan dumplings), underground Afghan restaurants
Shopping (from the many Afghan shops)
Buy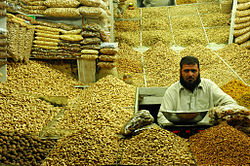 Before going to buy anything in Peshawar, you first have to be ready to
bargain
. You will need to bargain at most of the shops for items especially fabric. If you are a foreigner, be careful when shopping at shops that do not have fixed prices. The shop keepers will try their best to rip you off. When you ask how much, be prepared to offer half of what they ask and then bargain from there. Also, if the price still seems to high, don't be afraid to walk away. Many times they will call you back or you can find the same thing at another shop nearby. If is best to take a local person with you when shopping at stores that require bargaining.
The old town is a good place to stock up on Pakistani and Afghani handicrafts. These markets are located in almost all parts of the Peshawar, most commonly at Bazar Shah Qabool Olia, Namak Mandi, Khyber Bazar, Sadar Road, etc. (maslampsh)
Shafi Market (and surrounding bazaars) in the Sadar area is one of the best places to buy clothing fabric. You will find every kind of cloth from simple everyday fabric to fabric suitable for the fanciest of occasions. The shops in Shafi Market work on a bargaining system for the most part. The market is usually very crowded, so keep a close watch on your money.
Dean's Trade Centre can be accessed from Sadar Road and Sonheri Masjid Road. Many of the shop keepers who have stores on Shafi Market are also opening stores in Dean's Trade Center, however there is a lot more than just fabric at Dean's Trade Centre. In general the prices are a bit higher at Dean's Trade Center, but it is much easier to shop there as it is less crowded. Some of the stores have fixed prices, but most will bargain with you. A to Z Mart is a great general department store in Dean's that has clothing, cosmetics, stationary, housewares, and groceries. The prices are all fixed, but very reasonable.
In the Sadar area, the best place to buy fabric at fixed prices is at R-Sheen on Arbab Road. There are a number of ready made clothing shops along Sadar Road and Arbab Road as well. Most have fixed prices, but some will still bargain a bit so don't be afraid to ask. Also on University Road there are several big plazas and fashion outlets with outstanding class and designs. Most of them are fixed price. Take a look in the shop; if it's fixed price they must have it displayed otherwise don't forget to bargain.
Eat
Khan's Club, Peshawar City, rated among Top 10 restaurants in Pakistan by The News
Mr. Cod, Bithani Plaza, Iqra University Chowk, University Road, Peshawar.
Chief Burger, University Town. Best fast food in town offering several kinds of burgers, pizzas, etc.
Clock Tower Food Street, Peshawar City, for all local and traditional spicy foods.
Masoom's Cafe also known as Cafe Crunch, University Town, for continental foods.
Pearl Continental Hotel Roof Top Bar B Que, on weekends only.
Mcdonald's near New Army Stadium Shami Road.
Pizza Hut, near Old Sher Khan Shaheed Stadium Shami Road.
Black and Yellow Lounge is a family restaurant, Sheesha & Oxygen shots spot along a good gambling lounge. More than 20 sheesha flavours available. Burgers, fast food, Mexican, pizzas, sandwiches, seafood and steaks. Address: Bhettani Plaza, Iqra Square, Town. Daily 10AM - 3AM
North West Frontier Heritage, roof top Bar B Que with live traditional music. Behind Firdos Cenima, Main GT Road.
Habibi Restaurant (can be in city and entrance to Hayatabad) for local and traditional foods.
Khyber friends, a small restaurant located on university road near Orakzai plaza. the food is delicious and a reasonable price.
Chapli ('sandal') Kabab, a flat beef kebab, one of the famous dishes of Peshawar. Several famous kabab selling shops are around. Information about them can be obtained from the travel agents or local hotels and guides. To name a few: Jalil Kabab House near Hayatabad Entrance is the most popular also you can find some others near the Ring Road Hayatabad
Faluda, a sweet dish mainly found on the Peshawar markets and bazaars especially Qisa-Khwani Bazaar.
Fried Fish is also another good treat, it can be found in Jalil Kabab House and some other restaurants near Hayatabad on Ring Road.
Easy to eat and everywhere available "Samosa" and "Pakora"
Drink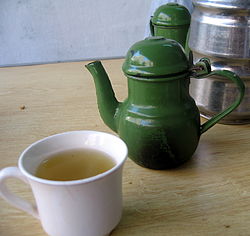 Peshawar is known for its
Kawa
(Green Tea) which has a unique flavour, and is usually served sweet.
Sharbat-e-Sandal
is a sweet, non-carbonated drink unusually found in markets in summer. It has a good taste and a yellowish-green transparent colour - look out for the black seeds. Served ice cold.
Khyber Pakhtunkhwa
is a dry state, making
alcohol
hard to come by.
Sleep
Budget
The Rose Hotel, Khyber Bazaar, Shoba Chowk, +92-91-250-755. Good sized and fairly clean rooms with attached bath in a large, secure building. Parking is available. Another popular place to meet others, and the office can arrange trips to the Khyber Pass and other areas, but at a premium. Doubles from Rs 400-600 with cable tv and en suite bathroom. They can put you in touch with a couple of good guides. They can be contacted by asking at the reception.
Amin Hotel, main GT Road
Mid-range
Greens Hotel, Saddar Rd, (1 block west of Tourist Inn Motel), +92-91-270-182. A nice mid-range hotel, with a decent restaurant. Rooms from Rs 1200.
Hotel Grand, Tehkal Road, Peshawar. Room prices start from Rs 1000.
Splurge
phone: +92-91-276-631

address: Khyber Rd

The nicest hotel in the city, 5-star standards, with a few restaurants, a business centre with internet (Rs 400/hour), and a swimming pool.²
Khan's Club, in Peshawar city centre. Standards are high but surrounded in a crowded area.
Stay safe
Before going to Peshawar, check for travel advisories from your government's website, as these regions have become volatile and unstable, with fighting between the Taliban forces and Pakistani military.
Peshawar is the home of several ethnic and religious groups and has had a number of terrorist attacks.
Although the number of terrorist attacks declined from 2010 to 2014, in the 2014 Peshawar school massacre, Taliban militants killed 132 school children.
Police sergeants can be found in the streets and roads to ensure safety.
As a stranger, and therefore a guest, you can usually rely on the support of people around you should something or someone feel threatening. When you are there, obey their laws and don't behave in a supposed 'foreigner' way.
Go north (although not recommended for foreigners) to the Swat District (Kalam valley), Upper Dir District (Kumrat Valley) or Chitral District. Several areas bordering on Peshawar, the agencies, are administered by tribal authorities only, and outside the control of the regular police. Entry to these areas can be dangerous for foreigners.
The Khyber Pass is one hour away and could normally be visited by taking a taxi, but due to Pakistan's security situation it is impossible to visit the Khyber Pass, and it would be extremely dangerous if you could.