Petaling Jaya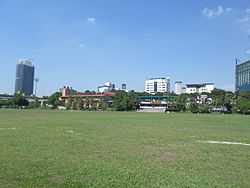 Petaling Jaya
, universally referred to as
PJ
, is a satellite city in the state of
Selangor
to the west of
Kuala Lumpur
,
Malaysia
. It attained city status in 2006 on the auspicious day of June 20 (20-06-2006!)
Understand
Founded only in 1954 as Malaysia's first planned town, PJ has become a busy commercial and residential hub in its own right with over 450,000 inhabitants. In the later years, further expansion to the north saw the rise of the Damansara area that gave birth to such housing estates as Bandar Utama, Kota Damansara, Damansara Perdana, Bandar Sri Damansara and Damansara Impian.
Addresses in PJ are remarkably bureaucratic. The town is divided into numbered sections (
seksyen
), which to further confuse things are denoted with just
S
(eastern PJ),
SS
(central and western),
PJU
(northern), and
PJS
(southern). The northern chunk is also known as
Damansara
. "SS" is an acronym for "Subang-Sungei Way", and just to keep you on your toes, sections SS 12 through 19 & PJS were part of Petaling Jaya, then re-assigned to a new neighbourhood city,
Subang Jaya
, covering the west area of
Kuala Lumpur
.
Each road in a section is numbered, so an address like "No. 38, Jalan SS 21/58" means house 38, road 58, section SS 21. There is no definitive form for a PJ address. Therefore the above example could well be written as 38 Road SS 21/58, 38 Jln SS 21/58 or simply as 38 SS 21/58. Most major roads developed during the 1960s are given names,e.g. Jalan Utara, Jalan Selangor, Jalan Kemajuan. Some secondary roads, even those in residential or industrial areas were also given names. For example, Jalan 8/8 in Section 8 is also known as Jalan Tengas, Jalan 13/1 is also known as Jalan Bersatu. In addition, the roads of PJ Old Town or Section One are simply named as Road 1, Road 2, etc. As for the predominantly industrial Section 51A, the roads are named as Jalan 222, Jalan 225 etc.
The numbered sections are usually adjacent to each other. For instance, Section 16 is adjacent to section 17 which is adjacent to Section 19. The 'missing' Section 18 (originally to be named Section 1B) is way across the other side of town adjacent to Section 1A. Likewise, without a good map, it can be an onerous exercise to find PJ roads. For instance, Jalan 21/20 is adjacent to Jalan 21/18. However Jalan 21/1 is also adjacent to Jalan 21/18. (Most odd numbered roads are parallel to odd numbered road, even numbered roads are parallel to even numbered roads, and odd numbered road and even numbered roads are perpendicular to each other.) In addition, residents within a local PJ community may sometimes choose to refer to their local roads simply by their numbers, omitting the prefix altogether. For instance, in Damansara Jaya, residents often choose to refer to the road 'Jalan SS 22/39' as 'Road 39'.
Get in
By road
PJ is well linked with
Kuala Lumpur
and the rest of the country by road. The main Kuala Lumpur-PJ link is the Federal Highway which goes through the middle of PJ and continues to
Subang Jaya
,
Shah Alam
,
Klang
and
Port Klang
. The main link to the northern part of PJ is the Sprint Expressway while the southern areas of PJ are served by the New Pantai Expressway.
If using the North-South Expressway (E1), the main exits for PJ are
Subang Jaya
, and
Damansara
.
By train
The
Kelana Jaya line
light rail transit (formerly PUTRA-LRT) snakes from central
Kuala Lumpur
to the center of PJ and is a good way of avoiding the traffic jams between the two, especially at rush hour. The main stations in PJ are Taman Jaya (nearest to PJ New Town), Asia Jaya (walking distance to the KL-Klang bus stop), Taman Paramount, and Kelana Jaya.
The
KTM Komuter
electric trains also stops at several places in PJ, albeit not as convenient as the LRT. The PJ stations, namely Jalan Templer, Kampung Dato Harun, Seri Setia and Setia Jaya, are on the Sentul-
Port Klang
Line.
By bus
From Kuala Lumpur: Petaling Jaya is linked to Kuala Lumpur by Rapid KL and Metrobus buses. Main bus hubs are Asia Jaya, Damansara Uptown and Bandar Utama. Main Rapid KL routes linking Kuala Lumpur and PJ are T80 (Shah Alam via Federal Highway), T81 (Subang via Federal Highway) and T82 (Bandar Utama). There are also bus connections from PJ to Klang and Port Klang, served by Transnasional (which can be caught at bus stops along the Federal Highway), and Putrajaya (Rapid KL route T43 from Bandar Utama).
From other destinations: The luxury Aeroline operating between PJ and Singapore with double-deck coaches stops at two locations in PJ - Menara Axis (opposite the Asia Jaya LRT station) and One Utama Shopping Centre. From Menara Axis, there are four services to Singapore daily (departing 08:00, 09:30, 11:00, 18:00) while at One Utama, there are two daily trips (departing 10:00 and 18:30).
By taxi
All metered taxis operating in
Kuala Lumpur
also serve PJ.
Get around
PJ is quite spread out and you pretty much need your own wheels to get around.
By road
A good web of roads link most parts of PJ. Main highways which cover most of PJ are the Federal Highway (covering central PJ), Sprint Expressway (serving Damansara and the northern part of PJ), New Pantai Expressway (linking the southern sections of PJ) and the Lebuhraya Damansara Puchong or LDP (Damansara Puchong Expressway), which connects the northern and southern parts of PJ.
By train
The
Kelana Jaya Line
light rail transit (LRT) is convenient for those moving between PJ New Town and Kelana Jaya.
By bus
Rapid KL
and
Metrobus
are the main operators. Although the bus service is not up to first world standards, it has improved tremendously. The network is complicated but Rapid KL now provides information on its routes on its website.
Rapid KL's network works on a hub and spoke concept, where trunk routes (the bus number starts with "U") from
Kuala Lumpur
link hubs in Petaling Jaya where local shuttle buses (the bus number starts with "T") fan out into the numerous residential areas. Local shuttles also radiate from light rail transit (LRT) stations. Main hubs include the Kelana Jaya, Taman Bahagia, Asia Jaya and Taman Jaya LRT stations, and Bandar Utama (next to One Utama Shopping Centre), Damansara Uptown, EPF and Asia Jaya bus stops.
All Metrobus buses (fares go according to distance) with destinations in PJ originate from
Kuala Lumpur
. They serve most areas in PJ, especially Section 14, Kota Damansara, and southern PJ.
The major hotels (Hilton, Sunway Resort, Eastin, Crystal Crown, Royale Bintang, and Armada) have shuttle bus services that take guests into KL City and various PJ landmarks such as Sunway Lagoon, One Utama, and The Curve Shopping Center.
By taxi
All
Kuala Lumpur
metered taxis operate in Petaling Jaya, but there are far fewer roaming the streets and you'll usually need to find a taxi stand or call them up. Some cab company numbers are:-
Comfort Taxi Tel: +60 3-26922525. RM1 surcharge on top of the meter.
Super Cab Taxi Tel: +60 3-78055333. RM1 surcharge on top of the meter.
Radio Cab Taxi Tel: +60 3-26936211. RM1 surcharge on top of the meter.
Public Cab Taxi Tel: +60 3-62592020. RM1 surcharge on top of the meter.
See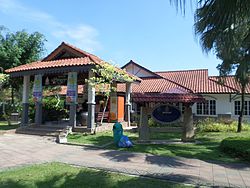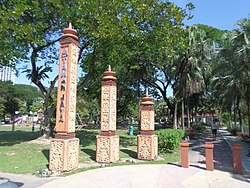 Unlike other towns, there is nothing much to notice here, except for the occasional oddities here and there.
If you must take the public transport, try the Light Rail Transit (LRT) via the Kelana Jaya Line which covers major residential and commercial sections of this town, starting with stations (from KL City); Taman Jaya, Asia Jaya, Taman Paramount, Taman Bahagia and finally Kelana Jaya.
The best way to see this area is to take a leisurely drive during non-peak hours. Some of the major attractions around the Greater PJ area are listed below.
Kota Darul Ehsan Arch. This huge marble arch, the gateway into Petaling Jaya, was erected to mark the commemoration of the cession of Kuala Lumpur to the Federal Government to form the Federal Territory. Construction commenced in 1974 and the arch was opened in 1981. The arch is most spectacular at night when the lighting creates a "golden" illumination to highway motorists.
Wat Chetawan Temple. (Nearest LRT Station: Taman Jaya) One of the main Thai Buddhist temples in the Klang Valley, the Chetawan can be seen in full glory either when driving on Jalan Gasing or traveling on the Kelana Jaya Line LRT. With a towering main prayer hall and surrounded by shrines, the temple has been around for more than 40 years, having started as a small temple in Jalan Raja Bot in 1957. The present temple was built in the early 1960s. Today, it is the main attraction for devotees and visitors alike because of its intricate design and statues within the temple grounds. The temple attracts huge numbers of devotees during Thai festivals like Songkran and Loy Krathong, as well as Wesak, and hosts Thai royal visitors during auspicious festivals.
MBPJ Tower. (Nearest LRT Station: Taman Jaya) The headquarters of the Petaling Jaya City Council (MBPJ) and a prominent PJ landmark, the 27-storey building which cost RM50m was officiated by the late Sultan of Selangor, Sultan Salahuddin Abdul Aziz Shah on March 16, 1987. The building is unique in the sense that it stands in the middle of a pit-like "sunken plaza" and surrounded by shops as well as commercial areas.
Hilton PJ. This legendary hotel has been a hallmark of good food for the people of Petaling Jaya since its opening in 1984 (the longest-operating Hilton in Malaysia!) Its Paya Serai coffee house has been delighting diners with its daily hi-tea buffet for many years now and also, the ever popular Chili's Bistro was given a facelift. In fact, most people will know the PJ State area by the mere mention of "Hilton" or its famous neighbor, Menara MBPJ.
Gasing Hill. Along the same road from the Chetawan Temple is the turnoff towards the Gasing Hill. The Hill, which is the only remaining forest reserve in PJ, covers approximately 100 acres where rare fauna and flora could be found. There are also trails, a viewing tower and resting area for nature lovers. From the top of Gasing Hill one gets breath-taking views of PJ and Kuala Lumpur. Over 100 species of birds are to be found in this green lung.
Taman Jaya. A spot for those in search of outdoor activities like jogging and cycling is Taman Jaya, a favourite recreational hub for residents with its shady trees and lake. It is a short walk away from the similarly-named LRT station as well as the Amcorp Mall and Dataran PJ Field.
Kelana Jaya Lake Park. (Nearest LRT Station: Kelana Jaya) One of the largest in PJ, with its 7 scenic lakes, this park was formerly a mining area that was rehabilitated in the 1980s into what it is today. Other than a popular jogging track around the lakes, the Kelana Jaya Sports Complex is located nearby and it contains two Olympic-sized swimming pools as well as tennis and badminton courts. The modern MBPJ Stadium is also in the vicinity and it was one of the venues used for the KL 1998 Commonwealth Games.
LDP Cable-Stayed Bridge. The LDP (Damansara-Puchong Highway) Cable Stayed Bridge at Persekutuan Interchange crossing the Federal Highway is the first Cable Stayed Land Bridge in Malaysia. The bridge stands out as an aesthetically pleasing and unique design in a highway project in the country. The design and construction methods of the bridge allowed for the necessary traffic management required at the construction site (one of the busiest interchanges); a normal bridge design would have required for the removal of 2 traffic lanes to accommodate the construction of the piers.
PJ Exchange. This 35-storey office tower, which is under construction, has a great location in PJ as it's at the doorstep of the Taman Jaya LRT Station and next to the Federal Highway and the popular Amcorp Mall. With its 30-m spire, the PJ Exchange (PJX) became the tallest office tower in PJ and a prominent landmark upon completion in 2010.
Do
Damansara Jaya central parkOffers morning or evening recreational activities.

DJROA community centreOffers line dancing and Wai Dan Gung.
Buy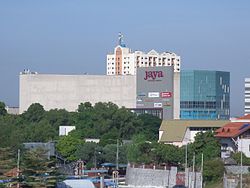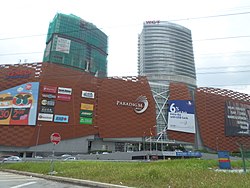 Various
pasar malam
(night markets) can be found on the main streets in the suburbs around Petaling Jaya. It's the best way to get to know the 'true' Malaysian culture. There you can find fresh foods, quick snacks and it is also a popular target by the local triads to sell their contraband merchandise of anything under the sun: clothing, electronics, mobile phone accessories, pirated DVDs and Audio CDs etc. You get a very good bargain if you buy them in bulk or if you speak Malay or Chinese dialect (most Chinese in PJ understands Hokkien).
But if it's air-con and fast food you want, PJ has a few megamalls:
Sunway Pyramid MegamallA thematic mall with lots of mini tenants including a Twelve-Cineplex. It is 3 minutes by car from the Subang Jaya KTM Station (Pel. Klang line).

address: 18 Persiaran Barat

Mall with lots of mini-anchor tenants and a great weekend flea market on the Lower Ground floor. It is 5 minutes walk from the Taman Jaya LRT Station (Kelana Jaya Line).

Digital MallSection 14, in the building previously occupied by Metrojaya, just across the street from Jaya SC. This colourful building with a mosaic-like facade, unique neon lights, and large TV screen is the city's first IT-lifestyle mall.

address: Jalan SS6/4

Overlooking the Kelana Jaya Lake, this complex has a Giant Hypermarket as its anchor (hence the name) and numerous other tenants including a Starbucks and a large food court on the 3rd Floor.
Millennium Square, Section 14. More of a community-based complex as it is surrounded by houses as well as the Menara Jaya condo and below the Millennium Place Residences. It is 5 minutes drive along the road from Jaya SC. Cafe such as Picadilly which serves local and western.
Mutiara Damansara. A new commercial precinct that is home to Asia's largest IKEA store and the adjoining IKANO Power Centre. Other malls here include The Curve lifestyle and F&B mall, a large Tesco hypermarket and the Cineleisure Damansara Entertainment Complex. The precinct is served by an hourly free shuttle bus from Kelana Jaya LRT (at the entrance to IKANO Centre).

address: 1 Lebuh Bandar Utama

One of the largest and most popular malls in the Klang Valley, recently expanded with a brand new wing. Existing tenants Jusco, Marks & Spencer, and TGV Cinemas in the old block are now accompanied by those in the new wing such as Parkson, MPH Megastore, Golden Screen Cinemas, Celebrity Fitness, and Marks & Spencer as well as Malaysia's largest rock-climbing gymnasium.

The Atria

address: Jalan SS22/23

Another community shopping mall with Giant as its anchor tenant in the middle of the often overlooked Damansara Jaya Town Centre.

address: No. 6 Jalan PJU 7/3, Mutiara Damansara

This very popular lifestyle and fashion mall forms the centrepiece of the Mutiara Damansara commercial precinct (see above). The complex is split into The Street (outdoor mall) and The Walk (indoor). Anchor tenants include the new MJ by Metrojaya, VISTA Vision Specialist (Region Largest LASIK Outlet), MPH Bookstores and HSL Digital Lifestyle as well as Fitness First, Red Box Karaoke, and Marche Movenpick Restaurant at The Street. Other shopping haven nearby include TESCO Hypermarket, IKEA & 10 screen newly opened Cathay Cineplex.
Thrifty Mall, Jalan Barat, Sec. 8. The "other" shopping centre in PJ State (the other being Amcorp), the three-storey building also known as "Wisma Thrifty" has a Giant Supermarket, Courts Mammoth furniture store, and Olympia College as anchors. A Coffee Bean outlet and Memory Lane giftshop are also located here.

phone: +60 3 7710 1818

address: No 3, Jalan SS 20/27, 47400 Petaling Jaya, Selangor Darul Ehsan

2 levels underground car park and 4-storey shopping centre building. Carrefour hypermarket on the lower ground floor as its anchor tenant. Major tenants include Toys R Us, Esprit, and Nichii Fashion City. The Mall is adjoining the Tropics Designer Suites and a Signature Office Tower. There is also a 6-screen Golden Screen Cinemas as an alternative to the ones in 1 Utama and Cineleisure for movie buffs. Located at the fringes of SS2 and adjacent to Tropicana City Business Park (ex-Damansara Intan.)

NZX Commercial Centre (Niu Ze Xui)

phone: +60 3 7804 6366

address: NZX Commercial Centre No. 2 Jalan PJU 1A/41B Ara Jaya PJU 1A, 47301 Petaling Jaya, Selangor

NZX is the largest covered boulevard in Malaysia. There are side walk cafés, Star Bucks, Station One, Big Apple doughnut, shops, stalls and specialty stores. There are also a number of restaurants serving steam boat, Mamak food and Chinese restaurants. 182 shops.

Ikano Power Centre

phone: +60 3 7720 7333

address: Ikano Power Centre No 2, Jalan PJU 7/2 Mutiara Damansara

It is a mega mall in Mutiara Damansara. It has lots of clothes shops and entertainment shops.

SStwo Mall

phone: +60 3 79608209

This five-storey mall has 1000 car parking bays and some 200 retail units. One of the mall's highlights is Haven@two, an open-air courtyard dedicated to F&B, with alfresco-style dining.
Eat
Eating is almost a national obsession with eateries available around the clock. Petaling Jaya is home to many restaurants and stalls serving all sorts of Asian and Western cuisine catering to almost all sorts of budgets.
Mamak restaurants are found throughout the city. A veritable PJ institution, these 24-hour restaurants operated mainly by Indian-Muslims are popular amongst the young crowd for the live soccer broadcasts on weekends (and weekdays on occasion) as well as cheap food.
Damansara Utama
Asian Food House, No. 38, Jalan SS 21/58. The sign unhelpfully proclaims that this restaurant specializes in "Asian food", but in reality it's mostly Taiwanese fare. The pork stew with rice (RM8.90) isn't bad.
Village Park Restaurant. Great fried chicken. Eaten with nasi lemak.
Taman Megah
Fatty Crab Restaurant, No. 2, Jalan SS 24/13. It's been over 30 years since Uncle Fatty set up his shop, but their famed sweet, sour and spicy crab still continues to draw the crowds. Roll up your sleeves and dig in, and figure on RM30/head with a few side dishes thrown in.
Ming Tien Restaurant, SS 24. This is an standard hawker center that serves western, oriental and local range of foods. The drawback are its television sets blaring out the MTV channel and piped-in advertisements. (Food hygiene and the hawker center's utility cleanliness are not satisfactory, and it is not advisable for first-timer foreigner.)

William Mamak StallA fantastic Mamak stall with unique food choice. Located in the Taman Megah housing area.
Section 14
Sate Nora, Medan Ria MBPJ. Has been around for over 30 years. Best sate in Malaysia. Tu-Su.
Section 19
Stranger Restaurant & Cafe, No. 10 & 12, Jalan 19/36. The restaurant is most well known for its Lunch and Dinner Set Steamboat and is priced at RM9.80 and RM12.80 per person respectively. In addition, there is a good variety of rice and noodles as well as "kopitiam" (coffee shop) and drinks selections.
SS2
Yu Ai Segambut Seafood Noodle, 58 Jalan SS2/10, 47300 Petaling Jaya (11AM-9PM). Try your noodles with any of three soup options: their famous curry, fiery tomyam or milder qingtang.

SS2 Fatty Duck rice

phone: +60 193867766

address: No.2, Jalan SS2/10

Delicious braised duck rice with history of 20 years. Braised duck rice is different from roasted duck, and in Petaling Jaya only has two place selling this authentic dish. Besides, duck rice, there are also other side dishes such as braised egg with duck inner organs, braised bean curb, salted vegetables, spicy and sour vegetables, braised pork leg and braised pork intestines.

Little Dim Sum Restaurant

address: 12 Jalan SS2/63, 47300

Serve delicious dim sum. It is more pricy than other nearby dim sum restaurants but the quality is much better and the environment and cleanliness seems good. The shop is small and cosy and they have separate smoking and non-smoking area. They also serve noodles after 11:00.

Ho Weng Kee Restaurant

address: 32, Jalan SS2/66, 47300

A popular restaurant serving "wan tan" noodles. Speciality are the dry noodle with chicken feet & mushrooms, curry chicken noodle, dumplings and the normal "Char Siew & Wantan" noodles (dry or soup). The shop is quite clean and the food is delicious.
Damansara Jaya
Basic fare including Malay and Chinese mixed rice are available from the 2 hawker centres located adjacent to the Jalan SS 22/19 and SS 22/25 car parks.
Choong Kee Claypot Chicken Rice

phone: +60 17 871 7739

address: 80 Jalan SS22/25

This coffee-shop styled restaurant commenced business in January 2009 and serves excellent Kampar claypot chicken rice. A selection of vegetables and steamed soups are also available. The claypot rice is cooked on charcoal stoves. It is not uncommon for most customers to enhance the flavour of the claypot rice by adding Chinese sausage and salted fish. The claypot chicken rice is very popular and the restaurant tends to be jam packed especially during weekends.

Restaurant Al Fariz Maju

address: Kelana Jaya

It is an Indian restaurant with an exotic taste. Try their own recipe fried chicken and "teh tarik". Also roti canai and kuah sardin will ignite your taste bud.

Wings Charismatic Ocean Sdn Bhd

phone: +60 3 78763309, +60 12 3931997

address: Ground Floor 74, Jln SS2/60, 47300 PJ, Sel. D.E.

Special offer lunch, nice steaks, variety of snacks, tasty drinks, listen music, singers in nights.

phone: +60 12-2069872

address: Lot C13-01 3 Two Square, Jalan 19/1 Petaling Jaya, Selangor

Bangkok House is a halal restaurant, was founded by a Malaysian couple, back in early 2000s. Serving the best authentic Thai cuisine, Bangkok House is a heavenly place for all food lovers. Menu price ranges from RM3.50 to RM65 per dishes. Walk-ins, reservation, and catering orders are welcomed!For more inquiry, call 03-7954 9872

Sate Nora

Busy Corner

phone: +60 3 7729 0116

address: 83 Jalan SS 22/11

This coffee-shop styled restaurant is well known for its selection of claypot rice dishes. Customers may choose from traditional chicken to prawn, fish or beef. Busy Corner also serves varieties of steamed soups.
Esquire Kitchen, Ground Floor, Atria Shopping Centre.
Hainanese Chicken Rice on Jalan SS 22/23. Halal restaurant near to Dr Kwan's clinic.
Hooi Loong on Jalan SS 22/19. This location was formerly occupied by the Chef Rasa Sayang Restaurant.

Hong Kee Tim Sum

phone: +60 19 388 5631 (Sophia Lim), +60 12 213 0998 (Dr. Michael Ng)

address: 18 & 20 Jalan SS 22/25

Serves excellent dim sum.
Jin Xuan Hong Kong Dim Sum on Jalan SS 22/19. Upmarket restaurant. Commenced business in May 2008. Branch of parent shop in Kuchai Lama.

Magic Wok

phone: +60 3 7729 2288 and +60 12 393 6928

address: 32 Jalan SS 22/25

Ma Ma's Restaurant on Jalan SS 22/25. Upmarket restaurant serving excellent Penang nyonya style dishes. Reputed to be a favourite of the late Datin Paduka Seri Endon Mahmood, wife of Malaysian Prime Minister Abdullah Badawi. The nyonya fish head curry was one dish she had particularly liked.
Nyonya Foodland Restaurant on the Ground floor of the Atria Complex (opposite Nando's). Serves tasty and affordably priced Malacca nyonya food.
Seri Penang, formerly Penang Cravings on the Ground Floor of the Atria Complex. This is authentic Penang, for Chef Tang is from Tanjung Tokong.

Bon-Bon Cafe

phone: +60 3 7728 6357

address: 22, Jalan SS22/21

Serves western and local food in a cosy friendly environment where "everybody knows your name". Bon-Bon is famous for its signature "durian cake", which for many tastes more delicious than the real fruit. Besides pastries, American breakfast and euro pancakes. Bon-Bon has a rotating menu of daily local specials including nasi lemak, laksa and noodles.

Cinta Ria

phone: +60 3 7726 8981

address: 78, Jalan SS 22/25, 47400 Damansara Jaya

Cinta Ria is a halal restaurant that serves breakfast from 08:30.

Shirley's Kitchen

phone: +60 12 295 5114, +60 3 7710 9097 (Callen Baudville)

address: 49 Jalan SS 22/23

Vary Pasta

phone: +60 3 77106100

address: 21 Jalan SS 22/23

Claims to have the cheapest Western food in town.

Carnaval Churrascaria

phone: +60 3 7725 2252

address: 77, Jalan SS22/19

Buffet at RM48. Meat lovers will likely adore their Brazilian barbecue.
Omitsu Koshi on Jalan SS 22/23 offers tasty and affordably priced Japanese food.
Nando's Fast food. South African Peri-Peri chicken can be found on the Ground Floor of the Atria Complex
Drink
Just like in Kuala Lumpur, mamak stalls are also found all over Petaling Jaya. These are wonderful places to hang out with locals and it is possible to stay at one far past midnight (many are even open 24-hours!). They are run by Indian Muslims. They serve a variety of drinks and beverages, and the non-alcoholic options are varied and inexpensive. Traditional coffee shops can be found at the Mewah as well as the Atria shops.
For those who are looking for watering holes, several good ones include:
Sanctuary. Since its opening at Mutiara Damansara's The Curve shopping center, both young people and the white-collared folk have been flocking to this four-in-one nightspot that has the unique Ice Bar.
Uncle Chilli's. A highly popular bistro-bar (especially the working crowd) located at the Hilton. There is a live band that plays several times weekly.
Laundry. Pub with live band at The Curve, located opposite the Cine leisure entertainment complex and next to Fitness First. Very popular place with almost a full house every night!
Starbucks Coffee Cafe. Found all over PJ, most outlets come with WiFi (provided by Timezone) as a free service to customers. Outlets are located in One Utama, The Curve, IKANO Power Center, Damansara Utama, Dataran Tiga Dua, Amcorp Mall, and Sunway Pyramid Megamall.

Old Town White Coffee

address: Jaya One, Jalan University

A popular local franchise with many outlets around klang valley. Serve old style Malaysian coffee - a mordernised "kopi tiam" (local coffee shop).

phone: +60 3-7956 1080

address: 35 Jalan 14/20, Section 14

Good coffee, especially the syphon brewed single origin coffee. Their espresso based coffee also quite nice. Do not forget to try the Crêpe.

phone: +60 3-7874 8611

address: 2, Ground Floor, Wisma Caesars Club, Jalan SS2/67, 47300 Petaling Jaya, Selangor.

Since 2003, Wong Kok Char Chan Teng has brought in a new trademark of Hong Kong great cuisine into Malaysia. As a joint for all sorts of Hong Kong famous food and treats, Wong Kok Char Chan Teng is well accepted by residents here and it has emerged as a new trend of great cuisine.

Chayo Cafe (Srinidhi's Favorite)

phone: +60 378062675

address: 50-1 Kelana Mall, Jln SS6/14 Kelana Jaya

A tea cafe in Kelana Mall serving the best Masala Tea in PJ. Chayo Cafe serves organic teas, organic coffee, lassis, juices, and local favorites like Teh Tarik, and uses all natural and some organic ingredients in their snacks and food. The snacks range from North Indian to fusion Western and local.Fully vegetarian with no egg, Chayo attracts a crowd who wants a relaxing ambience, a good cup of tea, and some tasty snacks and healthy meals.
Kopi tiam, a modern version of the traditional coffee shop is located on the ground floor of the Atria Complex.
Coffee Connexion, another modern day Kopi Tiam commenced business in May 2009 at a double shop lot at 12 & 14 Jalan SS 22/25, two doors away from the Hong Kee Tim Sum restaurant.
Lotus Penang Nasi Kandar restaurant is located adjacent to the Jalan SS22/25 car park.
Syed Abu, an Indian Muslim restaurant is found on Jalan SS22/19.
Both Lotus and Syed Abu operate on a 24 hours basis.
Sleep
Despite being just "next-door" to the capital city of Kuala Lumpur, PJ has its fair share of hotels in all categories. Note that there are no inns, guest houses, motels or hotels in Damansara Jaya.
Budget
Grade Hotel

phone: +60 3-7785 0000

address: 23 Jalan Petaling Utama 11

A business hotel in the Petaling Utama district, the Grade is a short drive from the Jalan Tandang industrial zone as well as the Old and New Towns.

Lisa De Inn

phone: +60 3-79553636

address: 2 Jalan Harapan (17/47)

Three-star hotel at the bustling "Rothmans" roundabout and in close proximity to the Section 13 industrial hub.

PJ De Inn

phone: +60 3-7955 3535

address: 4 & 6 Jalan 8/1E

Sister hotel to the Lisa, this property is in the PJ State business district and in close proximity to banks, colleges, as well as the Thrifty Mall (Giant Supermarket / Courts Mammoth).
Mid-range
Splurge
phone: +60 3-79559123

No 2 Jalan Barat (LRT Asia Jaya). PJ's premier international hotel, recently given a much-needed refurbishment. Contains a large Clark Hatch gym and the Paya Serai Restaurant, famous for its daily hi-tea. Rates from RM250++ up.

One World HotelBandar Utama (next to the One Utama shopping complex). Five-star hotel with 438 rooms & suites, opened in 2007. Will have five F&B outlets serving a variety of cuisine from Western to Asian as well as a host of banquet and recreational facilities.

phone: +60 3-7492 8000

Persiaran Lagoon, Bandar Sunway. Located next to the Sunway Lagoon theme park and Sunway Pyramid Megamall, this excellent 5-star gem consists of the main wing, Pyramid Tower Hotel, The Villas, The Duplex, and a Mandara Spa. Rates start from RM348++ (Cuti-Cuti Package).
Go next