Peterborough (Ontario)
The
City of Peterborough
is considered the hub of the
Kawarthas
, and is the region's major business, education, cultural, and health care centre. This is a varied community a retirement city, but at the same time a university and college city. It has a permanent population of approximately 80,000.
Understand
Considering that Peterborough is located between two major Canadian cities (
Toronto
and
Ottawa
), it has managed to maintain a small-town friendly feel to it. By many, Peterborough is considered a retirement community; however, during the school year there is a thriving domestic and international student population. With its relaxed atmosphere and laid-back attitude, Peterborough allows the days to go by unnoticed. There is a big arts community in the city, meaning Peterborough is the best place in Central and Southern Ontario to create a band, become an artist, or showcase your talent.
Get in
By car
Peterborough is well connected to the rest of Ontario by the highway network.
Highway 115
, which heads south from town, connects with Hwy 401. It is about an hour's drive to
Oshawa
and 1½ hours to downtown
Toronto
.
Highway 7
skirts the southern edge of the city and connects Peterborough to
Ottawa
. The drive is about 3½ hours. Westbound on Highway 7 will take you to Oshawa and Toronto's northern suburbs, and provide connections to
Orillia
and
Muskoka
.
Highway 28
, to the east of the city, runs north through the
Kawarthas
and onto
Bancroft
.
By bus
Greyhound Bus Terminal

phone: +1 705-743-8045

address: 220 Simcoe St

Intercity bus from Toronto (8 times a day) and Ottawa (approx. twice a day).

phone: +1 416-869-3200

address: 190 Simcoe St

Commuter bus to Oshawa's train station every couple of hours during the day, connecting in Oshawa with the Lakeshore GO Train mainline to/from downtown Toronto. About 1hr 10min from Oshawa to Peterborough's bus station, or 1hr 30min to Trent University. Tickets from Oshawa are $14.30 and are tax-exempt. There is a luggage compartment on the bus and coach style seating but no other amenities. Buses that travel to Oshawa are timed to meet with the train; the train ride to Toronto is 52-63 minutes one-way. The combined train & bus fare to Toronto is $19.10.
By train
Peterborough's heritage railway station has had no passenger train service since 1990.
Oshawa
's station is accessible by GO commuter bus.
The nearest VIA Rail station is an hour's drive south in
Port Hope
or
Cobourg
.
There have been proposals about restoring train service but there are no plans to do so in the near future.
Get around
The City of Peterborough has a fairly inconvenient public transit system, though they have made efforts to improve it. The regular
bus fare
is $2.50, $22 for a 10-ride pass, or $8 for a day pass for up to 2 adults and 4 children (July 2017). Passes are available at the Transit Terminal and Landsdowne Place. Discounts for seniors, students and children are provided only on monthly passes. The buses run to and from downtown bus terminal every 40 minutes, but are often either late or early, so arrive in advance. One positive aspect about the centrally located bus terminal is that the buses wait for each other, and depart at the same time. This is the leading cause for their sporadic times, but it is convenient if you need two buses to go somewhere.
Getting from downtown to Trent University is much easier, as there is a separate bus system, Trent West, and Trent East. During the school year they run every 10-20 minutes. Trent Weekend runs every 30-60 minutes on the weekends, and the holiday schedule is similar.
Peterborough downtown is easy to walk around, and most of the attractions and parks are within walking distance. Any farther trips will require a car or the transit bus. Lots of people bike around also, which is strongly encouraged, especially in the warmer months of the year.
There are good bike paths leading north west out of the downtown core, through Jackson's Park, that continue for several kilometres to the outskirts of the city. There is also a bike path along the east side of the Trent River that leads up to Trent University and, beyond that, all the way north to Lakefield.
Hailing a cab in downtown Peterborough is somewhere between difficult and impossible, so your best bet is to call in advance.
See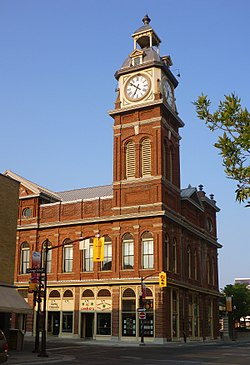 phone: +1 705 748-9153

address: 910 Monaghan Rd

Has displays of watercraft from Canada and around the world, plus exhibits on the role canoes and kayaks have played in Canada.

phone: +1 705 295-6694

address: 104 Lang Rd, Keene

A collection of over 20 heritage and reconstructed buildings from the 1800s. Costumed "villagers" enact and recreate what life was like in 19th-century Peterborough County, including a blacksmith shop, carpenter shop, mills and ice house. There's also a gift shop, exhibits and an interpretive center on weaving and Jacquard Looms.

Little Lake, Centennial Fountain and Del Crary Park

address: George St, between Rink & Perry

Pretty spot in summer with boats, parks and the fountain in the middle of the lake. Centennial Fountain, located in the middle of Little Lake, is the biggest jet fountain in Canada shooting water 75 m into the air. Del Crary Park provides good views of the lake and fountain, and the bandshell hosts numerous concerts in the summer. Fountain usually operates 10AM-midnight from late May to early Oct.

address: 140 Charlotte St

Historic market building and Peterborough landmark since 1890, including the four-faced clock tower that looks over downtown. The ground floor is mostly retail while the second floor now hosts the Market Hall Performing Arts Centre. There's an exhibit in the ground floor lobby that displays the history of the building and nearby area.

Peterborough Lift Lock

phone: +1 705 750-4950

address: 353 Hunter St E

First built in 1904, the lift lock is the highest hydraulic lift lock in the world, raising boats 65 m. Watch the boats and lock operate from the bank of the canal or stop by the visitor's centre, which has exhibits and explains how the lock works. It's best to go in summer (between Victoria Day and Canadian Thanksgiving) when the Trent Severn waterway is operational.

Peterborough Museum & Archives

phone: +1 705 743-5180

address: Museum Dr at 300 Hunter St E

Good spot to spend a couple of hours if you want to learn about the history of Peterborough and surrounding area. The exhibits, stories and photos take you through some of the local First Nations history, European settlement and the city's early growth. There is also an archives that is accessible by appointment and a small gift shop. The museum is on top of Armour Hill, which provides views of the city and area.

phone: +1 705 748-9300

address: 1300 Water St

Zoo and park on the banks of the Otonabee River that is great value, particularly for families with young children. Animals include camels, reindeer, yaks, monkeys, turtles, a river otter, birds, emus, wallabies and some farm animals. There's also a splash pad, several playground structures and a large grassy area with picnic tables. The train ride, which usually operates from Victoria Day to Thanksgiving (late May to early Oct), is also popular.
Visit Trent University's Lady Eaton College. One of the best examples of modern architecture in Canada.
Do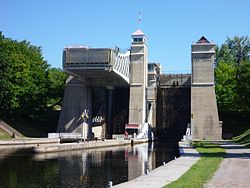 Walk or hike along the many trails within and outside of Peterborough. Many of the abandoned railway tracks have been converted into paved trails, including the Rotary Trial along the Otonabee River.

Jackson Park

address: 610 Parkhill Rd

Large, mostly undeveloped park along Jackson Creek popular with walkers and cyclists. The lake and Pagoda Bridge are nice spots for a stroll or to take in the view from the bench. There is also a playground for children. The Trans-Canada Trail runs through the park, continuing north of the city.

Liftlock & the Riverboat Cruises

phone: +1 705 742-9912

address: 92 George St N

Offers two-hour sightseeing or luncheon cruises on the Peterborough section of the Trent-Severn Waterway, including the Centennial Fountain and Peterborough Liftlock. There is also a dinner cruise option that goes downstream from Little Lake (so no Liftlock). The sightseeing cruise operates daily mid-May to mid-October (with more frequent departures in the summer).

address: Del Crary Park

Weekly outdoor live music running all summer long on Wednesday and Saturday nights. A great family event.

phone: +1 705 743-3561 (box office)

address: Memorial Centre, 151 Lansdowne St

The local junior hockey team and an entertaining option if you want to catch a hockey game while in town. Games are usually 2-3 teams a week from Oct through April. Tickets can be purchased online through the Memorial Centre website or at the box office.

Rogers Cove

address: Maria St, between Mark St and Rogers St

Small park with a beach, playground, splash pad and picnic tables with mature trees. The park provides views of Little Lake and the fountain. A short walk on a good trail at the south end of the park takes you to Lock 20 (of the Trent Severn Waterway), with additional picnic tables and views of Little Lake. The Lock is notable as one of the few remaining locks where the gates are opened manually.
Winter activities
With its rolling hills and many lakes and rivers, the Peterborough area is a good spot to do some traditional Canadian winter activities.
phone: +1 705 277-2012 (tickets), +1 705 277-1533 (lessons), +1 705 277-1038 (rentals)

address: 878 Bethany Hills Rd, Bethany

Local ski area with fourteen runs, three terrain parks and six chairs (four quads and two doubles) with a max vertical drop of 100 m. There are also 8½ km of trails for cross-country skiing and snowshoeing. Lessons, rentals and a cafeteria.

Skating on the Canal

address: Ashburnham Dr, below the Lift Lock

In winter, the area below the Lift Lock is turned into an outdoor skating rink that can be nearly 400 m long. Family skating is closer to the Lift Lock; hockey is closer to the Maria St bridge. Operations are weather dependant — a flag will indicate the current status (green means safe, red means unsafe).
Learn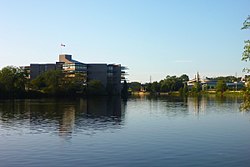 Trent University
is a small university with faculties in Arts, Business, Education and Science and Technology. It is best known for its undergraduate studies in humanities, social sciences and natural sciences. The main campus occupies a beautiful spot spanning the Otonabee River in the far north end of the city (head out Water Street past the zoo and turn at Nassau Mills Road).
Fleming College
is a College of Applied Arts and Technology. Its main campus is located in the south-west corner of the city, off Brealey Drive.
Eat
In the last several years Peterborough downtown has seen a rapid expansion of the food industry and it now presents a unique opportunity to try out various cuisines for various prices. Hunter Street, between George and Aylmer, especially now boasts a wide variety of places to eat. Remember, though, the downtown core has much more to offer in variety and authenticity than mall strips, like Lansdowne and Chemong.
Carousel Restaurant & Tavern

phone: +1 705 745-0060

address: 116 Lansdowne St E

Serves homestyle meals and is known for its buffet and Sunday brunch.

phone: +1 705 742-2944

address: 390 Queen St

Small restaurant in an old house, very busy at lunch. Good burgers and sandwiches, especially with the half Caesar half fries.

Dancing Blueberries

phone: +1 705 536-2697

address: 13-360 George St N

Café with a mix of omelettes, crepes, sandwiches, salads and waffles. The waffles are mostly sweet (heaps of fruit, ice cream, whipped cream and/or chocolate) while the crepes are mostly savoury. They also serve some decadent cupcakes. Service is sometimes inconsistent.

phone: +1 705 745-3544

address: 378 George St N

Cajun-style dining. Try the sweet potato frites.

phone: +1 705 743-5714

address: 129 Hunter St W

Belgian pub oozing with ambiance. Extensive selection of beers, with a focus on Belgian (and Belgian style) brews. Fantastic wood decor, good moules frites. A solid proposition for a Saturday night.
Drink
Peterborough's small size is not a reflection of its excellent choice of watering holes. A list:
phone: +1 705 743-7591

address: 216 Hunter St W

Bohemian, converted warehouse with a generous patio overlooking Jackson Creek. Fantastic during the summertime; Dortmunder Aktienbrauerei (DAB) and over twenty other beers on tap, and a pinball machine that's still just 25 cents a play. The Gordon Best theatre sits on top. Service can be slow, but the atmosphere is worth it. Brunch is served until 3PM, after that there is a small sandwich menu.

phone: +1 705 750-1710

address: 189 Hunter St W

Down at heel blues joint that's actually two bars: the Red Dog and the Underdog. Good live acts.

The Olde Stone Brewing Company

phone: +1 705 745-0495

address: 380 George St N

Traditional pub atmosphere with good food. They brew their own beers (with several standard offerings and a seasonal) and have a large selection of beers on tap.

phone: +1 705 750-0375

address: 251 George St N

Great Irish Pub - best burgers in town. Also make a great French onion soup. Twenty beers on tap, There's also a rooftop deck, fireplace lounge, billiards tables and big-screen TVs to catch the game.

phone: +1 705 749-0409

address: 137 Hunter St W

Bohemian, grungy martini room in the East Village vein. Not bad.

phone: +1 705-749-2580

address: 166 Charlotte St

A nice, traditional neighbourhood pub with an extensive beer selection on tap. Good atmosphere.
Sleep
Best Western Plus Otonabee Inn

phone: +1 705-742-3454

address: 84 Lansdowne St E

Inn on the Otonabee River with an indoor pool and whirlpool; rooms include mini-fridges, TV and coffee makers.

Comfort Inn & Suites

phone: +1 705-740-7000

address: 1209 Lansdowne St W

Indoor pool adjacent. All rooms include high-speed Internet. Eight suites have whirlpool tubs, the honeymoon suites have a fireplace and the executive suites come with a refrigerator and microwave.

Holiday Inn Peterborough Waterfront

phone: +1 705-743-1144

address: 150 George St N

Just south of downtown Peterborough on Little Lake, small fitness facility. Rooms include wi-fi, mini-fridge, TV and coffee maker.

phone: +1 705-876-6665

address: 312 George St N

Downtown hotel with 32 rooms; each room includes wi-fi, continental breakfast, a fireplace and jacuzzi.

Quality Inn

phone: +1 705-748-6801

address: 1074 Lansdowne St W

On-site business centre. Pet-friendly hotel. All rooms include TV, coffee maker, high-speed Internet. Some rooms have fridges and microwaves. Two suites include a fireplace and whirlpool tub.
Stay safe
While most of Peterborough remains relatively safe, the downtown core, with a high number of bars in close proximity, has become a little more dodgy in recent years. It is advisable to avoid walking Aylmer St and Stewart St after dark. There has been a marked increase in vandalism, generally to nearby shops, and sometimes to parked cars. It's advised to leave the downtown core before the bars close and drunken patrons fill the streets looking for taxis or mischief. The Galaxy Cinema is located in the same general vicinity as these bars: be alert and careful when leaving a long running late show.

Go next
Head out on Highway 28 towards Petroglyphs Provincial Park. See pre-Columbian Aboriginal rock carvings and hike out to High Falls. Stoney Lake is beautiful in summertime.