Petersburg (Alaska)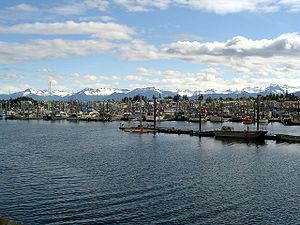 Petersburg
is a small fishing town in the
Southeastern
region of
Alaska
.
Understand
Petersburg is on the northern tip of Mitkof Island, among the forested islands and mountains of Alaska's beautiful Inside Passage in central Southeast Alaska. It's a small, vibrant town with about 3,200 permanent residents in the Tongass National Forest.
Petersburg's day-to-day atmosphere is that of a busy fishing town. Fishing and pleasure boats dominate the waters around Petersburg. The town is off-the-beaten-path of the large cruise ships, which cannot navigate the Wrangell Narrows, a winding scenic waterway between Mitkof and Kupreanof Islands.
History
Tlingits had long used a summer fish camp at the north end of Mitkof Island. Earlier cultures of indigenous people also used the island: remnants of fish traps and some petroglyphs have been carbon-dated back some 1,000 years.European explorers to Mitkof Island encountered the Tlingit.
In the nineteenth century, Peter Buschmann, a Norwegian immigrant, settled here, building a cannery, sawmill, docks and early structures. The settlement was named Petersburg after him, and it flourished as a fishing port. Icebergs from the nearby LeConte Glacier provided a source for cooling fish.
Petersburg originally incorporated as a town on April 2, 1910. The town had attracted mostly immigrants of Scandinavian origin, thus giving Petersburg the nickname "Little Norway". The Sons of Norway hall was built on one of the piers. With the establishment of some canneries, Alaskan Natives, including Chief John Lott, began to work there and live year-round at the site.
Petersburg continues to be an active commercial fishing and seafood processing port. It consistently ranks among the top 25 ports in the nation.
Climate
The richness of the surrounding temperate rain forest, the glory of the Stikine Icefield and the abundance of the prolific salmon are all dependent on high annual rainfall and the cool temperatures of a maritime climate. The annual precipitation in Petersburg is approximately 110 inches, similar to that of the Olympic Peninsula in Washington State. Approximately half of the annual precipitation falls in the months of October, November and December.
Tourist information
phone: +1 907-772-4636

Petersburg's visitor information center offer maps, brochures and other information for tourists.
Get in
By plane
Alaska Airlines
provides two daily jet flights, and various float plane and air charters also serve the area.
By boat
One of the charms of Petersburg is that it doesn't have a deep water port, so it's not accessible by big cruise ships, but some smaller ships stop there. The
Alaska Marine Highway
provides regular ferry service.
Get around
Petersburg's downtown is compact and very walkable. In town, there is a local taxi and some local shuttle services. The local roads are also nice for bicycling, although the size of the island limits the overall distance one can travel. Rental cars are available from the
Tides Inn
. Boats can even be rented from
Jensen Boat Rentals
. For the more adventurous, sea kayak rentals are available from
Tongass Kayak Adventures
and the
Petersburg Parks and Recreation Department
.
See
LeConte GlacierThe southernmost tidewater glacier in the northern hemisphere. The glacier moves extremely quickly, offering almost continual calving, including underwater calving leading to "shooters" as icebergs rise rapidly to the surface from the hundreds of feet of submerged ice. Hundreds of harbor seals also inhabit the fjord created by the glacier; closer to the face you're likely to see them lolling about on icebergs.

Clausen Memorial MuseumHas local history exhibits.

Sons of Norway Hall and the Bojer Wikan Fishermen's Memorial ParkThe Sons of Norway Hall, built in 1912, is on the National Registry for Historic Places. It was built as a social hall for the lodge and community and still is a center of activity today. Right next door is an outdoor park and commemorative memorial for those who made their living in the fishing industry. In the center is a 9-foot bronze sculpture honoring local fisherman, Bojer Wikan.

Totem ParkEagle and Raven Totem Poles, carved in 2001 by Tommy Joseph and Fred Beltran.
Do
Whale Watching

address: Frederick Sound

Where the waters of Frederick Sound meets Stephens Passage, you will find some of the best humpback whale viewing in North America. Humpback whales are just one of the many marine mammals to be found in these waters. Take an all day boat cruise to see the whales, the historic Five Finger Lighthouse and the magical Brother Islands. Charter boats are available most says, but reserve ahead.

address: Mile 14.2 on Mitkof Highway

A boardwalk through the muskeg to Blind Slough, where the salmon are numerous and other wildlife is often visible.

Nature Boardwalk/Hungry Pt. TrailBehind the school there's a boardwalk through the muskeg (extremely soft nutrient poor meadow) that's worth walking. It leads to a longer trail (Hungry Pt. Trail.

Little Norway FestivalPetersburg celebrates its Norwegian heritage by honoring Norwegian Constitution Day, May 17th. The entire community celebrates with food and craft booths throughout downtown, the festival parade, a Scandinavian pageant, Bunad Style Show and Luncheon, Kaffe Hus with Norwegian pastries and goodies made with butter and love, music on the streets, a herring toss, Vikings and Valkyries roaming the streets looking for victims, a walk-run race, ending the 4 days of celebration with a community salmon/halibut/black cod bake at Sandy Beach.
Buy
Because Petersburg doesn't have a deep water port, it doesn't get the large cruise ships; thus, it isn't overrun with the large cruise line operated tourist shops that plague many such coastal towns. There are a few little locally owned galleries with local artists, and a bookstore with some nice coffee table books, but most of the town actually exists for the local population.
phone: +1 907-772-4440

address: 11 Sing Lee Alley

New books and gifts for all ages and interests. Visit the Alaska Room, featuring Alaskan books and gifts, including field guides, fishing and nautical guides, Alaskan history and fiction, stories and poetry of local authors.Also, maps, cards, and Alaska native art.

phone: +1 907-772-2161

address: 211 North Nordic Dr

Featuring local and regional artists such as Pia Reilly, Beth Flor, Brenda Schwartz, Don Cornelius, Kellii Wood, Grace Wolf, Erin Kandoll, Jean Curry, and many more.

Lee's Clothing

address: 212 North Nordic Dr

Outdoor clothing, travel and camping gear, workwear and footwear for all types of weather.

Diamante's Gift Shoppe

phone: +1 907-772-4858

Diamantes features quality gifts made in Alaska, including Gold Nugget and fine jewelry, hand-carved silver jewelry, ivory and soapstone sculptures, carved shed antler, the Petersburg blanket and tote bag, Hatley, Solje (Norwegian Jewelry), Alaska tee's and caps, and Yankee candles.

The Cedar Box

phone: +1 907-772-2666

Alaska Native Art.
Eat
Coastal Cold StorageAssorted fried seafood and daily specials in a take-out ambiance, but the real treats are the vacuum packed smoked fish in the cooler. Great breakfast sandwiches too.

Inga's GalleyDoes good halibut and salmon burgers. Summertime only.

El Rincon

address: Main St.

Genuine Mexican food. Tacos al pastor are excellent.

Papa Bear's PizzaPizza, wings, burgers and other American fare. Ice cream is available.

HelseA sandwich shop with healthier choices.

BeachcomberThis summertime restaurant and bar primarily serve local seafood.

The Salty Pantry

phone: +1 907-772-2665

address: 14 Harbor Way

Cafe/deli offering homemade baked goods and creative comfort food. Menu changes daily.
Drink
There are two bars open to the public. Harbor Bar is on main street and Kito's Kave is a short distance away, on Sing Lee Alley. There are Moose and Elk's lodges for members as well. All establishments are smoke-free as of 2010.

Sleep
Accommodations range from hotels to vacation rentals to unique bed-and-breakfast inns. The
Chamber of Commerce
lists many area accommodations.
Scandia HouseThe newer hotel. Has a jacuzzi suite available. Has a coffee shop on the first floor.

Tides InnContinental breakfast. Rental cars.

phone: +1 907-772-3775

address: 400 2nd Street

Named after the flowering hawthorn tree, this apartment easily sleeps four.

phone: +1 907-772-3620

Has a view of the Wrangell Narrows and Devil's Thumb. Open year round.

Waterfront Bed & Breakfast

phone: +1 907-772-9300

address: 1004 South Nordic Dr

Has a hot tub in a gazebo, complementary full breakfast, airport pickup/drop off. Open all year.