Petropavlovsk-Kamchatsky
Petropavlovsk-Kamchatsky
(
Russian
: Петропа́вловск-камча́тский,
pee-truh-PAHV-luhvsk kahm-CHAHT-skee
) is the capital and largest city on
Russia's
Kamchatka Peninsula
. It is a port city on the Avacha Bay and surrounded by high, snow-capped mountains and
volcanoes
. This city of roughly 200,000 residents is the principal entry point for travelers visiting the peninsula, and has good tourist infrastructure, offering anything from wildlife viewing to bear hunting to
paragliding
.
Understand
Climate
Petropavlovsk-Kamchatsky shares the same parallels as
Manchester
and
Dublin
, but is harsher climate-wise.
In summer the daily temperatures happen to reach 25-30°C. Rains are frequent at daytime with mists that occur in evenings. Winters are mitigated by the sea and are much milder and snowier than the rest of Siberia. The end of January and beginning of February are frosty, often about -20 °C.
The closest analogues in climate are Alaska's
Anchorage
and
Juneau
.
Get in
By plane
The only practical way to reach Kamchatka is the
Petropavlovsk Kamchatsky Airport
Most visitors arrive on the Aeroflot flight from
Moscow
, but S7 and Vladivostok Air offer a 3-hour flight from
Vladivostok
(). There is also a regular connection to
Khabarovsk
by SAT Airlines. The Aeroflot flight is on an A330, S7 and Vladivostok Air use A320s.
Other possible destinations include
Saint Petersburg
,
Novosibirsk
and
Krasnoyarsk
. Beginning in July 2012, service will begin to
Anchorage
on Vladivostok Air.
Bus #113 goes from the airport to the city center for 25 RUR; a taxi would cost about 500 RUR ($20).
By bus
Public transportation in Kamchatka is limited to buses. The main bus station is on Pobedy Prospect and offers daily services (in high season) to
Esso
,
Oktyabrsky
,
Milkovo
, and
Ust-Kamchatsk
. Be sure to get to the ticket office early in the morning. It opens at 8:00AM.
By road
Petropavlovsk-Kamchatsky is the second largest mainland city in the world that is unreachable by road from any other noticeable city, behind
Iquitos
in
Peru
. However, a handful of roads on the peninsula connect the city with its airport (in
Yelizovo
), and with the closed city of
Vilyuchinsk
.
Get around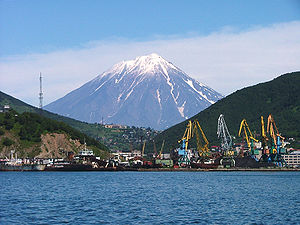 Most things of interest within the city are located within a compact area that can be covered on foot. The central square Teatralnaya is a venue for all major city events. Out of the square are running up three main streets: Leninskaya, Sovetskaya and Partizanskaya. There are also cheap buses and minbuses operating fixed routes throughout the city, mostly along the main road (fare as at July 2011 was flat fare, pay driver as you alight).
See
Lenin SquareThe center of town is based around a statue of Lenin, nearby is a statue of Jean Francois de la Perouse who lead a round-the-world expedition which sank in 1787 en route to Japan from Petropavlovsk.

Nikolskaya hillEexcellent views of the city and bay as well as the "Monument of Glory" erected in 1882 in honor of the heroic defense of the city, outnumbered 3-to-1, against the British/French during the Crimean War in 1854.

Vitus Bering monumentThe oldest monument in Russias Far East, built sometime between 1823-1826 in honor of Bering, who founded the city.

Charles Clark monumentErected by the British in 1913 in honor of Cpt. Clark who died shortly after departing Petropavolovsk during a round-the-world voyage in 1779.

Monument to Lt. A Maksutov's BatteryA reconstruction of the 1854 battery which was the most crucial in the defeat of the Anglo-French siege.

Home VolcanosAre the closest to the city mountains of Avachinsky group which includes Avachinsky Volcano (), Koryakskaya Sopka () and Kozelsky volcano (). Avachinsky Volcano is common venue for annual climbing with optional MTB downhill for the crazy.

The Church of Holy TrinityThe main church of Petropavlovsk-Kamchatsky.

The Church of Saint NikolaiSmall church close to the Trinity church.

T-34An authentic T-34 tank on display at Komsomolskaya Square.
Further afield
PimchakhIt is a reconstruction of a traditional Itelmen village serving as a cultural center for the Itelmens (original inhabitants of southern Kamchatka, now mostly assimillated, with their language on the verge of extinction). The camp is located in beautiful countryside at the base of Ostraya Gora ("Steep Mountain" in Russian, due to the peculiarly conical shape), a few kilometers beyond Sosnovka village (Сосновка). It is possible to visit the place independently, if you're an adventurous traveller. One first needs to get to Sosnovka. Sosnovka can be reached by infrequent public buses from Yelizovo bus station (Yelizovo is the small airport town served by frequent buses from Petropavlovsk.) There are also more frequent public buses that go to the Sosnovka/Nikolaevka intersection on the main road between Yelizovo and Termalny, from where one can walk on the paved road to Sosnovka (around 4km). In Sosnovka, one has to find the dirt road starting at Tatyana shop (Татьяна) next to the bus stop. One can then walk on that dirt road for 1.5-2km through the cultivated agricultural land. At some point, the fields on the right end, giving way to the forest. Behind the last field, one takes a right turn to another dirt road. That place is marked by a small ПИМЧАХ sign. From there, it's a nice walk for a couple more kilometers to the Itelmen cultural center. Google map.
Events
On the first weekend of September the city hosts the Festival of Bard songs.
Do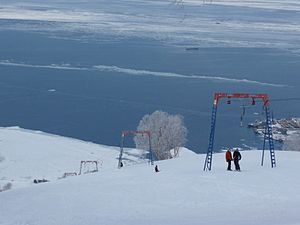 Museum of Regional StudiesThis museum focuses on the native peoples of Kamchatka, the history of Russians on Kamchatka, and the native flora & fauna.

Museum of VolcanoesHas a large collection of rock/mineral samples from volcanoes around the world as well as lots of stock footage of volcanic eruptions.

Museum of Fine ArtsHolds a large collection of Russian and native artists.

Museum of Salmon

phone: +7 4152 23-58-35

Tells about history, biology and geographical habitat of salmon, one of the ancient fish on Earth, which was being caught and processed from the times of Neolith up to the third millennium.
Other things to do
Take a boat out on the Avacha Bay for great views, fishing, and whale-watching
Go bowling at the Hotel Petropavlovsk
Go skating in covered rollerdrom at Toporkova st.(47-10-57), plus concert hall.
Mountain skiing at "Krasnaya Sopka" within reach of 25 min. from Petropavlovsk hotel
Buy
Some shops accept credit cards, but acceptance is not widespread. Most Bankomats (ATMs) limit cash withdrawals to either or - note that some will levy a 2% fee in addition to whatever your own bank charges. As at July 2011 Rosbank, Gazprom Bank and Bank of Moscow did not levy a fee. The Bankomat at the airport has a limit, but charges 2%.
Rossiiskaya Bookstore

address: 2 Tushkanova St.

A good place to stock up on area maps

Kamchatka expo

phone: +7 4152 41-24-27

address: 62 Leninskaya st.

A place where a tourist can buy all necessary things for a trip.

ShamanAn ethnic store with a variety of memorable trinkets.

Kamchatka SouvenirsA department in GUM, the Central Supermarket offers pictures of artists, videos, wooden and bone carvings.

ShamsaSupermarkets, great for food and beverages. The deli section sells useful snacks such as piroshki, syrniki, etc. Credit cards accepted - there is a big branch just across the road from the Km10 bus station.
Eat
Bush Beer

phone: +7 4152 23-34-90

address: 3A Vojtseshek st

A place where you can find decent food, interior and exceptional number of beer. Occasional live music is a nice addition.

Bush WineSame place as above to serve wine.

Korea House

phone: +7 4152 411-193

address: Leninskaya 26

Korean food Russian-style

Kolizei

phone: +7 4152 42-74-46

address: 61 Leningradskaya

Restaurant and casino

Vechera na Khutore (Korchma)

phone: +7 4152 26-11-03

address: 38 Telmana st

Cosy restaurant of Ukrainian food

phone: +7 4152 252525

address: 31 Karl Marx st

Gzhel-style interiors with 60 seats, banquet room for 20 persons, all located in hotel 'Petropavlovsk' are great for parties

Hotel Oktyabrskaya

phone: +7 4152 412-684

address: 51 Sovyetskaya st

Decent set lunch for , understandably busy.
Drink
Chempivon Bar

phone: +7 (962) 290-36-62

address: 10/3 Kruchiny st

Enjoyable and small place. There is always live music and parties.

Café Baraka

phone: +7 4152 23-43-93

address: 15/1, 60 let Oktyabrya

Fusion of European and Japanese cuisines, hooka-lounge, lounge-bar, DJ in violet-grey neon room.
Sleep
phone: +7 4152 58595

address: 10 Toporkova St.

A budget Soviet hotel, looks awful from outside but rooms inside have been renovated and are very comfortable and excellent value for this part of the world. Limited English spoken. Excellent views. Tour agency Vision of Kamchatka is based here. Single rooms for 2550 RUR, credit cards accepted with no surcharge.

Hotel Avacha

phone: +7 4152 410808

address: 61 Leningradskaya St.

Three stars and probably the best choice after the Hotel Petropavlovsk. Rooms are below western standards, but the hotel has a central location.

phone: +7 4152 50374

address: 31a Karl Marx Ave.

The city's "premiere" three star hotel is slightly less centrally located then the Avacha, but has a better restaurant and amenities. Regardless of whether you stay here, this is a good stop for its ATM machines, if you can get them to work (if not, try Planeta shopping centre). English-speaking staff

Hotel 'Oktyabrskaya'

phone: +7(415-2) 412-684

address: 51 Sovetskaya st.

Two-star Soviet hotel.

phone: +7 (41522) 533-24

address: 27, Pobedy st
Connect
Internet Cafe Tete-à-tete

phone: +7 4152 110540

address: 4 Lukashevskovo St.

Internet Club 'Poligon'

phone: +7(4152) 230-007

address: 12, 50let Oktybrya st

Computer center 'SPACE PLUS'

phone: +7(4152) 5-93-91

address: 4th floor, 27 Pobedy Prospekt

Central Post office

address: 65, Leninskaya st

Post and Internet
Wi-Fi
The list of pay wi-fi locations:
Hotel Edelweiss
Traktir 'Drova' cafe
Library of the Krai
Hotel 'Petropavlovsk'
Supermarket 'Detsky Mir'
Cafe 'Planeta Pizza'
Cafe 'Yolochka'
Cafe 'Kolibri'
Cafe 'Begemot'
Cafe 'Macgamburger'
Hotel 'Oktyabrskaya'
Kamchatka Expo center
Kamchatka State University
Go next