Pezinok
Pezinok
is a city in
Bratislava
region.
Understand
Pezinok
(Hungarian: Bazin; German: Bösing) is a city in western Slovakia, about 20 km north-west from
Bratislava
, and a centre of the Small Carpathian Wine Route. It started out as a mining settlement, as gold and antimony were found in the area, but quickly developed into a wine-making town. Pezinok still produces quality wine and the slopes of Small Carpathians it sits under are covered with vineyards. Pezinok is an also central part of the Small Carpathian Wine Route, a wine-producing region stretching between Bratislava and
Trnava
. Wine-making is also celebrated during several festivals and events an integral part of local life. The city has kept and renovated many of the historical buildings, including the original burger's houses, which form a picturesque historic centre of the town, along with a park surrounding the castle dating to the 13th century.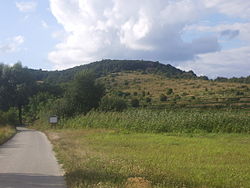 More information can be found at the city's
website
, available in English and German.
Get in
Pezinok is well-connected by the road network to Bratislava, Trnava and Senec, so getting in by car is usually the most convenient. There is also public transport in form of buses that connects it with these three cities, and villages along the route. Buses from Bratislava leave every 15 minutes in the rush hour and every hour in the evenings. Trains operate between Bratislava and Trnava as well, and most stop in Pezinok along the way. However, when going by the train from Bratislava/Trnava, make sure your train stops in Pezinok, as a few express trains don't. The last train/bus from Bratislava leaves shortly before 23:00 and doesn't resume until about 05:00.

Get around
As the city centre is small, walking is probably the most efficient way of getting around Pezinok, though a car will come in handy if you are visiting the more remote residential parts. There is plenty of parking available in and around the city centre.

See
The city has a well-preserved historic centre, with several buildings worth seeing:
Old City Hall — built in the 17th century when Pezinok became a free royal town, and rebuilt after a fire in the 19th century in classicist style. It has been renovated, and houses the City Museum, a restaurant, several cafes and shops selling traditional crafts.
The Castle — parts of the castle date back to the 13th century, but it has largely been rebuilt as well. It is owned by the Slovak Vintner association and houses a restaurant and a hotel (yes, you can sleep in the castle). Notable is also the surrounding park, built in the 19th century, that features a variety of rare trees and a pond that suring summer has nestling ducks.
Churches - — there are 5 churches in Pezinok, but the 4 in the city centre are especially worth seeing for the architecture and artwork. Virgin Mary Parish Church (easily located by its white colour) dates to the 14th century and features a variety of artwork inside. The Dolny Kostol (Lower Church) dates back to 17th century and has a beautiful altar and a unique wooden organ. Similarly, Capuchin church from the 18th century has an interesting painted altar. Lutheran Church, also from the 18th century, was the first building in the city to be constructed in the classicist style, but has some artwork dating to a later date as well as paintings by Jan Kupecky.
Small Carpathian Museum — this small museum provides a unique exhibitions especially related to the city's history as a wintner town.
City Fortifications — they formed a defensive system for the town, but most of them are now in the city centre. The remains can most easily be seen just opposite the Castle Park.
Schaubmar's Mill — apart from being a well-preserved historic building, it maintains functioning milling equipment, the mill also houses an exhibition of naive paintings.
Do
Wine-tasting — the opportunities are numerous all year round, however there are several events held during the year that allow access to the wine cellars in the entire region, including Wine Market in April and the Day of Open Cellars in November.
Vinobranie — this is an important local festival to celebrate the grape harvest, usually taking place at the end of September/beginning of October. It is a street festival and the city centre is covered by stalls selling a variety of food and drink (especially wine and young wine!), with some roller-coasters, and concerns thrown in. Handicrafts are sold, and on the last day of the festival, Sunday, there is a march across town of people dressed in traditional and historic clothing.
Hiking — the surrounding hills of Small Carpathians form a part of a protected natural reserve and there is a number of well-marked hiking trails, including a number of specially marked trails that focus on the history of the town and region and lead through various points of interest (notably Bansky chodnik (Mining Trail) which features the city's mining history and the Vinohradnicky chodnik (Vineyard Trail) which leads largely through the vineyards and shows the hostory and the present of the wine-making in Pezinok).
Horse-riding/buggy riding — there are big stables called 'Areal Rozalka' on the outskirts of the town, where it is possible to try out horse-riding, and which host several international competitions in riding.
Skiing — in winter, the skiing centre Baba in the mountains above the town (accessible by car or bus) opens and offers good opportunities for various winter sports like downhill skiing, snowboarding, cross-country skiing and sledging.
Buy
There are shops in the city centre, but the best shopping is in the two bigger malls - 'Plus' in the city centre, and 'Molo', which is on the outskirts, on the road to Bratislava.
Traditional handicrafts — Pezinok is especially famous for its ceramics.
Wine — there are shops and open cellars where you can buy the locally produced wine, some of the best in Slovakia.
Eat
Restaurants
phone: +421 33 640 9023

address: Holubyho 85

A family restaurant belonging to one of the biggest wine producers in the region (so it comes with great wines to choose from as well). It is in an ancient wintner house and preserves a lot of its atmospehere. The food is the traditional regional fare, providing an opportunity to sample various local dishes, and the quality is excellent. Try roast piglet or duck with lokse (potato tortillas). There is also a great value lunch buffet menu, where you can choose from a variety of dishes for around €3-4 per person.

phone: +421 33 641 27 70

address: Holubyho 42

One of the most popular restaurants in town, it obviously focuses on Italian food and offers excellent pizza and pasta, especially the pizza comes highly recommended. There are also several more international options on the menu with dishes inspired by Chinese, Mexican, etc., cuisine. Expect to pay around €5 for a pizza (and most other dishes).

phone: +421 910 990 936

address: M. R. Štefánika 17

While there is seating available outside, it is strongly recommended you head downstairs into the renovated vaulted cellar with its great atmospehere. The restaurant offers a good variety of excellent food that comes in big portions. This is considered one of the most upscale restaurant in town, but still maintains very reasonable prices. For an interesting option, try out some of tbe game dishes or opt for Ciernohorsky Rezen (Blackmountain Chop), a Schnitzel coated in thick potato pancake with cheese on top.

Zamocka Restauracia

phone: +421 33 641 23 59

address: Mladoboleslavská 5

This restaurant and winery is located inside the beautiful interiors of the old castle and is probably the most expensive restaurant in Pezinok. There is a great selection of wine and you can sample some of the best of national Slovak wine production here, along with more splurge variety of food.

phone: +421 33 641 24 02

address: Kollárová 20

Restaurant in the city centre, in a beautifully renovated 16th century wine cellar. It serves a variety food and also has a selection of locally produced wines as well. €4.10-10 for main course, steaks from €12.
Budget and snacks
phone: +421 910 455 999

address: Katova ulička (Fortna)

This is a budget option and is more of a takeaway (there are a few tables available). It serves only pizza, but this pizza is by many locals considered the best in town and at an excellent price.

phone: +421 33 641 33 14

address: M.R.Štefánika 10

This bakery has started out in Pezinok and has come to supply bakery products for most fo the region. They offer various traditional freshly-baked local bakery products, sample some of the local cakes here as a snack. There are several other branches open across Pezinok.

Lahôdky u Katky

phone: +421 33 6413036

address: Kollárova 20

The best snack shop in Pezinok. They prepare custom-made baguettes, buns and sandwiches of great quality, as well as (mostly) non-alcoholic drinks.
Drink
phone: +421 33 641 29 36

address: M.R.Štefánika 21

One of the most popular cafes in town, it offers various coffees and teas as well as amazing ice cream sundaes (over 20 varieties), which are especially lovely to enjoy in the street garden opened during the summer. There's also a good selection of mixed drinks, with and without alcohol, and various cakes and snacks.
Wineries — the wine production is widespread in the region and there are many cellars that's offer degustation and purchase of local wines.
Sleep
Connect

The city telephone extension is (0)33.
The information centre can be found at Holubyho 42 and can be contacted by phone at 6+421 33 640 69 89. It is open Jan-Aug: M-F 09:00 to 18:00 and Sa 09:00-12:00, and Sep-Dec: M-F 09:00-17:00 and Sa 09:00-12:00.

Go next
Bratislava, the capital of Slovakia is 20 km away.
Pezinska Baba — ski areal located in the Small Carpathians just above Pezinok offers varioeus opportunities for winter sports in winter and a few good hikes (including all day hike down from Baba back to Pezinok) in summer. You can either drive or take a bus from the city centre.
Velka Homola — a sightseeing wooden tower built on a hill featuring beautiful views in all directions. In good weather, it is possible to see all the way to Austria and Czech Republic, as well as admire the view of the Small Carpathians and the cities below. To get there take a bus from the city centre to Zochova Chata (or drive), about 15 km away, and continue up the red-marked hiking trail. It takes about an hour to get there from the bus stop, going steadily uphill, and about 45 min to get back when going down.
Driny Cave— is the only cave accessible to the public in western Slovakia. It is a beautiful karst cave. It is located outside the village of Smolenice, and is most easily reached by the car, with the parking spot about 1 km from the cave (a short but relatively steep hike from there to the entrance). It is also possible to take the bus to Smolenice, if you don't mind a much longer walk.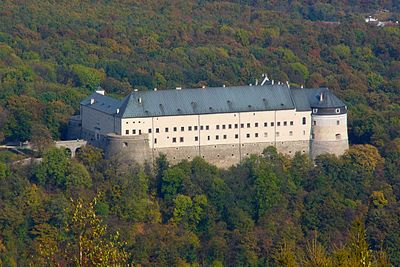 Hrad Červený Kameň (Red Stone Castle) — one of the best preserved castles in Slovakia, with original furniture and numerous historic items. The castle dates back to 13th century, and was renovated in the 18th century in early baroque style. The interiors and exteriors of the castle are well maintained and there are tours on offer in several languages. By car, head to Častá and follow the asphalt road to the castle's parking lot, the castle is about 15 km from Pezinok. It is possible to go by bus. Directly, if the bus stops there, get out at 'Častá,Červený Kameň' and stroll across the meadow to the castle entrance. Indirectly (if no bus is going in the direction), you can get out in Častá, at the bus stop 'Základina'. From there it is about 2 km walk up the asphalt road.
Senec — a city to the south of Pezinok (about 10 km). There are several huge lakes ('Sunny Lakes') that are very popular for swimming and water sports in the summer (there is a small entrance fee). You can drive or take a bus to Senec.
Modra — a smaller city about 10 km from Pezinok, famous for its traditional ceramics production.