Philadelphia
Long hidden in the shadows of New York City and, to a lesser extent, Washington D.C.,
Philadelphia
is one of America's most overlooked cities. It's in southeastern
Pennsylvania
, in the mid-Atlantic region, and is the sixth most-populous city in the United States. Often referred to as "Philly," the city is coterminous with Philadelphia County. Philadelphia sits adjacent to the
New Jersey
and
Delaware
borders, and as such, its metropolitan area encompasses counties in Pennsylvania, New Jersey and Delaware.
Despite being the cradle of the nation and remaining one of the largest cities in the USA, Philadelphia was - and arguably still is - ridiculed as a place where you only pass by to see the Liberty Bell, eat a Cheesesteak, and go on to your next destination. A history peppered with misfortunes such as being overshadowed by other East Coast cities, being the home of some of the most unfortunate sport franchises in the country, and news about crime and decay left the city with limited tourist appeal. Thankfully, Philadelphia has taken great strides in shedding these stereotypes and is now seen as an up-and-coming major US destination filled with history, an impressive culinary scene, a buoyant arts scene, and countless hidden treasures.
Districts
For most visitors, the focal point will be
Center City
and
Old City
, which comprise the "downtown" section of Philadelphia. It is bounded by Vine St. to the north, the Delaware River to the east, South St. to the south, and the Schuylkill River to the west. The 2010 Center City residential population of 57,000 makes it the third most populated central business district in America, behind
New York City
and
Chicago
. Other popular districts to visit are
West Philly
and
South Philly
.
Understand
Philadelphia, often called the "Birthplace of America", is the birthplace of the country's modern democracy. Philly was founded by William Penn in 1681, and assumed its present-day shape and size in 1784 when
Montgomery County
was split off from Philadelphia. The city's name translates to "City of Brotherly Love" and it has been a seat of freedom since its inception; founded by Quakers, the colony promoted religious freedom among its residents in stark contrast to the
England
of the time.
The definition of "Philadelphia" changed in 1854. Prior to that time, the term "Philadelphia" referred to what is today called "Center City", and what we today call "Philadelphia" was referred to as "Philadelphia County" (that term is still used today in legal and administrative contexts). For clarity's sake we will use modern terminology, though many people will refer to Center City as "Philadelphia" when referring to pre-1854 periods.
History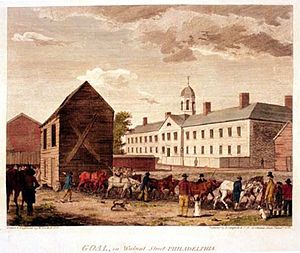 Known for its role in the American Revolutionary War, Philadelphia saw the convening of the Continental Congress as well as the writing of the Declaration of Independence and the Constitution. Shortly after the nation's inception took place in Philadelphia, Center City was named the nation's capital, a role it filled from 1790 until 1800, when
Washington, D.C.
took over. Prior to 1854, the city of Philadelphia only consisted roughly of what we now call Center City, extending east to west between the Delaware and Schuylkill Rivers and north to south between Vine and South Streets. Everything else was Philadelphia County and contained thirteen townships, six boroughs, and nine districts. The Act of Consolidation in 1854 consolidated all these areas within the city of Philadelphia, creating the boundaries you see today.
Benjamin Franklin, probably Philadelphia's most famous resident, was responsible for the city's alternative title, the "new Athens." While Franklin's most famous experiment dealt with the conducting of electricity, he was also responsible for the country's first insurance company, the city's first public library and the first fire department; Franklin also played a great role in establishing the city's postal system and inventing new conveniences such as bifocal lenses and the Franklin Stove.
Philadelphia has seen its skyline and its name in lights throughout the years in such famous films as the "Rocky" series (the statue from
Rocky III
still stands prominently outside the Philadelphia Museum of Art), and films like namesake
Philadelphia
and many of Philadelphia native M. Night Shyamalan's thrillers.
The Liberty Bell is right in the center of Philadelphia inside of a pavilion near Independence Hall. The Liberty Bell is a major piece in Philly's history. It was rung to announce the news of the passage of the Catholic Emancipation Act of 1829 in Great Britain. John Sartain in his book, Reminiscences of a Very Old Man, claims the bell was cracked during this announcement:
"The final passage of the Emancipation Act by the British Parliament is linked to a bit of Philadelphia history. On receipt of the news in Philadelphia the Liberty Bell in the tower of the State House was rung, and cracked in the ringing. When I was up in the tower in 1830, two years after, viewing the cracked bell for the first time, Downing, who was then the custodian of Independence Hall, told me of it and remarked that the bell refused to ring for a British Act, even when the Act was a good one."
People
The Philadelphia area's 6.2 million inhabitants comprise a diverse group of almost every nationality. Philadelphia's primary cultural influences can be seen in its plethora of Irish pubs, the city's Italian Market, the Chinatown District, and the Reading Terminal which plays host to a diverse crowd of merchants — from first-generation European and Asian immigrants to the area's local Amish and Mennonite farmers.
Economy
Philadelphia's economy is as diverse as the population that inhabits the city. In Old City, the 'Third Street Corridor', from 3rd and Chestnut Streets to Vine Street, is home to many locally owned businesses contributing to art, design and fashion industries. The Philadelphia Stock Exchange, the oldest one in America, has been in operation since 1790. In addition, the city is host to several Fortune 500 companies, including Comcast (the nation's largest cable television and broadband Internet provider), CIGNA insurance, Aramark, and Lincoln Financial Group. The largest private employers in the city are the University of Pennsylvania, Children's Hospital of Philadelphia, Thomas Jefferson University Hospital, and Temple University. In the region there are approximately 50 higher educational institutions making Philadelphia a large 'college town'.
Dating back to the city's roots as the nation's first capital, the federal government's presence is also strong in Philadelphia. A U.S. Mint is near Philadelphia's historic district and the Philadelphia division of the Federal Reserve Bank is close to that. Thanks to this governmental presence the city plays host to a large number of prestigious law firms and is considered one of the nation's centers of law.
The Pennsylvania Railroad, once the largest railroad company in the world, continues to influence Philadelphia's economy under the Amtrak name. Amtrak's second-busiest station, 30th Street Station, is on the west bank of the Schuylkill River and employs many Philadelphians in customer service, engineering, accounting, and IT jobs at the station.
Many medical schools, pharmaceutical companies, and medical technology firms make their homes in and around Philadelphia, arguably making it the nation's healthcare capital. And numerous virtual commerce firms have made their home in the Philadelphia area, including QVC, Half.com (purchased by eBay), DuckDuckGo, and Monetate.
Climate
Philadelphia sits at the northernmost boundary of the humid subtropical climate zone; it has many features of a humid continental climate, and the climate has four seasons. Winters are cold and often snowy, but are rarely unbearable like in Boston or Chicago; temperatures usually hover around 32°F (0°C) during the colder months. Average annual snowfall is 24 inches (59 cm) which is spread out mainly from December to March, but the area is sometimes hit by devastating blizzards that can dump up to half that total or even more on the city in one day, such as in 1996 when a single storm dumped 30.7 inches (78 cm) of snow on the city in just a couple days.
On the other hand, summers in Philadelphia are notoriously hot and humid, and conditions can get quite unpleasant when the air temperature is near 90°F (32°C) and humidity is high.
Spring and fall are rather pleasant, with temperatures in the 60s and 70s °F (15°C-25°C).
Get in
By plane
Philadelphia International AirportThe largest airport in the Delaware Valley, minutes from the city. It is served by taxis and the SEPTA Regional Rail Airport Line. The predominant carrier at PHL is American Airlines, which offers flights to destinations throughout the U.S., Canada, and a handful of European cities, as well as a some Latin American destinations. Southwest has become American Airlines' main domestic competitor at PHL, and the two airlines constantly attempt to outbid each other's fares on many trunk routes. Air charter companies such as Monarch Air Group and Mercury Jets fly a variety of private charter aircraft and jets, from charter luxury Gulfstream's down to economical piston twins for small groups and individuals.
Taxis offer a flat rate of $28.50 from the airport to Center City.
The Airport Line serves each terminal throughout the day until approximately midnight and takes about twenty minutes to travel between the airport and Center City Philadelphia, making stops at all major commuter tunnel stations: 30th Street Station (Amtrak), Suburban Station (Penn Center, City Hall) and Jefferson Station (formerly "Market East Station": East Market Street, The Gallery, Pennsylvania Convention Center, Reading Terminal). Tickets for the Airport Line can be purchased on board the train, cash-only, for $8. Tickets purchased at ticket windows at stations in Center City cost $6.75. You can also buy a day pass for $13 valid on all regional rail trains after 9:30AM except into New Jersey either on board the train or at a ticket office. However, if you buy on board the train and want to use your pass on SEPTA services other than Regional Rail, you must trade in your pass for an Independence Pass at a ticket office in the city center. A family pass is available for $30; the same restrictions apply.
Or, the #37 SEPTA bus stops at all terminals (Directly outside baggage claim) and goes into South Philadelphia, terminating at the Broad Street Line subway station "Snyder." The trip costs $2.50 cash, payable to the driver.
Alternatively, you can fly to
Newark Liberty International Airport
(
EWR
) or Baltimore-Washington International Airport (BWI), each of which is connected by Amtrak to 30th Street Station (1 hr from EWR; 80 min from BWI). Other New York and Washington-area airports are less convenient.
Northeast Philadelphia AirportPhiladelphia proper also has a general aviation airport which does not have scheduled commercial airline service.
By train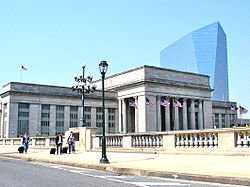 Philadelphia's (ZFV) is a major hub along Amtrak's Northeast Corridor and Keystone lines. Inbound trains from Washington, D.C. and New York City arrive at least once an hour during the day; some of them are high-speed Acela trains. Trains from Harrisburg arrive between 10-14 times daily, and trains from Pittsburgh arrive once each day. Amtrak also provides service to Vermont, Virginia, Charlotte, and overnight service to Florida and New Orleans. Tickets on Amtrak with 30th Street Station as the origin or destination are also valid on SEPTA regional rail to/from Suburban and Jefferson (Market East) stations in Philadelphia Center City. For ongoing 30th Street Station is also a stop on the Market-Frankford subway line, and has a taxi rank, as well as cars from several rental agencies.
It's also possible to get to Philadelphia from NYC via commuter rail. Using this method, one would take New Jersey Transit from New York Penn Station to Trenton and then transfer to the SEPTA Regional Rail Trenton Line. While this is about a third the price of Amtrak service from NYC, it is more than an hour slower; on the other hand, this is comparable to both the speed and price of an average bus trip from New York, with much more frequent journeys and a more comfortable trip. If you have a long layover in Trenton, stay put and just wait for the next train, as walking in the surrounding neighborhood is not advisable.
SEPTA Regional Rail lines (commuter rail) connect Philadelphia to its many suburbs. All regional rail lines stop at 30th St Station (at the upper level/SEPTA concourse), and at two stops in Center City (Suburban and Jefferson stations).
The New Jersey Transit Atlantic City Line connects 30th Street Station to Atlantic City.

By car

Philadelphia is connected to neighboring cities by freeways:
The New Jersey Turnpike, running just outside Philadelphia in New Jersey, is the main route to New York City. Strangely, there is no direct freeway connection between the cities - you will have to get off the Turnpike and go through a few traffic lights before getting on a Philadelphia freeway.
Interstate 95 continues south from Philadelphia to Baltimore, Washington D.C., and the remainder of the East Coast, ending in Miami.
The Pennsylvania Turnpike traverses the state of Pennsylvania from east to west. The Northeast Extension of the Turnpike connects Philadelphia to the Poconos and Wilkes-Barre-Scranton.
Within the city, the main freeways are I-95 (north-south), I-76 (north-south within the city), and I-676 (east-west). Route 1 (also called the Roosevelt Expressway) connects Northeast Philadelphia to Center City.

Several bridges across the Delaware River link Philadelphia to New Jersey. Of these bridges are Tacony Palmyra Bridge (Route 73), Betsy Ross Bridge (Route 90), Benjamin Franklin Bridge (US 30) and Walt Whitman Bridge (I-76).

By bus
Philadelphia is served by the Greyhound, Trailways, Bieber, and Peter Pan bus routes to cities across the U.S. The city is also served by a Chinatown Bus service, which began as a way to shuttle Chinese immigrant workers between various Chinatowns, but are now low-cost bus options for anyone looking to get in to Philadelphia from New York City or Washington, D.C. Although the buses are a bargain compared to corporate competitors like Greyhound, they are far from luxurious; they also use small terminals in both Chinatown districts, and have a poor reputation for safety, which can be daunting for less adventurous visitors.
To compete against the Chinatown buses in the low-cost, low-frills bus market, corporate bus companies have started Megabus and BoltBus services. There are two main bus terminals. Greyhound operates the City's main bus terminal at 1001 Filbert Street in Center City. Megabus and BoltBus make curbside stops near 30th Street Station.

If you buy tickets online, be sure to get on the right bus. Some companies trick you into taking the wrong bus and then charge you again.

By boat

The RiverLink and Freedom Ferry services provide travel from Philadelphia to neighboring Camden, New Jersey, between April and September. The service provides direct service to Camden's Susquehanna Bank Center on the Waterfront, a popular concert venue for the Philadelphia area. Access to the other waterfront attractions, including an aquarium, is also provided by the ferry service.

Get around
There are plenty of public transportation options to get around the downtown core of Philadelphia. Buses, trains, and trolleys gather at 30th St. Station and the 69th St. Transportation Center.
By foot
Philadelphia is one of America's most walkable cities. This has been taken advantage of and the city is marked extremely well by "Walk! Philadelphia" signs that are placed on each block, sometimes only several feet apart, that guide visitors toward shopping, dining, gallery perusing, cultural enjoyment, local must-sees and public transportation should it need to be taken. The city has two very walkable shopping districts as well as the walkable Benjamin Franklin Parkway, which is home to many museums, including the Franklin Institute and the Museum of Art that was made famous in the "Rocky" movies.
By bus
SEPTA Bus
. SEPTA runs an extensive bus network in Philadelphia. Buses are a convenient (if slow) method of getting almost anywhere within the city. On-time performance is relatively lacking especially in the suburbs, and it's bound to happen to you at least once in a weekend if you take the bus heavily. Frequencies are spotty in the outer suburbs so plan ahead. In Center City, bus routes will be fairly well documented on bus shelters, but in all other locations around Philadelphia, route maps and schedules will generally not be posted; in fact the stops or route markers may only be posted on a tree branch, so do your bus route research early. Seniors ride free with a Medicare Card or a Senior Citizen Transit ID Card.
Fares can be paid with cash at $2.50 but passengers must have the exact amount as change will not be given. Tokens (to be discontinued on 30 April) will effectively reduce the cost of a single ride to $2.00 but must be bought in groups of 2 ($4), 5 ($10), or 10 ($20). Because tokens are discounted, you might want to buy tokens in bulk when given a chance; token purchases are most easily done at machines located in the busiest subway stations in Center City and at some convenience stores, but unfortunately, not all stations have token machines. SEPTA also has a reloadable chip Key Card which works like most other contactless SMART cards and the fares are the same as when a token is used ($2). SEPTA Key Cards are also available in selected locations. Passengers who require a transfer need to pay $1 on the first mode of transport they take (either through a deduction of their Key Card balance or payment of exact cash amount).
Phlash Bus
. Philadelphia has a seasonal (May-October) trolley bus for tourists called the Phlash. It runs in a 20-stop east-west circuit of major tourist locations, from the Museum of Art in the west to Penn's Landing in the east. It is $2 per ride or $5 for a one day pass. SEPTA pass and key card holders ride free, as do children ages 4 and under and seniors 65 and older. Look for the purple trolley bus or the winged purple & blue logo.
By train
The 69th St. Transportation Center and 30th St. Station are the main hubs of major commuter (regional) rail, subway rail and trolley lines.
Commuter rail
SEPTA Regional Rail
regional commuter rail trains stop in Center City at underground commuter rail tunnels. The three major Center City stops, 30th Street Station, Suburban Station and Market East Station, serve most of the city's major attractions. Suburban Station is adjacent to near City Hall, the shopping district, the financial district, and many cultural attractions; Market East Station connects to the Pennsylvania Convention Center, shopping at The Gallery, and the Reading Terminal Market, a famous local marketplace. Traveling within Center City is considered a "Zone 1" fare and will cost $4.75 if purchased in advance and $6 if purchased on board the train. Seniors ride for $1. Fares to other destinations are up to $10. Between Temple University, the city center stations and University City, service is generally frequent enough that you won't need a schedule. Service in other areas tends to be about every half-hour, with more frequent service during peak hours. The Airport Line comes every 30 minutes daily from about 4:30AM to midnight, and Paoli/Thorndale Line (between Center City and Malvern) and Lansdale/Doylestown Line (between Center City and Lansdale) also have half-hourly service during the day on weekdays. The lightly used Cynwyd Line only comes Monday through Friday on an erratic, rush hour centered schedule.
New Jersey Transit Atlantic City Line
provides service to suburbs in New Jersey and to Atlantic City. Service patterns are somewhat uneven; be sure to check the schedule online in advance. These trains pick up passengers from the Amtrak concourse at 30th Street Station.
Subway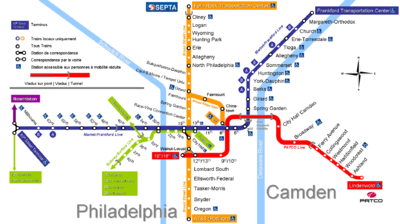 SEPTA
operates two metro (subway/elevated) lines, and a "Subway-Surface" trolley line which crosses Center City in a tunnel but runs in the street elsewhere. Just like SEPTA buses, the cash fare is $2.50.
Tokens are no longer sold by SEPTA, though they remain valid for use on bus, subway, and trolley.
A subway ride also costs $2 if a SEPTA contactless Key Card is used. Seniors ride free with ID.
Broad Street (Orange) Line
(BSL) — referred to by locals as the "subway" — runs North-South underneath Broad Street, the main north-south arterial. It serves Temple University, City Hall, the Sports Stadium Complex and everywhere in between. The BSL also has a "spur" called the Broad-Ridge Spur that serves Chinatown and 8th & Market Sts. in Center City. At City Hall station, there are free transfers to the Market-Frankford Line and Subway-Surface Lines. Transfers from a subway to a bus or from a bus to a subway cost $1 and must be purchased when you pay for the first leg of your trip. This transfer is also required if transferring from the 8th St Ridge Avenue spur to the 8th St MFL station.
Market-Frankford (Blue) Line
(MFL) — referred to by locals as the "el" — follows Market St from 69th St east to 2nd St, then turns northeast to Frankford Transportation Center in Northeast Philadelphia. The line runs underground beneath Market Street from 2nd to 45th Streets, and is elevated elsewhere. An free interchange with the BSL is available at 15th St, and a paid interchange with the Broad-Ridge Spur at 8th St station. Paid interchanges with SEPTA's Regional Rail are available at 11th St, 15th St, and 30th St stations. At 30th St you can also board Amtrak intercity trains.
Subway-Surface (Green/Trolley) Lines
— referred to by locals as the "trolleys" — are a set of five streetcar lines: 10 (Lancaster), 11 (Woodland), 13 (Chester), 34 (Baltimore), and 36 (Elmwood). The other routes run along a different avenue in West Philadelphia, but all meet at a subway portal at 40 St. and Woodland Ave. (except the #10, which joins the subway at a portal at 36th St.) to run in a streetcar subway under the University of Pennsylvania and Drexel University to 30 St., then under Market St. from 30 to Juniper St, near 13 St. The trolley shares 30th, 15th, and Juniper/13th St stations with the MFL, but is the only subway stopping at 19th and 22nd Sts along Market St. There is a free interchange between the lines at all three shared stations. A sixth trolley line, #15-Girard Avenue, runs through North Philly and uses refurbished vintage PCC streetcars.
Norristown High Speed Line
(Route 100) — this above-ground electric train service departs from the MFL's 69th Street terminal, and travels through suburbs in the main line to Norristown. Service comes about every 20 minutes, with more frequent service including express trains during peak hours. Stops are made on request only - to request a train to stop when standing on a platform (except at 69th Street, Ardmore Junction, and Norristown), you must press a button to activate a signal to stop the train. Otherwise, trains can blast through at up to 65 miles per hour, leaving you stranded.
PATCO Hi-Speed Line
operated by the Delaware River Port Authority, travels between 16th and Locust Sts. past 8th and Market Sts. in Center City Philadelphia and Lindenwold Station in Southern New Jersey. PATCO runs underground in the city and rises above ground to cross over the Delaware River on the Benjamin Franklin Bridge. It then runs underground in the center of Camden, then is above ground through the rest of its trip in New Jersey. There is no free interchange between SEPTA's subways or regional rail and the PATCO service, and SEPTA passes are not valid on PATCO; a discounted round-trip transfer to SEPTA can be purchased for $3.10 extra when buying a round trip from a New Jersey station to Philadelphia. The PATCO line is the easiest way to access Camden, NJ's waterfront attractions, including the Adventure Aquarium and the BB&T Pavilion at the Waterfront concert venue. Fares are based on the distance of travel. Those rates are as follows:
Lindenwold, Ashland & Woodcrest Stations and Philadelphia: $3.00
Haddonfield, Westmont & Collingswood Stations and Philadelphia: $2.60
Ferry Avenue (Camden) Station and Philadelphia: $2.25
Travel within Pennsylvania, between Broadway and City Hall (Camden), and between PA and those two stations: $1.40
Any other trip within New Jersey: $1.60
SEPTA one-day passes
Passengers who wish to use a combination of SEPTA trolley, bus and subway around downtown Philadelphia may purchase a One-Day Convenience Pass. It costs $9 and may be purchased from the ticket booth at a SEPTA subway station. It can be purchased either as a paper pass or loaded into a SEPTA chip Key Card. Unlike other metropolitan transit systems, the one-day pass does not entitle the passenger to unlimited rides on the entire system and is limited to eight rides on the day it was first used. That said, it still effectively brings down the cost of each ride to $1.13 (compared to the standard fares of $2.00 to $2.50).
To use the paper pass, just present it to the driver or station attendant at the fare gate who will punch in the current date and ride number (from 1 to 8) you have taken to indicate how many rides were already used. If the pass is loaded on a SEPTA Key Card, just tap the card against the reader you normally would. Transfers that require you to exit the station fare gates (including subway-to-bus transfers) will be counted against your ride allowance.
The Convenience Pass is not valid on regional/commuter rail lines. However, SEPTA also offers the Independence Pass, which is a one day pass that is valid on all modes of transit, including the regional rail lines (except to Trenton and West Trenton, which are $5 extra each way). The Independence Pass cannot be used on Regional Rail trains arriving in Center City prior to 9:30AM on weekdays, with the exception of the Airport Line where it is valid at all times. The
Independence Pass
costs $13 for an individual and $30 for a family. The Independence Pass does not have the 8-ride limit of the Convenience Pass.
By taxi
Taxis are regulated by the Philadelphia Parking Authority and display a medallion license on their hood. As a result, Go2Go does not serve Philadelphia and the surrounding area. All taxis are metered. Rates are $2.70 at flagfall and $2.30 per mile (1.6 km). There is also a variable gas surcharge. In July 2012 it was $1.15. For trips from the airport, a flat rate, including fuel surcharge, of $28.50 applies. An additional $1 per passenger ($3 maximum) after the first passenger will be charged on flat rate trips between the airport and Center City for those passengers over the age of 12. Tipping for good service is common.
By ride-hailing services
Ride-hailing services
Uber
and
Lyft
can be used to get around Philadelphia.
By car
Philadelphia is also home to
Enterprise Car Share
and Zipcar, where, after registering, you can book vehicles by the hour or day for significantly less than a rental car. Enterprise Car Share has vehicles including Toyota Prius, Volkswagen Beetle and Mini Cooper stationed at various locations called 'pods' around Philadelphia. You first book online, and then use your personal key to unlock the vehicle and away you go. Rental is $5.90-7.90 per hour, or approximately $50 for a full day, plus a few dollars booking fee and $0.09 per mile (1.6 km) traveled.
Parking
You can park at the ends of the subway lines for very little. Remember that Philadelphia is the center of a metro area of 6 million, so the roads are congested from early morning until the mid-evening, and parking is not cheap. Should you choose to bring a car, check with your hotel about parking in the city. Legal street parking is available but is very difficult to find close to Center City attractions or hotels. Secured parking garages can cost $10-35 per day or higher in some cases. In the historic district, there were several parking options under $20. Visitors should also be aware that the Philadelphia Parking Authority is renowned (even notorious) for its efficiency, and PPA parking enforcement personnel are as quick to write tickets as they are unlikely to yield to a violator's plea for leniency. Tickets that are not paid promptly quickly accumulate additional penalty fees. It is also worth mentioning that the only coins that the meters accept are dollar coins and quarters. Putting other coins in the meter will not give you extra time. Fortunately, depending on where you are in the city, a quarter can give you up to a half hour of parking. However, in such busy places such as Chinatown and Center City, a quarter can get you only eight minutes of parking. A new parking method has been brought about in the city although there are still parking meters throughout the city, some areas have a kiosk at which patrons can use bills or credit cards (not just quarters) to print a ticket which they leave on the dashboard. You can park and ride for $1 at AT&T Station (the southernmost stop on the Orange subway line) on Mondays through Fridays until 7PM, but you must get there before noon.
Traffic
In terms of congestion Center City Philadelphia compares favorably to most large U.S. cities. Gridlock does occur, however, particularly during rush hour. Traffic generally moves at the slowest pace in the Chinatown neighborhood, on the numbered streets west of Broad and in the South St. and Old City areas on weekend evenings. Broad St. is typically only moderately congested. The most heavily-traveled roads in the area are I-95, I-676/I-76 (the Schuylkill Expressway), which connects Center City to the various suburbs west of the city, and I-476 (the "Blue Route") which curves from the south to the northwest of Philadelphia, connecting I-95 with I-76 and, beyond that, the PA Turnpike. Rush-hour delays are common on all these roadways: During the morning rush-hour I-95 south-bound typically backs up between the Bridge St. and Girard Ave. exits; and eastbound I-76 typically jams from Gladwynne to 30th Street. During the evening rush-hour, I-95 usually slows from the Bridge Street to Academy Road exits. On I-676 and the west-bound Schuylkill, traffic can be stop-and-go from roughly Broad St. potentially all the way to the so-called "Conshohocken Curve," just east of the town of the same name, effectively doubling the time it normally takes to drive from Center City to the PA Turnpike entrance at King of Prussia. Anyone planning to drive through Philadelphia during either rush hours would do well to anticipate traffic conditions and plan accordingly.
By trolley
SEPTA operates 8 trolley lines including the 5 subway-surface branch lines and the two suburban trolley lines, numbered 101 and 102, that leave from the 69th Street terminal on the Market Frankford Line. In addition, the 15 line (running along Girard Ave.) has been renovated and vintage trolley cars are now in use on this route. Connections to this line can be made at either the Broad Street Line or Market-Frankford Line Girard Stations; a transfer should be purchased upon boarding the trolley or entering your origin subway station for $1 to avoid paying an additional fare when making the connection. Among its other uses, the 15 line provides the only rail link to the Philadelphia Zoo. SEPTA has also been studying whether to restore trolley service on former lines, as many miles of rail are still in place.
See
Travelers planning to visit multiple attractions may benefit from
Philadelphia CityPASS
, which grants admission to 6 Philadelphia attractions within 9 days of first use for a much reduced rate and includes expedited entry in some cases. The included attractions are: THE Franklin Institute; Adventure Aquarium; Phila Trolley & the Big Bus Company, 24 hours of on-off privileges; Philadelphia Zoo; Option Ticket One with choice of either the Academy of Natural Sciences or the National Constitution Center and Option Ticket Two with choice of Please Touch Museum or Eastern State Penitentiary.
A Weekend in Philly
offers a detailed itinerary that includes several of these attractions.
Public art
Thanks to Philadelphia's innovative
Mural Arts Program
, the city has a truly massive amount of art that can be seen without paying a dime or entering a single building. Originally designed to help stop graffiti and enliven the city's buildings, the Mural Arts Program has led to Philadelphia now having the largest collection of public art in the world, with over 3500 murals completed since its inception. There are
tours
offered as well, from trolley or train tours to the mural-mile walking tour. Other public art of note includes the many glass mosaics found throughout the city; a sampling of this great public art can be seen on South St. east of Broad.
Center city Philadelphia offers many public statue displays. "The Clothespin" is a sculpture by Claes Oldenburg that resembles a clothespin located just across from City Hall on West Market St. LOVE Park, serving as a terminus between City Hall and the museum-laden Benjamin Franklin Pkwy., features a famous LOVE statue that has come to represent the brotherly love that Philadelphia was founded on. The site once was the city's (and perhaps the nation's) most popular skating attraction until new legislation and remodeling efforts outlawed skating in the park. Just across the JFK Blvd. from City Hall at the Municipal Services Building, visitors can find many larger than life game pieces from popular board games as well as a statue of former mayor Frank Rizzo.
More statues can be found throughout
Fairmount Park
along Kelly Dr. on east side of the Schuykill River. Sculptures by Remmington can be found on the path, while several sculptures by Alexander Milne Calder can be found in
Laurel Hill Cemetery
, which is just off the paved walking path.
Museums
Philadelphia is known for two world-famous art museums, the
Philadelphia Museum of Art
and the
Barnes Foundation
, both located in
Center City West
.
Center City West also hosts the
Academy of Natural Sciences
,
Franklin Institute Science Museum
,
Mutter Museum
,
Rosenbach Museum & Library
and
Rodin Museum
. The Rare Book department of the
Free Library of Philadelphia
is also worth a visit.
Center City East
is home to the
African American Museum
, and
Atwater Kent Museum of Philadelphia History
.
Old City
is home to the
National Museum of American Jewish History
and
Independence Seaport Museum
.
West Philly
is home to the
Penn Museum
(for archaeology) and the
Please Touch Museum
.
Historic sites
Independence National Historic Park
is Philadelphia's signature historic site in the Old City. It features the
Liberty Bell
,
Independence Hall
,
Constitution Hall
(home of the Declaration of Independence and Constitution), and other historic buildings.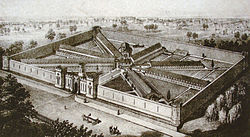 Eastern State Penitentiary
is billed as "America's Most Historic Prison." It is also the site of an annual Bastille Day recreation. In October, the notoriously haunted penitentiary is home to one of the city's most popular Halloween attractions: the "Terror Behind the Walls" haunted house.
The
Edgar Allan Poe National Historic Site
contains the former home of the famous American author of mystery and the macabre.
The
Fairmount Water Works
features information on local watersheds as well as interpretive art.
Parks
Fairmount Park
is a large park on both sides of the Schuykill River northwest of Center City. East Fairmount Park is home to the Smith Memorial Playground, Dell East Concerts, and a driving range. West Fairmount Park, much of which has been renamed the Centennial District, includes the Mann Music Center (where the Philadelphia Orchestra plays in summer), the Japanese TeaHouse, Please Touch Museum for kids in a restored Memorial Hall (from the nation's centennial celebration).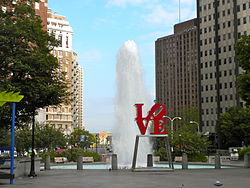 LOVE Park
is square near City Hall, known for its Robert Indiana "LOVE" sculpture, and for attracting skateboarders from around the world (but since 2002, a ban on skateboarding has been rigorously enforced).
William Penn designed Philadelphia to have "five squares" of public, open space. Four of the five squares are now city parks, somewhat symmetrically located at the four corners of an imaginary square surrounding the very center of Center City. (The fifth square, at the very center of the city, is now occupied by City Hall.)
Rittenhouse Square
(the southwest park) sits among classic and classy Rittenhouse hotels and residences and attracts people from around the world. It is named after David Rittenhouse, a clockmaker and astronomer.
Logan Square
(northwest, better known as Logan Circle), named after William Penn's secretary James Logan, is the gateway to Fairmount Park and the Art Museum area. Until 1823, Logan Circle was an execution site as well as burial ground. In Logan Circle there is the Swann Memorial Fountain.
Washington Square
(southeast) is near Independence Hall. It was also used as a burial ground and a potter's field.
Franklin Square
(northeast) is located on the outskirts of Chinatown at 6th and Race Streets. It is home to the Philadelphia Park Liberty Carousel, has a Philadelphia-themed miniature golf course, two playgrounds, a fountain (new technology causes the water to shoot lower on rainy or windy days so bystanders do not become wet), and a gift shop. The center of
City Hall'
s Square is a large compass in the ground. There are four archways leading into it.
Penn Treaty Park
, in
North Philly
, is a small riverfront park. On this site William Penn famously entered into a treaty of peace with Tamanend, the Lenape Indian chief.
The
Philadelphia Zoo
, the first zoo in the United States, is located in
West Philly
.
Do
Events
Every year, Philadelphia is host to the Philadelphia International Championship, which is a 144-mi (232-km) bike race from Benjamin Franklin Parkway to the hillside community of Manayunk, which is the site of the Manayunk Wall. The event has been run since 1984. The event usually takes place in early June.
The Philadelphia Marathon is also another annual event. This marathon race is held every 3rd Sunday in November. There are three races: the full marathon, half marathon and the "Rothman Institute 8k".
Every year in the beginning of July, an All-You-Can-Eat Ice Cream Festival is held down Penns Landing. $5, children under 2 free.
AIDS Walk Philly occurs every October. It is an 8.2-mi (13-km) walk that begins and ends at Eakins Oval (in front of the stairs of the Philadelphia Art Museum). The first walk started in 1987 and raised $33,000 that year. Since then, the event became annual.
The Mummers Parade is held each New Years Day. The first official parade took place on January 1, 1901. Local clubs (usually called New Years Associations) compete in one of four categories (Comics, Fancies, String Bands, and Fancy Brigades). They prepare elaborate costumes and moveable scenery, which take months to complete. The parade of over 10,000 marchers travels approximately 3 miles northward on Broad Street, beginning in South Philadelphia and concluding near City Hall in Center City.
The Made In America Festival is an annual music festival taking place during Labor Day weekend on the Benjamin Franklin Parkway. While rappers draw the biggest attention, bands from all musical genres are featured.
Theater and music
Philadelphia prides itself on its wide variety of live performances, particularly for music. Venues can be found throughout
Center City East
and
West
,
Old City
,
South Philly
and the Northern Liberties/Fishtown districts of
North Philly
.
R5 Productions
promotes smaller bands and affordable shows at several local venues.
Sports
Whenever the topic of American sports comes up, one will soon notice that Philadelphia is seen with disgust and derision. This is the result of two preconceived notions: 1) Philadelphia sports teams have had very little luck winning championships, 2) Philadelphians have a reputation for being hard-nosed and passionate fans. While these are based in certain amounts of truth, that should not deter you from enjoying yourself, far from it. In fact, Philly sports fans are often praised for their in-depth knowledge of their teams and league rules, and few cities can boast crowds as electrifying as Philly.
Philadelphia PhilliesThe city's hometown baseball team. Founded in 1883, they are the oldest one name, one city franchise in all of professional sports. Since 2004 the team has played at Citizens Bank Park, a $350-million baseball-only facility in South Philadelphia that is among the best in the big leagues. The park is easily accessible on the subway and tickets start at $18. The food at the park was named as Best Ballpark Food in a survey of Food Network viewers in 2007. Keep your eye out for Dollar Dog Nights, where hot dogs are only $1.

Philadelphia EaglesPhiladelphia's divisive NFL team, and without a doubt the most beloved by locals. The Eagles have played at Lincoln Financial Field, next door to Citizens Bank Park, since 2003. Known for their rabid fans, Eagles games routinely sell out, often before the season even starts.

Philadelphia 76ersThe city's NBA team, playing at Wells Fargo Center, in the immediate vicinity of the two major stadiums.

Philadelphia FlyersHockey fans can also enjoy the city's NHL team, which shares Wells Fargo Center with the Sixers.

Philadelphia UnionThe 16th team in Major League Soccer, Union are now playing their fourth season in the league. Unlike Philly's other teams in the four biggest sports in North America, however, they are not located in South Philly; home games are played at Talen Energy Stadium, their soccer-specific stadium on the waterfront in the nearby suburb of Chester.

Philadelphia PassionPhiladelphia has played in the Legends Football League, originally the Lingerie Football League, since the league's formation in 2009. The rules of the NFL and the LFL are slightly different; the LFL plays 7 on 7 rather than 11.

College sports – The Philadelphia area is also a mecca for college sports, especially men's basketball. One term you will often see or hear in the sports pages, talk shows, and general sports conversation is "Big 5". This refers to the heated men's basketball rivalry between five of the major universities in the area—Temple, Villanova, Saint Joseph's, Penn, and La Salle.
Learn
Philadelphia is rich with educational opportunities. Universities include
Temple University
,
Philadelphia University
,
Drexel University
with the only co-op program in the area, the Ivy League
University of Pennsylvania
,
La Salle University
a major Catholic university,
Saint Joseph's University
a Jesuit university, and
United Lutheran Seminary
a divinity school; as well as
"Westminster Theological Seminary"
in Glenside.
The
Community College of Philadelphia
is Philadelphia's premier community college.
Art schools include the
University of the Arts
, one of the most prestigious art schools in America,
Pennsylvania Academy of Fine Arts
,
Moore College of Art and Design
an all-women college,
Hussian College
, and the
Art Institute of Philadelphia
.
Trade schools include
The Wine School of Philadelphia
which offers professional sommelier & winemaking diplomas, along with
wine tasting classes
.
Work

Philadelphia's job market is ever-expanding both in the city and in its suburbs. The Comcast Center is a constant reminder of the economic revitalization of Philadelphia and of Comcast's presence in the city. Additionally, a Keystone Opportunity Zone over the Powelton Rail Yards adjacent to 30th St. Station promises a bright future for jobs and new office buildings in the city.

Talk
Colloquialisms
For someone who isn't familiar with either the Mid-Atlantic and Northeast or even just Philadelphia, local lingo in the area can seem rather daunting. Older white working-class locals often speak with a distinctive accent, though younger people generally speak with a more general American accent. Here is a breakdown of Philadelphia's most popular local terms:
Wooder Water
Youse (guys) You guys, you all. Second-person plural. (Can sound like /juːs/ (yooce) or /juːz/ (yooze.)
Water Ice A dessert served by local restaurants that features flavored slushy ice. Sometimes called Italian Ice. Pop's, near the corners of Oregon Avenue and Broad Street, is arguably the most popular.
Gravy This is tomato sauce, and is for the most part only used by those who are of Italian heritage. "Gravy" is usually prepared with meat including meatballs, sausage, and sometimes pork in order to give it flavor.
Coffee Regular Coffee with cream and sugar.
Jimmies Chocolate or rainbow colored candy sprinkled onto ice cream or cookies.
Steak Any sandwich in the cheesesteak family. An entire menu category at neighborhood pizza joints.
Hoagie Submarine sandwich.
Grinder A toasted hoagie.
Tomato pie Pizza crust with tomato sauce but no cheese (besides, perhaps, a little Parmesan).
Stromboli A sauceless pizza rolled up: like a calzone, but with mozzarella and without ricotta.
Buy
Philadelphia's
Old City
has always been a center of commerce, and as Philadelphia grew to be a bigger city many shops and department stores were found on Market Street between Old City and City Hall. Two such landmark department stores on Market Street were Gimbels and Strawbridge & Clothiers, which faced increasing difficulty in competing against suburban department chains in the 20th century. In the 1970s, the
Gallery at Market East
, an urban mall with Gimbels and Strawbridge & Clothiers as major anchors, opened to stem the tide of retailers fleeing the urban core to the regional shopping malls. Despite success in the first decade or so of operation, the Gallery remained unable to compete; Gimbels closed in 1986 and is now a Kmart, while Strawbridge's closed in 2006 and now stands vacant. The rest of the mall offers mid-range stores catering to the city's working class population, and has a busy food court on the basement level, convenient for the 12,000 or so daily commuters who take the regional rail into the city.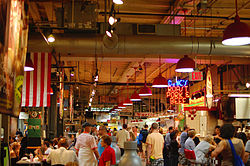 Just northwest of the Gallery is the
Reading Terminal Market,
a very successful indoor public market that opened in 1893 at the site of the Reading Railroad's headhouse terminal, now part of the Philadelphia Convention Center, after open-air sidewalk markets were closed down in the 1850s due to health and safety concerns. Some of the vendors have been in business for over a century, and sell produce, meats, chocolates, and a variety of other usually handmade foodstuffs and items. There are a lot of small restaurants and a section for Pennsylvania Dutch (or Amish) vendors.
The high-end shopping district of
Center City
did eventually regain its footing in downtown Philadelphia starting in the 1980s and 1990s, and is along Chestnut Streets and Walnut Streets west of Broad Street to Rittenhouse Square, featuring national brands and boutiques, from the high-end Burberry, Tiffany and Diesel to locally-managed corporate Anthropologie and Urban Outfitters. Chestnut Street also has a larger range of mid-range shops as well, with many ma-and-pa outfits in addition to bargain big-leaguers H&M and Daffy's, and extends from as far east as 11th Street to 22nd Streets.
The Shoppes at Liberty Place
is in Philadelphia's second-tallest building, and
The Shops at the Bellevue
is in a historic building on Broad Street.
For a more unique flavor, there are shopping districts with its own distinct character.
3rd Street Corridor
in
Old City
has the city's best in high-end, independent retailers for fashion, art and design. Landmark
Sugarcube
should not be missed for the fashion savvy. Beauty-goers will enjoy
Moko
, an organic beauty studio along the corridor.
Antique Row
, on Pine Street between 9th and 13th (
Center City
), is home to a mix of antique stores and local gift and craft boutiques.
The Italian Market
in
South Philly
is an open-air street market with fresh produce and food; although it has been a predominantly Italian district, there is now a large infusion of Mexicans.
Chinatown
(
Center City
) is similar to many other similar Chinatowns in various U.S. cities, as an ethnic enclave of Asian American immigrants and residents.
Eat
See the Districts articles for specific listings.
Cheesesteaks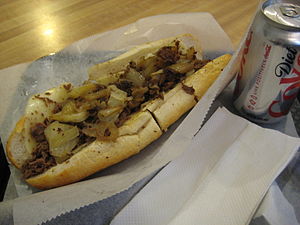 No trip to Philadelphia is complete without trying the
cheesesteak
, Philly's most famous homegrown food, a sandwich made of a fresh roll filled with grilled shaved beef and cheese (as well as onions, mushrooms, and other optional sides). The spiritual homes of the cheesesteak are
Pat's King of Steaks
, where the cheesesteak was invented, and
Geno's Steaks
, where they claim to have improved on Pat's version. They are across from each other in
South Philly
at the intersection of 9th Street and Passyunk Avenue.
There are many ways to order a cheesesteak. Some cheesesteaks are made with chopped steak (Pat's and Geno's), while others are made with sliced top-round (Steve's). While Cheez-Wiz is a local favorite, many people also enjoy American or Provolone cheese on their cheesesteaks. The way the cheese is served makes a huge difference. Some cheesesteak joints simply place the cheese on top to melt (Pat's and Geno's), while others, such as Steve's, ladle hot melted cheese on top, adding to the delicious grease from the meat. Any local will tell you as well that the most important part of the cheesesteak (or hoagie, for that matter) is the roll, which is why many have found it difficult to replicate the cheesesteak outside of the Philadelphia region. Many displaced Philadelphians who have started their own restaurants elsewhere have encountered trouble making authentic cheesesteaks, and import their rolls from the Philly area.
Although Pat's and Geno's are the most famous cheesesteak joints, they are far from the best. There are many others to choose from, particularly in South Philadelphia—
John's Roast Pork
at Snyder and alley-street Weccacoe is considered by many locals to offer a standout. John's offers what sports radio 610 WIP's Cheesesteak Challenge called the best cheesesteak in the city, and an outstanding roast pork sandwich. It is common for people visiting John's to bring a friend and split a cheesesteak and a roast pork sandwich. Placing at #2 on the 610 cheesesteak list is
Steve's Prince of Steaks
in Northeast Philadelphia, which has 2 great locations. They also serve a delicious side of cheese fries, which can be had with wiz, American, or provolone. Many enjoy
Jim's Steaks
or
Tony Luke's
. 'The Great Northeast' is also home to
Chink's Steaks
, a delightful drug-store throwback on Torresdale Avenue near the Delaware River. No cheesesteak aficionado can call himself such without a visit to
Dalessandro's Steaks
or Chubby's on Henry Avenue in the Roxborough section of Northwest Philadelphia (north of Manayunk and East Falls). One of this region's better steaks is found at takeout-only Sorrentino's on Cresson in Manayunk. Sonny's in Old City, on Market St between 3rd and 4th, also serves an excellent cheesesteak in a location close to Independence Hall. Philadelphia's other notable sandwich is roast pork which can be found at Dinic's in the Reading Terminal Market, Tony Luke's, John's, or a Latin version at
Porky's Point
. Lastly, the city's best roast beef sandwich served on a locally baked Sarcone's roll is at
caffe chicco
.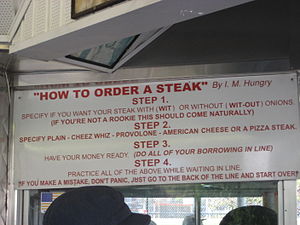 A caveat before ordering a cheesesteak, particularly at the often crowded Pat's and Geno's—know how to order. There is somewhat of a 'no soup for you' attitude at these busy and fast-service oriented establishments which can really make a tourist stand out. The way to order is as follows: It is assumed that you are going to order a cheesesteak, so unless you are not, don't specify this. First, say the type of cheese—only
American
,
provolone
, and
whiz
are generally available. Ask for Swiss at your own risk. The only condiment that is not available in a jar outside the stand will be fried onions;
with
(or
"wit"
in Philly parlance) or
without
("witout") will specify your preference on the matter. So 'Whiz "Wit", Provolone "Witout",' etc. Not too complicated, and a straightforward way to have a nice local moment on your travels.
Local and street food
You can also find cheesesteaks at
Reading Terminal Market
at 12th and Arch Sts. Here visitors will find many stands selling produce, meats, flowers, and baked goods. Reading Terminal Market is a good place to get lunch if you are in the area. The multitude of vendors and low prices provide plenty of options for a quick meal. It's also home to one of the city's best pretzels (Miller's).
Philadelphia's most famous snack is the salted
soft pretzel
, which, while shaped with the three holes like soft pretzels everywhere else, are distinctive in that they are flattened into a wide rectangle and are made in long chains in which the wide sides of the pretzels are attached. A person may typically buy two, three, or more attached pretzels at a convenience store or from a street vendor. The price is low, especially compared to national vendor brands sold in other cities and in malls. Unlike pretzels served in many other cities, Philly pretzels are not served hot, but at room temperature and often eaten with mustard.
The most famous sweet snack is from the
Tastykake
brand. Their main factory is in the Navy Yard in far south Philly, so every flavor and type of TastyKake is sold in Philadelphia, and they are usually extra fresh, since they do not have to travel far to the retail outlet.
Also unique to the area are
Goldenberg's Peanut Chews
, a bit-sized chocolate bar with a chewy peanut center. Originally developed as a high-energy ration bar during World War I, but still popular today!
Scrapple
is a favorite comfort food of native Philadelphians. Best described as a seasoned breakfast pork product, scrapple is of Pennsylvania Dutch origin and is made from pork by-products (you're better off not knowing exactly what's in it) and cornmeal, cooked into a thick pudding, formed into a loaf, sliced, and fried. You'll find it on the breakfast menu of many neighborhood diners in Philly. Ask for it very crispy.
Some other Philly foods include Philadelphia Cream Cheese, water ice, and hoagies.
The Kraft/Nabisco factory is in the far Northeast of Philadelphia at Byberry and Roosevelt Blvd. Drive by with your windows down and take a whiff!
Wawa
is a chain of local convenience stores similar to, but better than, 7-Eleven. They are most famous for their deli ordering terminals, which allow you to specify via a touch-screen monitor exactly what you want on a sandwich. Although locals refuse to consider Wawa's cheesesteaks as authentic, due to its use of ground beef rather than sliced or diced beef, the Wawa option is still delicious and you get to customize it with a wide range of options. Many stores also carry a respectably thick and doughy fresh soft pretzel at their counter.
Fine dining
Philadelphia has an extremely vibrant
culinary scene
, with many young and enterprising new chefs coming to the City of Brotherly Love for its food-obsessed culture. Local restauranteurs such as
Stephen Starr
,
Marc Vetri
, Iron Chefs
Masaharu Morimoto
and
Jose Garces
, and others have become household names and food celebrities in their own right, transforming Philadelphia's food scene and exporting its concepts to other parts of the country. In part, the scene is bolstered by a culture of organic and sustainable foodstuffs coming from local farmers.
BYOBs
Pennsylvania's draconian liquor laws make it very expensive and inconvenient for restaurants to obtain liquor licenses. As a result, many restaurants—including some of the best—are
BYOB
, that is, "Bring Your Own Bottle". These restaurants will advertise their BYOB-status, and will usually help you out by supplying corkscrews, glasses, or club soda, so long as you supply the beer, wine, or spirits. You'll have to pick wine or spirits up at a state-sponsored liquor store, or six-packs or individual beers from a neighborhood bar or bottle shop, which are good locations for finding a variety of craft beers. Convenience stores do not sell alcoholic beverages. Even if you don't drink, or don't want a drink, dining at a BYOB can pay off as the restaurant doesn't need to pay off a license and can charge a little less for the food.
Drink
Because of the state of Pennsylvania's complicated liquor laws (which date from immediately after Prohibition and were designed, in the words of the governor at the time, to "discourage the purchase of alcoholic beverages by making it as inconvenient and expensive as possible"), supermarkets won't sell beer or spirits, although some small neighborhood convenience stores might. State-sponsored liquor stores are all over the place but don't sell beer, and beer distributors sell beer only in bulk and are scattered in inconvenient locations, and neither will be open late or on Sundays. Thus, even for locals, the most convenient way to get a drink is to find a local bar or restaurant with a liquor license. In part because of this complicated setup, Philadelphia has a visibly strong, public
beer culture
, celebrated in events such as the annual summertime
Philly Beer Week
or the
Philly Craft Beer Festival
in March.
Local beers include
Yuengling
,
Yards
, or
Troegs
. Many bars will have a varied selection of beers you already know and love alongside ones you've never heard of. If you're ever stuck on a choice but don't want to look out of place, just ask for a
"lager"
, which in Philly specifically means the Yuengling Traditional Lager, a pre-Prohibition style amber lager rather different from the mass-market pale lager you find elsewhere. You can also order a
"Citywide Special"
, which is a shot of house whiskey with a can or bottle of light lager usually Pabst Blue Ribbon or Miller Lite.
Primarily, most of the
nightlife scene
takes place in Center City (
West
and
East
) and in
Old City
. The areas around Rittenhouse Square in
Center City
, and Headhouse Square and Penn's Landing in
Old City
, are popular destinations that have a large concentration of bars and clubs, many of them attracting the hip, young, pretty people of the suburbs or the universities. Slightly further out, the rapidly-gentrifying
Northern Liberties
district is another solid nightlife destination with more of a "yuppie" or "hipster" vibe. Yet another area that has a vibrant nightlife is the
Manayunk neighborhood
.
However, bars can be found in just about every corner of Philadelphia, and nothing is more characteristic of Philly than the
local bar
as a default place for social gathering; every neighborhood's got one or two just around the corner, even if it's a dark, run-down dive without proper signage and a crowd of blue-collar regulars, or a new-but-looks-old pub attracting the yuppies with outdoor seating and live music. Any major street or well-known district is going to have its own selection of watering holes, and each of these establishments will cater to a crowd, whether it's students, sports fans, hipsters or clubbers. In particular, streets and neighborhoods with a notable collection of drinking locales, not including Center City, Old City or Northern Liberties, include University City and
West Philly
; South Street and Passyunk Ave in
South Philly
; and the
Art Museum District
.
In the summer, the Center City District sponsors
Center City Sips
, a downtown-wide Happy Hour every Wednesday from 5PM-7PM where many bars and restaurants all participate in drink specials: $2 beers, $3 wines and $4 cocktails, and usually some selection of food specials.
Quizzo
It's been said that Philadelphia invented, or at least popularized, the popular
pub trivia
event that is known here as
Quizzo
, which are called by other various names such as "quiz nights" by the time they expanded to other parts of the United States. Philadelphia native Patrick Hines first began running Quizzo games at the New Deck Tavern in
University City
in 1993 (though he spelled it with one 'z', as in "Quizo"), and began a second one at Fergie's Pub in
Center City
in 1995; there are now plenty of other bars running their own Quizzo nights throughout Philadelphia, and while Hines has moved to Ireland, he still writes the questions for several local bars. If you're able to find yourself in a game (you'll have to have a team and needlessly long and/or hilarious team name, or see if you can join one as a free agent) it's a fun way to spend a night, but be prepared to be completely left in the dust by trivia buffs who play regularly.
Breweries
Philadelphia Brewing Company produces a variety of beers. If you can't make it to the brewery (or find it in a bar) you can pick up a sampler pack (24 bottles) for around $30 at a beer distributor.

Yard's BrewingProduces a variety of beers, though notably Philadelphia Pale Ale, ESA (especially if you find this in cask format), and the ales of the revolution. Historically certified beers from recipes tied to Ben Franklin, Jefferson, and a porter named after Gen. Washington. Accessible via the Spring Garden Station on the Market Frankford el.
Brewpubs
Nodding Head Brewery and Restaurant - One of the older brewpubs in the city; keep an eye out for all the bobble heads!
Earth Bread and Brewery - Known as much for their well made beer as they are for their bread and locally sourced food.
Dock Street Brewery - It's in West Philadelphia.
Manayunk Brewery and Restaurant - It's in the Manayunk neighborhood right on Main St.
Iron Hill Brewery - Local brewpub chain, this is their only location within the city limits. It's in the Chestnut Hill neighborhood.
Sleep
Hostels
Philadelphia is home to two hostels within the city limits, both are affiliated with Hostelling International USA:
phone: +1 215 922-0222

address: 32 S Bank St, (Old City)

Less than 3 blocks from the Liberty Bell and Independence Hall, free wireless Internet (for travelers with laptops), free bed linens, no curfews, no lockouts. Affordable, clean hostel with loads of free activities, friendly & knowledgeable staff and plenty of outside tours you can book at the reception desk that's open 24 hours.

phone: +1 215 878-3676

address: 3250 Chamounix Dr (West Fairmount Park)

On a scenic bluff above the Schuylkill River and 45 minutes to downtown Philadelphia's cultural and historic attractions. Associated with Hostelling International
Hotels
There is a wide variety of hotels located in Philadelphia. Prices usually range from $100 to $200 a night, excluding weeks with major trade conventions. Center City is home to a wide variety of moderate and high end hotel chains that can be found in five main areas:
Convention Center: Loew's, Marriott, Courtyard by Marriott, Residences at the Marriott, Four Points, Hampton Inn, Le Meridien, Hilton Garden, Travelodge, Clarion Suites
Rittenhouse/West Market-Palomar, Latham, Rittenhouse hotel, Bellevue at Stratford, Ritz Carlton, Embassy Suites, Four Seasons, Crowne Plaza, Sofitel, Club Quarters, Windsor Suites, Westin
East of Broad/Washington Sq West-Doubletree, Alexander Inn, Independent Hotel, Holiday Inn, Rodeway Inn, Parker Spruce
Old City (near Independence Hall)-Sheraton Society hill, Penn's View, Comfort Inn, Hyatt, Omni, Holiday Inn, Best Western
Philadelphia International Airport in South Philadelphia
Connect

Philadelphia is thoroughly covered by all of the major American cellular telephone companies. AT&T, Verizon, Sprint, and T-Mobile phones will all receive full service in most parts of the city. As always, service indoors varies according to signal strength, phone brand, and the composition of the building itself. AT&T has contracted with SEPTA to provide wireless service in transit tunnels.

Stay safe
While Philadelphia still bears the brunt of a history riddled with violence and decay - resulting in the notorious moniker of Killadelphia -, the city's overall crime rate has declined markedly since the late 2000s, now boasting a lower crime rate than more tourist-friendly cities such as Washington D.C, and New Orleans. This is the result of continued gentrification, community involvement, and a more efficient police force. As a rule of thumb, it's important to know that the places visitors are likely to spend time in are safe and well policed.
Center City and the surrounding neighborhoods have very low crime rates (some of the lowest in the country). Wealthier neighborhoods like Rittenhouse Square, Old City, and Society Hill, are safe, as are Northeast Philadelphia, Northwest Philadelphia, the Art Museum Area, Chinatown, the Parkway, and Bella Vista. Some petty crimes (mostly muggings) happen but much less often than the media suggest. South Philadelphia is generally safe, though certain parts should be avoided (especially those near I-95).
On the flipside, other parts of the city still struggle with rampant crime. The city's criminal activities are overwhelmingly concentrated in North Philadelphia (with the very notable exception of Temple University), West Philadelphia (though this area has seen improvements), and Southwest Philadelphia. These areas are of little interest to tourists, but do be careful if you do end up venturing there.
Pickpocketing and scams in Philadelphia are nowhere nearly as common as in other cities, but the threat of being mugged or approached by unwanted individuals remains real, so keep an eye on your belongings. One known scam is being "photographed" by homeless men near the Rocky statue at the Philadelphia Museum of Arts.
Be careful of traffic when crossing at major intersections—in Philadelphia, as in many major cities, one must always walk, cross, and drive defensively. The winding Schuylkill expressway provides some beautiful views, particularly around Boathouse Row, but do not try to enjoy them from your car; with the high speeds, the river on one side, and jagged rocks on the other, this is a sure way to cause an accident.
Although it is frequently blown out of proportion, Philadelphia sports fans have earned a reputation as a very passionate and notorious bunch. It is advised to be extra vigilant when attending a major sports match at the Sports Complex, particularly those who have the courage to wear the opposing team's gear in hostile territory. For these fans, it is best not to provoke the Philadelphia faithful and take their jabs in stride, as fans have been assaulted and even seriously injured in fights in and around the Sports Complex and around town.
Whereas Philadelphia has a history of crime, the same cannot be said about the Delaware Valley. Certain places like Camden, NJ and Chester must be avoided at all times, but most of Philadelphia's suburbs are safe.

Cope
Go next