Phitsanulok
Phitsanulok
(พิษณุโลก) is a historic city in
Lower Northern Thailand
, about halfway between
Bangkok
and
Chiang Mai
. It has a population of around 80,000.
Understand
A city in the lower part of Northern Thailand rich in historical, cultural and natural attractions, Phitsanulok is some 377 kilometres from Bangkok. The province around it covers an area of 10,815 square kilometres, featuring mountains, plains and forest in the east and river basin. The Nan River, lifeline of the province, runs through the heart of the city.
It is also a regional commerce and transportation hub. Many travellers will at least pass through Phitsanulok on way to and from the North. The city itself is not the most exciting or prettiest place in the world, but it can be useful for stocking up on supplies, and Phitsanulok is a great starting point for exploring the ancient Thai capital of
Sukhothai
.
The local Tourism Authority Thailand (TAT) office is at 209/7-8 Borom Trailokanat Rd, a few streets south of the train station (walking, 5-7 min) (08:30-16:30 daily).
History
The city dates back to the 10th century when the Khmer ruled this region. Formerly, the city was named Song Khwae, meaning two rivers, as it was located between the Nan and Khwae Noi River. The original location of Song Khwae city is at Wat Chulamani. Around the year 1357, king of Sukhothai, Phra Maha Thammaracha Lithai, decided to move the town to its present location. Since then, Phitsanulok served as a strategic border town ruled by members of the royal family.
During the Ayutthaya Period, the town played a larger role as a buffer town between Ayutthaya, the capital city, and the northern kingdom. Following an administrative reform by King Borommatrailokkanat, it had served as the capital city for 25 years. After that, the town was downgraded to a strategic border town. It has played a major role in blocking the invasion of Burmese troops. King Naresuan the Great, who ruled the town in a capacity as Crown Prince, mobilized troops from Phitsanulok to fight against the Burmese who then ruled over the Siamese Kingdom, and reclaimed independence in 1584.
Phitsanulok became a strategic town in coping Burmese invasion again in 1775 in the Thon Buri period. During a tough battle, the Burmese army commander requested the appearance of a Thai commander, Chaophraya Chakri, and predicted that he would become a king. Chaophraya Chakri was later crowned the first monarch of the Rattanakosin period, King Rama I the Great of the Royal House of Chakri. Phitsanulok was upgraded to be a circle called Monthon Phitsanulok in 1894 in the reign of King Rama V. Now, Phitsanulok is a province.
Get in
By plane
Nok Air offers regular flights between and Bangkok Don Mueang (DMK) (50 min). Bus 4 runs to the airport, as do tuk-tuks, for about 10-20 baht.
By train
There are several daily services from
Chiang Mai
and
Bangkok
. Phitsanulok is roughly halfway along the line, so travel times in both directions are about 6-7 hours.
Phitsanulok railway station
Outside the train station, tuk-tuk taxis wait to take you to the main bus station.
By bus
The is 2 km east of the train station, just off Singhawat Rd (a 60 baht tuk-tuk ride) and is mainly for local/regional traffic.
The new is another 7 km away and serves long-distance destinations.
You can reach the main bus station by tuk-tuk, or hop on the bus on one of the stops downtown, for instance on the broad road passing south of the Topland Plaza Hotel (a little west of the hotel). Bus stops and buses have signage in Thai only.
Beware that if you are coming from the north, the bus will first stop on Bus Terminal 2 and only after that continue to the more central Bus Terminal 1.
South-North axis Bangkok - Chiang Mai
Extensive services are available to Bangkok (262 THB, 390 km, 5-7 hrs depending ont the Bangkok traffic) and to Chiang Mai (202 THB, 5-6 hrs).
Kingdom Tour
goes to Chiang Rai at 9:50 and 12:05 (376 THB, 7h20).
East
Regular services are available, e.g. to
Khon Kaen
.
Air conditioned buses operate approximately every 45 minutes from the main bus terminal (40 THB, 58 km, 07:00-18:30, 1 hrs). These are often crowded, so get in early to secure your seat.
Alternatively, tuk-tuks waiting outside the train station go to Sukhothai for 1000 THB (one of the fixed prices posted on a sign in front of the station).
Some buses continue beyond Sukhothai, e.g. to
Tak
.
Regional
Buses leave to towns within the province and to surrounding provinces.
Get around
Public buses serve the town and there is no shortage of tuk-tuks and taxis. Bus 1 serves the route between the central bus station and the train station in the town centre, and leaves from the short road leading from the highway to the bus station.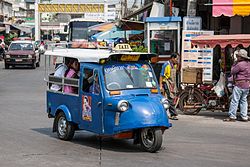 Decent motorcycles (Honda Wave, etc.) can be rented from the shop near the central bus station, at prices somewhat higher than the Chiang Mai standard (starting ~200 baht)
See
Phitsanulok is not well-known to foreign tourists and thus has retained the charm of a typical, larger Thai city. Unfortunately, most of the older parts of the city were destroyed in a disastrous fire decades ago.
AviaryWith around 100 local species such as parrots (English is spoken!) and hornbills.

City Pillar Shrine/Lak Mueang (Thai)The spiritual centre of the city and province. A Lak Mueang (Thai) or 'City Pillar Shrine' is a golden pillar, which represents the tutelary deity of each province of Thailand, housed inside an impressively designed structure. This shrine was designed by the Thai Fine Arts Department, in a Khymer-style.

Folklore MuseumA small museum exhibiting local culture and society, as collected by Sergeant Major Tawee. Interesting, worth a look.

HouseboatsOnce a symbol of Phitsanulok, only a few of these are left on the river and some now function as restaurants and cafes.

King Naresuan Shrine and Wang Chan Palace RuinKing Naresuan was one of the great Thai kings who liberated Ayutthaya Kingdom from the Burmese in the 16th century. This shrine commemorates his life. A small white building contains the statue of the King. Surrounding the shrine are the ruins of the king's palace birthplace.

Wat Phra Sri Rattana MahathatThis is the most important temple in Phitsanulok and is the home of the famous Phra Buddha Chinnarat, one of the most revered Buddha figures in Thailand. The temple is host to a large fair every January. There is also a small market on the ground, where people offer souvenirs and local food. Connected to the temple ground of Wat Yai is the Nang Phaya Temple. There you can get a traditional Thai massage.

Wat RatburanaThis wat is best known for its very old and tall chedi. According to legend this was constructed in the 15th century to house the ashes of the King of Sukhothai's two brothers. There is also the usual Thai temple buildings, plus, a small museum, and a boat used by King Chulalongkorn.
Do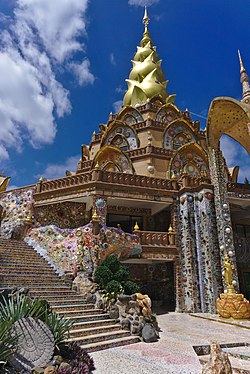 Visit the temples and stroll around a Thai city that is still unspoilt by the tourist traps of Chiang Mai and Bangkok.
There's a really nice daytrip to two temples possible. and the Sitting Buddha Statue are around 2 1/2 hours by bus from Phitsanulok. Busses depart from the normal bus station and cost 80 Baht one way. From where the bus stops you have to walk for 25 mins up a hill (or hitch a ride on the back of a pick up truck). Both temples are quite new. The Sitting Buddha Statue temple is actually multiple Buddhas sitting in front of each other and getting smaller. The other temple (Wat Prathat Phasornkaew), which is just on the other side of the road, is completely covered in beautiful mosaic art, walls, floors and stairs are designed in a smooth, fluid way which reminded me of Antoni Gaudí. You can climb this temple quite a bit and have an amazing view on the surrounding hills. This is really Off The Beaten Path. When going back it's possible to hitch hike or take a bus. For more information you can ask the owner of the Karma Home Hostel.
Eat
Several markets offer the typical variety of food stall dishes. During the day check out the just south of the train station, which turns into a popular night market scene in the early evening. Some of the best buys are gai yang (grilled chicken) and kweitiou pat Thai (Thai style fried noodles).
Night BazaarOffers lots of tourist type food options plus after dinner shopping with the usual night market items.

Topland MallShopping mall with standard chain restaurant fare. There is a Tesco-Lotus downstairs for self catering and other essentials.

Big C MallOffers a wide range of small restaurants and a food hall.

Connection House

address: Borom Trailokanat Rd

Thai and foreign food, cakes and coffee.

Kuai Tiao Hoi Kha

address: Soi Phutthabucha

Very popular noodle restaurant by the riverside. "Kuai Tiao" meens noodle and "Hoi Kha" to dangle one's legs, refering to the fact that you can dangle your legs in the air while sitting there. May be difficult to find a seat during lunchtime.

Bubbletea KioskA small bubble tea stall / kiosk offering really cheap, but tasty bubble tea. Open throughout the day.
Drink
It's a CakeGreat cakes and good sandwiches, pasta, and Thai dishes. Internet access.

The Pista

address: Phayalithai Rd

Great little coffee shop mainly visited by young local students, with surprisingly good coffee and a quiet environment, good seating, and aircon. Free Wifi.
Sleep
Budget
Asia HotelFrom the outside this hotel doesn't look much, but it has clean fan or air-con rooms with hot water, Wi-Fi and Thai TV. From the bus station, bus numbers 6, 8, and 12 stop opposite the hotel.

BP Tower

phone: +66 55 2208556

Pleasant 6 storey hotel, past the Big C on the main road (Mittraphap Rd) out of the city, down a side street, sign on main road. A bit away from the city, but on the ground floor of the hotel is a mini-mart, laundry, massage, and a small restaurant. Bus to the city 9 baht, motorbike 50 baht.

Lithai Guesthouse

phone: +66 55 219626-9

address: 73/1-5 Phayalithai Rd

Very clean and good beds. Moderate prices, starting at 300 baht for a single fan room and 400 for double, both with en suite bathroom. Good in-room Wi-Fi is free of charge. Asian breakfast is included, and there is also a cafe downstairs in the building. (as of 9/2014)

London GuesthouseClean, Spartan fan rooms for 100 baht. Shared bathrooms. Along one of the busier roads in town, so ask for a back room if noise is usually an issue for you. Pay another 20 baht for wireless password, good Internet speed. Good location, with night market & railway station nearby. Checkout time is 11:30. Friendly & helpful staff.

LV GardenhomeVery nice hotel - 2-storey with rooms surrounding central garden with water features. Bath, air-con, TV and free Wi-Fi in all rooms. Outside the city near Big C. Bus (9 baht) and songthaew (10 baht) during the day but no transport into the city in the evening; meaning you have little choice of what to do in the evenings as the place is quite remote. There are a few restaurants across the motorway open at night. Monthly rate 3,500 baht is for a minimum of 3 months stay.

Phitsanulok HotelBig hotel with small rooms. It feels like a barracks, the rooms cost 200 baht. Not really a bargain but it's OK. Fan, table, chair, shower, Thai toilet. You get toilet paper, water, soap, and a towel. The staff hardly speak any English. Good option if you arrive with the train late at night.

Tonwai Modern Place. 278 pra ong khao rd, a 15 or less minute walk from the train station and 20 or less minutes to bus terminal no.1. Doubles for 350 baht. Nice and clean rooms with TV, aircon, closet, minibar, private bathroom and a small balcony that includes a nice sunset. The owner is a Chinese Thai who speaks Thai, English and a bit of teochew. Breakfast is included, toast bread with jam and butter. Coffee, tea and chocolate. They also have a few adorable cats wandering around.
Phoonsab Hostel. (a short walk from Bus terminal 1). Clean and spacious rooms with toilet included. Free wi-fi. Rooms from 250-350 bath. Friendly staff that speaks a bit of English. 10 minutes walk to night market.}}

Karma Home Hostel

phone: +66 88 814 1268

address: Lang Wat Mai Apaiyaram 26-64

Small hostel with only a few beds which come with curtains. The owner, Mark, is really nice and is a foreigner so speaks really good English. Location is central and good. The rate for a fan dorm bed is 180 Baht. They also have an A/C dorm. Free WiFi is available and good. Also there's a rootop area with hammocks. Breakfast is with toast plus jam and cereals and it's on a pay what you think it's worth basis (not free).
*
Mid-range
phone: +66 55 220999

address: 52/299 Praongkhao Rd

phone: +66 55 248333, +66 55 216420

address: 59 Praroung Road

Free airport transfer.

Rattana Park Hotel

phone: +66 55 378234

address: 999/59 Mitrapap Rd

Hot water in the shower. Breakfast is basic Thai food, and it was quite cold not all that late in the morning.

Topland Hotel & Convention Center

phone: +66 55 247800

address: 68/33 Ekathosarot Rd

Part of the Topland Plaza shopping centre, this is one of the better hotels. Buses to Sukhothai leave from in front of the hotel. It is well worth the money, though can be noisy at night as it contains a popular night-club. This hotel has a lunch and dinner buffet. Price in the 200 baht range. Good range of eats.
Cope
Go next
Phitsanulok is a convenient transportation hub and good stop-over from Bangkok to Chiang Mai (or vice versa), or on the way between Northern and Northeastern Thailand (Isan).