Phnom Penh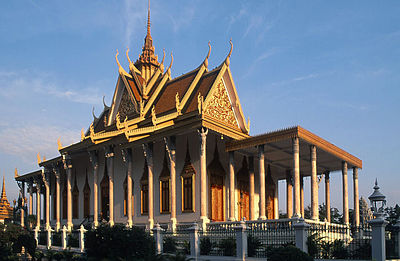 Phnom Penh
, at the confluence of the Mekong and the Tonle Sap Rivers, is the capital of
Cambodia
and its largest city.
Understand
Despite being liberated from the Khmer Rouge by the Vietnamese in 1979, Phnom Penh has long remained a bit rough. Things are improving, though roads remain shabby, traffic chaotic, and electricity strained.
The city is slowly gaining high rise buildings and traffic lights. The beauty that made it a "Paris of the East" before 1970 is unfortunately well hidden, though a few French colonial buildings remain. The wide boulevards and promenades envisaged by the French have become parking spaces and market stalls: pedestrians are not in favour.
The most pleasant strolling is to be done along the park-like river front, which hosts cafés and restaurants aplenty. Standard tourist sights are few, which makes the city a place to relax, watch the street life and absorb the local colour. Phnom Penh is a worthwhile destination for those who enjoy an "edgy" experience and can brave the downsides of reckless driving, noise, dust, and perennial theft.
Touts and beggars abound. A firm but polite refusal should work. Older or disabled beggars will be happy to accept 500
riel
. Anyone old enough to have survived the Khmer Rouge has had a tough life. Generosity here is no bad thing. Some older people may even invoke a blessing on you for your gift. Cocky young kids demanding a dollar should not be encouraged.
The weather is hot and humid, with showers in the late afternoon in the rainy season.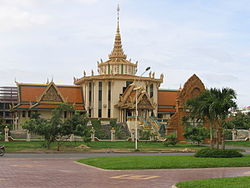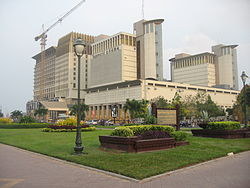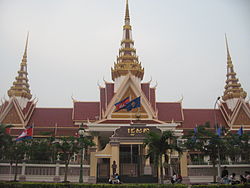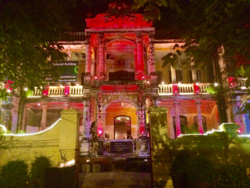 History
In 1975 Phnom Penh was choked with up to 2 million refugees from the war between the then US-backed government and the Khmer Rouge. The city fell to the Khmer Rouge in 1975, who completely emptied it of civilians and allowed it to crumble for several years. The city's small class of skilled or educated professionals was systematically murdered by Pol Pot, or driven into exile.
Cambodia's developing economy and institutionalised corruption have concentrated wealth into a new class of
nouveau riche
that now frequent Phnom Penh's new fancy hotels and restaurants. Increasing tourist numbers are also bringing about improving tourist infrastructure.
Orientation
All of Phnom Penh's streets are numbered. Some major thoroughfares also have names. The scheme is simple:
odd-numbered streets
run north-south, the numbers increasing as you head west from the river, and
even numbered streets
run west-east, increasing as you head south (with some exceptions, e.g., the west side of what was Boeung Kak Lake).
House numbers, however, are quite haphazard. Don't expect houses to be numbered sequentially on a street; you might even find two completely unrelated houses with the same number on the same street.
Get in
By plane
The new terminal is a thoroughly pleasant and modern facility and features a post office, a bank with ATMs, restaurants, duty-free shops, a newsstand, a tourist help desk and a business centre.
Taxis from the public taxi stand at the airport cost a flat USD$12 and tuk-tuks cost USD$9. You can buy prepay ticket at kiosk just after exiting airport building. Grab taxis are now allowed into the airport and may cost about $7 into the city. If you are willing to lug your bags outside the airport fence you can catch a tuk-tuk into town for USD$5 but need to haggle hard for that price. While taxis might be a safer option, it's better to avoid them as the drivers are arrogant and tend to not return change. Tuk-tuk drivers are a lot more friendly and more flexible. For visitors on a budget without a lot of luggage, it's worth catching an official motorcycle taxi. For a more budget-friendly transfer, you can take the relatively new Phnom Penh City Bus line 3. The stop is right outside of the airport on the main road. The line runs east through the city center to the banks of the Mekong. Fare is 1500 riel from the bus driver, no change available. As of 2018 there is also a train that operates during the day and runs east from the airport into the city.
Duty-free shop prices in Cambodia are horribly inflated. Alcohol and cigarettes cost half as much at shops and supermarkets in the city, like the Lucky Supermarket, so stock up on alcohol (put it in your checked baggage due to liquid restrictions for carry-on baggage) and cigarettes before you come to the airport. For example, 1 L of Absolut Vodka is USD21 at the airport, and USD11 at supermarkets in the city. Electronics are also overpriced, but at least they're the genuine article.
By bus
Cambodia is improving its roads. Since around 2008, asphalt has been blazing trails into unexpected and remote places making for faster, year-round accessibility. The main highways that run on either side of the Tonle Sap from Phnom Penh to
Siem Reap
,
Battambang
,
Sisophon
and
Poipet
(for Thailand) are both well-paved and in good condition.
The quality of buses runs the gamut, with the less desirable buses being a few dollars cheaper than more comfortable options. Safety standards are low and crashes (not always reported) are common amongst both "quality" and "cheapie" buses.
bus stationThis chaotic bus station at the southwest corner of the Central Market is the base for buses run by Mekong Express, Phnom Penh Sorya Transport, Capitol Tours, and GST Express.

bus street

address: St 106 riverside

This short stretch of street, along the north side of the Night Market near riverside, is the base for several buses such as Giant Ibis.
Tickets are available at the bus station. Guesthouses and travel agents throughout the city will also arrange tickets for a USD1–2 commission.
Some passengers have experienced valuables being stolen from their luggage when stored out of sight.
International services
Borders are not open 24/7. Some night buses will wait at the border until it opens. If entering Cambodia, watch out for
visa scams
and avoid the
Kumho Samco
if coming in from
Vietnam
.
Buses arriving from
Pakse
enter the city at night (around 19:30-20:00) via Monivong Ave, leaving tired and emotional travellers prone to being preyed on tuk-tuk touts. Watch out!
Domestic services
Phnom Penh is the domestic transport hub and direct buses run to just about every provincial capital, including far flung town like
Pailin
,
Samraong
,
Banlung
and
Sen Monorom
. The crowded peasant mover
Paramount Angkor
specializes in out-of-the-way towns. Avoid it for intercity travel as it's the same price as more genteel companies but does not guarantee a seat.
More frequently visited destinations include:
By boat
Ferries connect Phnom Penh to
Siem Reap
and usually take 6 hr. Tickets for foreigners cost USD32. Many, but not all, of these ferries offer the option of sitting on the roof, which makes for a much more scenic, albeit less comfortable ride than the bus; take sun block, a hat, and enough water to last you for several hours just in case the boat gets stuck. The boat leaves at 07:30.
There are apparently several choices of boat between Phnom Penh and
Chau Doc
in
Vietnam
:
Hang Chau Speedboat (tour guide, water, snack, insurance, no pick up). Leaves from the ferry pier on Sisowath Quay, and seems to be the main affordable option other than the mythical "slow boats" (see below). Check website for schedule. Takes 4 hr, USD27
Mandarin Cruises, 5 hr, USD65
Victoria Speed Boat, 5 hr, USD65
Delta Adventure, 5 hr, price USD21 (still in business?). Reputedly has very bad reviews.
Mekong Tour Slow Boat, leaves at 07:30, takes 7-8 hr, price USD12 (As of May 2019, can't find any info on this one)
The relevant border crossing to Vietnam is called "Song Tien landport" on the Vietnam eVisa website, despite this place name not seeming to appear on any maps.
Many tour operators also include the Phnom Penh-Chau Doc route as part of 2-3 day Mekong Delta tours, often charging hundreds or even thousands of dollars. It might be cheaper to take one of the above ferries to Chau Doc and then arrange a Mekong Delta tour locally there. Tours offering "Phnom Penh to Ho Chi Minh City/Saigon" usually put you on a bus or van for the Chau Doc to HCMC leg of the journey, and possibly for other parts as well. It is apparently no longer possible to reach Saigon from Phnom Penh traveling only by boat.
By train
Travelling by train to/from Phnom Penh is a possibility, however trains are slow and infrequent. National railway company
Royal Railways
runs two passenger services from the
Phnom Penh Royal railway station
:
Sihanoukville line
Phnom Penh - Takeo (2 hrs, 5 USD) -
Kampot
(5 hrs, 7 USD) -
Sihanoukville
(7 hrs, 8 USD).
Trains leave from the capital at 7:00 on Fr-Su (occasionally also on Mo-Tu, doublecheck on
easybook
) and 16:00 on Sundays.
In the other direction departures from Sihanoukville are at 7:00 usually on Sa-Mo and 16:00 on Sundays.
Poipet line
Phnom Penh - Pusat - Battambong - Serei Saophoan - Poipet
This is a once-weekly service.
Get around
Phnom Penh's main streets are in good shape. Some smaller streets and footpaths are rutted and potholed, clogged with garbage, stagnant water, parked motorbikes, sleeping people, and building materials. Street signage is clear and Phnom Penh is logically laid out (see
orientation
) and navigating is not too difficult.
Tuk-tuk, sir?
Not having a ride will necessarily entail your being pestered for one. Phnom Penh's lack of coordinated public transport gives jobs to many poor provincial immigrants, who badger any pedestrian in the city centre, particularly tourists.
Agree a fare in advance. Be clear whether it is for one way or return and in total or per person.
Drivers will try to avoid losing face by not admitting ignorance. Therefore, "Do you know where this address is?" will always be answered by "yes". Put it to the test and show a driver a recipe, while claiming it's an address. Be patient and expect the driver to pull over mid-trip to ask passers-by for directions even to the most obvious of destinations.
Don't leave possessions exposed to snatchers. Women are often targeted.
The tuk-tuk drivers outside the Foreign Correspondents' Club are notoriously pushy and aggressive. Avoid them: walk half a block and hire someone else. If you don't want a lift saying "no thanks" generally works. Better still, try it in Khmer: "otday awkunh".
By motorbike
Motorbikes (but not self-drive cars) can be rented for USD5–6 per day, sometimes through guesthouses. Traffic is chaotic and dangerous, even by SE Asian standards. Wear a helmet and drive carefully. Two rental shops are on Monivong Blvd: Lucky Bike Rental and New Bike Rental. Accept that paying USD1–2 police "fines" is part of driving. Theft is common: park in designated guarded areas and pay a small parking fee or use a lock and chain, which should be provided.
Motorbike-taxis (
motodops
or simply
motos
) should take you anywhere cheaply. A trip from Sisowath Quay to Central Market costs about 2,000 riel (USD0.50). Fares are higher at night and with more than one passenger. Often little English is spoken. No helmets are provided.
By taxi
Taxis are growing much more common, with more than 100 metered taxis now operating in the city. They can be found in tourist areas such as the riverfront and Street 51 bar area in the evening. Easier, call one of the taxi companies for pick-up. Non-metered taxis still run throughout the city and can be found along the riverfront tourist area and near major hotels. Fares must be agreed in advance. Fares vary; your accommodation provider may help.
By tuk-tuk
Tuk-tuks (aka remorque moto), consist of a motorcycle with a cabin for the passengers hitched to the back. They are cheap (Per tuk-tuk: USD2-3 for a trip in the city, USD8 to the airport) and plentiful. Driving standards vary. Drivers in tourist areas may speak some English. Drivers generally do not know their way around and may stop to ask for directions.
PassApp tuk-tuks
are metered three-wheeler auto-rickshaws. Several companies have apps that allow you to order one, uber-style. PassApp is one of the front-runners and works very well for visitors. It works out to be much cheaper than tuk-tuks and since the app shows the price, there is no haggling. Many of the drivers are not able to read maps so may need your help finding your pick-up and drop-off locations. The app can be downloaded for Android and Apple phones.
By cyclo
Cyclos are three-wheeled pedal cycle-rickshaws. They are slow, scenic, traditional and romantic, though waning in number.
By bicycle
Cycling can extend the horizons of the city. Ride slowly, be visible and predictable by avoiding quick turns. Bicycles can be hired for USD1-3 per day or if staying longer you can buy a cheap Chinese style bike for USD30-50, new or second hand. A good place to buy is in the area around the top of St105/St107, near St182. Perhaps give your bike to a worthy charity when you leave, such as
Choice Cambodia
, who will give it to a needy child as a means for getting to and from school. Having a bike greatly reduces the amount of annoying verbal ride offers by tuk tuk and moto taxi drivers. There are plenty of repair places in town to fix a puncture, pump up tires or do any repair work at cheap prices. A puncture repair costs USD1.
By car
Phnom Penh is notorious for its massive traffic jams, and rightly so. In addition, traffic is chaotic and motorcyclists seemingly suicidal. Therefore, most tourists consider driving in Phnom Penh a nightmare, and it is highly recommended that you stick to public transport and not try to drive yourself around.
By bus
From 2014 to 2018, the city's bus network has grown to
13 lines
, see
route map
. Now the buses provide a great way to get around during daytime (05:30-20:30):
at 1500 riel per ride tickets are inexpensive
it is safer than on motorbikes and tuk tuks, no risk of bag/phone snatching
with air-conditioning you are screened from heat, noise, dust and smells of the city streets
Though all bus stops have the route map for that particular bus route displayed, the free App "Stops Near Me" (from Google Play and Apple App Store) comes in handy. Not only does it show the full route map with all bus stops in English, it also tracks buses live so that you know when the next one will be arriving.
On foot
Walking can be a challenge. Remember little gives way to big here, pedestrians come last, even on the now cluttered, once grand, wide, French-built pavements! To cross safely, judge gaps in the traffic and proceed with care. Give oncoming vehicles ample time to see and avoid you, or try to cross with the brightly coloured and revered monks. There is almost no street lighting off the major boulevards, and walking at night is not recommended. Traffic signals and pedestrian crossings are generally ignored by drivers.
See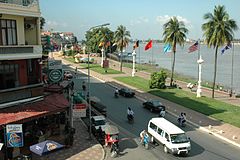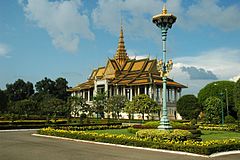 France's Cambodian colony was acquired late and largely neglected. Historic colonial architecture was limited to start with and has largely decayed. The
Grand Post Office Building
,
Central Market
and
Raffles Le Royal Hotel
are notable exceptions. Generally any building in good condition, old or new, will be behind a big wall and security guards.
Independence and Liberation MemorialsImpressive Buddhist-style Independence Memorial, commemorating the departure of the French in 1953, dominates the centre of the city. Nearby is the Stalin-style Liberation Memorial, marking the Vietnamese capture of the city in 1979. The area is especially popular on weekend nights with locals when multi-coloured fountains are activated and communal music is played.

The Killing Fields of Choeung EkThis place is not for the squeamish. A former Chinese cemetery, this is where the Khmer Rouge killed many thousands of their victims during their four-year reign of terror. Today the site is marked by a Buddhist stupa packed full of over 8,000 human skulls. The sides are made of glass so the visitors can see them up close. There are also pits in the area where mass graves were unearthed, with ominous scraps of clothing still to be found here and there. It is a serene yet sombre place. Regularly throughout the day, a small museum screens a documentary with gruesome video images of human remains that were unearthed when the mass graves were found in 1979. Visit after learning about the Khmer Rouge terror at the Tuol Sleng Genocide Museum. As millions were killed during the traumatic genocidal regime of Pol Pot and his Khmer Rouge, as a sign of respect, wear respectable clothing such as long pants and no sleeveless shirts or tops. Flowers and incense can be bought in front of the stupa. In 2005 the memorial site was sold to a for-profit private company. A tuk-tuk to the site should cost USD9-11 return (after haggling, of course), including stopping at the Genocide Museum on the way and waiting for you at both places.

The National Museum of Cambodia

phone: +855 23 211753, +855 12 621522 (mobile)

address: St 13, Sangkat Chey Chumneas, Khan Daun Penh

Contains an excellent collection of art from Cambodia's "golden age" of Angkor, and a lovely courtyard at the centre. A main attraction is the statue of King Jayavarman VII (1181-1219) in a meditative pose. Other exhibits worth seeing include graceful statues of Hindu gods, ancient stelae (tablets) inscribed in Sanskrit and old Khmer, and artefacts from a prehistoric burial site. No photos may be taken inside the museum, although photography is allowed in the central courtyard upon payment of a small fee (cameras: USD1, video cameras: USD3). In the middle of the courtyard is the original statue of the "Leper King" (actually Yama, the Hindu god of death) from the terrace of the Leper King in Angkor Archaeological Park. The pleasant little park in front of the museum is the site of the annual Royal Ploughing Ceremony, at which the success or failure of the coming harvest is determined. You may have heard stories of sightseers carrying umbrellas inside to avoid showers of bat droppings, but the bats moved out after the renovation of 2002. The gift shop has a small selection of books on Cambodian archaeology, art, culture, and history. Remember that money you spend at any Cambodian government-run institution will end up in officials' pockets.

Olympic StadiumBuilt in the 1960s for the Asian Games that never happened, this interesting complex in the Modern-style has been sold off to the Taiwanese, in a murky deal by the Cambodian government. The new owners have renovated it and it has begun to be used once again as a venue. However in the evenings a walk around the top perimeter is worthwhile: you can see hundreds attending exercise and dance classes, and get a view of the abandoned track below. There is also an Olympic-size swimming pool and diving pool with a 10 m platform open to the public opposite the main building, across the track.

The Royal Palace

address: Sothearos Blvd

The King of Cambodia still lives here, but much of the palace is open to the public. The manicured gardens are nearly as dazzling as the colorful glass tiles of the palace roof. The two magnificent pagodas in the Palace Grounds, the Silver Pagoda and the Temple of the Emerald Buddha, are among the few public buildings in Phnom Penh really worth seeing. They were built in the 19th century with French technology and Cambodian design, and have survived the traumas of the 20th century amazingly well. See them early in the day before it gets too hot. No photography is allowed inside the Silver Pagoda and some of the palace buildings. You're expected to dress decently (no bare legs or shoulders), but you can buy sarongs and oversized T-shirts for USD2-3, or you can rent T-shirts and sarongs for a token 1000 riel at the entrance. Shorts that cover your knees are okay. In general, the palace complex has a more structured, formal, organised, and harmonious layout with a clear and specific architectural style rather than in Bangkok which has more hodgepodge of styles taken here and there.

Sisowath QuayPhnom Penh is a bite-sized town, and it's easy to combine sightseeing, shopping, eating and drinking into a single walk through the city. The key to connecting the dots is the town's riverside promenade, Sisowath Quay, which runs along the west bank of the Tonle Sap River. This is a 3 km strip filled with vendors, locals, tourists and expats, and lined with hotels, restaurants, bars cafes and shops. Every morning the Quay kicks off with a life affirming exercise session to some interesting music - while birds fly and turn in pattern formation overhead. It's fronted by a large, long open space with manicured lawns, palm trees and open pathways, all re-done as part of a Japanese funded project to upgrade the flood infrastructure along the river. The built-up side of the street is home to cafés and shops and the better class of bar, and is popular with tourists and expats prepared to run its gauntlet of touts selling drugs, girls, and tuk-tuk rides. The river front (once seen as Phnom Penh's "safe" area) is no longer entirely safe for tourists. Tourist police are supposedly present in plainclothes. The esplanade along the river is also popular with Cambodians, who come here in the cool of the evening to enjoy the quasi-carnival atmosphere. It begins at the river front park opposite the royal palace, and is perhaps best experienced in the early evening. Dawn at Sisowath Quay is also a busy time, with locals doing calisthenics in front of the royal palace, and the sun rising over the river. In addition to the recent brick attacks on foreigners, there are supposedly child gangs and pickpockets so extra caution is warranted.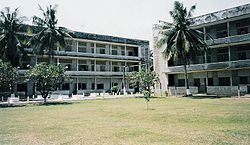 Tuol Sleng Genocide Museum (S-21 Prison)

phone: +855 23 300698

address: St 113, Boeng Keng Kang 3, Chamkar Morn

A school converted into Cambodia's most important prison in 1975. More than 14,000 people were tortured here before being killed at the killing fields; only 8 prisoners made it out alive. The museum is easily accessible and a must-see for everyone interested in Cambodia's horrific past. The infamous "skull map" has been dismantled, although there are still skulls stacked in cabinets, implements of torture and disturbing photographs of people dying. For an introduction and further reading, try David Chandler's Voices from S-21 (). Documentary movie S-21 can be purchased in Phnom Penh for USD1.50-2. There is also a short movie screening featuring some survivors that plays at 09:30 upstairs in the far building. A hefty slice of your Tuol Sleng entrance fee will go into the pocket of the museum's director, who is the son of the responsible government minister. (This is perhaps the main reason the museum is in rather shabby condition, and the displays so unimaginative.) And a warning to those who patronize the souvenir shop. Don't get conned into buying some vintage Rolex, Patek Philippe, or Omega watches. They are fakes and are worthless. The owner is very convincing and will tell you that it is a collection from her husband. Instead, right across from the museum (No 54 & 56, St 113, Phnom Penh is a little shop called CHA (http://www3.online.com.kh/users/wthanchashop) that sells inexpensive handmade goods that are made by women disabled from polio and land mines. If you ask, you will also be able to tour the shop, meeting the female workers and seeing where they study English.
Wat BotumHistorically, the wat was favoured by royalty. In the 1930s, it housed a charming young novice named Saloth Sar, who "never caused anyone any trouble, never started fights - a lovely child". Later in life, he changed his name to Pol Pot.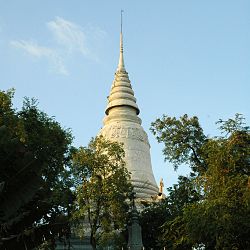 Wat PhnomThis hilltop pagoda marks the spot where the city was founded, and is always busy with pilgrims and fortune-tellers. The temple is notable more for its historic importance than physical structure, but the park is a pleasant green space and a popular gathering place for locals. A few monkeys keep quarters there as well and will help themselves to any drinks you leave unattended.

Wat OunalomDates back to 1422 and is one of the five original founding monasteries of Phnom Penh.

Wat LangkaOffers free meditation session on Mondays and Thursdays at 18:00.
Do
River cruises
Mekong CruisesBoats leave every evening for a river cruise. Many provide snacks or dinners at sunset. Be sure to visit Mekong Island to see rural life.

phone: +855 12 221 348

address: Tourism terminal passenger

Phoceamekong Cruises operates river cruises from Phnom Penh. The trips are "all-inclusive," but their website notes that they actually do not include "personal expenses, tips, and other services not mentioned."
Tours
address: 23 St 144

Daily 20-km bicycle ride with Grasshopper Adventures, along small trails along the rivers and criss-crossing the islands (4 ferry hops) to explore the lush green countryside around Phnom Penh.

phone: +855 077793214

address: #14, Street 360, Sangkat Boueng Keng Kong 1 (BKK1)

An alternative tour experiences platform, they enable locals to offer authentic and unique activities to tourists such as fishing on the mekong like a local fisherman, coconut carving workshops, Cambodian Boxing, Apsara dance classes, even a fear factor challenge where you learn to cook insects which are sold by vendors along the streets in Phnom Penh. A social enterpise, they work with many underprivileged people who either serve as hosts or facilitators. The facilitators will pick you up from your hotel and translate for you. These facilitators are usually young students looking for work to pay for their education or orphans looking to transition into society. Transport is provided for most activities in Phnom Penh. A great way to interact with local people and take in the culture and have something memorable to bring home.

phone: +855 89392921

address: Sisowath Quay, Phnom Penh

Offers private customised cooking classes including market tours in a large kitchen overlooking the Phnom Penh riverside. Private dining experiences also available. Website includes large library of 'how to' cooking videos on classic Cambodian dishes, these are regularly updated.
Charity
Help the Needy with ChoiceA great way to help some of the local poor people in a positive and rewarding way is to help the expat-run charity called Choice. They help provide food and basic supplies to more than 200 extremely poor families, and medical assistance if needed. They also provide vocational training and feed and send many children to local schools and universities. Skilled volunteers especially teachers are welcome to help.

Orphanage VisitIf considering visiting one of the orphanages do be aware that they may be exploitative and poorly run. Your money may go to the owner rather than the children. There are few if any legitimate orphanages in Phnom Penh: almost all are scams. Also, accepting impromptu visits from unscreened foreigners is often a sign of a substandard orphanage which does not have the children's best interests at heart. If you really want to help, try contacting organisations like this one that run educational programs, and see if there is any way you can assist.
Cinemas
A few years ago Phnom Penh had few modern cinemas but filling the gap were a few privately run mini cinemas. Today there are plenty of modern cinemas such as Major at location at Aeon Mall and Sorya Center Point. Legion at Exchange Square.
The remaining mini cinemas are:
The E11even independent cinema

address: #90, St 136

Formerly Flicks 2, 32-seat mini cinema

Institute FrancaisFilm screenings, with fewer English subtitles than previously.

address: 6, St 264, opposite Wat Botum

Art gallery, bar, mini-cinema and production house. Shows free, high quality foreign and Cambodian films Tu-Su nights at 19:00 in the bar-lounge on the roof.
Entertainment
Hash House HarriersA running club that meets every Sunday at 14:15 at the railway station.

NagaWorld CasinoThe only casino in Phnom Penh.

phone: +855 12 715785

address: 18Eo, St 3

The pioneers of diving in Cambodia, providing comprehensive diving and snorkelling services, day trips, liveaboards, nitrox and a full range of PADI courses from beginner to instructor. Flexibility is the key: you can do training sessions while sightseeing in Phnom Penh, then finish with a liveaboard on the only custom made diving boat in Cambodia.

Thunder Ranch Shooting RangeShooting range run by a unit of the Royal Cambodian Army. For a pretty hefty fee you can fire everything from pistols to machine guns at paper targets. Moto drivers, apparently oblivious of the reaction most visitors have, will try to include this in a trip to the killing fields and will take a nice commission for taking you there.
Buy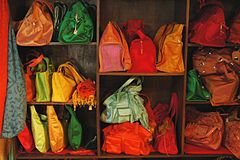 Popular tourist buys include silk, silverware, handicrafts and curios (including Buddha figures), and made-to-order clothes (which are often of good quality). If you want to support businesses that are noted for supporting Cambodia's culture and heritage, look for the Heritage Friendly Business Logo from
Heritage Watch
, an organization that promotes the preservation of Cambodia's cultural legacy.
About money
The Cambodian riel is not used for large purchases. Prices for anything more substantial than a plate of rice will be quoted in US dollars. The Cambodian Central Bank maintains the riel at approximately 3,900–4,100 to the dollar. Be wary if rates are outside this range. Money changers are plentiful near the central market and display their rates on boards.
Only upmarket places will accept credit cards (normally with a 3% surcharge). Changing dollars into riel is generally unnecessary, though the parsimonious will notice a small benefit. Small purchases with notes above USD20 can cause problems, though vendors will manage. Do not worry if a vendor runs off with your large note, they are finding change not robbing you. Torn, damaged, or old series US currency may not be accepted.
There are plenty of ATMs. They dispense US dollars and accept international cards. Canadia Bank and Mekong Bank ATMs were fee-free but no longer as of the end of 2014. MB Bank (St 93 cnr St 214) doesn't charge and allows up to USD1,000 withdrawal (July 2016). Maybank also doesn't charge, but it accepts only Visa cards. Otherwise typical charges are USD5 regardless of amount withdrawn, typically USD400 is the maximum. ANZ Royal Bank and Canadia Bank charge USD5 per transaction, maximum single withdrawal USD400. For safety reasons, it's a good idea to use ATMs at actual bank branches when they are open so any problems can immediately be reported and there is often a security guard on duty too. It also gives the opportunity to ask for smaller notes, such as 20s or 10s which are much easier to spend and get change back from and little risk of picking up counterfeit notes. The Mekong Bank at 220 Sisowath Quay are happy to change big notes to smaller ones or change damaged notes.
Cashing traveller's cheques can be problematic. Even major banks may refuse to exchange traveller's cheques above USD100.
2500 riel shops

address: St 51

If you like dollar, euro or pound shops then you will enjoy the Cambodian versions, which are even cheaper at 2500 riel. They are also sometimes called 1000 or 1500 riel shops. There are a few along St 310.

$1.9 shop

address: St 172

Japanese almost USD2 shop. Full of different kinds of items. Similar shops can be found Aeon Mall.

Get a visaPhnom Penh is a good place to get visas for neighbouring countries Vietnam and Thailand as well as for China. You can get these visas by going directly to the embassies, but that will take two visits, time filling in forms, potentially a lot of waiting and transport costs. For a few dollars extra a visa agent can be well worth it. Visas for Indonesia can only be obtained from the Indonesian Embassy.

Worldwide Travel and visa agent

address: St 172 cnr St 19

Get your bus tickets and visas from this helpful and long running green coloured travel agent.
Antiques
The Cambodia Antiquities Law (1996) bans the sale, purchase and export of Cambodian antiques, and since 1999 the US has banned their import. Consequently, most of the "antiques" sold in Cambodia are reproductions.
Hidden Treasures

address: 9 St 148

Antiques, art, and curios from Cambodia's past and nearby SE Asian cultures.
Books
The
pirated books
that children will try to sell you for USD5 need to be haggled down (they buy them for USD1). Spend a minute or so leafing through before buying. Quality varies: pages can be in the wrong order or missing, or the book may not be the one described on the cover.
Bohr's Books

phone: +855 12 929148

address: 5 Sothearos Blvd (St 3)

A small store offering a large, diverse collection of books. Easy to find. A second store now operates on St 172, 400 m from Wat Unalom.

Boston Book Company

phone: +855 92 214452

address: 8 St 240, Chaktomuk Duan Penh

A second-hand bookshop. Has a good collection of fiction and non-fiction, including texts for teachers and students. In an attractive building, it will eventually have a cafe.

D's Books

address: 79 St 240, and 363 Sisowath Quay

A chain of second-hand bookshops dealing mainly in mass market paperbacks. Uncommunicative, monosyllabic staff.

phone: +855 23 218352, +855 23 222822 (Sihanouk)

address: 154 Sihanouk Blvd (St 274, between Monivong Blvd and St 63); 250 Preah Monivong Blvd (near Central Market); 43-45 Kampuchea Krom Blvd (at the corner of St 215)

Large barn-like bookshops selling mostly textbooks and other educational works. Has a small classic literature collection. Also sells stationery, electronic devices, sporting goods and souvenirs.

phone: +855 23 217617

address: 111 Norodom Blvd

Has the most extensive collection of new books in Phnom Penh, including fiction and non-fiction, children's books, non-English-language works (in French and Khmer, for instance), magazines and newspapers. There is a particularly good collection of books from and about Cambodia, for instance, on Angkor Wat, the Khmer Rouge regime, and the history of Cambodia. Prices can be very high, often above the list price, and can be purchased cheaper elsewhere in town. However, you can also get a good tea or coffee and cake there, if the serving staff are awake and it's a nice place to sip and read without being pestered. Monument Toys upstairs has a collection of children's toys and games. There is a branch of the bookshop at the airport.
Clothing and accessories
Throughout the city, but especially in the Russian Market, tailors make custom made clothes: A medium quality costs USD12 and a high quality costs USD15.
Beautiful Shoes

address: 138 St 143, Boeung Keng Kong 3

Good custom-made shoes.

address: #44A, St 289

Stock bargain priced clothes and large sizes.
Electronics
Apple ComputersCambodia is a cheap place to buy a MacBook, iPad or iPod: prices are in US dollars are similar to elsewhere, but without added tax. iPhones are available only by special import and from licensed Apple agents and so are not cheap. The best Mac retailer and repairer is Uniyoung near the Central Market.

Huawei PhonesCheap and decent Android phones and Bluetooth speakers.

Samsung PhonesCambodia is a cheap place to buy Samsung phones as there is no sales tax, but it's best to buy from one of only two authorised dealers in Phnom Penh. One near Central Market has closed and the other on Monivong Blvd. The Samsung one-year guarantees are only valid in the country of purchase.
Handicrafts
St 178, just north of the National Museum, is known as
Artist Street
and has many interesting boutiques.
Cambodian Handicraft Association

address: 54 & 56, St 113

Handmade silk goods, jewellery, accessories and clothing made by women disabled from polio and land mines. If you ask, you will also be able to tour the shop, meeting the female workers and seeing where they study English. The products are absolutely beautiful and the majority of the silk is sourced from a local village, where it is all hand woven. The costs of running the project are covered by selling the artists' work in the shop. They receive no grants or aid.

Colors of Cambodia

address: 373 Sisowath Quay

Specializes in handicrafts from around the country.

Kravan House

address: 13 St 178

Has a wide range of Cambodian silk products, including a wide range of ladies' handbags at a fraction of the price you would pay in a hotel gift shop.

address: Sisowath Quay

Features brightly-colored fun and funky paintings of Cambodian life - a welcome relief after visiting some of Cambodia's more heart-breaking attractions. This features some very famous "happy monk" paintings which you will see a lot around Phnom Penh.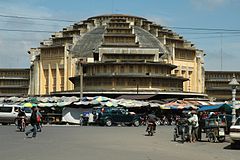 Marketplaces
Central MarketThe "New Market" is a 1930s art Deco covered market near the Riverfront (Sisowath Quay) district. The market is well laid out, and sells everything from flowers to video games. It has recently been beautifully renovated and its architecture alone is worth admiring.

Night MarketGood for cheap local food with many food stalls. Usually some live entertainment, but is primarily for the locals.

City Mall

address: Monireth Blvd

The mall contains a large branch of Lucky Supermarket, as well as many fast food outlets and modern shops.

Olympic MarketOlympic Market was built in 1994 and is a local favourite with shoppers looking for wholesale fabrics, everyday wear, religious paraphernalia and traditional Khmer dresses. Buyers can look forward to big discounts in this market especially if they are buying in bulk. The market is well laid out and is one of the more modern multi-story market complexes. Buyers should definitely give this market a visit.

Russian MarketThe Russian Market moniker dates to the Vietnamese occupation of the city in the 1980s. Real designer clothes at discount prices. A lot of the factories for Levis, CK, Ralph Lauren and many other brands are in Phnom Penh; however, a lot of the clothes sold here are deemed unfit to be shipped abroad due to very small faults and, therefore are sold at this market. You can also purchase fake Swiss watches and pirated software at low prices. It's away from normal tourist areas, but motodop drivers who cater to tourists will know it.

address: St 63

Renovated, renamed and made more upmarket in 2018. It is air-conditioned and contains a range of fast food outlets including Starbucks, Cafe Amazon, Asian Kitchen, Bonchon as well as the well-stocked Lucky Supermarket and Guardian pharmacy all on the ground floor. There is a multi-screen Major cinema on the 5th floor. On the 4th floor is a food court.

Aeon MallProbably Phnom Penh's most modern shopping mall (opened mid-2014) with many brand name and Japanese stores. It has many restaurants and 7 screen, including one 4DX, Major Cineplex Cinema on 2nd floor. It has a small ice rink and laser tag on the 4th floor. Access via central escalators.

address: St 102

New multi-purpose development partially open with upmarket shops and restaurants including a Starbucks, Hard Rock Cafe and Legend cinema on the 2nd floor, above Hard Rock Cafe.
Supermarkets
phone: +855-23-901091

address: 132 street Samdach Sotheros Tonie Bassac Kan Chamkamon

The biggest supermarket in Phnom Penh

phone: +855-23-724623

address: 99-105 Monivong Blvd

There are now three Thai Huot supermarkets in Phnom Penh.

address: 160 Sihanouk Boulevard

Lucky Supermarkets is the biggest Nationwide retailer in Cambodia.
Eat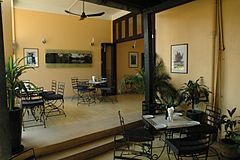 Phnom Penh offers some interesting culinary treats not found elsewhere in the country. These include French-influenced dining and Thai, Vietnamese, and Indonesian dishes. Pizzas, banana pancakes, and fried rice are always easy to find.
The river front hosts everything from stand-up stalls to fine French bistros. Stalls likely lack hygienic practices: eating peeled fruit and vegetables and anything uncooked may have undesirable consequences.
Exotic treats
Duck embryo eggs are sold at the southwest corner of Sokun Mean Bun St (St 178) and Norodum Blvd (in front of the green SSN Bldg) inside a big high school compound, together with days old hatched chicks to frogs (everything is eaten, not just the legs) dipped in batter and deep fried. Skewered and grilled pigs ears, chicken claws, and gizzards are sold in the Central Market. Pig intestines are sold at USD1 per 100 g, cut into pieces and splattered with sauce. Grilled small crabs, lobsters, prawns are also sold in the market. Chicken feet are sold in the open-air restaurants as you turn to the right at St 154 as you go northbound from Monivong Blvd. Bugs and other insects, especially the grasshopper, spider/crab, and grubs and pupae stage are sold along Sothearos Blvd from 184 St to 178 St.
Budget
5555

address: St 154, near riverside - new location

If you like oysters come to this friendly local street side eatery. Also try the sambak fish.

Aroma ChefA great eating place in the middle of St 172. Khmer and International menu, nice staff and pleasant atmosphere.

Asian Spice Cafe Pub

address: 79 St 111

Cafe established in 2006 with a pub upstairs. Owned by a Singaporean, a former Intercontinental Hotel chef. Very popular with expats and tourists. Chinese, Malaysian, Singaporean, Western and some Khmer dishes.

Baitong Restaurant

address: 7 St 360

Authentic Khmer, Thai, and Vietnamese dishes. They also have breakfast express and lunch buffet set around USD2–3.75. 2 large rooms can be used for conferences, training and other events and a smaller room for meetings and private dinners.

address: 167 Sisowath Quay

A cafe-cum-development project that trains chefs and ploughs back money into humanitarian causes. The Sreh T'nout cookie, made from a rich combo of chocolate, nuts and palm sugar, is their bestseller.

C'est Wat Restaurant and Guesthouse

address: 9 St 118

Check out the massive USD7.50 Sunday roast with free glass of wine, or the huge USD4 all day breakfast: pork sausages, back bacon, mushrooms, eggs, potato fritters, beans, toast, tea or coffee.

Sony Side Up (formerly Chat 'n Chew)

phone: +855 12 482302

address: St 172

Very popular with expats who hang out here. Owner Sony and his family are very friendly and helpful.

Comme a la Maison

address: 13 St 57

In a pleasant garden terrace. Laid-back but stylish French feel with warm service. Pizza and salads, ice cream desserts.

Red Chilli

address: St 228

Great BBQ pork ribs for just 7,000 riel a plate.

Evergreen Vegetarian House

address: 109 St 130

Small restaurant with big selection of Japanese, Thai & Cambodian vegetarian food, with and without mock meats. Delicious and inexpensive. Air-con.

Feel Good CafeGreat cafe run by a Kiwi couple serving good coffee and food. Also offers cooking classes.

phone: +855 97 682 8166

address: No 27Eo, St 506/135, Phsar Doeum Thkov, Chamkarmorn

Halal Foods Mumina

address: 86 St

Recommended are the Muslim restaurants on north of the Phnom Penh Hotel. Also, the guesthouses in this area are among the cheapest, offering USD4 rooms. This area is popular with the French and Brits as their embassies are located nearby.

Kathmandu Kitchen

phone: +855 235000485

address: 13 Long Nget Street 258

Delicious Nepali and Indian food for reasonable prices in a restaurant setting with free water and condiments.

K.K. Tandoor

address: Sothearos Blvd

Moderately priced Indian food with chicken tandoori, butter chicken, and naans. Air-con. You can get draft beer for a dollar.

La Lotus Blanc

address: 402 Stung Mean Chey and 152 St 51 Boeung Keng Kang

French and Asian cuisines and quite a popular neighbourhood hub. The food is prepared and served by students from the PSE.

NOW Snack Shop

phone: +855 97 9498853

address: 69H St 101, Boeng Trabek Ward, Chamkar Mon

English speaking staff will serve you breakfast, lunch, dinner, Vietnamese snacks, coffee, tea, shake, juice, fruit yogurt.

P&K Restaurant

address: 319 Sisowath Quay Blvd

Khmer & Chinese restaurant on the riverside, Good service and authentic and absolutely delicious Khmer takes on Chinese cuisine, with everything in between. The beef tripe with teouk prahok is especially delicious. Apparently open since 1984 and quite popular with locals. USD0.50 draft Angkor.

Setsara Thai Restaurant

address: 3D St 278

Thai restaurant with a really good Thai chef, good music, reasonable prices and good service, though a bit slow sometimes. They have some good French specialties as well.

Tinat RestaurantExtensive local food photo menu at cheap prices, such as sweet and sour chicken USD2. Free rice.

Tom Yum Kung Thai Restaurant

address: 10 St 278

Thatch-roofed Thai/Khmer restaurant, popular with locals and visitors alike. Big selection of authentically prepared Thai and Khmer dishes. As one might expect, the tom yum gung is recommended. Air-con upstairs, fans downstairs.

The Vegetarian

address: 11 St 200 (Oknha Men)

Good daily special with white or brown rice and 3 small dishes. Most of the customers are Westerners. English speaking staff.

Warung Bali

address: 3D St 178 No. 25 E0, Royal Palace

Small, traditional Indonesian restaurant in a tourist area.
Mid-range
50 Cents Cafe

phone: +855 16 386094 or +855 97 2226666

address: 105 St 19

Thai food, western food with affordable prices. Drinks such as cocktails, coffee, and soft drinks; fresh fruit salad, crepes, ice cream, quiet rest on cool sofa, artwork, and movie room. Free Wi-Fi.

Amok Restaurant & Cafe

phone: +855 12 912319

address: 2 St 278

Nice cosy décor, with open air dining. Traditional Khmer dishes and other styles. The classic fish amok is well done, and the servings are large.

Anise

address: 57 St

Comfortable, nicely decorated corner restaurant with free Wi-Fi and some good dishes from a varied menu, including SE Asian. Their club sandwich is excellent. Perhaps a little over-priced.

Atmosphere

address: 141C Norodom Blvd

Fancy French restaurant. Quiet on an ordinary day, but draws a regular crowd of expats.

Aussie XL

address: 205A 51 (Pasteur) St

About the only thing Aussie about this place is the owner. Foster's has, in keeping with Aussie trends, been banished from the place. But the food is very good and the wood-fired oven pizza matches anything found in Italy.

Bai Thong

phone: +855 23 211054, +855 12 666390 (mobile)

address: 100-102 Sothearos Blvd

French and Indochinese cuisine in nicely decorated surroundings.

Blue Cat

address: St 110

Comfortable and friendly. Suitable for family dining with an international and Khmer menu, and a respectable wine list. Free Wi-Fi.

phone: +855 23 217262

address: 17 St 214

Great coffee with good barista. The bakery chef was trained at Cordon Bleu and the sandwiches are great.

Cafe Yejj

address: 170 St 450

Indoor and outdoor seating both ground level and second floor. Pasta, panini, burritos and Cambodian food. Participates in breaking the cycle of poverty by training women-at-risk as employees. Service very good. Very clean bathroom upstairs. Most dishes less than USD4. Sit inside if you do not want to be bothered by beggars.

Chenla Floating Restaurant

address: 219B Sisowath Quay

Offers dinner cruises (set menu USD8, departure nightly at 17:30).

Chez Lipp

address: St 86, very near Monivong

All you can eat, cook your own with table top "steam boat" style cookers. Prawns, squid, beef, chicken etc. USD7.50 per person. Popular with locals, less known by tourists and expats. Beware the monkey near the entrance.

Chi Cha Restaurant

address: 27 St 110

Excellent and plentiful Indian food, vegetarian or not, in a convenient central location. Also has rooms from USD8.

The Corn

address: 26 Preah Suramarit Blvd (Norodom Blvd)

Mostly vegetarian Cambodian food with numerous (excellent) vegan options and a friendly English-speaking staff

Le Duo

address: St 228

Italian food. Sicilian-born Luigi makes great pasta and pizzas.

phone: +855 12 802072

address: #215, St 13

Run by a NGO that trains and educates former street children. Western and Asian dishes, most of them tapas, so order 2 or 3. Nice garden terrace, stylish interior. Good choice of vegetarian dishes.

phone: +855 23 220953, +855 12 845525 (mobile)

address: 67 St 240

Traditional Cambodian cuisine. The restaurant operates the Cambodia Cooking Class.

Green Mango Restaurant and Bar

phone: +855 23 720470

address: 170E Street 63

Western, Khmer, and Mediterranean dishes. A good place for casual meet-ups with friends. Excellent Wi-Fi connection, great choice of music and friendly staff.

Jars of Clay

phone: +855 23 300281

address: 39B St 155

Cafe managed by women. Great place to relax after a visit to the crowded Russian Market. English-style breakfast, quiches, sandwiches, soups, delicious cakes. Smoothies, ice cream and really good coffee and air-con.

Java Café

address: 56 Sihanouk Blvd

Soups, salads and sandwiches in a cosy setting overlooking the Independence Monument. Good vegetarian options. Has a rotating art exhibition.

Khmer Surin

address: 11 St 57

Romantic restaurant that serves delicious Khmer and Thai food. The traditional Khmer seafood dish, amok, stands out.

phone: +855 23 224140

address: #47, St 178

Nice gallery, German pfannkuchen (flat pizzas) and interesting documentaries about Cambodia.

Metro CaféStylish fusion of Asian and Western culture. Air-con. Good selection of small tapas-style dishes from USD1 and a great steak for about USD12. Free Wi-Fi.

Nature and Sea

phone: +855 12 879486

Relaxed restaurant on a 2nd floor rooftop opposite to Wat Langka that promotes health food. Delicious salads, crepes, juices. Try the passion fruit juice.

Paris Bubble Tea

phone: +855 23 990373

address: 285-287 Preah Monivong

Pleasant and has fun and refreshing bubble tea. Try the classic Pearl Milk Tea.

Penny Lane CaféItalian-style cafe with air-con and outdoor areas where they take great pride in their coffee. Free Wi-Fi.

phone: +855 12 277882

address: 273a Sisowath Quay

In an old colonial style building with comfortable outdoor dining and views of the Tonle Sap. Popular with local expats, tourists, and affluent Khmers. Try "root of lotus". Facilities include live music every day, pool table, 4 HD screens for sports, music videos (60s-70s era), Foosball table (table football), Free wifi.

phone: +855 23 986964, +855 92 955963 (mobile)

address: #39, St 240

Popular place with a good selection of sandwiches, quiches, salads and freshly baked goods plus nice coffee too. Has a cosy and quiet courtyard seating area. Very good breakfast options.

Viva la Mexico restaurant

address: riverside

Great Mexican restaurant. Try the USD1.50 Viva frozen margaritas at Happy Hour from 11:00-23:00.

Dine in the Dark (DiD)

address: St 19 near St 172

A great experience eating in total darkness. The service staff are all blind. The vegetarian option is not so great apparently.

Junk Food Junction

address: cnr St 51 and St 310, BKK1

The BBK1 area is experiencing great growth in construction and becoming continually more an upmarket area of the city. At the junction of St 51 and St 310, each corner now has a multinational joint, KFC, Burger King, Carl's Jnr (California flame grilled burgers) and Gloria Jean's coffee.
Splurge
102

phone: +855 23 990880

address: 1A, St 102

Probably Phnom Penh's top French restaurant, set in a modern, European-style surroundings. The food is quite competent and the onion soup is superb. Almost entirely undiscovered by tourists, but popular with Phnom Penh's moneyed elite, so reservations are recommended.

Le Bistrot

address: 4D, St 29

French and Italian in an old villa.

phone: +855 23 724014

address: 363 Sisowath Quay

This Phnom Penh institution is in a renovated colonial building and its second-floor terrace offers sweeping views over the river, a Khmer-Western menu and a list of signature cocktails (USD5.50): try the Tonle Sap Breezer or the Burmese Rum Sour. The decor and feel captures the eventful past of the city. The bar is open until midnight and a very popular nightspot on weekends. While famous and definitely worth a visit, it's pricy compared to most of the competition and service and timing tend to be haphazard. No air-con and rather spoiled by the unseemly gauntlet of touts one has to battle through to leave. FCC does particularly good desserts.

La Luna d'Autunno

address: 4D, St 29

Italian food in a beautiful old villa with lovely garden setting, air-con inside.

phone: +855 23 213582

Seating by a water feature or on the terrace, enjoying Phnom Penh riverside activities. Western and Asian dishes.

Le Wok

phone: +855 98 821857

address: 33 St 178

Delicious French and pan-Asian cuisine in a tastefully decorated venue.
Drink
Superficial security
Most of the time, Phnom Penh bars and clubs are safe enough and a lot of fun - however, some of the more "hip" places are popular with the notorious local "elite" youth (and their minders) who carry firearms and other weapons, and who are allowed to pass through so-called "security" checks without being searched.
Coffee
The coffee scene has exploded in the last few years in Phnom Penh. Several global chains are here, including Costa Coffee (UK),
Gloria Jean's
(Australia),
Brown Coffee
(Cambodia),
Coffee Bean and Tea Leaf
(USA),
Joma
(Laos),
Tous les Jours
(Korea),
Cafe Amazon
(Thailand),
Big Apple Donuts and coffee
(Malaysia) and more recently Starbucks (USA). There are also lots of small independent coffee shops too, such as
Feel Good cafe
(St 136),
The Shop
(St 240),
Connecting Hands Training Cafe
(St 178), Bronos (St 57, near Starbucks), Library Cafe (St 51, near Heart of Darkness) and Boss Coffee (St 51 / St 144).
Alcohol
Places to hang out after dark include St 136 near riverside, St 104 and St 108 near the St 51 corner, which all feature restaurant bars, hostess bars, and guesthouses. For a more upmarket bar and restaurant scene, visit an area called BKK1 that includes St 278 and St 282, near St 51 or St 308.
Bars
Sky bars
Wine bars
Live music
Hostess bars
A note on hostess bars
Surveys have found that the HIV rate among Cambodian female sex workers is about 13%.
Sleep
Budget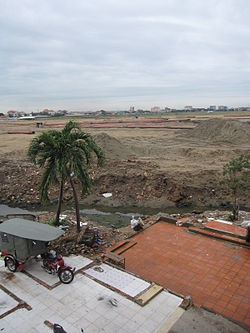 A good range of accommodation is available around the city. The budget traveller area was area known as
Lakeside
, near the now filled in Beoung Kak lake. The colony of guesthouses has been decimated, but not eradicated. Remaining businesses are desperate for clients, which makes prices very cheap. Guesthouses 10 and 11 still exist and offer rooms from USD4/night and USD3/night respectively. Services include such laundry, Internet, money exchange, ATMs, and restaurants, including an excellent Indian restaurant.
St 258 (near the Cambodia/Vietnam Friendship Park), Street 51 (near Wat Langka) and St 111 and 172 also have some good budget options, with street 278 now hosting many budget hostels and bars that were once located on the lake.
Capitol 3 Guesthouse

phone: +855 23 211027

address: 207Eo St 107, Sangkat Beng Prolit, 7 Makara

Warm, friendly staff and quick laundry service. 5 floors of squeaky-clean rooms that are out of the direct sunlight and never seem to get too hot. No elevators. Free Wi-Fi.

phone: +855 97 8785762

address: 69 St 70

TV, DVD, Wi-Fi, laundry, motorbike rental, bus and flight tickets and visa extension services. French, English and Khmer spoken.

Europe Guesthouse

phone: +855 23 6918883

address: 51 St 136

One of the cleanest and most conveniently located guesthouses you can find. TV, Wi-Fi, laundry, bus and flight tickets. French, English and Chinese spoken. Often the cheaper rooms are full.

phone: +855 23 217998, +855 17 200030

address: 48FGH St 488, Village III, S/k Phsar Deum Thkov, Chamkamorn District

Simple, newly built and elegantly furnished rooms and suites. Air-con, insulated window, cable TV, broadband Internet, IDD telephone, newspapers, 24-hr security, laundry and valet service, credit cards accepted, mini bar, 24-hr check in, check out and 24-hr housekeeping, ticket reservation, city tour arrangements, pick up service and transfer upon request.

phone: +855 23 224 538

address: 90H St 154

Surprisingly good for the price. Free Wi-Fi.

King Guesthouse

phone: +855 12 220 512

address: 141 St

Daily bus service to and from Ho Chi Minh City, but if you get their bus from Vietnam they take you directly to the guesthouse and you are not allowed to get off the bus before arriving there. The bus may then park across the entire open front of the place blocking the exit to potential guests who may consider seeking other alternatives.

Lazy Gecko Guesthouse & Restaurant

phone: +855 78 786025

address: 1 St 259

Short stroll to Riverside, Sihanouk Blvd, Monivong Blvd and the royal palace. Good value rooms, most with air-con and many with hot water. Restaurant is downstairs and has daily specials and a Sunday roast. Free Wi-Fi.

Long Lin Guesthouse

phone: +855 23 992412

address: 159 Ang Yukanthor, St 19

Clean, spacious and well-decorated. The owner is very friendly and helpful, as is the service. Tours, buses and boats can also be booked through the guesthouse and may include pick-ups.

phone: +855 23 726854

address: 136 St 51

The new sister guesthouse to the famous Top Banana offers a more relaxed atmosphere than its older brother. From dorms to double rooms, very clean and a friendly atmosphere. Breakfast and lunch served, but you can also order from Top Banana's menu. Easy walk to St 278, Independence Monument, Sihanouk Blvd. Free Wi-Fi.

Okay Guesthouse

address: 5 St 258

Large and busy guest house with restaurant, terrace, Internet cafe. A good place if you like hanging out with other travellers. They show movies every evening. The rooms are basic but clean, the cheaper rooms are sometimes very small and do not have a window, the more expensive rooms on the 2nd floor are generally a bit better. Somewhat quiet in the evening. They provide food, rooms, buses & tours. The rooms are rather bleak and sad by Cambodian guesthouse standards but cheap and relatively clean. Check your bed for bedbugs as they are common here.

Simon II GuesthouseComfortable rooms with air-con and bathrooms. Extra charges for Wi-Fi and toilet paper. Have been some reports of rats and cockroaches and mosquitoes.

Simon's Guesthouse

phone: +855 12 884650

address: 11 St 93, Boeung Kak Lake

Tricky to find but the layout of the rooms allows for a nice, cool breeze. Both shared and private baths available.

SuperStar Hotel

phone: +855 11 399123

address: 26 St 172

Family-run hotel and restaurant. Air-con and Wi-Fi. St 172 is relatively quiet with a few Western bars, restaurants, groceries, and a bookshop.

address: 2 St 278

A very laid back small guesthouse on the 2nd and 3rd floor with a cosy, sociable atmosphere and friendly staff. The cheaper rooms are very noisy. Surprisingly good food.

address: 17 St 144

Nice backpackers guesthouse with friendly and helpful English and Norwegian management. Dorm beds & private rooms. A large stylish bar. Great for meeting other backpackers, with regular events and live music. Free Wi-Fi.

phone: +855 97 682 8166

address: No 27Eo, St 506/135, Phsar Doeum Thkov, Chamkarmorn

Guesthouse with 5 guesthouse rooms and a rooftop lounge. 1 km from Russian Market (Toul Tompong Market)

phone: +855 23-223170

address: 40A Street 294

Dorms and rooms. Free Wi-Fi.

phone: +855 23 987 091

address: 26, Street 302

Popular backpackers hostel in the BKK1 backpackers district, provides a pool, rooftop bar and pool bar. 220 beds available from USD5 per night, private rooms from USD10 per night.

Pu Rock Hostel

phone: +855 96 333 3288

address: St 113, Corner St 310, Phnom Penh, Cambodia

Air-conditioned mixed dorm USD $3.50. Air con is on from about 4pm to 10am.
Mid-range
phone: +855 23 217609

address: 38-50 St 148

English and French spoken. Breakfast. Western and Asian restaurant, free Wi-Fi. Easy reservation and secure payment on-line. 100 rooms renovated in 2012. Clean and stylish Khmer furnishings. Air-con, desk, tiled/marble floors, cable TV, minibar, private safes, elevator, safe at reception, bar and terrace, non-smoking floor, tour services. Warm and helpful. Room service 24/7. Massage.
phone: +855 23 223703

address: 5 St 158, Sangkat Boeung Raing

Breakfast included. Al fresco dining poolside.
phone: +855 23 222260, +855 12 447057 (mobile)

address: 42 St 19z

14 rooms with a lush exotic garden and a saltwater swimming pool. The rooms, garden and pool are modern minimalist, with concrete furniture. Free 1 Mb/s Wi-Fi. Its sister property is The Pavilion.

phone: +855 23 220528

address: 227 Sisowath Quay

All rooms have a view of the Mekong River and suites are all equipped with air-con, cable TV, private safes, mini bars, IDD telephones, and free access to Internet. There are 3 floors and no elevator so getting to the top floor can be a bit of a struggle.

phone: +855 12 507097

address: BKK1

Self-contained apartment for up to 4 people, along with satellite TV, DVD player, and a small veranda. Advance booking required. Off-the-beaten-track tailor made private boat and road trips, up-country travel, and cooking classes can also be arranged.

Changi Ville Guesthouse and Cafe

address: 137B St 330

In a residential neighbourhood. Clean double rooms with attached baths. Friendly staff. Might occasionally have power outages due to its location.

address: various locations

Four hotels in Phnom Penh. The spacious rooms are examples of contemporary Cambodian design. Spotless air-con rooms with cable TVs, mini-bars, strongboxes, en suite baths with hot water. Free Wi-Fi. Management does not support sex tourism.

phone: +855 23 427618

address: 9 St 278, Sangkat Beng Keng Kang 1, Khan Chamkarmorn

phone: +855 23 430066

address: 18 St 47 & 84, Sangkat Srass Chork

Hotel near the river and port. Good rooms with hot showers, TVs and a quiet ambiance. Some rooms have balconies. Very helpful staff. Free Internet access in the office area near the lobby. Some rooms are completely renovated, soundproofed, upgraded and have added amenities.

address: 35 St 200, Sangkat Boeung Rang, Khan Daun Penh

There is an affordable massage parlour on the lower levels of the hotel. There is an open-air restaurant with a live band on the roof of the hotel which provides a cosy ambience at night. Free Wi-Fi.

phone: +855 23 215964

address: 48 St 9

Relaxing spot in the middle of the city with a very good Asian fusion kitchen and local chef, breakfast included. All rooms are equipped with air-con & fan, 22-inch LCD TV with international channels, DVD player.

The Lone Star Saloon Bar and Guesthouse

phone: +855 12 577860

address: 30 St 23

Texas-themed restaurant with 3 apt-sized rooms upstairs available as guesthouse rooms. On a quiet street near the riverside. Air-con, hot water, free fast Wi-Fi, mini fridge stocked with drinks at bar prices. Caters to local expats and provides travel info for those new to Cambodia. Quiz nights on Monday 19:30. Play as individuals not teams.

Okay Guesthouse

address: 5 St 258

Safe and quite well-run, but if you have arrived in Cambodia to escape Western culture for awhile, but a large TV in the dining/meeting room is always on, loud.

Paragon Hotel

address: 219B Sisowath Quay

On river front, near lots of good cafés. Rooms have bathrooms, air-con, TVs, fridges. No breakfast. Friendly service and clean.

address: 227 St 19

Colonial building from 1920, enclosed from the hustle and bustle of the city outside. Lush gardens surround the swimming pool. Also has a Jacuzzi and free Wi-Fi. Offers a free professional massage to each guest. Some rooms have private swimming pools.
Sundance Riverside

phone: +855 77 503144

address: 79 Sisowath

24 hr bar and restaurant with Wi-Fi and pool table. Rooms have Wi-Fi, a safe, air-con, ceiling fan, hot water, fridge, and a 26" flat screen TV. Breakfast included.
phone: +855 23 998252

address: 19 St 252

19 spacious and stylish rooms. Overflow 13 x 5 m swimming pool surrounded by a leafy tropical garden, garden restaurant and bar. All rooms are equipped with air-con/fan, 22 inch LCD TV with international channels, DVD player, dock speaker system for iPod/iPhone and line-in for MP3 players.
address: 15 St 302

14 bright and spacious rooms with air conditioning and TV.
address: 16 St 306, BKK 1

A new boutique hotel in an old colonial house. 6 spacious and stylish rooms, Wi-Fi, Air-con and a small pool. Breakfast included.

phone: +85570521605

address: 13A St 830, Tonle Bassac

A hotel and apartment complex in two buildings separated by a yard with large trees and a small swimming pool. Wi-Fi, Air-con and several lounges. Breakfast available.
Splurge
Stay safe
As in any big city, be wary walking alone at night.
Daytime bag-snatching is not uncommon. Women are the main targets. When riding in a tuk-tuk keep your bag toward the middle of the tuk-tuk to protect against bag snatching. When on a motorcycle taxi, keep your bag between you and the driver or in front of the driver. Do not carry/wear your bag on your back!
Scammers and con men sometimes work the tourist areas such as the riverfront, Hun Sen Park and the Sorya Mall. A group of scammers operate around the riverside, targeting travellers. Their basic method is to start a conversation, make friends, claim to have a relative who is soon moving to your country of origin, and invite you to dinner at their house. Once you get there, they will apparently try to trick you into playing a rigged card game for money, and if that fails then they will give you stories about sick relatives and ask money for that instead.
Beware of fake monks. Real monks don't walk around begging from tourists. Ignore them or call the tourist police (012 942 4840) if you are harassed by fake monks.

Stay healthy
As in most developing world countries, avoiding cold, uncooked food is desirable to prevent stomach upsets. Salads are also suspect at times. Ice is usually OK as it is made from filtered water in factories.

Unsafe sex
There are dozens of girlie bars catering to foreigners in the cross-streets back from the river. Freelance girls are picked up at establishments like Heart of Darkness, Sharky's Bar, Riverhouse Lounge, and Martini Bar.
HIV is carried by about one in eight of Cambodia's female sex workers.
NGOs have got the HIV rate in the general population down from around 2% to around 1% over the past decade, but emerging liberal behaviour coupled with ignorance of safe practices may reverse this gain. Condoms are strongly advised.

Connect
Telephone
Cheap SIM cards from USD2 for GSM phones are available on almost any major street. A vendor should have an activated test card to be used to make sure your phone will operate on that network. Calls between mobile networks can be spotty and Skype calls from abroad to mobiles in Cambodia are sometimes dropped, so be prepared to redial frequently. SIM cards, phone credit and internet packages can be bought and activated at the airport located just after passing through customs. A great time and place to do so if you know you going to buy a local SIM card in Cambodia. Its a good idea to have your phone sim unlocked before leaving home. It seems all phones sold in Cambodia are unlocked. Dual sim phones are cheaply available which are useful for travellers who want to use their home sim card and a local SIM card at the same time.
Mobitel (cellcard) and metfone have the best coverage around the whole of Cambodia. Metfone is particularly good for their internet packages (e.g. 4Gb for one month for USD5) and they allow hotspot tethering from you smart phone unlike Mobitel. Useful if you use a laptop a lot and want to use wifi via your hotspot enabled smart phone. Smart has probably the cheapest for local phone calls but not so great for internet. Dual sim phones are popular in Cambodia so as to take advantage of different deals available, such as Smart for calls and cellcard or metfone for internet.
Most of the major networks, such as metfone, have kiosks at the Phnom Penh airport located just after walking through customs where you can buy a local sim card, some credit and an Internet data package. If so, check that it all appears to be operating OK before heading off, such as by loading up a web page and checking your balance.
Internet
Wi-Fi is available in most of the hotels that welcome Western tourists and backpackers. Speed and reliability is on par with neighbouring countries.
There is no shortage of Internet cafés in Phnom Penh. Most are in the 1,500 riel/hour to 2,000 riel/hour bracket (~USD0.50)
Wireless and wired connections for laptops are available at a number of outlets. Most up-market hotels provide high-speed broadband access, but at a premium. A number of cafés along Sisowath Quay including the Foreign Correspondents' Club (expensive), Fresco Café (under the FCC, also expensive), K-West Café (at the Amanjaya Hotel), the Jungle Bar and Grill, and Phnom Penh Café (near Paragon Hotel), and Metro Cafe (free).
Cybercity 8

phone: +855 17 307066

address: 17 & 1, St 271

A modern Internet cafe with 3Mb fiber optic cables. Open 24 hours with promotional rates at night.

Galaxy WebExcellent service, popular with Westerners.

Sunny Internet

address: 178 St

Provides a faster service at USD1/hr and is popular with tourists and expats.
Post
The main, impressive French colonial-style post office is at the intersection of St 13 and 102, roughly between Wat Phnum and the Riverside. Another branch is more downtown, at the intersection of Sihanouk and Monivong Blvd. Both offices offer full range of postal services, including PO boxes for affordable prices, and are open 7 days a week.
Postage for international postcards is 3,000 riel. Very nice picture stamps are available. Philatelists: ask for mix and match options.
Letters and especially parcels to Phnom Penh's post office frequently go missing, or are not made available to recipients for up to one year.
FM radio
BBC World Service news is broadcast in Phnom Penh on easy to remember 100.00MHz FM.
Cope
Bring your largest pair of sunglasses: Phnom Penh is dusty year-round (even in the wet season) and riding in tuk-tuks means a lot of the dust in your eyes.
Embassies and consulates
phone: +855 23 213470

address: 16B National Assembly Rd, Sangkat Tonle Bassac, Kahn Chamkamon

phone: +855 23 720920, +855 12 810928 (24 hr)

address: 156 Mao Tsetung Blvd

phone: +855 23 430020

address: 1 Monivong Blvd

phone: +855 23 213470

address: St 466, (Oknha Nhek Tioulong) corner Norodom Boulevard

Philippines

phone: +855 23 222203, +855 23 222204

address: House No 15, St 422, Sangkat Tonle Bassac, Khan Chamkarmon

phone: +855 23 210931

address: 213 Blvd Sothearos

phone: +855 23 221875

address: 129 Norodom Blvd, Sangkat Chaktomuk, Khan Daun Penh

phone: +855 23 861 700

address: 10th floor, Phnom Penh Tower, 445, Monivong Blvd, (St. 93/332), Sangkat Boeung Pralit, Khan 7 Makara

phone: +855 23 427124

address: 27-29 St 75, Sangkat Srah Chak Khan Daun

phone: +855 23 728000

address: 1, St 96, Sangkat Wat Phnom, Khan Daun Penh

You are lucky if you visit during December and get to view their Christmas light display!
Medical
Ascertain that the doctor has a Western medical degree. If not, get out. Local training is poor and treatment can be fatal. Local hospitals are generally basic, including
Calmette Hospital
, the city's best. A doctor's appointment should be made at one of the international clinics, which can also arrange transfer to a hospital in Thailand if necessary.
Dr Marissa Regino-Manampan

phone: +855 23 217349

address: 262B St 63

Filipino MD. Family medicine.

IMI International Dental Clinic

phone: +855 23 212909

address: 193 St 208

International Dental Clinic is one of the biggest high-tech dental clinics in Cambodia. Offering convenient and flexible services and total dental care since 1997. Recognised by the Ministry of Health and National Dental Council of Cambodia. Now has a second clinic, in cooperation with a Japanese dentist, in Siem Reap Province.

International SOS Medical and Dental Clinic

phone: +855 23 216911

address: 161 St 51 (Pasteur)

Has local and foreign doctors providing wide ranging standard health care and 24-hr emergency service. This clinic is experienced with foreigners and with travel insurance requirements and will ensure that all documentation for insurance claims are provided.

Naga Clinic

phone: +855 23 211300, +855 11 811175 (Mobile)

address: 11 Senei Vinna Vaut Oum (St 254)

Some of the Khmer doctors here are foreign-trained and competent, but abrupt and uncommunicative, in the Asian doctor-style. The two French doctors are both competent and communicative, and are favoured by expats. One of them, Dr Garen, speaks good English.

Royal Rattanak Hospital

phone: +855 23 365555

address: 11 St 592, Boeung Kak 2, Toul Kok

The second Cambodian hospital of Bangkok Dusit Medical Services PCL. Provides full secondary health care services including: emergency medicine, general surgery, plastic surgery, orthopedic surgery, anesthesiology, pediatrics, Ob-Gyn, general internal medicine, intensive care and rehabilitation services. Good service and some real doctors, but insanely expensive. A keybone operation with 4 days stay costs around USD4,000. You pay around USD190/night.

phone: +855 23 555 3156

address: 8, St 39

An efficient and low-cost multi-service clinic. Bookings not always necessary, a good place to head to if sick. Particularly good place if you have no insurance as its costs are low. They are good a removing moles and various other lumps for as little as USD20 each.

Tropical & Travellers Medical Clinic: Dr. Gavin Scott

phone: +855 23 306802

address: 88 St 108

British doctor. General Medicine. Tropical medicine.
Go next
Cambodia
Sihanoukville
,
Battambang
, and
Siem Reap
are within a few hours reach. Watch out for guesthouses profiteering on bus tickets. Several tour companies offer day-trips to
Tonle Bati
, which includes
Ta Prohm
, an Angkor-era temple not to be mistaken for the Angkor-area temple of the same name.
| To | Company (comments) | Departs | Hours | USD |
| --- | --- | --- | --- | --- |
| Siem Reap | Mekong Express (air-con, snack, water, guide) | 07:00 08:30 12:30 14:25 | 6 | 12 |
| Apsara Khmer Travel (air-con, water) | 07:00 09:00 13:30 15:30 | 5 | 9 | - |
| Gold VIP (air-con, snack, water) | 07:00 08:30 13:30 14:30 20:00 24:00 | 5-6 | 9 | - |
| Selia Angkor (air-con, snack, water) | 07:00 09:00 14:00 15:00 | 5 | 9 | - |
| Virak Buntham | 11:30 (5 hr) 18:00 20:00 24:00 (6 hr) | | 9 | - |
| Sok Sokha (cold towel, air-con, snack, water) | 07:30 08:30 12:30 13:30 | 6 | 8 | - |
| Capitol (air-con) | 06:15 07:30 08:30 10:15 12:00 13:30 14:30 | 6.5 | 7 | - |
| Phnom Penh Sorya (air-con) | 07:00 07:45 08:45 11:30 12:45 15:15 | 7 | 7 | - |
| Sihanoukville | Phnom Penh Sorya (air-con) | 07:00 08:00 09:00 11:30 12:45 15:45 17:00 | 5 | 7 |
| Capitol (air-con) | 07:15 08:45 09:45 11:15 12:15 13:30 14:30 | 5 | 7 | - |
| G.S.T. (air-con) | 07:15 08:15 12:30 13:30 13:15 | 5 | 7 | - |
| Virak Buntham (blanket, water, air-con) | 01:30 | 4 | 8 | - |
| Kep/Kompot | Capitol (air-con) | 07:30 13:00 | 4 | 7 |
| Phnom Penh Sorya (air-con) | 06:45 07:30 09:30 12:45 13:45 | 5 | 7 | - |
| Kratie | Phnom Penh Sorya (air-con) | 06:45 07:15 8:00 10:30 | 6 | 8 |
| G.S.T. (air-con) | 07:00 | 6 | 8 | - |
| Battambang | Virak Buntham (air-con) | 05:00 06:30 | 5 | 7 |
| Capitol (air-con) | 07:00-14:45 (every hr) | 5 | 7 | - |
| Phnom Penh Sorya (air-con) | 06:30 07:45 08:45 10:45 12:45 | 6 | 7 | - |
| Koh Kong | Virak Buntham (air-con) | 07:45 12:30 | 6 | 9 |
| Phnom Penh Sorya (air-con) | 07:45 11:30 | 6 | 9 | - |
| Kampong Cham | Capitol (air-con) | 08:15 14:00 | 3 | 6 |
| Phnom Penh Sorya (air-con) | 07:15-15:45 every hr | 3 | 6 | - |
| Preah Vihear | G.S.T. (air-con) | 07:30 | 8 | 7 |
| Poi Pet | Virak Buntham (air-con) | 20:00 21:00 24:00 | 7 | 10 |
| Phnom Penh Sorya (air-con) | 06:15 06:30 07:45 07:30 | 8 | 10 | - |
| Capitol (air-con) | 06:30 08:00 10:00 | 8 | 10 | - |
| Stung Streng | Phnom Penh Sorya (air-con) | 07:15 | 9 | 12 |
| Rathanakiri | Phnom Penh Sorya (air-con) | 07:30 | 13 | 12 |
| Mondulkiri | Phnom Penh Sorya (air-con) | 08:15 | 8 | 10 |
Laos
Buses to
Don Det
(USD19, 12 hr) leave at 06:45. The 27 hr journey to
Vientiane
costs USD46 and takes
four
different buses. The first leg is on the Don Det bus. Once over the border you'll spend hours on cramped minibuses heading to
Pakse
before the final stretch to the capital. The border is slow and bureaucratic, with endless form-filling and small bribes to officials, long walks hauling your luggage between windows (500 m), and no one much to assist with enquiries. There have been reports of various problems on the onward journey to
Vientiane
, from Lao companies not honouring tickets sold in Cambodia, to nocturnal groping.
Prices May 2012:
| To | Bus Company (comments) | Departs | Hours | USD |
| --- | --- | --- | --- | --- |
| 4000 Islands/Don Khong (ferry not included) | Phnom Penh Sorya | 06:45 | 10 | 23 |
| Pakse | Phnom Penh Sorya | 06:45 | 12 | 30 |
| Vientiane | Phnom Penh Sorya | 06:45 | 22.5 | 50 |
Thailand
Through tickets to
Bangkok
(14 hr, USD15–26) are generally unproblematic. You will change buses at the border. Anything more than USD15 is a bit steep given that Phnom Penh to
Siem Reap
should cost USD5 and that Siem Reap to Bangkok should cost USD10.
Prices May 2012:
| To | Bus Company (comments) | Departs | Hours | USD |
| --- | --- | --- | --- | --- |
| Bangkok | Virak Buntham (via Koh Kong) | 07:45 | >12 | 28 |
| Virak Buntham (via Poipet) | 21:00 21:30 24:00 24:30 | 12 | 23 | - |
| Gold VIP (via Poipet) | 20:00 24:00 (night bus) | >12 | 23 | - |
| Angkor Express (via Poipet) | 06:30 | 13 | 18 | - |
| Capitol (via Poipet) | 06:30 | 13 | 18 | - |
| Phnom Penh Sorya (via Poipet) | 06:30 | 13 | 18 | - |
| Ko Chang | Virak Buntham | 07:45 | 9 | 23 |
| Ko Samet | Virak Buntham | 07:45 | 12 | 29 |
| Pattaya | Virak Buntham | 07:45 | 11 | 29 |
| Trat | Virak Buntham | 07:45 | 8 | 19 |
Vietnam
There are legends of a slow boat to
Chau Doc
in
Vietnam
(USD9–10) that you can take instead of a bus (USD10, 6 hr to either
Ho Chi Minh City
or Chau Doc), though it's not clear whether this is still possible. Faster boats (4-5hrs) from Phnom Penh to
Chau Doc
do still run once a day (see "Get In" section above). There is reportedly no longer any regular boat service from Chau Doc onward towards Ho Chi Minh City or even other parts of the
Mekong Delta
. The journey can be also stretched into a 2-3 day Mekong tour, usually including both boat and bus segments (possibly starting from about USD60, though most range from about USD100 up into the thousands).
Prices May 2012:
| To | Bus Company (comments) | Departs | Hours | USD |
| --- | --- | --- | --- | --- |
| HCMC | Mekong Express (air-con, snack, water, guide) | 06:30 07:00 08:30 13:00 14:00 15:00 | 6 | 13 |
| Sapaco Tourist (air-con, water, toilet) | 06:00 07:00 08:00 09:00 11:30 13:00 14:00 15:00 | 6 | 12 | - |
| Khai Nam Transport | 05:30 07:00 08:00 09:00 10:00 11:00 12:00 13:00 14:00 15:00 | 6 | 11 | - |
| Virak Buntham | 08:30 | 6 | 11 | - |
| Virak Buntham (blanket, air-con) | 00:30 (night bus) | 8 | 12 | - |
| Capitol | 06:45 08:00 13:30 | 6 | 11 | - |
| Phnom Penh Sorya | 05:45 06:45 08:30 11:45 13:30 | 6 | 15 | - |
| Hatien | Champa Mekong (minibus, air-con) | 08:00 | 5 | 15 |
| Phu Quoc | Champa Mekong (minibus, air-con) | 08:00 | 7 | 27 |