Phoenix
Phoenix
is the capital of the state of
Arizona
, the most populous city in the American
Southwest
, and the sixth largest city in the
United States
. Founded in 1871, it has become the region's primary political, cultural, economic, and transportation center. At an elevation of 1,100 ft (335 m), it is in the biologically unique Sonoran Desert. Over time it has merged with the neighboring cities of
Scottsdale
,
Tempe
,
Glendale
,
Peoria
,
Chandler
, and
Gilbert
to form the
Greater Phoenix Metropolitan Area
. Exurbs such as
Apache Junction
,
Fountain Hills
,
Queen Creek
, and
Sun City
are becoming part of this metropolitan area as well. Phoenix is
extremely
hot and dry in the summertime, so
always have sunscreen with you!
Understand
Why would anybody want to start a city in the middle of a desert? The answer is, surprisingly, agriculture. The Salt and Verde Rivers of central Arizona were exploited for large-scale agriculture by Native Americans as early as the 11th century. The area that now encompasses Phoenix was a center of the Hohokam culture, which built large canal systems and a network of towns and villages, whose remains may be viewed in the city to this day. White settlers discovered the remnants of the Hohokam culture in the 19th century. The city's name reflects its history as a city "reborn from the ashes" of the previous settlement.
European-American settlement of the area commenced in the 1860s, and in 1911 the completion of the first of several large reservoirs in the mountains north and east of Phoenix insured its success as a center for irrigation-based agriculture. Many tens of thousands of acres were planted in citrus and cotton and other crops, and for many years, intensive, year-round irrigated agriculture formed the basis of the economy. The area is being revived, and trendy hotels, bars, shops and restaurants are making it a place to be again.
Warm and sunny winter weather also ensured a thriving tourism industry, and encouraged many Easterners and Midwesterners to relocate to Phoenix. High-tech industry began to flourish after World War II, and since that time the growth of Phoenix has been explosive. As a result, a population of just over 100,000 in 1950 has grown to over 1.5 million in 2014 (with almost 4.5 million in the metro area).
Climate
Phoenix has an arid climate with long, hot summers and very mild winters. It has the highest average temperature of any metropolitan area in the
States
. The weather varies enormously from one season to the next. While it's not as cold as in the northern states during the winter, it does freeze sometimes, and temperatures in the 30s°F (that's around or slightly above 0°C) are not unheard of. In the summer, very hot and dry heat is the norm. On the hottest days, it can get up to 115°F (46°C) or more, but never unpleasant due to low humidity. Monsoon rains with lightning occur regularly from July to September during the late afternoon and evening, occasionally overnight also. April is the most ideal month. In some neighborhoods, cicada insects make loud sounds from sunset to sunrise.
Talk
English is the dominant language in Phoenix. However, like much of the
Southwest
with a large Hispanic population,
Spanish
is very widely spoken in Phoenix. Spanish is a language often used for day-to-day discourse in many places, although English is the language of preference, especially when dealing with businesses and government.
Get in
By plane
Phoenix Sky Harbor International Airport
phone: +1 602 275-4958
is the main air gateway to Arizona. It is at the southeast end of
Downtown
. It is a hub for
American Airlines
and
Southwest Airlines
. Terminals are numbered from 2-4. There is no Terminal 1.
Terminal 2: Alaska (Gates 10 & 11), Great Lakes (Gates C & D), Spirit, Sun Country, United, Boutique Air
Terminal 3: Delta, Frontier, Hawaiian, JetBlue
Terminal 4: Aeroméxico, Air Canada, American, British Airways, Condor, Southwest, Volaris, WestJet
To get to/from the airport:
Valley Metro #13 goes west to S 75th Ave along S Buckeye (via Greyhound depot) from Terminal 2.
The free PHX skytrain goes from Terminal 3/4 to 44th & Washington St Station where you can catch the #1 (west to the downtown Central Station or east to Priest & Washington in Tempe); #44 bus (north to the Desert Ridge Marriott Resort in Deer Valley along N 44th St & Tatum); or the light rail (east to Tempe & Mesa or west to Midtown and northern Phoenix along Central Ave).
Alternative airports
Phoenix-Mesa Gateway Airport (AZA) +1 480 988-7600 is east of Phoenix, in neighboring Mesa. It is served by Allegiant Air and Westjet (flying from Canada). This is a smaller-sized airport, but is being redeveloped into a major regional airport.

phone: +1 623 869-0975

is the busiest general aviation airport in the U.S. The FBO Cutter Aviation provides aviation fuel and a variety of guest services.
Private aviation
There are more than 20 airports within 50 nautical miles of Phoenix. The
Deer Valley Airport
is the busiest private airport in Arizona and one of the most important business jet hubs west of the Mississippi. Air charter companies including
Valley Jet
and
Phoenix Jet Charter
offer access to private planes based at any of the airports in the Phoenix-area, with planes ranging from luxury jets to cost-effective single & twin engine planes. Other private aviation airports include:
By train
Due to a dispute among the Arizona Department of Transportation, the Union Pacific Railroad, and
Amtrak
, passenger train service to Phoenix has been discontinued, making it the largest city without Amtrak service in the US. Therefore the nearest station is south of Phoenix in the town of Maricopa and is connected to Phoenix, Tempe and Phoenix Sky Harbor International Airport by an
Amtrak Thruway Shuttle
(operated by Stagecoach Express) or by taxi. Maricopa is served by the
Sunset Limited
which runs three times a week between
New Orleans
and
Los Angeles
. Additionally, Amtrak's
Texas Eagle
service between San Antonio and Chicago incorporates the Sunset Limited to provide a direct connection to Los Angeles with the same stops as the Sunset Limited between San Antonio and Los Angeles. Both trains stop in Benson,
Tucson
, Maricopa and
Yuma
.
Alternatives: disembark at
Flagstaff
instead and take a Greyhound bus into Phoenix from there or disembark in Tucson and take a Greyhound bus into Phoenix; the Greyhound station in Tucson is about 5-6 blocks west of the Amtrak depot. The
Southwest Chief
runs through
Flagstaff
on its way between
Chicago
and
Los Angeles
with stops in
Winslow
,
Flagstaff
,
Williams
and
Kingman
. For much of its route, the Southwest Chief follows historic
Route 66
, and offers an interesting perspective of the historic road and its surroundings.
By car
There are 3 main routes that enter through Phoenix: Interstate 17, Interstate 10, and US-60, also known as the Phoenix-Wickenburg Highway. These routes are the best for being able to move and get around the city. If getting there, these are also ideal for travelling. In Downtown Phoenix, I-10, and I-17 can be congested with traffic, but, normally these are the fastest routes for getting to and going from Phoenix.
By bus
There are multiple long distance bus lines and van shuttles serving Phoenix from
Los Angeles
, Las Vegas,
El Paso
, Tucson, Sedona, Flagstaff, Yuma & Nogales in the U.S. and from
Nogales
,
Hermosillo
,
Puerto Peñasco
and
Culiacán
in
Mexico
. Each company has a stop or their own bus station in different parts of town that are far from each other. The bus stations and stops in the neighborhoods northwest of the I-17/I-10 junction, northwest of the downtown core, are in rough neighborhoods.
Arizona ShuttleRegularly scheduled shuttle service from Phoenix Sky Harbor (Airport) to Tucson, Prescott, Sedona & Flagstaff

El Paso-Los Angeles Limousine Express

phone: +1 602 254-4101

address: (Bus depot) 1015 N 7th St

Travels along I-10 between Los Angeles & El Paso on one route and up to Las Vegas on another route.

address: (bus stop) 44th St Sky Train Station by airport

They also have an additional "north Phoenix" stop in front of the High & Rye Restaurant at 5310 E High St and another one in Tempe

Greyhound Lines, Autobus Americanos & Cruceros USA

phone: +1 602 389-4200

address: (Bus depot) 2115 E Buckeye

Greyhound travels primarily on Interstate 10 (Los Angles-Phoenix-Tuscon-El Paso); I-17 (Phoenix-Sedona-Flagstaff). Some of their schedules continue east on I-40 towards Oklahoma City whiles others go west towards Las Vegas from Flagstaff; AZ-85/I-8 (Phoenix-Gila Bend-Yuma-San Diego). Passengers transfer to other buses in Los Angeles, El Paso, Flagstaff, Oklahoma City, Las Vegas, San Diego and/or San Bernardino to get to other cities in the U.S. and in Nogales, Calexico/Mexicali and El Paso/Cd Juarez to get to other cities in Mexico. Prices vary by destination.

phone: +1 714 839-3500, +1 408 729-7885

address: (Bus stop) Lams Supermarket @ 6740 W Indian School Rd

Travels between Southern California (San Diego, El Monte, Los Angeles, Westminster) and Arizona (Phoenix, Chandler and Tempe). There is also a stop at the COFOC Chinese Center on 668 N 44th St.

Transportes Baldomero Corral (TBC)

phone: +1 602 258-2445

address: (Bus stop) 3106 W Thomas Rd

Goes down to Hermosillo via Tucson and Nogales.

phone: +1 602 272-3030

address: (Bus depot) 2707 W McDowell Rd

There is also a stop at La Salsita Restaurant at 2345 E Van Buren. Offers bus service between California, Arizona and Las Vegas NV in the U.S. and along the Hwy 15 corridor towards Guadalajara through several cities and towns in Sonora, Sinaloa, Nayarit and Jalisco in Mexico. Additional stops in Tucson and Nogales between Phoenix and the US/Mexican border.

phone: +1 602 442-6670

address: (Office) 131 N 28th Ave

Runs van shuttles from Phoenix to Nogales via Tucson; Calexico; San Luis and Yuma; Puerto Peñasco or Caborca through Lukeville/Sonoyta; and Douglas/Agua Prieta on separate routes.

phone: +1 602 442-6802

address: (Shuttle Depot) 3521 W McDowell St

Runs van shuttles between Phoenix and Rocky Point in Puerto Peñasco via Lukeville and Sonoyta.

phone: +1 602 415-9900

address: (Bus depot) 1614 N 27th Ave

Offers bus service between (Southern) California, Arizona and Nevada in the U.S. and along the Hwy 15 corridor in Sonora and Sinaloa in Mexico. There's also a taxi stand at the Tufesa bus station for onward local travel.
Get around
Phoenix is a very car-centered city. If you plan to stay or visit any of the cities on the periphery of the metro area, a rental car will likely be required. However, if you plan to stick to the Tempe-Downtown Phoenix area, the Light Rail is a viable option, with an all-day adult pass running roughly $3.50. So if you are in the
United states without a car
consider that. Taxis are typically fairly easy to find in proximity to major light rail stops and in popular areas, and will run you from $10-15 for a fairly local trip to well over $100 for a ride to a distant suburb.
Surface roads are usually easy to navigate. The area's roads are designed around a grid system, where most roads are numbered based on their distance from the city center. Addresses also conform to the numbering of the roads around them. Nearly all streets run with the compass directions, and there's a major thoroughfare at every mile in each direction. Central Ave divides east from west while Washington St divides north from south. The numbered roads go north and south, parallel to Central Ave, with "avenues" west of Central and "streets" east of Central Ave such as 7th Ave going parallel on the west side of Central Ave while 7th St parallels along the east. The named roads go across east and west and can be "roads", "avenues" or "streets". This also applies to the extended metro area, though addresses in places like Tempe and Mesa have their own numbering system and are not based on downtown Phoenix.
There is an extensive network of freeways, most built since 1987 and some more recent. Heavy construction on some segments and interchanges continues. Check construction schedules and closures in the local media.
Drinking and driving laws are very heavily enforced in Phoenix, especially in Scottsdale and Tempe. Harsh DUI laws & police traps ensure you will most likely be pulled over during peak bar hours 11PM-2:30AM. Mandatory jail time and extremely heavy fines make drinking and driving a very unwise decision in Maricopa County.
Valley Metro. Extensive metropolitan bus system, and light rail line. The light rail line runs from north-central Phoenix, along the Central Ave. corridor, through downtown, past the airport, and to Tempe and Mesa. One-ride or all day passes may be purchased at varying prices depending on service and location.
A single ride on a non-express bus or the light rail is $2.
1-day passes are $4 from machines, but $6 on board buses.
The DASH is a free bus that runs M-F 6:30AM-6:30PM between downtown and the state capitol stopping at various government buildings such as city hall.
Car rental is the most convenient form of transportation for visitors, with local companies offering better prices but national chains offering more convenience vis-a-vis return policies and times.
Car hire Unlike most cities, in Phoenix you can get a sedan, SUV or even a limo to pick you up for about the same price as a cab.
ride-sharing (Uber/Lyft), is very popular. Waymo (self-driving vehicles) are available in the Chandler/Mesa/Tempe Gilbert area (100 sq mi area), though need to enroll to use.
See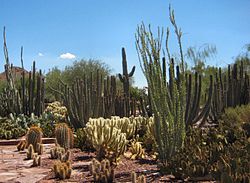 The cultural, governmental, and business center of the city is Copper Square, which is striving to become one of the southwest's most distinctive urban centers. Copper Square was built around the original Phoenix historic town site. Its boundaries extend from Fillmore to south of Jackson Street, 7th Street to 3rd Avenue. Revitalization plans in the area are expected to cost more than $4 billion and aim to increase artistic, cultural and entertainment activity. The presence of two state universities (ASU and U of A) and a new convention center are also significantly changing the physical and economic shape of the Phoenix downtown area.
Downtown and Central Phoenix are home to several historic neighborhoods. These range from turn of the century Victorian to mid-century modern architecture. Some of the more well-known districts include Coronado, Encanto-Palmcroft, FQ Story, Willo and Woodlea. The historic homes in these districts are private residences and not normally open to the public, but the neighborhoods are very pleasant to walk around. Some districts hold annual home tours when several houses in a neighborhood are open to the public, all covered by one ticket usually costing about $10. For example the FQ Story home tour is normally held shortly before Christmas.
Roosevelt Historic District. This area has retooled itself from a run-down, drug-infested area to the epicenter of the Central Phoenix art scene. This emerging neighborhood has become home to artist live/work spaces, gallery spaces and studio spaces. Since 1994 the monthly First Friday's (first Friday each month) artwalk (7th St to 3rd Ave) has grown to become the largest monthly artwalk in the U.S. Increasing interest in this area has prompted Rooselvelt Row to becoming more pedestrian-friendly and is supportive of small local independent businesses that give Downtown Phoenix character.
Scottsdale Old Town. Scottsdale Rd & Indian School. Restaurants and art galleries. Thursday evening art walk 7-9p.
Parks and outdoors
phone: +1 480 941-1225

address: 1201 N Galvin Pkwy

50 acres of exhibits showcasing desert plants, with an emphasis on plant life of the Sonoran Desert and arid lands around the world. It includes many examples of ethnobotany, or how plants are used to survive in the desert. As a consequence of the many plants in this area there are also many desert animals such as lizards, birds, and occasional roadrunners.

Ro Ho En Japanese Friendship Garden

phone: +1 602 256-3204

address: 1125 N 3rd Ave

Japanese-style garden with koi pond and tea house. Closed in the summer due to heat.

Deer Valley Petroglyph Preserve

phone: +1 623 582-8007

address: 3711 W Deer Valley Rd.

features a museum and visitor center dedicated to the preservation of historic petroglyphs and pictographs at the base of Hedgpeth Hills. A must see for geologists and archaeologists.
Museums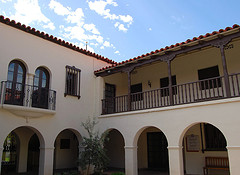 Historical
Pueblo Grande Museum and Archaeological Park

phone: +1 602 495-0901

address: (Museum Bldg) 4619 E Washington St

The U.S.'s only city-operated archaeological site, preserving a 1500-year-old Hohokam ruin in the shadow of Phoenix Sky Harbor International Airport. This ruin is one of only two Hohokam mounds remaining in the metro Phoenix area (the other being the underdeveloped Mesa Grande ruins). The museum and site is comparable to the more famous (and more remote) Casa Grande Ruins National Monument, but the visible ruins are not as large.

phone: +1 602 262-6225

address: 203 W Adams St

Be sure to take a walk around this amazing piece of historic architecture set in downtown Phoenix. Built in 1929 in the Spanish Baroque style, this building feature intricate murals and moldings.

USS Arizona Memorial at the Arizona State Capitol

address: 1700 W Washington

Pay your respects to the victims of Pearl Harbor at the Arizona State Capitol's memorial to the USS Arizona. One of the two 19,585-lb (8880-kg) anchors of the Arizona is displayed.

Pioneer Living History Village

phone: +1 623 465-1052

address: 3901 W Pioneer Rd

A historically accurate recreation of an 1800s frontier town between Phoenix and Anthem. Over 30 buildings provide a living example of what frontier life was like then.

Arizona Biltmore Hotel24th St and Camelback Rd. Visit this legendary Phoenix landmark built in 1921 and has hosted famous guests such as Fred Astaire, Marilyn Monroe, Bob Hope, and the President of the United States when he is in town.

phone: +1 602 955-4079

address: 2501 E Telawa Trl

Take a tour of the amazing architecture and grounds of this historic mansion built by the famous chewing gum magnate.

phone: +1 602 256-3221

address: 5025 E Van Buren St

Tovrea Castle is a historic structure and landmark, which is particularly visible to drivers on Arizona State Route 202. It was intended as a centerpiece for a resort, but was used as a private residence for the Tovrea family, who owned the Phoenix Stockyards which once were adjacent to the property. The rococo style building was constructed in a unique three-tier fashion which has resemblance to a traditional multilayered wedding cake. The castle is now part of the Phoenix parks system and is designated as one of the Phoenix Points of Pride. The park shows over 5,000 cacti in over 100 varieties, all maintained by volunteers of the Tovrea Carraro Society. There's only 1-2 tours on weekend mornings, so they can sell out months in advance.

phone: +1 602 262-5070

address: 113 N 6th St

A fully-restored 1895 Queen Anne Victorian house museum which interprets the history of Phoenix. The only way to enter the house is through an hour-long tour which runs hourly.
Do
Winter visitors to the area will generally be looking for outdoor events. The area has many resorts with the relevant amenities, such as golf courses and the requisite pools and other activities on site. In the summer, due to the extreme heat, virtually everyone tries to avoid being outside more than necessary.
Outdoor recreation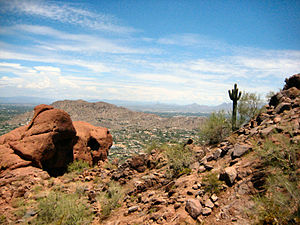 Golf
Performing arts
Sports
Tickets to professional sports events are expensive, but there are still $12.50 seats at the Diamondbacks games, not available until 2 hours before the game. Definitely not the best seats, but worth visiting the downtown Phoenix ballpark.
Spring Training Cactus League is a great way to see baseball players. Very relaxed and inexpensive. Games are in different locations in Mesa, Peoria, and Phoenix.
The Cardinals stadium is worth a visit, as it looks like a giant spaceship by the side of the freeway.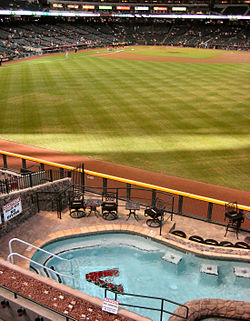 Events
Learn
Buy
Time-honored souvenirs from Phoenix are
scorpion bolo ties
and
saguaro-cactus salt and pepper shakers
. Look for them at various gift shops in Terminal 3 and 4 of Sky Harbor International Airport. These gift shops are also known to stock the ever-popular Cactus Candy and a wide variety of hot sauces.
Eat
Budget
For cheap eats, look out for many 24-hour Mexican food places such as Filiberto's, Raliberto's and other restaurants offer a burrito the size of your forearm for less than $4.

phone: +1 602 955-4137

address: 3749 E Indian School Rd

"Home of the Original Windy City Slider" is the restaurant's slogan, and the small burgers (along with larger fare) are found here. A Chicago themed sandwich shop offering hot dogs, sandwiches and even Frito Pie (according to the menu, a former manager from Texas added it to the menu and they've left it on). This place is more what you would expect of a traditional burger joint than Delux Burger (listed below). Delux is when you want something more formal, Chicago Hamburger Company is when you want to grab a traditional burger shop-lunch.

phone: +1 602 375-3639

address: 15414 N. 19th Ave, Suite K

Strange and wonderful fusion of Mexican and Asian cuisine. It can take a little bit of work to understand how to order, so using the online interactive menu ahead of time is useful for first-timers. Ask for a sample spoon if you're not sure about a flavor combination.

Fry Bread House

phone: +1 602-351-2345

address: 1003 E Indian School Rd

Since 1992 this Tohono O'odham-owned and -operated restaurant has served authentic Native American cuisine, based on family recipes that the restaurant owner learned as a child. Specializes in frybread in all its varieties. Features an all-Native American staff.

phone: +1 602 258-1870

address: 2022 N 7th St

Reputed vegan restaurant. PETA named the secret BBQ Chicken sandwich as the best faux chicken sandwich in the USA.

phone: +1 602 254-1074

address: 825 N 1st St

Very popular breakfast restaurant in downtown Phoenix.

phone: +1 602 526-5493

Food truck which turns up at various random events and locations (a calendar is posted on their website). Street tacos, burritos, quesadillas: a mix of southwest culinary roots with classical training.

phone: +1 602 956-0178

address: 4144 E Indian School Rd

Neighborhood Mexican food restaurant featuring fairly standard Arizona Mexican food fare at reasonable prices.

phone: +1 602 971-5555

address: 10652 N 32nd Street

Food truck and restaurant serving gourmet burgers.
Mid-range
Splurge
Vegetarian
True Foods, Biltmore shopping center (24th/Camelback) and The Quarter (Hayden/Greenway & Scottsdale Rd - N Scottsdale). Good variety of vegetarian options (as well as meat)
Flower Child, Uptown (Camelback/Central), Desert Ridge (Tatum/101), Arcadia (44th St/Camelback). Similar menu to True Foods, counter service.
Original Chop Shop, Arcadia (32nd St/Campbell), Scottsdale (Old Town), N Scottsdale (101/Scottsdale Rd), Tempe (Rural/University), Chandler . Fast casual, counter service, good vegetarian options, along with traditional meat protein.
Grabbagreen, N Phoenix (Bell/Tatum
Phoenix SkyHarbor Airport
Terminal 4, great eating options both in pre-security and next to boarding gates.
Deluxe, A22, very good burgers
Chelseas kitchen , pre-security, (part of LGO group), fresh menu
La Grande Orange, D1
Matts Big Breakfast,
Four Peaks Brewery
Lolo's chicken and waffles, pre-security
Barrio Cafe
Cowboy Ciao, B22
Sir Vezas Taco Garage, C13
Los Taquitos, C3
Zinc Brasserie,
Drink
Phoenix as a metropolitan area offers a considerable amount of nightlife, though with the fact that the city is so spread out it can be difficult and dangerous to attempt traversing the city on a big night out. Generally, the nightlife is centered around the sub-cities of the metro area. Within Phoenix, bars tend to cluster within the Midtown or Downtown areas, while in the surrounding areas, Scottsdale offers a lively bar and club scene, Tempe is popular with students given the proximity to the University, and the city centers for Chandler and Glendale both offer some good options if you're in the suburbs. Downtown Mesa lacks any appreciable nightlife given its strong ties to the Mormon church.
phone: +1 602 258-0014

address: 914 N. 5th St

Bar in a renovated bungalow from 1922 that features art and live music nightly with no cover charge. More than 100 different kinds of beer, wine and sake available.

phone: +1 602-256-0223

address: 628 East Adams St

British pub with over 50 local and import beers and English and American food. In 2011 the Phoenix New Times named it the Best English pub in Phoenix.

phone: +1 602-252-2285

address: 40 North First Street

Swanky and stylish bar and restaurant in a historic Phoenix building constructed in the 1940s serving food such as pizza, sandwiches and salads and a variety of cocktails. $5 classic martinis served all day

Bar Smith's Rooftop Lounge

phone: +1 602 456-1991

address: 130 E. Washington St

Downtown Phoenix bar and restaurant with Phoenix's only rooftop dance floor that attracts a young crowd. Nightclub is open Wed thru Sat.

phone: +1 602 252-2630

address: 810 North Second St

Bar and restaurant with 31 rotating craft beers on tap serving lunch and dinner. 3,000-foot patio with a diverse menu with snacks, flatbreads and sandwiches.

phone: +1 602 716-2222

address: 308 N 2nd Ave

A 7000-square-foot lounge, restaurant and music venue in a red brick warehouse built in 1917 which hosts live music every day. Happy hour is Monday-Thursday from 3-6PM and Friday from 11AM-6PM with $2 PBR, $3 wells and $3 local drafts.

phone: +1 602 253-6081

address: 18 W Monroe

Great small Irish pub downtown. Same owner of Rosie McCaffrey's up on Camelback. Live Irish rock music.

Bitter & Twisted Cocktail Parlour

phone: +1 602-340-1924

address: 1 West Jefferson St

A cocktail parlor situated in a historic building in downtown Phoenix with an extensive drink menu that also serves food.

phone: +1 602 368-3121

address: 130 N Central Ave

Basement bar and live music venue in downtown Phoenix that serves food and has a game room with darts, shuffleboard and a pool room. Some events have an admission charge and some events are free, check calendar on website for exact schedule and prices.

phone: +1 602 595-5873

address: 801 North 2nd Street

3300-square-foot Arcade Bar (21 and over) that has 40 vintage arcade games like Ms. Pac Man, Centipede, etc (25 cents a play) that serves beer, wine and cocktails. Happy hour M-F from 4 to 7PM and a live DJ plays Th-Sa nights.

phone: +1 602 254-1646

address: 1514 N 7th Ave

Great cocktail lounge with a hip, modern feel. Bartenders are pretty knowledgeable, and the beer selection, while all bottled, is pretty good. No food is really served here, but if you're hungry there's a Pei Wei Asian Diner just downstairs that you can grab a bite at.

phone: +1 602 241-0018

address: 4240 N Central Ave

British pub offering traditional British food and imported beer.

phone: +1 602 264-4549

address: 6522 N 16th St Ste 6

Neighborhood lounge with game room with electronic darts and arcade ball machines. 16 drafts or cocktails on tap and happy hour from 4PM to 7PM on weekdays and all day Sunday with drink and food specials. A takeaway case with beer and wine to go is available.

phone: +1 602 241-1916

address: 906 East Camelback Rd

Irish pub with daily specials, happy hour everyday (4 to 7PM) and live music Wednesday through Saturday.

Fuego Bar & Grill

phone: +1 623 478-7300

address: 9118 W Van Buren St, Tolleson

phone: +1 602 508-9449

address: 2525 E Camelback Rd

A high-end local place with a 'speakeasy' feel to it. It is hidden in the plaza with no sign, but once found it proves to be worth the trouble. Live jazz on Tuesdays.

phone: +1 602 852-3939

address: 3939 E Campbell Ave

A wine cafe in the former Arcadia post office. In addition to wines, the cafe features panninis and salads. The cafe also offers $5 glasses of wine each day until 4PM.

phone: +1 602 977-2700

address: 2121 East Highland Ave

Upscale sports bar with lots of TVs to watch games. Happy hour M-F (3PM to 7PM).

The Little Woody

phone: +1 602 955-0339

address: 4228 E Indian School Rd

A hip place to enjoy libations and games.

phone: +1 602 680-4040

address: 5640 N 7th St

Don't have room for your own party, bring it here! Spirits flow, games galore, and lots of friends to visit with.

phone: +1 602 313-1001

address: 5538 N 7th St #100

Craft cocktails and a large whiskey list are offered in this speakeasy style lounge.

phone: +1 602 633-2134

address: 1612 Bethany Home Rd

Eclectic neighborhood bar with very limited space and classic table games.

phone: +1 602 795-8552

address: 718 North Central Ave

24 hour coffee shop, bistro and bar that serves food in downtown Phoenix. Live events on some nights such as open mic storytelling and live music.
Sleep
Budget
Mid-range
Splurge
Summer Travel Resort Deals
The major resorts all have $99/night deals (newer resorts will be $25 more) from Memorial Day thru Labor Day. Included perks, such as 2-for-1 in the hotel restaurants, or $50 hotel credit. Many have standard 2 room suites, and water parks. Highly recommended for families. Distance reference from Phoenix Sky Harbor airport.
* The $99/night deals are now $129/night. Beware of $35/night resort fees, sometimes included, be sure to ask.
Hilton Pointe Squaw Peak Resort, 7500 N. 16th St. 2-room suites, lazy river, water slide, multiple pools, access to freeway (51), downtown Phoenix (7 miles). One of the Gosnell properties (also Pointe South Mountain - now AZ Grande - and Pointe Tapitao). Very popular with locals on summer weekends. Take my family at least one time each summer.
Arizona Grande Resort - nice water park, two room suites, water slide, multiple pools.
Sheraton Wild Horse - big fancy resort on far south side of Phoenix metro area. Water slides, lake, golf. Built in 2005.
Hyatt Gainey Ranch - Scottsdale (3 mi), beach, multiple pools, dive-in movies, beautiful grounds.
Marriott Desert Ridge - water slides, lazy river, multiple pools, Desert Ridge. Built in 2004.
Westin Kierland - water slide, lazy river, multiple pools, Kierland Commons (shopping & Shake-Shack). Scottsdale Quarter (restaurants) Built in 2005
Phoenician - water slide (long), golf. ($35 resort fee). Built by Charles Keating, 80s S&L crisis.
Biltmore hotel - water slide, Biltmore (shopping), golf course. ($35 resort fee). Many old Hollywood stars visited, including many recent presidents. A new wing, Terravita, was built some time back, which offered large rooms, free breakfast buffet, and afternoon snacks, free coffee, tea and soda all day. Enjoyed a fun labor day weekend.
Hilton Pointe Tapitiao - 10000 N 7th St, 2 room suites, nice pool, good hiking, downtown Phoenix (10 mi).
Stay safe
Despite being a nice vacation destination, Phoenix is a major American city and as such does contain a fair amount of violent crime. Some parts of the city (and even a few parts of some of the suburbs) should be avoided at night. Downtown Phoenix is safe during the day, but does have a problem with the homeless/transients, some of whom approach well-dressed office workers and tourists asking for spare change. South Phoenix can be unsafe in some areas.
Maryvale, a commercial/residential district on the west side of the city of Phoenix (extending north into Glendale as well), should be avoided at almost all times unless there is a specific reason to go there.
Most of the suburban areas are safe during day and night; however, parts of Mesa and Glendale can be dangerous at night. There have been assaults on a few university students in some portions of Tempe, near the main campus of Arizona State University (ASU). The ASU campus is equipped with several emergency call boxes.
The Sunnyslope area (north central city of Phoenix) has some homeless and other crime issues but a police station at Peoria and 7th Ave which has dramatically reduced crime.
The town of Guadalupe (immediately west of Tempe and bounded by Interstate 10 on the west) is unsafe at night, but is an incredibly interesting Hispanic/Native American community to visit during the day. Be warned though that the speed limit suddenly falls from 40mph to 25mph as you enter the town.
In every portion of the Phoenix area, just use common sense and be aware of your surroundings.
Phoenix also has one of the highest car theft rates in the country, with a car stolen every 7 minutes. In addition, red light running is more common in Phoenix than any other city in the U.S. Use caution at every turn.
Speeding, tailgating and aggressive driving are common on the freeways.
Be aware of traffic and speed enforcement cameras at most major intersections. Always anticipate someone attempting to beat the amber light before it turns red to avoid being issued a very expensive traffic ticket (usually in the amount of $300 or more). If you see sudden braking, make sure you're going the speed limit. Sometimes, camera vans are set up on the side of the road to snatch speeders, especially in the Northeastern parts of the Valley.

Cope
Newspapers
Consulates
Canada (Consulate)

address: 2415 E Camelback Rd

Ecuador (Consulate General)

phone: +1 602 535-5567

address: 645 E Missouri Ste 132

Guatemala (Consulate General)

phone: +1 602 200-3660

address: 4747 N 7th St, Ste 410

Honduras (Consulate General)

phone: +1 602 273-0547

address: 4040 E McDowell Rd

Mexico (Consulate General)

phone: +1 602 242-7398

address: 1990 W Camelback Rd, Ste 110
Honorary consulates are typically individual representatives of nations who represent the interest of certain business functions, and are not full-fledged national consulates. Their ability to assist you with individual legal or official matters may be limited.
Austria (Honorary)

phone: +1 480 502-8510

address: Paradise Valley, 4521 E. Quartz Mountain Rd

phone: +1 602 852-3442

address: 2944 N 44th St Ste 250

Cyprus (Honorary)

phone: +1 602 264-9701

address: 1277 E Missouri

phone: +1 480 694-8882

address: 14850 N Scottsdale Rd, Suite 155, Scottsdale

El Salvador (Honorary)

phone: +1 602 948-4899

address: 4521 E Charles Dr

Estonia (Honorary)

phone: +1 480 229-9791

address: Scottsdale, 7135 E. Camelback Rd., Suite 230

France (Honorary)

phone: +1 602 716-8222

address: 2 N Central Ave, Ste 2200

Germany (Honorary)

phone: +1 602 265-4428

address: 1007 E Missouri Ave

Iceland (Honorary)

phone: +1 602 956-8474

address: 2999 N 44th St, Ste 640

Italy (Honorary)

phone: +1 480 304-4620

address: 7509 N 12th St

Peru (Honorary)

phone: +1 480 834-3907

address: Mesa, 6242 E Arbor Ave., Ste. 118

Spain (Honorary)

phone: +1 602 955-2055

address: 3134 E Camelback Rd

Sri Lanka (Honorary)

phone: +1 602 254-1899

address: 329 W Cypress St

Sweden (Honorary)

phone: +1 602 364-7450

address: 2 North Central Ave, Ste 2200

United Kingdom (Honorary)

phone: +1 602 515-1029

address: 2425 E Camelback Rd, Ste 1020
Gay and lesbian travelers
The Melrose District on 7th Avenue, between Indian School Rd and Camelback Rd, is a popular location for LGBT+ bars, restaurants, and shops.
While many American cities will hold Pride Parades in June, Phoenix holds its Pride Parade in April, due to high summer temperatures.
Go next
"Old Town" Scottsdale in the northeast Phoenix metropolitan area is the single most tourist friendly area in the valley.
Downtown Tempe has a lively night life, being a college town
Many visitors come to Peoria during the spring to see their favorite professional baseball team in the Cactus League for Spring Training.
Mesa serves as the location for a Mormon (Latter Day Saints) Temple and is Arizona's third largest city after Tucson.
Small towns Cave Creek and Carefree lie just north of the city.
Hiking near Phoenix is popular due to central Arizona's climate and large tracts of public land. Several designated National Forest and BLM wilderness areas are within easy driving distance and offer treks ranging from day hikes to multi-day backpacking trips. South Mountain Park, within the city limits, is a popular destination to experience the Sonoran Desert on foot.
Camelback Mountain - very popular hike in central Phoenix. Great views from top. Two routes:
Echo Canyon (West entry - Macdonald/Tatum). Arrive early on weekends for trailhead parking (50 cars), or walk 1/2 mi to satellite parking. 1.25 mi steep hike.
East entry (Invergorden/Jackrabbit). Park 1/2 mi from trailhead. Easier route 1.5 mi, skirts Phoenician (Keating resort), less developed.
Squaw Peak (Piestewa Peak) (Lincoln Dr/20th St) - Arrive early on weekends. Good parking close to trailhead. 1.25 mi hike (easier than Camelback Mtn). Great views (just 3 mi from Camelback Mtn). Park of Phoenix Preserve (48th St to 7th Ave), lots of good hiking and mountain biking. Dogs allowed on trail 300 from Squaw Peak parking.
If you would like to see areas outside of the Phoenix metropolitan area, you might want to visit Tucson, Las Vegas, or San Diego. For cooler weather, head up to I-17 to Flagstaff or Sedona.
A good option for a day trip, or longer, out of Phoenix is a drive north to Sedona. If you have three days or more, head out to Las Vegas via Monument Valley and the Grand Canyon.
Montezuma Castle National Monument (cliff dwelling), near Camp Verde, Arizona is on I-17 between Phoenix and Flagstaff