Phuentsholing
Phuentsholing
(also sometimes spelled Phuntsholing), the second largest town in
Bhutan
(population around 40,000), is on the
India
border, next to the town of
Jaigaon
.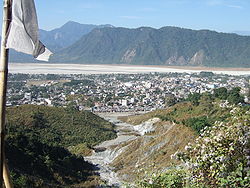 Understand
Phuentsholing is the point of entry for travelers arriving by bus from
Kolkata
and
Siliguri
and the town functions primarily as a place where Bhutanese and Indians do business. The architecture is modern, and there is no dzong, famous monastery or in fact anything of particular interest to tourists. However, like all of Bhutan, it does offer a clean, pleasant and safe environment in which to go about your business. NB: Until 2005, it was possible for overseas visitors to enter the town without a Bhutanese visa. Except for Indian nationals, this is no longer possible. Indians are denied entry beyond the checkpost in the absence of a permit.
The tourist information office is located in the Bhutan Post Building. Tel:
+975 5
251-393.
Get in
Entry procedure
The information below is relevant only to guests or NGOs with visa clearance documents. Bhutan does not operate a visa on arrival system, and visitors without correct documentation will be denied entry. NB: Indian and Bangladeshi nationals do not require a visa to enter Phuentsholing, but need a permit to visit other parts of the country.
1. Receive exit stamp from Indian immigration office - located next to the cinema hall (there is a fork in the road when entering the town marked by a statue). Immigration is a short way up the road on the left.
2. Show visa clearance documents to Bhutanese border guards at Bhutan Gate.
3. Present visa documents, passport, one photograph and a US$20 visa processing fee at the immigration office just inside Bhutan Gate. A visa will be issued according to the length specified on clearance document.
no need of any visa for Indians for entry in City only...
By bus
From Kolkata. The Bhutan Government runs a direct service from Kolkata to Phuentsholing, with buses departing Esplanade Bus Station at 7PM on Tuesday, Thursday and Saturday, with the return journey starting from the Phuentsholing office of Bhutan Post at 3PM on Monday, Wednesday and Friday. The journey takes around 18-25 hours (pending on road work) and costs 350Rps/Nu. The buses are comfortable, but because much of the highway through West Bengal is like the surface of the moon, don't bank on getting much sleep on the way.
From Siliguri. Buses depart at 7:30AM and 1:30PM everyday from opposite Golden Plaza on Burdwan Road (behind Air View More). Tickets are sold at a counter near the bus. NB: Before entering Bhutan, non-Indians are required to receive an exit stamp in their passports at the Indian immigration office. Therefore, when passengers disembark at the main stop in Jaigaon, move your luggage from the roof to inside the bus and request the driver to let you off near the Indian immigration office (next to the movie theater). It is a five minute walk from there to Bhutan gate.
By train
The nearest railway station to Phuentsholing is at
Hasimara
, which is roughly a 30 minutes bus ride.
New Jalpaiguri Station in
Siliguri
is a four hour journey, but offers a greater number of services and is most favored option for travelers arriving in Bhutan by train.
Get around
The town center can easily be covered on foot, but there are an abundance of taxis for journeys out of town.
Reserve cars are also available from Kings Travels,dial-098304-28401/093319-39486.

See
Amo Chuu The Crocodile Breeding Centre on the banks of the river behind the bus station. The crocodiles are bred in order to be released in a nature reserve.
The gate at the border (called Bhutan Gate) - not much to see, but it makes a good first photograph for your Bhutan photo album.
Natural beauty of the surroundings.
Chukha Hydrothermal Project.
Zangtho Pelri Lhakhang This city centre temple represents the heaven of Guru Rinpoche. On ground floor there are statues of eight manifestations of Guru Rinpoche and paintings on Buddha's life while the next floor contains eight Bodhisattavas and statues of Avalokiteshvara and Shabdrung Ngawang Namgyal. On top floor, there is a main statue of Amitabha.
Karbandi Monastery. After an Indian pilgrim became pregnant after praying at this monastery to conceive, the temple has become a regular port of call for couples wishing for children. For those who do not have parental ambitions, the view from the monastery over Phuentsholing and the Bengal Plain is still worth making the trip. The monastery is located a short distance above the town. Take a cab up and walk back.
Do
Wander round the town and plan your journey in or out of the country.
Buy
Phuentsholing does not have any handicraft gift shops, so do not leave your souvenir shopping until your departure from here.
The town has a good selection of supermarkets, electrical and computer shops and a fresh vegetable market.
Eat
Being on the Indian border, the town has a great selection of Indian restaurants.
Pastry Shop

phone: +975 5 252246

Located in the Tashi Commercial Complex, this bakery offers a good selection of cakes and pastries.

Hotel Galing

phone: +975 5 252-387

Located across from Hotel Bhutan, Galing offers excellent Indian vegetarian cuisine at reasonable prices.
Drink
Coffee
phone: + 77141616

address: Main Town

A standard variety of espresso based coffees, pastries, and pizza. Pleasant environment. Free wifi.
Alcohol
The Bhutanese are generally very liberal consumers of alcohol. Small wonder then that alcohol is cheap and readily available in the innumerable bars of the town. One can choose from a range of Bhutanese brands of whiskeys, rums, brandies, gins, and a peculiar green concoction called sonfy which one would be wise to avoid. Two whiskey brands, Special Courier, and CSJ, made with Scottish malt,are actually quite pleasant.
More internationally recognized brands of alcohol are also available at some of the more reputed watering holes such as the bars at Hotel Kuenga and at Hotel Druk-Bhutan, located in Dhamidhara, half a mile away from the din of the main town area.
Sleep
Budget
Central Hotel

phone: +975 5 252-172

address: PO Box 248

as the name suggests, this older hotel is smack in the center of town - popular with business types. Single without TV:325Nu, single deluxe:450Nu. Standard double:550Nu, Deluxe double:650Nu.

Hotel Peljorling

phone: +975 5 252-833

address: PO Box 149

Near Bhutan Gate. Single:450Nu, Double:550Nu.

Hotel Bhutan

phone: +975 5 252-576

Goeden Lam. - A modern and centrally located hotel. Excellent value at 300Nu for a basic single, 450Nu for a double.

Hotel Kuenga

phone: +975 5 252-293

address: PO Box 62

One of the original hotels in town. Drab and badly in need a of lick of paint, but offering basic facilities - hot water and TV. Located smack in the center of town. 300Nu for a single, 450Nu for double.
Mid-range
phone: +975 5 253688, +975 5 253689

This new hotel has contemporary interiors, modern amenities and business facilities. The rooms are fully furnished with stylish modern fittings and A/C Room Rate 10 minutes' walk from border gate. Nu.850-2000
Midpoint Hotel, Tel:+975-5-254903 - Mobile:17616379 - In Dhamdara away from the hustle and bustle of the town - with a swimming pool, a restaurant and a bar. Rooms range from Nu.770/- to Nu.2000/-
Hotel Druk-Bhutan, PO Box 385 - Tel:+975 5254451/254496/251163 - Mobile:17110318/17110140 - Pleasant, in Dhamidhara, away from the hub of town - overlooking the Toorsa river - with garden and mini-pool -
Hotel Druk. The town's largest and one of the main tourist hotels - patio for sitting out - located near Bhutan Gate (on the right when entering the town from Jaigaon).

Hotel Namgay

phone: +975 5 252-374

address: PO Box 99, Tharpai Lam

A pleasant, centrally located hotel. Deluxe:2,000Nu & 2,500Nu. Standard:1,100Nu & 1,300Nu.

Lhaki Hotel

phone: +975 5 257-111

address: PO Box 187

A spacious tourist hotel located just above the down town area. 1,800Nu for single.
Connect
The area code for Phuentsholing is 05. When calling from overseas, dial +975 5 XXXXXX
E-mail: Connections in Phuentsholing are not fast, but one of the better places is Phajoding located on the second floor on the main street leading from Bhutan Gate, across from the entrance to Hotel Druk. NB: International phone calls and internet service is much cheaper in India, so you might consider crossing over into Jaigaon to make your contacts.
Go next