Phuket Town
Phuket Town
(เมืองภูเก็ต
Mueang Phuket
) is the provincial capital of
Phuket Province
.
Understand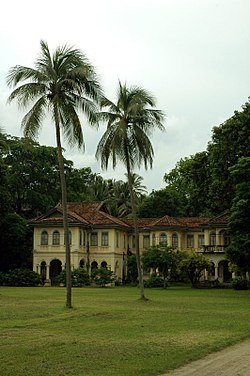 Phuket Town is the largest town in
Phuket Province
. It has a population of 63,000 and is the economic hub of the island. For the most part just an ordinary, scruffy provincial Thai town, it's hardly a major tourist attraction, but the Chinatown area is worth a quick look and there are some great Thai-style shopping opportunities too. Overall, accommodation and food in the town is cheaper than near the beaches, and can provide a refreshing change of pace.
Get in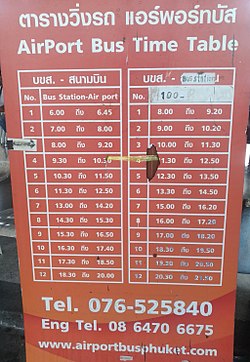 Buses and "
Songthaews"
connect Phuket Town to major beaches around the Island, and start from Ranong Rd at the Down Town Market. To get there if you are at the old (number one) bus station, follows these steps
1) Walk back out to the road you came in on, and turn right on Phang Nga Rd.
2) Walk to the end of the road, about a kilometer, turn left at Phuket Rd.
3) Turn right at Ratsada Road. Keep walking until you pass a roundabout (
Suriyadej Fountain Circle
). You will see a fleet of large blue "
Songthaews
" a couple of hundred meters along on the left.
Songthaews
come in different size and shape. The first ones you come to go to Patong. Further along, they go to the other beaches. You will also see buses going to Patong at the bus station itself, for 40 baht.
The most popular service at the market is the one to
Patong
(25 baht, 45 minutes) which leaves every 30 minutes between 07:00 and 18:00. Fares to other beaches range from 15 to 30 baht. If you miss the last bus back a taxi will cost 200-400 depending on your bargaining skills.
Bus Terminal 1 (the old terminal downtown) has no markings indicating it is Terminal 1. Buses from here run to local destinations, for example, Khao Lak and Takua Pa. To Khao Lak is 90-120 baht.
Phuket International Airport is 30 km to the north of Phuket Town, about 30 minutes by taxi (500 baht), 45 minutes by shared minibus (100 baht) or 1.15 hr by the only #1 Government-endorsed from the bus terminal (100 baht) check out www.airportbusphuket.com. This is still the old Number One bus terminal.
Buses run to the airport between 06:00hrs-18:30hrs, and from the Airport to Town between 08:00hrs-20:30hrs.
There is a large sign on the wall with times. Pay your ticket with the money collector on the bus only, and not at the Airport Terminal.
Bus Terminal 2
This is the (relatively) new terminal, some distance from the old one and most of the longer-distance buses come and go from there.
To get from one station to the other (and vice versa), you will see a fuchsia/hot pink-coloured songthaew. It parks in bay number 12 at the new bus station. This is the bus station shuttle and it will take you to the old number one bus terminal for 10 baht. It orbits between the two stations.
When arriving at this station, you will immediately accosted by taxi drivers. Do not immediately engage a taxi unless you are in a hurry. Take a minute to survey your options. The taxi desk is at the rear of the station. Out of sight, at the front of the station, are where the motorbike taxis hang out. This is usually a much cheaper option.
If you want to go to Patong or the other beaches directly from this (number two) terminal, then you will pay 250 baht per person to hire a songthaew outright as you would a taxi. This price assumes a full passenger load.
To get to the beaches far more cheaply, take the fuchsia songthaew to the number one bus terminal and follow the suggestions there.
Get around
Phuket Town is just a little too big to be covered comfortably on foot. There's little organised public transport as such, but motorbike taxis and four wheeled
tuk-tuks
cruise about looking for fares.
See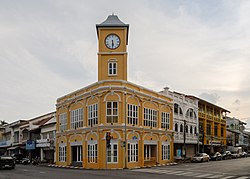 Phuket Town's low-key attractions are mostly related to its colourful Chinese history and heritage, found in the
Chinatown
area on the northwest side of the city around
Thalang Rd
.
Jui Tui and Put Jaw TemplesPut Jaw is the oldest Chinese Taoist temple in Phuket, built over 200 years ago and dedicated to the Goddess of Mercy (Kwun Im), while the adjacent and connected Jui Tui is its larger, more modern annex. If you have a question that is puzzling you, ask it and throw the two red mango-shaped pieces in front of the altar in the air: if they land same side up, the answer is "no". If they land different sides up, the answer is "yes". Free admission, but donations welcome.

Khao RangA great view of Phuket Town, the southern part of the island, and some of the offshore islands, can be obtained by going to the top of Khao Rang Hill, on the town's northwest border. There are also several restaurants featuring spectacular views of the city, a health park for exercise enthusiasts, and a comfortable, expanse of grass at the top with a bronze statue of Phraya Ratsada Nupradit, the revered Governor of Phuket during King Rama V's reign.

Old Phuket

address: Dibuk Rd, Phang Nga Rd, Yaowarat Rd, Thalang Rd, Krabi Rd

The beginning of the tin boom in the 19th century led to construction of many fine mansions and shops that are still well-preserved. The architectural style, typical of the region, is described as Sino-Portuguese and has a strong Mediterranean character. Shops present a very narrow face to the street, but stretch back a long way. Many, especially on Dibuk Rd, have old wooden doors with Chinese fretwork carving. Other streets, forming what might be called "Old Phuket", with similar structures are Phang Nga Rd, Yaowarat Rd, Thalang Rd, and Krabi Rd, and a walking tour of the area is easy and delightful. Some other old European-style buildings of note are the Provincial Hall, the Phuket Courthouse, and Siam City Bank.

Phuket Cultural Center

phone: +66 76 240474-6 ext 148, +66 76 211959, +66 76 222370

address: 21 Thepkrasattri Rd, Ratsada

History as well as the arts and culture of Phuket, such as houses, ways of life, and utensils of the city of Thalang in ancient times. The library collects books on Phuket's history and culture. For a group of visitors who need a guided tour, address a letter of request to the Phuket Cultural Center.

Phuket Culture Museum

address: Rajabhat University

It's very informative. Phuket's history is told in pictures.

Phuket Zoo

phone: +66 76 374430, +66 76 374424

The zoo contains a collection of Asian and African mammals and birds. Elephant and crocodile shows every day.

Saphan HinA land reclamation project provided abundant new land now used for parks and public facilities at Saphan Hin, located where Phuket Rd meets the sea in Phuket Town. In the circle is the Tin Mining Monument, shaped like a large drill bit, dedicated to the memory of Captain Edward Thomas Miles, the Australian who brought the first tin dredge to Phuket in 1909. The monument was built in 1969 on the occasion of the 60th anniversary of tin dredging in Phuket. There is a sport centre in the park.

Thai Village and Orchid Farm

phone: +66 76 214860, +66 76 237400

address: Thepkasattri Rd

Serves daily a typical southern Thai lunch followed by a spectacular cultural show including Thai dances, Thai boxing, southern customs and elephants. Handicrafts are also on display. The complex also houses a dining hall decorated with over 20,000 varieties of orchids and tropical trees. Digestion is aided by the lilting sounds of Thai classical and folk music played on traditional instruments. Cultural shows are performed daily at 13:00 and 17:30.

address: Krabi Rd

In an old Chinese language school, this museum tells the history of Chinese immigrants on Phuket.

Wat Mongkol Nimit

address: Dibuk Rd

A classical Thai-style temple with a soaring roof and lots of colourful glass tiling.
Do
Chamber of Secrets @ BaanTeelanka

phone: +66 76 376 245

address: Bypass Road km2

An exciting room escape game at Baan Teelanka, the Upside Down House and the garden maze.
Spas
phone: +66 76 232054, +66 81 8921001 (mobile)

address: 1 Montree Rd

Has a variety of spa treatments that include traditional Thai massage, body treatments, facials, and spa packages.
Buy
Shopping seems to be the main reason for visitors to come to Phuket Town. In addition to local markets and a slew of malls and departments stores, Chinatown's
Thalang Rd
offers a large selection of boutiques and galleries retailing traditional handicrafts as well as antiques from the region. Phuket Night Bazaar occupies a large area where you can get local stuff (though you might find the same things much cheaper at the Big C supermarket!).
Markets
Ranong Market Ranong Rd, is the largest local market. A warren of stalls selling anything and everything, it can be hot, sweaty, and chaotic, but an interesting experience if you've not been to one before.

Weekend Market

address: Wirat Hong Yok Rd

Endless stalls with the cheapest of Thai souvenirs and counterfeit goods. Food court is large and is alone worth a visit.
Shopping malls
Central Festival

address: Chaloem Phra Kiat Rd

Phuket's branch of the Thai department store chain, also selling anything and everything, but now in air-con comfort and a zero added to the price tag. It's still probably cheaper than the street markets at the beaches. The food section offers a large variety of Western products and the fresh products seem to be of better quality than Big C or Tesco Lotus. Prices are much higher though.

Ocean and RobinsonsRobinsons is a big department store, and there is a Tops Supermarket, as well as McDonalds, KFC, and other regrettable Western imports.
Eat
China Inn Cafe & Restaurant

phone: +66 76 356239

address: 20 Thalang Rd

Dinner in beautiful historic Sino-Portuguese building in Phuket old town with romantic atmosphere. Thai and European food. Open: M-W, 11:00-18:00; Th-Sa, 11:00-23:00. Closed Su.

Phuketiquette

phone: +66 76 221458

Home of arguably the best coffee in Phuket, and probably the best value for money in Phuket Town. Great mix of Thai and international food, and a very friendly, young owner who will offer you great advice on what to see and do while in Phuket. Free Wi-Fi, DVD club.

Farang Restaurant

phone: +66 94 63142

Italian and Thai food.

Fuji Japanese Restaurant

phone: +66 76 249861-2

address: Central Festival Phuket 3rd Fl.

Fine Japanese restaurant with reasonable prices.

Kra Jok See

phone: +66 76 217903

address: 26 Takua Pa Rd

Serving Thai cuisine tailored to Western palates, the restaurant sheds its inhibitions at 22:00 when the tables are pushed back and hostesses pull guests onto the floor for dancing, which is heaps of fun.

phone: +66 76 239357

address: 90/11 Moo 7 Ko Keaw

The Living Room RestaurantGreat restaurant for tasty Thai and Thai-Chinese food. Indoor and outdoor eating section/beer garden. Dimly lit interior for romantic dining. They've got a spot for live music as well.

phone: +66 76 224287

address: Soi Phutorn

Raya

phone: +66 76 218155

address: New Dibuk Rd

Thai cuisine, southern style. Popular dishes such as crab meat curry served with white noodles. Shrimp with tamarind sauce. Pork with garlic and black pepper. Fish with tamarind sauce. Salty pork. Fish with yellow curry and vegetables.

La Romantica

address: 70 Phang Nga Rd

Best pizza in Phuket Town. Large authentic thin crispy margherita for 140 baht or numerous pasta dishes for between 140-200 baht. Thai family-run with Italian chef/owner.

Ruam Jai Restaurant

phone: +66 76 222821

address: 215 Ranong Rd

A locally-run restaurant with friendly staff serving delicious all-vegetarian food. The prices are very reasonable. A plate of white/brown rice with two or more dishes from the buffet of about 15 different courses is around 25-35 baht. Try also locally-made fresh juices, 10 baht each. Popular among locals; it can be crowded around mealtimes. One of 3 vegetarian restaurants in close to the local bus terminal.

Siam Bakery

address: 13 Yaowaraj Rd

French-run bakery offering pastries and drinks (~50 baht) in pleasant air-con surroundings.

Weekend MarketNumerous stalls sell a variety of meats, vegetables, noodles, fruits, and sweets that can fill a stomach for a handful of baht.

Kota Khao Mun KaiVery nice clean local place to get a specialty of the region, Khao Mun Kai - chicken with rice. The owners are very friendly to foreigners and will help show you how to eat it.
Drink
China House

address: 43 Yaowaraj Rd

Chinese tea and other drinks in an impeccably restored shop house that doubles as an art gallery. On the expensive side though, with drinks 50-100 baht.

Coffee MaxSmall, friendly coffee shop offering hot and cold coffee and tea drinks and a selection of pastries and cakes. Free Wi-Fi.

Michael's Bar

address: 12 Takua Pa Rd

Owned by a British expat, a friendly, low-key place to grab a few drinks at a reasonable price. Has Wi-Fi and a PC for customer use, free for the first 20 minutes. Good happy hour prices.
Smile CafeRun by a friendly young Thai couple who make a great ice-blended coffee or green tea.
Sleep
Budget
Ban Nai Inn

phone: +66 76 214907-9

address: 22/98 Luang Poh Cham Rd, Soi 1

Small guesthouse. Rooms are basic, and include TV, refrigerator, air-con, separate shower, and wardrobe with lockable drawer. Little English is spoken, suggesting that this is a destination more popular with Thai tourists.

Crystal Guest House

phone: +66 76 222774-5, +66 76 226245

address: 41/16 Montri Rd

26 rooms.

phone: +66 76 256789

address: 2/1-10 Soi Surin Montri Rd

54 rooms.

Damrong

phone: +66 76 211704

address: 52 Luang Pho Rd

45 rooms.

Down Town Inn

phone: +66 76 216884-5

address: 56/19 Ranong Rd

24 rooms.

Imperial Hotel

phone: +66 76 212311

address: 51 Phuket Rd

48 rooms. Rooms have free Wi-Fi, mini bar with fridge, and cable TV.

phone: +66 76 232210

Clean, safe and friendly modern guesthouse/hotel, but overpriced for what it is.

Phuket Backpacker

phone: +66 76 256680

Establishment for Western travellers, with sociable common room and kitchen facilities. Fan cooled rooms at the back are popular with cockroaches and mosquitoes, so be prepared to share or fight for your space (and bring your own lock for the door). Fast and free Wi-Fi, but the range does not extend to the outlying rooms. The rooms are pretty pricey considering the facilities and the condition.

Phuket Cyberinn Hotel

phone: +66 76 220100

A 3-storey hotel is surrounded by many shops, street bazaars, and wonderful old buildings. Easy to reach many beaches around Phuket.

Phuket Resotel

phone: +66 76 220965

address: 2/6 Luangphor Rd

Air-con throughout, with a lift. You also get breakfast, a quite good buffet. Rooms are a little worn, but clean. Plenty of channels on the TV, and the shower is hot.

phone: +66 76 234423-4

Rooms with en suite toilet and shower with hot and cold water, fridge, mini bar, TV, and air conditioning. Clean, comfortable and fully furnished with a balcony. Free mini bar and Wi-Fi. 2,000 baht.

phone: +66 82 420 3911

Very nice clean hostel with private rooms and ensuites. There is a nice rock climbing gym inside, with three top rope walls and a fairly large bouldering area. Phone up before you go to make sure it is open. ~300 baht a day including equip hire, 150 baht if you are staying there.
Mid-range
Splurge
Stay safe
Immigration OfficeVisa extension (30 days) can be obtained here. Picture (can be done there) is requested. The charge 1900 baht
Go next
Catch a ferry from Rassada Pier to Ko Phi Phi, Rai Leh, or any of the surrounding islands.