Pichanaki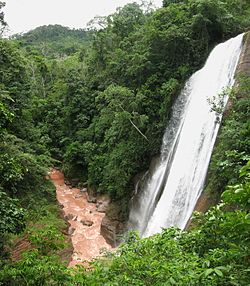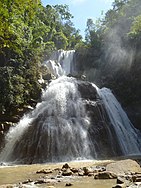 Pichanaki
is in the
Southern Sierra (Peru)
.
Understand
Pichanaki
(Pichanaqui)
is 525 meters above sea level on the Perene river (Rio Perené) between the towns of
La Merced
and
Satipo
.
See
Caverna la Olada

Cascada Tsomonnael

Catarata de BayozWaterfalls, a nice place for a swim and a shower.

Catarata El NinoWaterfall.

Catarata ZotorariWaterfall.

Velo de la NoviaJust 600 meters down stream from Catarata de Bayoz. There is an abundance of butterflies here.
Buy
Creme de Cacao

Creme de Coco

Creme de Cafe
Sleep
Hospedaje Hower Ilich

address: 430 Av. Micaela Bastidas, Pichanaki.

Large, clean rooms. Big TV's, private bathrooms, no hot water. Some rooms overlook the plaza, the 3rd floor has a better view as the second floors view is obscured by telephone wires, it can be noisy when there's fiestas in the plaza.
Go next