Pickering (Ontario)
Pickering
is an outer suburb of
Toronto
in
Durham
,
Ontario
. Located directly east of Toronto on Ontario Highway 401, it shares a name with
Pickering
in
North Yorkshire
,
England
.
Understand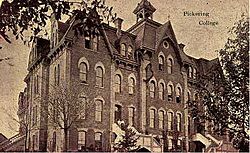 While Jesuit missionaries report contact with a native community here (likely Onondaga) in 1669, by 1813 Pickering was a small rural village with 180 residents. A post office established in 1829 was called Pickering; this name was later extended to the 1807 Quaker settlement in the area. The Kingston Road (a muddy 1817 horse carriage trail, which became the "Provincial Highway" or Ontario Highway 2 a century later in the motorcar era) passed through the village as a first stop on the then-arduous Toronto to Montréal stagecoach journey; anyone who completed the trip in a mere week was making very good time. The steam-powered Grand Trunk Railway cut the journey to 14 hours in 1856 and brought commerce to the area, a grist milling centre. The internal combustion engine sped travel further; by the 1960s. the 401 freeway brought motorists from Montréal through Pickering into Toronto in about six hours.
The 1877 Pickering College, originally a seminary, burned in 1905 and was a total loss; the school rebuilt in
Newmarket
. The town of
Ajax
was split from Pickering Township in 1941 and named for a wartime battleship; this left "Pickering Village" and the former college site (now Hermitage Park) as part of Ajax, while "Pickering Township" remained Pickering. As the nearby city of
Toronto
has expanded, surpassing
Montréal
to become Canada's largest city in the 1970s, traffic through and suburban sprawl into Pickering has steadily increased. The township was incorporated as a town in 1974 and is now a city. By 1996 there were 79,000 people, by 2001 there were 87,000 people as rising housing prices within Toronto sent commuters further afield.
Pickering Nuclear Generating Station
, Pickering's largest employer, first went on-line in the early 1970s; it later expanded to eight reactors and now generates 4.12 gigawatts to power the
Greater Toronto Area
. A second generating station (Darlington, to the east of
Oshawa
) was added to Durham Region; each site has a public Information Centre. The southern portion of the municipality is primarily suburban, although one can still find rural areas in Pickering by heading north. A major airport continues to be proposed for this area but, due to strong and continued local opposition since the mid-1970s, has never been built.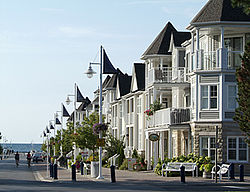 Get in
By car
The 401 freeway is fourteen lanes wide into Toronto from Pickering, carrying ever-growing quantities of traffic from more distant suburbs; a pedestrian bridge across the freeway links the GO commuter station to the downtown. This busy motorway continues eastward through Montréal and Lévis to Rivière-du-Loup as Québec Autoroute 20 and westward through Toronto and London to Windsor-Detroit, although the traffic becomes less hectic as one gets further from Toronto.
By train
phone: +1 416-869-3200

address: 1322 Bayly St. at Liverpool Rd

GO Transit is the commuter train operator in the region, operating "Lakeshore" double-decker passenger train service through Hamilton-Toronto-Oshawa seven days a week.
VIA Rail intercity trains stop in Oshawa, Scarborough (Guildwood) and Toronto/Downtown (Union Station). One must transfer to a local bus or train at these points to reach Pickering, as the main VIA service from Ottawa and Montréal passes through Pickering without stopping.
By bus
Intercity bus (Coach Canada, Megabus) stops at Whitby GO and at the Scarborough Town Centre on its way into Toronto from Kingston and Montréal. One must transfer to local services at these points to reach Pickering.
GO Transit also offers bus service, in addition to train service, between Toronto and Pickering.
By air
Oshawa has an airport with small charter planes but no scheduled passenger service.
Toronto Pearson International Airport
in
Malton
(
YYZ
) is the one major airport in the area, but travellers must cross all of Toronto to reach it as it's on the far side of the city, in Peel Region. There is a small Toronto Islands Airport in downtown Toronto with a few domestic and US short-haul flights.

By boat
Pickering is on Lake Ontario.

phone: +1 905-831-7899

Sailing events and programs, keelboat racing, a sailing school, dinghy racing programs, regattas. Safe and protected dinghy-basin and dockage within Frenchman's Bay harbour, modern clubhouse, docks, cranes, pumpout facilities. Various reciprocal clubs in Ontario and western New York state.

phone: +1 905-839-5036

address: 1295 Wharf Street

phone: +1 905-420-2141

address: 590 Liverpool Rd.

Wharf Street Marina

phone: +1 905-839-3681

address: 1289 Wharf Street
Get around
By bus
| name=Durham Regional Transit | alt= | url=http://www.durhamregiontransit.com | email=
| address= | lat= | long= | directions=
| phone= | tollfree=+1-866-247-0055 | fax=
| hours= | price=$3.75 cash fare
| lastedit=2018-08-03
| content=
Durham Region Transit
operates bus service]] within Pickering, Ajax, Oshawa-Whitby and to University of Toronto's Scarborough campus.
}}
By taxi
phone: +1 905-831-2345

address: 979 Brock Rd

Pick-N-Go Taxi

phone: +1 905-686-1515

address: 177-1895 Clements Rd.
See
address: 2365 Concession Rd 6, Greenwood

Living history museum with live pioneers in 18 heritage buildings including a blacksmith's shop, general store, school house, temperance hotel, steam barn and chapel. Souvenir shop with toys and games from yesteryear, some handmade by the museum's Woodwrights' Guild. A variety of prints, cards, books, candies and beverages. Dinner triangles and fire pokers made in the village Blacksmith Shop, home-style preserves in season.
Do
address: Frenchman's Bay, on lakefront

Part of the Waterfront Trail in Pickering, seasonal free musical entertainment at Millennium Square, children's playground and water feature, waterfront boardwalk, cafés, restaurants, shops and an art gallery. On weekends between May and September, the "Sunday on the Porch" series at the SilverStone Gallery features visual and performing artists.
Buy
Pickering Farmers' Market

address: Pickering Town Centre

Seasonal (spring, summer and fall) local market with outdoor stalls, ready-to-eat foods, desserts, live entertainment by local artists.

address: 1400 Squires Beach Rd. at Bayly St.

Flea market, crafts, antiquities.

phone: +1 905-831-6066

address: 1355 Kingston Rd

Two-storey mall at Kingston Road and Liverpool Road.
Eat
Drink
Sleep
phone: +1 905-831-6200

address: 533 Kingston Rd.

Two-storey economy limited service hotel.
Connect
Wi-Fi is available at the
Pickering Public Library
; the main branch at One The Esplanade (+1 905-831-6265 or +1-888-831-6266) is open M-F 9:30AM-9PM, Sa 9AM-5PM, Su 1-5PM.
Go next