Pictou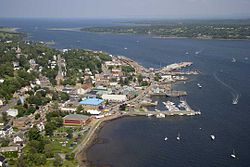 Pictou
is a small town of 3,200 people (2016) in Pictou County,
Nova Scotia
on the north-western shore of a natural harbour. It is most well-known for its claim to be the birthplace of new Scotland after the landing of the first settlers to come to Nova Scotia directly from Scotland in 1773. There are many old buildings to see, an attractive waterfront and several museums.
Understand
Once an active shipping port and the shire town of the county, today Pictou is primarily a local service centre for surrounding rural communities and is the primary tourist destination in this region of Nova Scotia.
The name Pictou, pronounced 'Pictoe', derives from the Mi'kmaq name Piktuk, meaning "explosive place", a reference to the river of pitch that was found in the area, or perhaps from methane bubbling up from coal seams below the harbour.

History
Pictou had been the location of an annual Mi'kmaq Aboriginal summer coastal community prior to European settlement. Pictou was part of the Epekwitk aq Piktuk Mi'kmaq District, which included present-day Prince Edward Island and Pictou.
Pictou was a receiving point for many Scottish immigrants moving to a new home in northern Nova Scotia and Cape Breton Island following the Highland Clearances of the late 18th and early 19th centuries. The first wave of immigrants arrived on September 15, 1773, on the Hector.
When the Hector arrived, there were already a few families in Pictou that had arrived on the Betsy six years earlier. The town has an indirect connection to Scottish settlement in New Zealand; the Reverend Norman McLeod emigrated to Pictou from Scotland some years after the Hector but eventually re-settled with his parishioners at St. Ann's on Cape Breton Island, and later to Waipu where there are still many descendants from Pictou and St. Ann's.
In 1812, Sir Hector Maclean (the 7th Baronet of Morvern and 23rd Chief of the Clan Maclean) emigrated to Pictou from Glensanda and Kingairloch in Scotland with almost the entire population of 500. Sir Hector is buried in the cemetery at Pictou.
During the latter part of the 19th century, Pictou's industrial sector gained strength. The Intercolonial Railway was built to the town on a spur from the Stellarton-Oxford Junction "Short Line". Shipbuilding increased through the 19th century, particularly with the increase in coal being shipped from Pictou Landing, Abercrombie and the East River of Pictou. Shipyards have been established in the town since this period. CN Rail abandoned its service to the town in the late 1980s but other transportation - including Highway 106 (the Trans-Canada Highway) - opened in the 1970s to provide alternatives.

Get in
Get around
Walk - around town - it's only 2 km from one end of downtown to the other.
Drive - around to the different attractions in Pictou County
Cabs - a $5 cab ride gets you just about anywhere
Water taxis and boat tours of the harbour are available, which also connect to the town of New Glasgow.
See
phone: +1 902 485-8848

address: 99 Water St

The local performing arts theatre.

phone: +1 902 485-4371

address: 33 Caladh Avenue

The replica ship Hector and the Hector Quay re-tells the story of the first wave of two hundred Scottish Highlanders who arrived in Pictou aboard the Hector, and pays a dramatic tribute to their proud Highland spirit. The Quay also has an interpretive centre telling the story of these early settlers, a blacksmith shop, and a carpentry shop. Merchandise is available on site.

phone: +1 902 485-4563

address: 86 Haliburton Rd

Museum (open June-September or by appointment) and genealogy centre.

Northumberland Fisheries Museum

phone: +1 902 485-8925

address: 21 Caladh Ave

Explore the heritage and culture of the fishing industry and boatbuilding. Adopt a lobster.

No. 2 Construction Battalion Monument

address: 87 Caladh Ave

Pictou Railway Station (Intercolonial)

address: 71 Front St

The Pictou Lodge
Historic stone buildings
Water Street
Do
The Pictou Lobster Carnival in July. An amusement park is set up. This yearly event celebrating the end of the fishing season and has been a town festival since 1934.
There are several beaches near the town, most notably Caribou Provincial Park and Waterside Beach Provincial Park.
Buy
address: 116 Water Street

Locally-made knives for kitchen and outdoor uses. Grohmann Knives Ltd, the only knife manufacturing factory in Canada, are the sole producers of the historic D.H. Russell Belt Knives and Grohmann Kitchen Knives. Free factory tours of the plant are offered.

phone: +1 902 382-1878

address: 59 Water St

Bakery.
Eat
Lobster
in season, of course.
Pictou County pizza
is a regional variant of pizza found in Pictou County. The pizza is made with a "brown sauce" and Halifax-made pepperoni called "Brothers". The pizza can be shipped frozen across Canada via an arrangement between a local pizza shop and the local UPS agent.
phone: +1 902 485-9299

address: 8 Church St

Crown Pizza

phone: +1 902 485-1988

address: 31 Front St

Sharon's Place

phone: +1 902 485-4669

address: 12 Front St
Drink
Local pubs
Harbour house ales and spirits

address: 41 Coleraine St

Highlander Pub

phone: +1 902 485-1539

address: 16 Twining St
Sleep
Go next
North to the ferry to
Prince Edward Island
, south to Highway 104 and
New Glasgow
, or east on Trunk 6 along the
Northumberland Shore
coast (eventually reaching
Amherst
).
Pictou is 5 km south of the port of Caribou where Northumberland Ferries Limited operates a seasonal vehicle-pedestrian ferry service to Prince Edward Island; there is also a pedestrian-only ferry that operates seasonally to Pictou Island.