Pietermaritzburg
Pietermaritzburg
is a city in the centre of
South Africa's
KwaZulu-Natal
province. The capital of Kwazulu-Natal, it is famous for its history and architecture.
Get in
By car
Access to Pietermaritzburg by road is easy, lying as it does on the major N3 freeway from
Durban
to
Johannesburg
. The R56 connects Pietermaritzburg with
Cape Town
,
Port Elizabeth
and
East London
to the south-west.
By train
Pietermaritzburg is on the route between
Johannesburg
and
Durban
. Passenger trains are unfortunately few and far between,
Shosholoza Meyl
overnight trains in each direction every second day. Journey time from
Johannesburg
is just over 11 hours. It's possible to travel on long-distance trains from
Durban
too, journey time for this stretch is 2½ hours.
Pietermaritzburg railway stationExercise caution when traveling on foot in this part of town, due to muggings and bag snatching.
By plane
Oribi Airport
offers daily flights to
Johannesburg
. Service can be slightly erratic or heavily booked, so keep that in mind when booking important flights.
By bus
Regular daily bus services connect Pietermaritzburg to major cities in South Africa. The bus station is located in Burger Street, opposite the McDonalds and it serves major bus companies. Grey Hound is the most reliable and it operates several round-trips from
Durban
to
Johannesburg
daily, where Pietermaritzburg is the last stop before Durban.
Get around
Private transport is the best way of getting around. Car rental is strongly advised. Otherise, minibus-taxis are cheap but uncomfortable and occasionally unsafe. Some of the sights of Pietermaritzburg are within walking distance, if you don't mind trudging along for a few kilometres. Private taxis (cabs) can also be hired, but they are substantially more expensive than the minibus-taxis.
Yellow Cab company

phone: +27 33 397-1910
The central minibus-taxi rank is in Market Square, which is in the Central Business District near the Natal Society Library and the City Hall.
To get to the Central Business District from any of the suburbs by minibus-taxi, look for a taxi that is travelling to "eTuwen" or simply "Town". (There should be a guy leaning out the window announcing this loudly.)
You don't want to go to eThekwini, which is Durban. You want to go to "town". Ask the conductor if you're unsure.
Minibus-taxis have set routes, so there are a lot of places you can't get to using them.
The CBD isn't as safe as the suburbs. The area around the City Hall is pretty good, but I'd advise against long rambling walks into unfamiliar parts of it.
See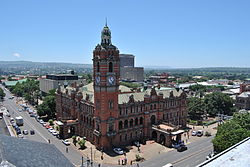 The City Hall, which is in the CBD, is the largest red brick building in the Southern Hemisphere. It contains a large organ, and occasionally hosts concerts.
The Natal Society Library is behind the City Hall, and has a large children's wing.
Further afield, Queen Elizabeth Park up on the hills above the city contains zebra, buck and the like. No leopards or dangerous creatures, so you can walk around and enjoy the park on foot. Make sure you don't get your food stolen by monkeys, though.
The KwaZulu-Natal National Botanical Gardens in Mayor's Walk are spectacular and worth an extended visit. The gardens focus on indigenous flora and offer diverse walks through forests and open ground. A restaurant and coffee shop is located at the entrance. Weekend visitors will witness a stream of wedding parties going to the gardens to have their photos taken.
Museums
address: 351 Langalibalele St

Depicts the heritage of different cultural groups of KwaZulu-Natal, including the Great Trek by the Afrikaner people into the interior of South Africa.

address: Chief Albert Luthuli St

Fine artwork, including an impressive and ornate clock on the second floor. You'll find a coffee shop on the second floor.
Do
The nightlife in Pietermaritzburg is pretty limited. Two or three clubs dominate the scene. Crowded House (in the CBD, fairly near to the City Hall) is one of the most popular, playing pop and dance music. Exclusive Lounge nearby plays kwaito and house music. Franki Bananaz is a cocktail bar in Armitage Road that is popular with the twenties set. For a more alternative scene, the Red Door in Quarry Road (off Victoria Road) plays alternative rock/punk music on Friday nights. Live folk and rock music can be heard at the Red Door on Tuesdays and Saturdays.
Pietermaritzburg offers pubs and sports clubs. The Stagecoach which is near the university has a lovely pub atmosphere.
Caffe Vacca Matta at the Golden Horse Casino (in Scottsville) has a more upmarket pitch. Serving as a restaurant in the afternoon and early evening, it becomes a nightclub later on. Dress tends to be slightly more formal, with collared shirts, no jeans or takkies, and the like. The minimum age at Vacca Matta varies, so phone in advance.
Every year in May the
Comrades Marathon
is held. The course alternates between the "up" run (
Durban
to Pietermaritzburg) and the "down" run (Pietermaritzburg to
Durban
). The distance you have to cover varies slightly from year to year, but is approximately 89 km.
Buy

Liberty Shopping Mall (which is far away from everything else) contains masses of shops, including specialist stores for a host of different goods. In town you can find plenty of shops that sell food, including fast food outlets. There are also vendors on the pavements, although their goods aren't much to write home about.
Downtown in the CBD you can find large clothing stores, as well as smaller Indian shops that sell anything you can think of. Fireworks are particularly popular around Diwali.

Sleep
Hotels
phone: +27 33 342 6551

address: 224 Jabu Ndlovu St

One of the few higher end hotels in downtown, this century-old hotel offers an historic ambiance.
Bed and breakfast
phone: +27 33 343-1957 or +27 33 343-3885

address: 247, Old Howick rd, Hilton

Bancroft B&B is in the beautiful forested evergreen hills above Pietermaritzburg, is a Georgian style house, with a beautiful facade, offering 2 comfortable suites, with DSTV, Wireless Internet, a hospitality fridge, tea and coffee facilities, fans, heaters and a nice view into the gardens.

phone: +27 86 111-3002, +27 33 386-0162

address: 98 Alan Paton Drive, Scottsville

All rooms are fitted with air-conditioning & DSTV. Modest dining area offering breakfast, lunch or dinner. Transfers available to and from King Shaka International Airport and regionally.
Go next
Pietermaritzburg Airport can connect you to all cities in South Africa via
Johannesburg
.
Durban
is only about 50 min drive away, and Durban International Airport can get you direct to Cape Town, East London, Bloemfontein, Mozambique, Eswatini and anywhere else you need to go (with a connecting flight through Johannesburg International.)
In the other direction the Drakensberg Mountains lie about two hours drive away, offering an array of outdoor activities, with plenty of resorts and the like dotted around.
20 min out of Pietermaritzburg, the town of Howick offers a small touristic place with the
Howick Falls
as the highlight.
Johannesburg
is about 600 km away via the N3 highway.
Cape Town
is much farther, about 2000 km.