Pinellas County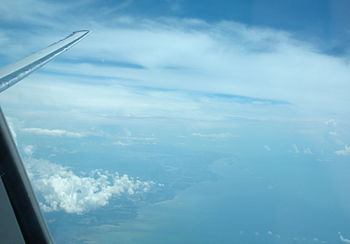 Pinellas County
is in
Florida
.
Other destinations
Anclote Key Preserve State Park is a Florida State Park and historic site, located on Anclote Key three miles off Tarpon Springs and accessible only by boat. Amenities include primitive camping on the northern portion of the island as well as picnic pavilions and grills. Wildlife includes the American Oystercatcher, Bald Eagle and Piping Plover. The park is unique in that a lighthouse, built in 1887, is on the southern end of the key. Three Rooker Island, south of Anclote and part of the preserve, remains an important Gulf coast beach-nesting bird sanctuary. The park has such amenities as beaches, birding, primitive camping, boating, fishing, hiking, picknicking areas and wildlife viewing.
Caladesi Island State Park is a Florida State Park located on Caladesi Island, across St. Joseph Sound from Dunedin, Florida and north of Clearwater Beach. It is reachable by boat and ferry. Amenities include 3 miles of nature trail, a marina, picnic pavilions, bathhouses, a park concession and a beach. Recreational activities include fishing, shelling, kayaking, boating, hiking and nature studies. In 2005 it was listed as having the 4th best beach in the country, in 2006 and 2007 the 2nd best, and in 2008 the best beach in the United States. Originally part of a large barrier island, Caladesi Island and Honeymoon Island to the north were formed in 1921 when a hurricane created Hurricane Pass, splitting the larger island into two parts. Though still referred to as an island, Hurricane Elena filled Dunedin Pass in 1985, making Caladesi Island accessible by walking north from North Clearwater Beach.
Skyway Fishing Pier State Park is a Florida State Park located on the north and south sides of the mouth of Tampa Bay. When the new Sunshine Skyway Bridge was built on I-275 (US 19) after one part of the old bridge collapsed due to a barge accident, the approaches to the old bridge were turned into the longest fishing pier in the world. The bridge is lighted at night, and the park is open 24 hours a day, 365 days a year. The only activity is fishing. Common catches include snook, tarpon, grouper, black sea bass, Spanish mackerel, king mackerel, cobia, sheepshead, red snapper, and pompano. Snacks, drinks, bait, and fishing supplies can be purchased at the park.
Eat
Fuji Yamas Sushi Bar - One of the best Sushi places around town, very inexpensive menu with great lunch specials and great staff that will have you coming back again and again. 7570 Starkey Rd in Seminole 727-320-8000 or visit www.fujiyamas.com for current menu.

Go next