Pingxi
Pingxi
(平溪區) is a district of
New Taipei
.
Understand
Pingxi was an important coal mining town in the early 20th century. The district is also the location of the source of the Keelung River.

Get in
By rail
Pingxi serviced by the TRA network Pingxi line and is accessible through the following stations:
Dahua station

Jingtong stationServes the historical coal mining town of Jingtong.

Lingjiao station

Pingxi station

Shifen station

Wanggu station
See
Culture
Shifen Old StreetAn unusual market street with a train track running through the middle of it.

Pingxi Old Street

address: Pingxi Street

A narrow old street with a variety of shops and snacks.
Historical sites
Jingtong Coal Memorial Park

phone: +886 2 2960 3456

address: No. 50, Jingtong Street

The area used to be the underground coal mining site.

Zhongpu Iron BridgeBuilt in the 1940s, the bridge is used as a 'love bridge' where people can hang messages of love written on bamboo from the railings.

Cai Family Mansion
Parks and nature
Lingjiao WaterfallThe waterfall is accessible within walking distance south of Lingjiao Station of Taiwan Railways.

Shifen WaterfallThe broadest waterfall in Taiwan which is 40m wide and 20m high.
Do
Lantern Festival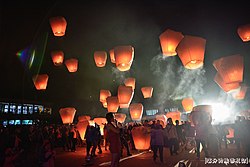 Pingxi is popular in Taiwan as a place to send off sky lanterns with messages written on them. Lanterns are often released from the Shifen Old Street.
Museums
Jingtong Mining Industry Museum

phone: +886 2 2495 2749

The museum is dedicated to the history of mining in the area. The museum building was originally the dormitory of Taiwan Railways Administration employees.

Taiwan Coal Mine MuseumA museum dedicated to the coal mining industry in Taiwan which features a number of exhibitions, machinery, and an old mining train.
Sport and outdoors
Eat
Local specialties
Restaurants