Pinsk
Pinsk
is a city in
Belarus
in
Brest Oblast
located at the confluence of the Pina and Prypiat rivers. First mentioned in 1097, it enjoyed reasonable local importance for centuries, being at different times a seat of Orthodox bishops, a location of a big Jesuit college, and home for a thriving Jewish community. Today it has a population of around 130,000.
Get in

Pinsk is conveniently reachable by railway from Minsk and from Brest.

See
Main city sights are located along Pina river banks: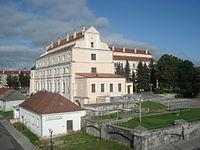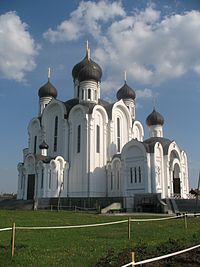 Franciscan Convent with the Assumption CathedralThis fine complex of Baroque buildings now houses a seminary.

Buildings of the former Jesuit collegeLarge complex built between 1635–48 in Mannerist style. Today houses a school and a museum.
Go next