Pioneer villages
Pioneer villages, open-air and living history museums are a travel topic.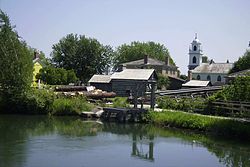 A
pioneer village
is a form of
living museum
in which a village-size group of historic buildings is restored to their use in an earlier time period, typically with museum guide staff in period costume carrying out the tasks of tradespeople of that era with traditional methods and tools, including or similar to
historical re-enactment
. The target eras for such historic reconstruction vary, with the "pioneer era" (widespread global colonisation by Europeans in the 1600s and 1700s, ending with adoption of steam power in the Victorian 1800s) among the most popular. Native or Viking settlements are also occasional targets for reconstruction, as a village may represent any era before the adoption of 20th century automation, industrialisation and mechanisation.
Although the term "pioneer village" is colonial in origins and context, comparable attractions also exist in Europe, the UK and other locations, as "living history museums" or "open-air museums". These terms do not have quite the same meaning but, given the substantial overlap, feature here.
Often, the village (or at the very least a distinct group of buildings) in such museums is assembled from authentic local historic buildings which are relocated to a common site as a means of historic preservation; this may preserve structures which otherwise would be lost due to urban development or destroyed by flooding after construction of a hydroelectric dam.
A living museum may not recreate an entire village or settlement; in some cases, just one or a handful of buildings (anything from an individual mill or blacksmith shop to a historic fortress) are restored to operation. Confusingly, the term "living museum" also is often applied to
nature museum
or protected areas, which are not the same concept.
By its nature, this is not a comprehensive list.
Australia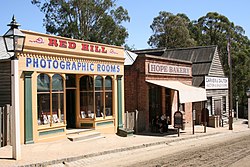 Pioneer Village Museum, Burnie (Tasmania), covers local economic boom period from 1890-1910.

address: Magpie St, Golden Point

1851 gold rush town with sixty historically recreated buildings, costumed staff and volunteers.

phone: +61 02 6586 1940

Very good old timber town of the 1880s set on .
Canada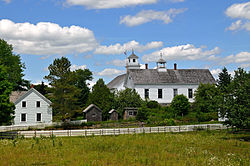 phone: +1 403-395-2212

Ranging life during the time period 1882-1950
Batoche (near Prince Albert, Saskatchewan), Métis settlement and site of the defeat of Louis Riel in 1885.

phone: +1 416 667-6295

address: 1000 Murray Ross Pkwy,

North York

(Ontario)

Doon Heritage Village, Kitchener (Ontario), 22 buildings recreate life in rural Waterloo County in 1914.

phone: +1 519-457-1296

phone: +1 902 733-2280

address: 259 Park Service Rd,

Louisbourg

(Nova Scotia)

Village-sized historic French military settlement, destroyed after English conquest and later reconstructed.

phone: +1 403-268-8500

address: 1900 Heritage Dr SW,

Calgary

(Alberta)

phone: +1 705-738-6163

A collection of over 20 historic homes and buildings from 1830 – 1935.
United Empire Loyalist village.

phone: +1 705 295-6694

address: 104 Lang Rd, Keene

phone: +1 709 623-2608 (May-Oct), +1 709 458-2417 (off-season)

Archaeological site with reconstructions of three Norse buildings.

address: 2365 Concession Rd 6, Greenwood

Depicts live pioneers in 18 heritage buildings.
Pioneer Village Museum, in Beausejour (Manitoba)
Sherbrooke Village, open-air museum in Sherbrooke (Nova Scotia)
Sainte-Marie among the Hurons, near Midland (Ontario), reconstructed Jesuit mission settlement.
Ukrainian Cultural Heritage Village (Село спадщини української культури), near Elk Island National Park (Alberta), shows the lives of Ukrainian Canadian settlers from 1899 to 1930.

phone: +1 613-543-4328

Pioneer 1860s village of thirty buildings staffed by skilled tradespersons in costume of the era.

phone: +1 506 726-2600

address: 5, rue du Pont, Bertrand

Depicts an Acadian community between 1770 and 1939.
Village Québécois d'Antan, Drummondville (Québec)
Walter Wright Pioneer Village, Dawson Creek (British Columbia), depicts Dawson Creek before the Alaska Highway.
Japan
phone: +81 476-95-3333

address: 1028, Ryukakuji Sakae-machi Inbagun Chiba,

Narita

A reproduction of a samurai-era Japanese town street.
Hokkaido Pioneer Village, on the outskirts of Sapporo
Malaysia
Sarawak Cultural Village, reconstructed native settlements, Sarawak
Netherlands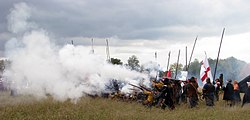 Bourtange, a town, built entirely inside of a 16th-century pentagonal fort, which was fully restored in the 1960s to its state in the 1740s.

phone: +31 26 357-6111

address: Schelmseweg 89,

Arnhem

A 44-hectare-large museum that sets out to document the Netherlands' history.
Groenlo holds a bi-annual reenactment of the 1627 Siege of Grolle (Groenlo).
New Zealand
South Africa
South Korea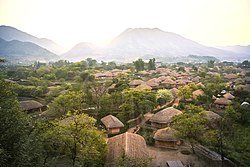 Seonbichon Village (선비촌), Yeongju, living museum depicting traditional Seonbi life.
Spain
Sweden
Ukraine
Open-Air Museum of Folk Architecture and Rural Life

phone: +380 44 526 5765

address: Krasnoznamennaya street, 1, Pyrohiv

Nineteenth-century Ukrainian life is depicted in six restored rural villages with old huts, wooden mills and churches from all over Ukraine. Description is primarily Ukrainian-language, although some guided tours in other languages are available.
United Kingdom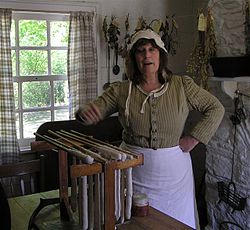 Beamish, County Durham. One of the best known 'recreation' of a "northern" village in England
Outdoor recreation of the local area on , including a coal mine, canal port and rebuilt houses.
Re-creation of 14th century peasant life in the Late Middle Ages, groups of re-enactors camp in tents around the village outskirts and perform historical combat displays.
Living History Village of Little Woodham, seventeenth century village on ancient woodland in Rowner (on the Gosport peninsula, Hampshire). Gosport Living History Society villagers dress in costume to talk about Charles I, the impending war between the King and Parliament, their village life and day-to-day existence as if it were the summer of 1642.

address: Castletown, County Tyrone

Historical lifestyle and experiences of immigrants who sailed from Ulster to America in the 18th and 19th centuries. 30 buildings, agricultural displays and animals, samples of local foods such as smoked salmon and bread, volunteers in period costume demonstrate bread making, cooking, arts and crafts, embroidery, spinning and printing.
Blists Hill, Iornbridge, reconstruction of a partial 19th-century town complete with some shops, a bank and other buildings.

phone: +44 1470 552 206

A semi-recreation of a pre-modern Highland village, consisting of single storey cottages and crofts..
United States of America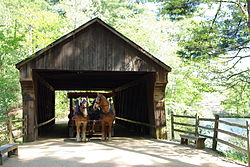 See also