Piran
Piran
(Italian:
Pirano
) is a city in the
Coast and Karst
region of
Slovenia
.
Understand
Piran is probably the most beautiful of Slovenia's coastal towns, perched on a tiny piece of land jutting into the sea. It feels more like an Italian coastal town, without all the Italian tourists, and for good reason: Piran was part of the Venetian empire from the late 13th century to the end of the 18th century.

Get in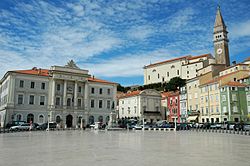 By plane
There is a small airport located 15km away in Portorož, called Portorož international Airport. Although it is an international airport, there are relatively few flights from foreign states.
By train
There is no train service to Piran. Nearest station is in
Koper
.
By bus
Frequent buses connect Piran to
Izola
,
Koper
(20 minutes), and
Trieste
(1 hour), and there is a free shuttle service to the adjacent resort of
Portoroz
. From
Ljubljana
, there are buses roughly hourly, taking 2-2.5 hours for the journey depending on route. Schedules are available
online
.
Buses also connect Piran with
Bernardin
and
Lucija
every 15 minutes.
By boat
Boat service is also available regularly from
Venice
.
During the summer there are 3-4 boats per day between Piran and Trieste. The journey time is around 1 hour.
Get around
By foot
Piran is very small and it takes 30 minutes to walk from one end to the other.

By car
Cars are generally not allowed in the old town and even when they are it is not a lot of fun since the streets are very narrow and parking costs €24 per day. There is parking available outside the town center. The biggest lot is along the waterfront at Fornače, but reserved only for local inhabitants and busses. At Fornače there is also a parking house with the same name, which costs about €17 per day; another parking house is Arze and costs €12 per day . The city provides a free shuttle bus to and from the parking lot Fornače and Tartinijev trg roughly every 15 minutes (in Slovene) (in Italian).

See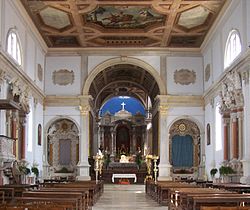 Tartinijev trgthe beautiful oval-shaped main square, with a statue of the famous violinist Giuseppe Tartini. This was once the marina, but after it silted up it was paved over with white stone.

Venetian HouseThe red building on Tartinijev trg, is a fantastic example of gothic Venetian architecture and the oldest building on the square. Built by a rich Venetian merchant to house his mistress, spot the inscription between the upper windows: it says Lassa pur dir, or "let them talk".

phone: +386 5 671-0040

address: Cankerjevo nab 3

Has several exhibits that tell the story of Piran's maritime history and culture.

Church of St. George (Cerkev sv. Jurija)The inside is quite beautiful. Nice view of the city and harbour from the belltower.
Do
Watch the SunsetPreferably from a bar on the waterfront with an aperitivo in hand.

SwimThere is no beach, but you can swim in the sea from the many piers scattered about.

Diving Schoolexplore the clear Adriatic Sea.

Climb to the top of the city wallstake in the view of the peninsula

Walk along the coastal path from the Church of St. George to Fiesaabout one kilometer each way
Buy
Unlike many of the other towns along the Adriatic coast, there are few shops with postcards, souvenirs, football (soccer) jerseys, etc. There is a small shop about halfway up the hill on ulica IX.Korposa that advertises handmade Slovenian crafts. At the central square there is a shop where you can buy high quality sea salt from the local sea salt evaporation ponds.

Eat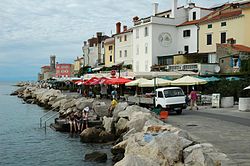 Many of Piran's restaurants are located along the waterfront (Prešernovo nabrežje), with open air seating and great views. The food and service is generally good, but many of the restaurants tend to have similar menus (meat, fish, mixed grills, etc.) and similar prices. Restaurants away from the main waterfront area can be a bit cheaper. There are also a number of pizzerias and gelato shops scattered around the town. If you want fresh produce, there is sometimes a market behind the municipal building off Tartinjev trg.
Fontana

phone: +386 5 673-1200

address: Gallusova ulica 2

A small restaurant with a veranda that serves seafood and Slovenian dishes.

Gostilnica

phone: +386 5 673-2226

address: Prešernovo nabrežje

Wide selection of seafood dishes.

Neptun

phone: +386 5 673-4111

address: Župančičeva ulica 7

A small restaurant one street back from the harbour that specializes in seafood.

Pavel

phone: +386 5 674-7101 and +386 5 674-7102

address: Prešernovo nabrežje

On the waterfront with tables indoors and outdoors. Serves a variety of meat and fish dishes.

Pizzeria Batana

phone: +386 5 676-2517

address: Kidričevo nabrežje 4

Pizzeria on the inner harbour.

Pri Mari

phone: +386 5 673-4735

address: Dantejeva 17

Small restaurant that specializes in seafood.

Restaurant Miralonda

phone: +386 5 676-2514

address: Stjenkova 1

Mixed menu with seating along the waterfront.

Restaurant Riva

phone: +386 5 673-2225

address: Gregorčičeva 43

Serves a variety of meat and fish dishes.

Tri Vdove

phone: +386 5 673-0290

address: Prešernovo nabrežje 4

Waterfront restaurant with a mix of meat and fish dishes.
Drink
Clubs
For clubbing, it is better to go to
Koper
or
Portorož
.
Tri papige

phone: +386 5 673 24 49

address: Kidričevo nabrežje 4

Night Club
Sleep
With a shortage of hotel accommodation the best option can be to take a 'private room', (rent out a room in a local's house). Several local tourist agencies keep lists of such rooms and will book them for you. Don't expect the owners to speak English, but they are generally very helpful and are experienced in hospitality. Standards vary: sometimes you'll get towels for a shower, sometimes not. But regardless, it will certainly be an experience and a chance to meet some locals.
Budget
phone: +386 5 673-2555

address: Gregorčičeva 38a

Open year-round, this hostel has 22 rooms with 2, 3, and 4 beds per room.

Youth Hostel Piran

phone: +386 40-752660

address: Vodopivceva 9

Situated on a pedestrian area, right in the heart of the old part of town. All rooms have a TV. The bathroom and the kitchen is shared between 4 rooms.
Mid-range
phone: +386 5 617-9000

address: Fiesa 68

Air-con, 6 Superior rooms, 36 Plus rooms, all with balcony overlooking the sea/lake, phone, satellite TV, minibar, WC and shower.

Bed & Breakfast - Miracolo Di Mare

phone: +386 51 44 55 11

address: Tomšičeva 23

Completely renovated B&B with 12 tastefully decorated double and twin rooms. All rooms have a satellite TV, WC and shower. Free WiFi access and bike rental.

phone: +386 5 673-3436

address: Ulica IX.Korpusa 26

A small hotel with just 6 double rooms. All rooms have a TV, bathroom and shower.
Splurge
phone: +386 5 676-2502

4-star hotel with 80 rooms and 10 suites, Internet room and WiFi access.

phone: +386 5 671-1665

address: Tartinijev trg 15

There are 43 rooms, many which look out at the square or the sea.
Go next