Pirenópolis
Pirenópolis
(often misspelled
Pirinópolis
) is a historic city in the state of
Goiás
,
Brazil
.
Understand
Pirenópolis, like other historic cities in 18th-century
Goiás
, was founded by Bandeirantes from
Minas Gerais
,
São Paulo
, and
Portugal
. Exploration for gold in the Serra dos Pirineus region began in 1728, one year after exploration began around the city of
Goiás
. Soon, Manoel Rodrigues Tomás, associated with Bandeirate Bartolomeu Bueno da Silva (Anhanguera), founded some mines he called the Minas de Nossa Senhora do Rosário de Meia-Ponte. With the production of gold, Pirenópolis became an important urban center, well known for its cotton production as well. It was the first center for
goiana
music, and had Goiana's most important newspaper during the 19th century.
When the gold ran out at the end of the 19th century, the city's population began to shrink. Many moved to the new capital at
Goiânia
, or to cities in the south of the state, like
Jataí
,
Rio Verde
,
Itumbiara
, and
Catalão
. With the construction of nearby
Brasilia
in 1960, the city again began to grow, and the government decided to turn the city into a tourist destination, preserving many old buildings and the historic center.
Get in
By plane
Pirenopolis is 107km from
Goiania
and 150km from
Brasilia
, the closest airports. Buses connect the city to those capitals and other neighboring cities.
By bus
By car
Get around
The town is best seen on foot. Wear good sturdy shoes, as the slave-built stone-lined streets can be a little rough.

See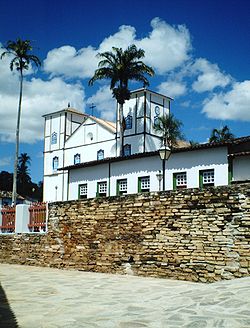 Abade Waterfall, (Cachoeira do Abade), with a 22-meter drop.
Cavalhadas Museum (Museu das Cavalhadas), Rua Direita, nº 39. This museum focuses on the history of the cavalhadas festival, marking the historic struggle between Christians and Muslims.

Babilônia FarmRodovia GO-431, km 3. Colonial-style farm where you can experience what 18th-century rural life was like.

Pompeu Family Museum (Museu da Família Pompeu), Rua Nova, nº 33. Constructed in the 19th century, the building now houses a museum of the city's history. .
Pirenópolis Theater (Teatro de Pirenópolis), Rua Comendador Joaquim Alves de Oliveira - Praça da Matriz. Constructed in 1899 and recently restored.
Cine Pireneus - Rua Direita, s/nº. This movie-house was built in neo-classical style in 1929, then reworked in art deco style in 1936. It is being restored.
Meeting Hall and Jail (Casa de Câmara e Cadeia), Rua Bernardo Sayão, s/nº. Constructed in 1919.
Churches
Igreja Matriz de Nossa Senhora do Rosário, Praça Manuel Jaime Lopes (Praça da Matriz). The oldest Catholic church in the state. It was built by African slaves in 1728 with funds gained through gold mining. In September 2002, it was partially destroyed by a fire. It has since been restored but the altar was lost. Another church, the Matriz dos Pretos, had fallen into ruins and nothing remained but the altar, so the church-less altar was united with the altar-less church here in 2005.
Igreja de Nossa Senhora do Carmo, Alto do Carmo. Constructed by slaves in 1750, this baroque church holds many works rescued from other churches which were demolished.
Igreja de Nosso Senhor do Bonfim, Rua do Bonfim, s/nº. Built by slaves between 1750 and 1755, it contains an image of Christ on the cross which was brought here from Porto Seguro, Bahia by almost 300 slaves.
Do
CavalhadasOwing to the high percentage of Spanish and Portuguese descendants in the area, the city's most famous festival centers around the fight to push the Moors out of the Iberian Peninsula. Colorful costumes abound. Among other festival events is a recreation of a famous battle fought by Charlemagne. Yearly in June.

phone: +55 62 8579-9865

Has options for hiking through a forest preserve, rafting, rappeling, and forest canopy tours.
Eat
Regional ingredients and dishes:
pequi
,
guariroba
,
empadão goiano
(a traditional chicken pie) and
pamonha
(sweet corn cooked with milk and cheese).
Lá em Casa Restaurante

phone: +55 62 3331-1918

address: Av. Sizenando Jaime, 12

A, Centro Histórico. Self-service restaurant serving typical Pirenopolin food.

Restaurante e Choperia Empório do Cerrado

phone: +55 62 3331-3874

address: Rua do Rosário, 21

Centro. Local and international dishes.

Nena Restaurante

phone: +55 62 3331-1470

Rua Aurora, nº 4, Centro. Local dishes.

Ponto da Massa

phone: +55 62 3331-3260

Av. Prefeito Luiz Gonzaga Jaime, nº 127, Alto do Bonfim. Italian food, pasta and lasagna are highlights.

Portinha Casa de Grelhados

phone: +55 62 9228-1402

address: Rua do Bonfim, 29

Centro Histórico. A la carte service.

Empório Santa Dica

phone: +55 62 3331-2655

address: Rua do Bonfim, 17

Centro Histórico. Emporium with a range of typical Goiano goods.

Bem Caseiro Restaurante

phone: +55 62 3331-2951

address: Rua do Bonfim, 41

A, Centro Histórico. Typical goiano home fare.

Armazém Restaurante Bar

address: Rua do Bonfim, 27

Centro Histórico. Typical Goiano food.
Sleep
Budget
phone: +55 62 3331-2578

address: Rua do Bonfim, 22, Centro

Nice, simple hotel in the town center

address: Travessa Sizenando Jayme, 1013, Centro

Single, double and triple rooms with TV and fan. Swimming pool, children-sized, and barbecue coal grill (churrasqueira)
Mid-range
Splurge
phone: +55 62 3331-1345, +55 62 3214-2070 (Goiânia), +55 62 2101-7818 (Brasília)

address: just outside town

97 apartments, 6 master suites and 2 apartments adapted to wheelchair access. All apartments and suítes have TV, hair dryer, air-con, telephone, digital safe, and Wi-fi. Suites have living room with TV and can house up to 6 persons. Swimming pools, water slides, sports complex, restaurants serving both world and local cuisine, meeting hall for 600 persons e 12 meeting rooms.
Go next