Pirin Macedonia
Pirin Macedonia
is a cultural region in
Bulgaria
.
Cities
(Банско) — a beautiful old town in the Pirin mountains with refurbished homes, stone wall, and cobblestone streets, but increasingly being overtaken by resort hotels, as this is a major ski destination in Southeast Europe. Not far away from Bansko, there are hot-water mineral springs, located at the villages of Banya (Баня) and Ognianovo (Огняново).
(Белица) — the park where the last three "dancing bears" of Bulgaria, ending a long and cruel tradition with their liberation in 2007, now live is here
(Благоевград) — the largest city of Southwest Bulgaria known for the beautiful nature that surrounds it, the many local cultural sights and festivals
(Мелник) — sample wonderful red wines from the region, take the long hike to the Rozhen Monastery and see the sand pyramids, fascinating rock formations in all shapes and sizes
— volcanic hot springs, the place where the Bulgarian medium Baba Vanga lived and was buried
(Сандански)
(Семково) — a mountain resort 17 km to the north of the town of Belitsa, situated south of the main ridges of the Rila Mountains, nestling in a wide field among pine forests
Other destinations
— a great hiking destination in summer with beautiful landscapes, lakes, and the second highest summit of the country
Understand
Named after the mountain
Pirin
the area includes the mountain itself, as well as the valleys of the rivers Mesta (on the east of Pirin) and Struma (on the west of Pirin), and some lower mountains in the westernmost parts of the region, out of which Belasitsa (at the border with
North Macedonia
and
Greece
) is the highest. The
Pirin National Park
and the popular ski resort
Bansko
are part of the attractions of the region. The town of Blagoevgrad is the largest town in the area. It is known as a student town because two of the largest universities are in it. Pirin Macedonia is also a popular wine region.
See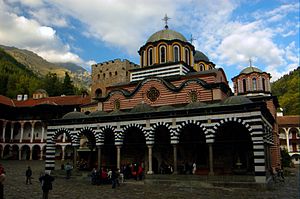 National Park-Museum "The Fort of Samuil"
Rila Monastery (Рилски манастир) — a UNESCO World Heritage site and one of the most popular and beautiful places in all of Bulgaria — one of the centers of both the religious and cultural spirit of the Bulgarian nation. Founded in the 10th century, it is the largest and most famous Eastern Orthodox monastery in Bulgaria. It is situated in the northwestern Rila Mountains, 117 km (73 mi) south of the capital Sofia. It is traditionally thought that the monastery was founded by the hermit St.John of Rila (Ivan Rilski), whose name it bears, during the rule of Tsar Peter I (927-968).
The monastery has a spectacular architecture which is well combined with the picturesque nature of the Rila Mountain. Inside the complex, the main church stands in the center of the inner ring. The entire church is decorated with amazing wood-carving, and it's famous for the gold-plated iconostasis. Outside the Rila Monastery, you can find a variety of little pubs and restaurants, where one can experience the fine Bulgarian cuisine. There are a lot of gift shops for the tourists with reasonable prices.